Today's Detroit News has the GOP's proposed U.S. Congressional redistricting map for Michigan, and in the least-shocking development of the day, it's gerrymandered to a far greater degree than the current one:
Washington— U.S. Reps. Gary Peters and Sander Levin would end up in the same congressional district under a redistricting map Republicans are reviewing that was obtained by The Detroit News.

The draft plan, in the works for weeks, also would boost GOP majorities in a number of districts, making it easier for Republicans to hold onto their seats. It was reviewed this week by a group of state GOP lawmakers, representatives from the Michigan Chamber of Commerce and the Michigan Attorney General's office, two sources with knowledge of the meeting told The News. The sources requested anonymity because they weren't authorized to speak about the redistricting efforts.
OK, so they've contorted the map in such a way as to move my own Rep, sophomore Democrat Gary Peters (MI-09) into the same district as long-term old-school Democrat Sandy Levin (MI-12), which is hardly a surprise. Obviously this presents Michigan Dems with two unpleasant choices: Either force two solid Democrats into fighting each other in the primary, or put tremendous pressure on one of them (presumably Levin, who's 79) into bowing out.
However, take another look at the paragraph above:
It was reviewed this week by a group of state GOP lawmakers, representatives from the Michigan Chamber of Commerce and the Michigan Attorney General's office,
Answer me this: What the F*CK are members of the Chamber of Commerce doing reviewing the redistricting plan before the rest of the state? Or, for that matter, before the MDP?
In any event, here's what the map would look like (before & after):
The current districts:
The proposed new districts: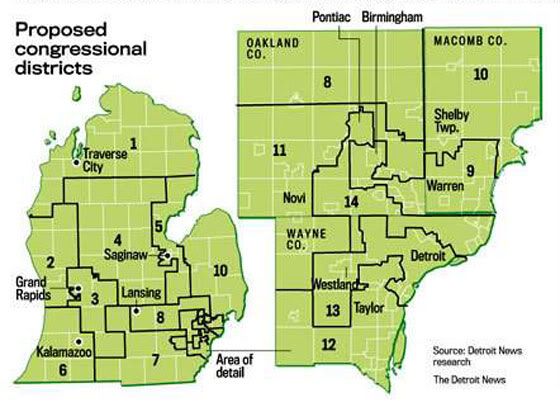 Most of the new districts aren't too bad, but take a look at the new districts 5, 9, 13 and 14.
District 9 would basically take the Birmingham/Bloomfield area of Oakland County (where I, and Gary Peters, live) and lump it in with the bulk of Sandy Levin's current district (Macomb County).
This makes it safer for Peters or less safe for Levin, depending on which one of them ends up with the nomination. The conventional thinking is that Levin would retire, allowing Peters a free shot at the new district--and at the same time, taking away any temptation Peters might otherwise have had to challenge powerful Oakland County Executive L. Brooks Patterson.
Meanwhile, what they've done to John Conyers (MI-14) is pretty extreme, if obvious; they found a way of connecting 48% black Pontiac, way up in central Oakland County, with 82% black Detroit.
The only good news I see here is that it slightly increases the chances of someone like Lance Enderle to pull a long-shot takeover of MI-08, held by GOPper Mike Rogers for the past decade:
The redistricting proposal achieves a number of the party's goals: shoring up Republican strongholds in a number of districts, including the two held by freshman Rep. Dan Benishek, R-Crystal Falls, who won the 1st District seat last year after nine-term Rep. Bart Stupak, D-Menominee, left Congress.

Other incumbents who would benefit are Reps. Tim Walberg of Tipton in the 7th District and Thaddeus McCotter of Livonia. McCotter's 11th District, skews more Democrat than other GOP-held seats and would add as many as 30,000 Republican voters, while Rep. Mike Rogers, R-Brighton, would see his 8th District stronghold wane a bit.
Still, overall there's not much to be happy about here.