Log Cabin -- one of my favorite blocks
I like simple, traditional blocks. Their geometry is somehow...comforting. And classics never go out of style.

Log Cabin variation, Cotton in the Cabin
I love Log Cabin. You can't get simpler, really -- but if you really want to work with color, you get a very rich look from this block. And the settings! But that is a subject for another diary...
This one is very similar to a Churn Dash block -- but gives a completely different look. This block was used in Dreaming of Better Days' love catcher quilt -- but I would like to try it in a lap throw someday.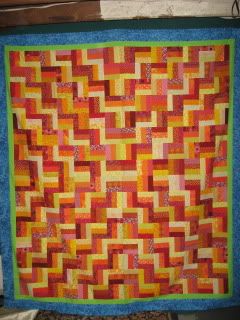 Rail Fence (mimi's niece's quilt)
Rail Fence is three equal strips, sewn together. It lends itself to strip piecing because of this. But take those simple, stripey blocks -- and you can play with a setting, as I did here.
This is an old-fashioned version of Bear Paw. It is fast to make but has rich, visual interest.
Darting Bird is a simple nine-patch -- but with strong direction and motion. It is a good choice for a scrap quilt, I think.
Rose Bud is a block I would like to use again. I think it would look great in a scrappy bed quilt.
Please share your favorite blocks below. Are there any you are drawn to again and again?