If you are an American, you probably pronounce it as I did up until a few years ago: "Baton." It's "Ba-ta-an"; Tagalog, like Spanish, does not have dipthongs; each vowel is pronounced. Just as the name of the province that gave its name to the infamous "Death March" in 1942 has been given an American gloss, so has the tragedy of the March itself. Yes, it was an terrible tragedy for Americans. Many more of those who died were Filipinos.
My brother-in-law -- usually a deft and delightful Cindy-Shermanesque self-portrait artist when away from his day job in Philippine television -- posted something more serious today, commemorating Bataan. With his permission, I'm sharing an adaptation of his post, commingled with material from Wikipedia.
Note: General DKos copyright customs notwithstanding, all photos are copyrighted by the photographer. Contact diary author re licensed usage.
After three months of laying siege to the southern Bataan Peninsula, the Japanese Imperial Army invaded on April 3, 1942 and won its victory in the Battle of Bataan in less than a week. They had not planned on winning so quickly; they were unaware that the U.S. troops had been on reduced rations and were suffering badly from malnutrition and disease due to the siege. Estimates I read today of the number of POWs ranged from 72,000 to 78,000. About 60,000 of them were Filipino.
The Japanese Imperial Army's priority was its military buildup in preparation for its assault on the island of Corregidor. They didn't want Americans and Filipinos around observing those preparations and their tactics; in any event their logistical system could not have borne the burden of so many POWs. They had anticipated only 25,000 Allied prisoners emerging after the battle; they had presumed that the Americans would hold out for a month longer than they did (by which time supply lines would be in place to support the prisoners). The siege was too effective.
The Japanese Army at Bataan was not a highly motorized force; it had no spare vehicles to use to transport the prisoners. The prisoners could only be relocated by foot. The plan had been this: POWs were to be marched 25 miles to the central collection point of Balanga in a day, after which they would be given food marched an additional 31 miles to the town of San Fernando. They were to be transferred by rail to Capas, then marched 9 miles to the abandoned military outpost Camp O'Donnell. A march of 25 miles a day was considered standard for the Japanese army, whereas 15-20 miles was achievable by U.S. troops only under the best of conditions (and in this case, the U.S. troops were exhausted after five days of battle, malnourished, and suffering from a host of tropical diseases).
The Japanese had no plan adequate for the circumstances -- so they improvised.
Prisoners were stripped of their weapons and valuables and told to march to Balanga. The first major atrocity occurred when between 350 and 400 Filipino officers and NCOs were summarily executed after they had surrendered.
The forcible transfer of 75,000 American and Filipino prisoners of war involved wide-ranging physical abuse and murder. Prisoners were given no food for the first three days; they were only allowed to drink water from filthy roadside water buffalo wallows. Japanese troops would frequently beat and bayonet prisoners that began to fall behind, or were unable to walk. Soldiers improvised.
Once they arrived in Balanga, the overcrowded conditions and poor hygiene caused dysentery and other diseases to rapidly spread amongst the prisoners. The Japanese failed to provide them with medical care, leaving U.S. medical personnel to tend to the sick and wounded (with little to no supplies). Trucks drove over some of those who fell or succumbed to fatigue. "Cleanup crews" put to death those too weak to continue. Soldiers improvised. Bayonet stabs and beatings became more random. Postwar archives, some filmed interviews, offer accounts of being forcibly marched for five to six days with no food and a single sip of water.
Many reached San Fernando; many did not. Here the stories from American and Filipino sources diverge. American sources place the death toll at between a minimum of 6,000; a maximum of 12,000, perhaps 18,000. Filipino sources state that only about 30,000 of 60,000 Filipino soldiers survived the trip from Abucay and Mariveles in Bataan to San Fernando, capital of Pampanga. The prisoners were collected to disembark from here.
The prisoners were stuffed into closed boxcars, 100 or more per car, unventilated and sweltering in the tropical heat. The trains had no sanitation facilities, and disease continued to take a heavy toll on the prisoners. From San Fernando, the prisoners were transported by rail to Capas, where they were unloaded and began the second phase of the Death March. After they reached Capas, they were forced to walk the final 9 miles to Camp O'Donnell. In Camp O'Donnell, 30-50 survivors continued to die per day, thousands in all. However many prisoners died in the march, many more died in the internment camps from its delayed effects. Most of the dead were buried in mass graves that the Japanese dug out with bulldozers on the outside of the barbed wire surrounding the compound.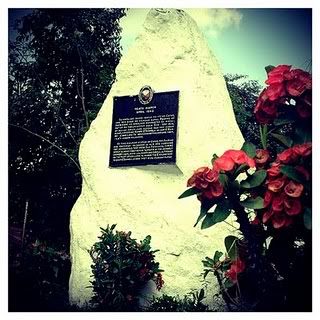 Every year on April 9, the captured soldiers are honored on Araw ng Kagitingan ("Day of Valour"), also known as the "Bataan Day", which is a national holiday in the Philippines. During the 1980–1990s, the Boy Scouts of America Philippine troop would reenact this 10 km march every two years along a portion of the initial route in Bataan taken by the soldiers.
On May 30, 2009, at the 64th and final reunion of Bataan Death March survivors in San Antonio, Texas, the Japanese ambassador to the United States apologized to an assembly of survivors for Imperial Japan's treatment of Allied prisoners of war, on behalf of the Japanese government.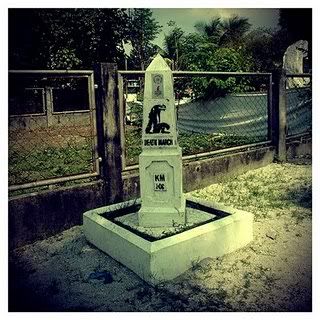 Terrible things happened on all sides of the war. None of them should be forgotten, nor should what happens in wars of today and in what wars we may fail to prevent tomorrow.
Tue May 31, 2011 at 12:35 AM PT: In case this diary hasn't depressed you enough, thatvisionthing would like you to know about the recent history of the U.S.S. Bataan.