A Soldier and a Marine lost their lives over the Memorial day weekend. Those men, whose lives we remember tonight are:
Marine Lance Corporal Peter J. Clore who was from Ohio
Army Private First Class Anthony M. Nunn who was from Texas
Lance Corporal Peter J. Clore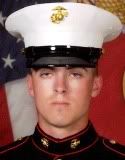 Peter j. Clore was from New Philadelphia, Ohio. He was a 2006 graduate of Ohio's Tuscarawas Central Catholic High. He was a volunteer at Sacred Heart Catholic Church in New Philadelphia, where he frequently was an altar server at funerals and was active in the youth ministry. His senior year, he won the Bishop Herrmann Service Award for outstanding service to school and community.

After high school, Clore studied for a time at the Pontifical College Josephinum in Columbus and later joined the Marines. He was assigned to 3rd Battalion, 2nd Marine Regiment, 2nd Marine Division, II Marine Expeditionary Force, Camp Lejeune, North Carolina.

He went back to visit at his old high school there shortly before his deployment to Afghanistan. He was working in the Helmand province as an improvised explosive device defeat dog handler.

According to this News site:

The family's spokesman, and priest at Sacred Heart Catholic Church, Father Jeff Coning, said Clore left the seminary to go into the military.

"He went in because he really felt that he needed to give some time to the country and just felt a strong sense of wanting to serve," Coning said.

He described Clore as hard working, steadfast in his faith, and who you would want as a friend.

"As a priest, this is as close as it gets to losing my own kids...and it's pretty devastating," Coning said
On May 28th, Lance Corporal Peter J. Clore was searching for IEDs in the Zad district of the Helmand province with the aid of his dog, Duke. He was wounded by enemy fire and died. He was 23 years old and one of the four servicemen from Ohio who were killed n Afghanistan over the Memorial Day weekend.
Funeral services in New Philadelphia, Ohio for Lance Corporal Peter J. Clore will include an escort and honor guard from the
Patriot Guard Riders
.
~~~~~~~~~~~~~
Private First Class Anthony M. Nunn



Anthony M. Nunn was from Burnet, Texas. He joined the Army in June 2010, after graduating from Burnet High School, where he was the band's second chair trombone player. Nunn was well remembered in his home town. An article in the American-Statesman quotes a former band teacher and a counselor:

"He had a goodness about him," said school counselor and former teacher Julie Collins, who taught Nunn biology. "He was very honest. That was more important to him than telling you what you wanted to hear."

Lewis said Nunn, who spent many afternoons at the Lewis home and was close friends with his son, was a tireless worker.

"He would do anything I asked him to do," Lewis said. "He worked on our loading crew, which was one of those thankless jobs. He would always jump in if he saw somebody who needed help."

Lewis said Nunn was also fiercely protective of his younger brother Matt.
Private First Class Nunn arrived at Fort Campbell in Kentucky in October of 2010. Nunn was working in Afghanistan as an Infantryman assigned to Alpha Company, 2nd Battalion, 506th Infantry Regiment, 4th Brigade Combat Team, 101st Airborne Division (Air Assault), which is based at Fort Campbell.
On Memorial Day, less than two months after arriving in Afghanistan, Nunn was on patrol in the Paktika Province, a mountainous region along the Pakistani border. The 19-year-old died on May 30th, of wounds suffered when insurgents attacked his unit using an improvised explosive device (IED) in the Nike District of the Paktika Province. It was another sad loss for the hard-hit 101st Airborne Division in the past few days.
His awards and decorations include: National Defense Service Medal; Global War on Terrorism Service Medal; and Army Service Ribbon.
Nunn is survived by his father, Ted A. Nunn of Gainsville, Texas; mother, Christina Bennefield of Prosper, Texas; brother, Matthew A. Nunn of Gainesville, Texas and sister, Savanna R. Nunn of Prosper, Texas.
A memorial service was held in Afghanistan. Fort Campbell holds a monthly Eagle Remembrance Ceremony to honor fallen Screaming Eagles. Private First Class Anthony M. Nunn will be honored at the ceremony on June 8th.
**********************
Helping our troops:
If you wish to assist our military and their families, consider contributing to Fisher House. Donating to Netroots for the Troops provides care packages that make a real difference in a military person's life. To assist the animal companions of our deployed military, information is available here. Also, you could visit:

When our veterans come back home, they need jobs. Look at the programs of Hire Heroes USA and Welcome Back Veterans to see if you can help out.
About the IGTNT series:
"I Got the News Today" is a diary series intended to honor, respect, and remind us of the sacrifice of our US troops. Click here to see the series, which was begun by i dunno, and which is maintained by Sandy on Signal, monkeybiz, noweasels, blue jersey mom, Chacounne, twilight falling, joyful, roses, SisTwo, SpamNunn, a girl in MI, JeNoCo, Mediaprof, TrueBlueMajority, JanosNation, Proud Mom and Grandma, Ministry of Truth, CalNM, Wide Awake in Kentucky, Ms Wings, maggiejean, racheltracks, JaxDem, and kestrel9000. These diaries are heartbreaking to write, but are an important service to those who have died, and show our community's respect for them.

Fallen service members whose names have been released by the US Department of Defense will usually be diarized two days after the official announcement on the DoD website. This allows the IGTNT team to cover each person more fully, but still in a timely manner
Please bear in mind that these diaries are read by friends and family of the service members mentioned here. May all of our remembrances be full of compassion rather than politics.