(Note: this got to be too big for one diary so I'm making it into 2 or 3 parts)
In honor of the 67th anniversary of D Day I thought I'd write about my trip there.
One of the most moving experiences I ever had was touring the D Day BEaches. I am an amateur historian with a special interest in WWII, D Day and the US Airborne. I am myself an exparatrooper, veteran of WWIII (Vietnam)
Our jumpzones in Ft Bragg, home of the 82d Airborne ( where I went to after Vietnam)
had dropzones with all kinds of names I'd never heard of---like Nijmegan, Carentan and Arnhem. I was woefully ignorant when I was in the Army, a high school droput. When I went to college I started studying these things (and Vietnam) because I wanted to know what I was involved in. What a story!
I'll skip my personal story, just fast forward to November 2003 and I'm in Paris. This was my 2d trip to France (the first down to the Bordeaux region) and I wanted to go to the one place I'd always wanted to get to---Normandy. So I hopped a train to Caen (no, it doesn't rhyme) rented a car there.
I've always felt like D Day was a really seminal event, a real sea change. This may have been America's finest moment (certainly debatable) and one of it's most defining. Certainly it's largest single day display of power.It was an immense spectacle--10,000 ships!-- something to tell your Grandchildren you saw.
By now I knew all about the Airborne in Normandy, knew about St Mere Eglise, St Mere du Mont, Carentan and the like. But I also wanted to see the rest of the D Day sites.
What most people don't know is the length of the invasion---about 60 miles from Pegasus Bridge on the East to St Mere Eglise on the Cherbourg peninsula. I had read Steven Ambrose's, "Pegasus Bridge" (and all his other books) so I knew what that was about. British commandos glidered in and took the bridge, then held off German armored attacks untill relieved by armor a day later. It was a truly heroic endeavor and one not generally known. (It's portrayed in "The Longest Day")It was a day for truly heroic endeavors. It's amazing just to suit there and watch cars going over an ordinary ehough looking bridge and think about it's history.
Thats's where the D Day tour started, the East side working west. I went from there down though Ouistreham, Lyon-sur-Mer and Corseulles sur mer---these were the British and Canadian Beaches---Queen, Sword, Juno and Gold. These are pretty little beach towns. some of the houses here are still here from the invasion like these at Queen Beach (Lyon-sur-Mer)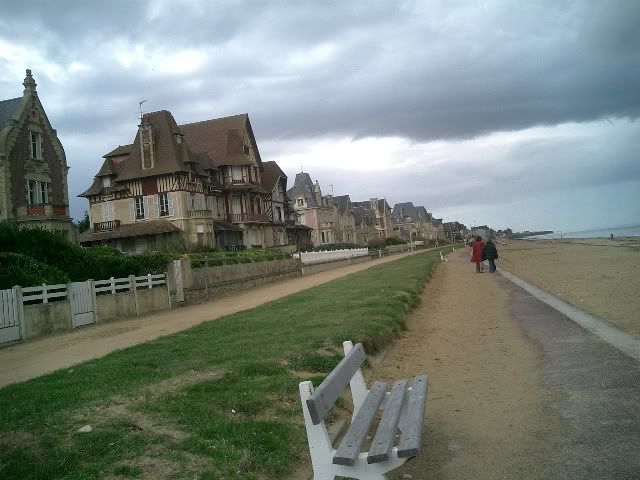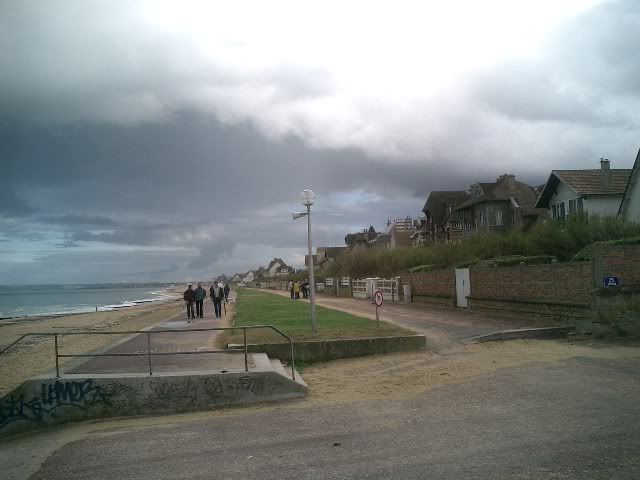 One of the things you notice right away is how pretty this place is---long stretches of beach broken up by lengthy escarpments. The invasion was limited by geography, they HAD to attack where they did. What that means is that the Germans knew where to fortify. You've heard of Hitler's vaunted Atlantic Wall---this was it.
they left a lot of the old fortifications in place---this is at Longues-sur-Mer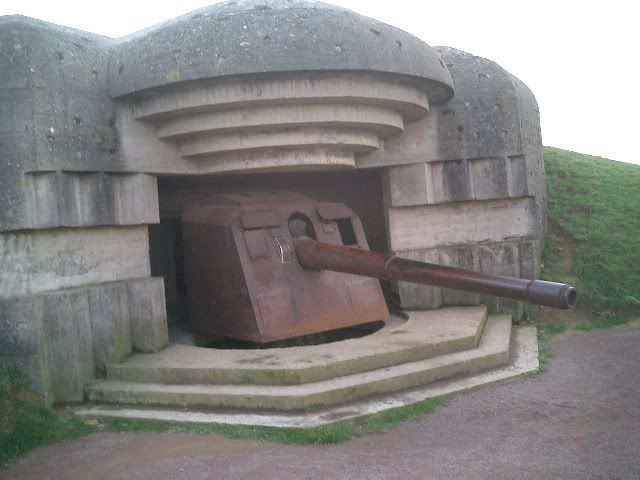 This was at Queen Beach: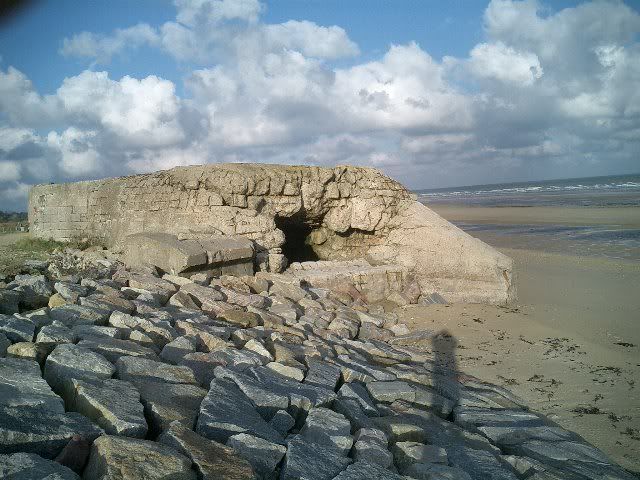 The French do a pretty good job of displaying this, with respect. I didn't think it was at all tacky. Each town has it's museum, monuments and old pieces of armor lying around. Some of these towns also have casinos---now THEY'RE tacky! here's your Roving Ranger in front of one

theyr're pretty little towns but they all have their old tanks sitting there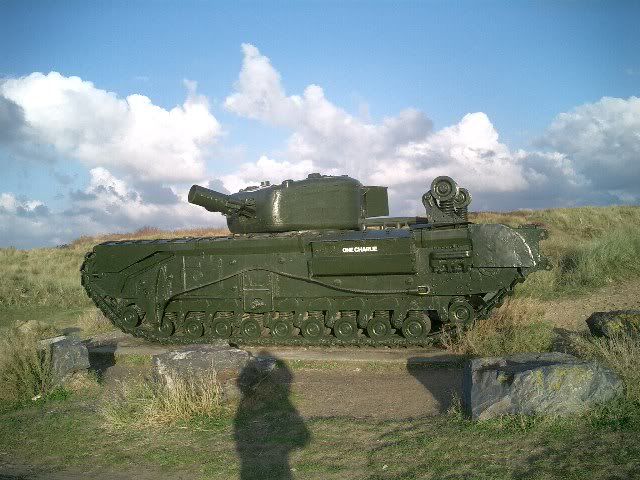 I knew a lot of these places from movies like The Longest Day and all those old videos on the History Channel. But you don't really get the idea what it's like untill you're there. I passed Queen, Sword, Juno and Gold and drove down to Arromanches. There's escarpment cliffs from Courelle sur Mer to here, you couldn't have landed here.
Arromanches, picture below, is a pretty little beach town. This place became significant when they sunk Mulberries (huge concrete barges) to make a breakwall and then us it as an embarkment port. Some of the old Mulberries are still in place, you can see em here..
Arromanches has, I think, the best museum of all. I'd planned to breeze by here but wound up spending some time here, in the nuseum and walking on the beach.
The museum: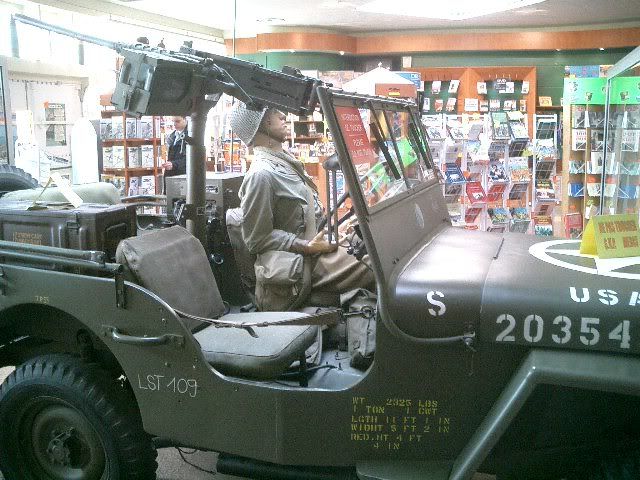 it was getting dark as I got to Port-en-Bessin, a little fishing town bewtween Asrromanches and Colleville where Omaha Beach is. another pretty little fishing town, this was passed by in the invasion. I spent the night here in a motel watching the BBC. It was off season so I got a decent rate, wound up staying here 3 nights. Great Bouillabaisse
I strolled to the top of the escaprment overlooking the town.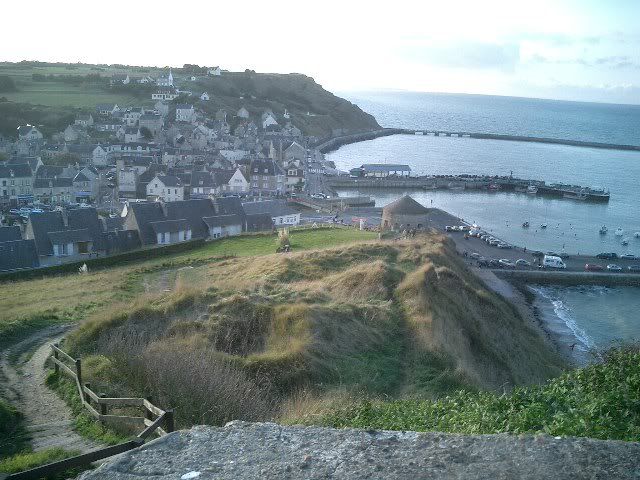 Tommorrow in Part II
A retroactive Ranger goes to Point Du Hoc and walks Omaha Beach