Apparently so and with 50 million American still uninsured and millions more underinsured these are the people who need promotion the most.
Today's events, real people seeking real solutions, should be the sort of rally that makes news and gets featured at 'people powered politics' blogs. Hundreds of nurses from the 170,000 Member Union were joined by labor and community allies to call for not just saving Medicare for our seniors but to promote Medicare for all.
What have you heard so far about this event here at DailyKos?
The picketing of the U.S. Chamber of Commerce and nurses lobbying Congress was promoted by Healthcare Now! and did make the PR Newswire.
"We need an alternative vision, and an alternative program in America," said NNU Co-president Karen Higgins, RN from Massachusetts. "The American people do not want more cuts in our most enduring safety net programs, and they have had enough of 'shared sacrifice' that places all the burden on the families who have already suffered far too much."
But where else? We all seem to be forgotten by elected officials and the media, don't we?
Our challenge as a nation - the vast majority of Americans who built this country and strive to sustain it - is to transform the story line of who is to blame for this crisis, and how to solve it. And to change, once and for all, our priorities to become a more just society.

Nurses in particular know this well. Their voices are heard in every community, their social responsibility profound. Their refrain is 'we brought you into the world, now we are going to fight for you, for your quality of life, for your children, for our future.'
How can working Americans ever find out about a group standing outside the White House today to promote single payer health care? This website has a "Feature Page." It is about Obama's standing in the polls and a couple of cartoons. Such a people oriented rally could have benefited from some support there. Then again, the front pagers writing about the event both before and after could help improved the chances of the struggling American.
It all actually began yesterday and the goal is Guaranteed Healthcare. Nurses went to Washington to point out the hardships working Americans are suffering through while elected officials continue to represent the rich. Why don't Americans know about hospital workers who are working so hard to support the American Health Security Act of 2011?
So where does the National Nurses United stand in political blogging? The New York Times blog has a little something.
The protesters started in Lafayette Square and marched to the chamber's headquarters. Two demonstrators in tuxedoes — one labeled "Goldman" and the other "Sachs" — collected "invoices" of demands like "pension contribution increases" and "Mortgage payments" from nurses on the steps of the building.
A little more, moving on to the pipe dream of Bernie Sanders and those hard working Americans.
After the chamber demonstration, protesters boarded buses to Upper Senate Park for a rally, which included a speech by Senator Bernie Sanders, independent of Vermont.

"From birth to death, the people who are at our sides when we get sick are our nurses," he said.

Mr. Sanders recently introduced a bill to create a single-payer health care system, which would require state governments to provide universal coverage. The measure is not expected to move forward.

"Health care must be a right for all people," Mr. Sanders said at the rally. "We are at that moment where we got to push. We got to shove."
James Parks, at the AFL-CIO Blog posted a review of today's call for "Main Street Contract for the American People."
Carrying signs saying "Heal America! Tax Wall Street!" more than 1,000 nurses, union members and community allies today called on President Obama, the Chamber of Commerce and Congress set a new course to heal the nation.

After a short rally this morning in front of the White House, the crowd marched enthusiastically across the street to the Chamber. There were so many marchers that they covered an entire city block on both sides of the street. Traffic on busy "H" Street, a main thoroughfare in the nation's capital, was blocked for several minutes as marchers crossed the street to reach the Chamber. All the time they chanted "Hey Chamber you can't hide. We have seen your greedy side" and "They say cut back. We say fight back."

Judy Cooperrider, a nurse from Cape Cod, Mass., summed up why she and the others are marching:

We came to fight for our rights, for the rights of our families, for health care, jobs and equality. We have to have a voice and we will be heard.

The nurses, members of National Nurses United (NNU), are calling for our leaders to enact the "Main Street Contract for the American People."
I watched some news at the National Nurses United Facebook page. Besides Senators Bernie Sanders Barbara Boxer spoke at this attempt to be heard. Here are a few photos lifted from that Facebook page.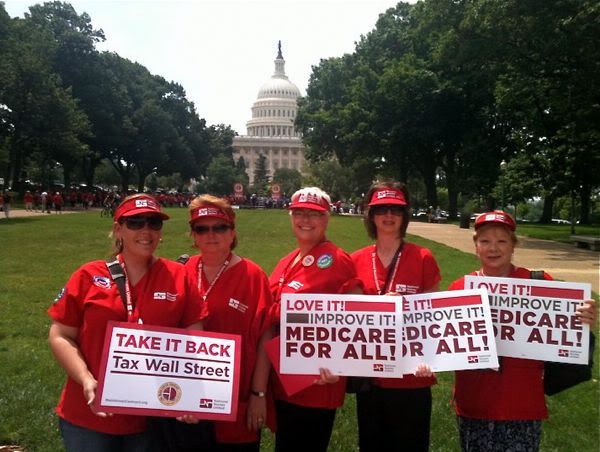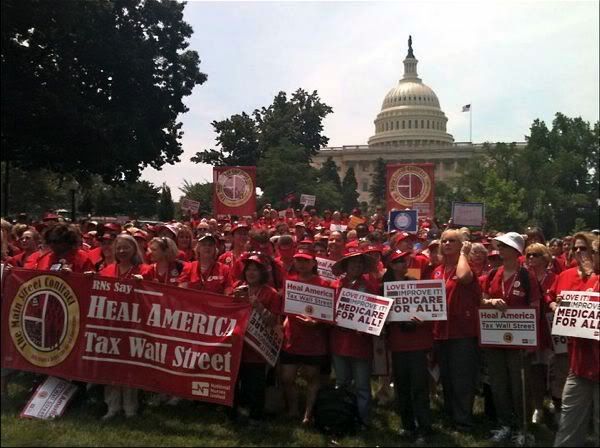 But is anyone else listening? Do the peoples' views even have a chance anymore.
Richard Trumka was also one of the speakers today and he amplifies his warning to Democrats.
"For too long, we have been left after Election Day holding a canceled check waving it about — 'Remember us? Remember us? Remember us?' — asking someone to pay a little attention to us. Well, I don't know about you, but I've had a snootful of that s--t," Trumka said to cheers.
How many Americans are willing to support one corporate Party over another?
"See, our goal is not to help candidates or parties. Our goal is to improve the lives of working people and strengthen our country, and that's exactly what we are going to do," Trumka said.

Trumka also repeated his metaphor of "the wrecking ball" when warning Democrats, which he used last month during a speech at the National Press Club that distanced labor from the party.

"I have a message for some of our friends. See, it doesn't matter if candidates and parties are controlling the wrecking ball or simply standing aside when it happens. The outcome is the same for us either way. If leaders are not blocking the wrecking ball and advancing the interests of working families across the country, working people will not support them," Trumka said.
I have a question, a meta question. Is there any room left here for anything besides complaining about Republicans and blaming the media? Don't you think this blog should be working to change the Democratic leadership and promote the people? Who is it that deserved credibility at a people's website?
"We're here to talk about reinvesting in America in turns of investing in our communities," says DeAnn McEwen, RN, co-president of the California Nurses Association. "We believe it has to change. People are suffering. We see them every day. They have lost their jobs, they are suffering illnesses, hospitals are closing beds. There's a whole population of people who have lost their healthcare coverage."

In an article in NNU's magazine for its members, the organization posited that healthcare legislation missed its chance to reform the industry and instead served to further entrench an insurance system that leaves too many Americans uninsured or underinsured. It states that too many are either without care or shoulder so much of the economic responsibility for healthcare that it leaves them financially strapped or forced to choose between medical care and essential household payments.

"We see something wrong and we have credibility with the public," says McEwen. "As the public's advocates, they trust and depend on us to run interference. It's our duty and right to stand up and say this is wrong. We see tremendous disparity between rich and poor."
It's time for a Main Street Contract for the American People. What can you do about it?