Ahem... Let me clear my throat. Ahem, ahem, a hockgoogogogggoo ptui.
I teach in a planetarium, and yesterday I was scheduled to see 3 groups of 8th graders. The end of the school year is a tough time no matter where the group of kids happens to be located at the moment.
Laura Bush was among the many motivational speakers to appear yesterday at the Key Arena in Seattle. I had forgotten all about the fact that it would be happening. I was reminded that there would be some premium inspirational speakers heading up to the podium. How was I reminded?
I was reminded by the hordes of people wandering around looking for a fucking muffin while carrying their "Get Motivated!" workbooks. Seriously? You guys need a day off of work and a bunch of Republicans telling you to "give 125% every day!" to become more motivated?!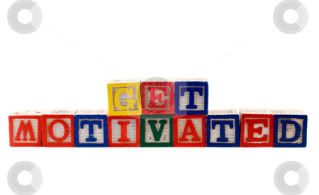 The line up looked like this-
Rich white guy, rich white guy, rich white guy, rich white guy, wife of rich white former president W, Lickspittle toadie (Dan Rather? Seriously? Right next to Laura Bush?!) , rich white guy, rich white guy, Colin Powell, Bill Cosby, rich white guy.
This picture happens to have a couple of other women photoshopped into the image, but most of the various incarnations of this event have a maximum of one woman, and a minimum of -1 woman. That seems unlikely, but when there is so much manliness in one place, the math changes.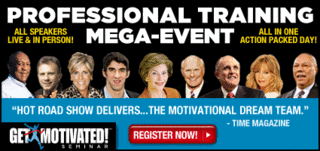 If I were to look at that list, I would think, hmmm, I'm guessing that I have a better chance at being motivated if I am, at the very least, a white guy. I could possibly make it if I marry someone from a rich white family, but I still would have a shot if I were not a rich white guy.
If I happened to be a rich white guy, I'd have even a better chance of being motivated, because then I could afford all that shit that they were trying to sell.
This is a nice shot I borrowed from the internet. It shows all of the attendees getting ready to renew on carousel.
Interesting similarities here.
It's unfortunate, but I have to drive to work right now, because I have to haul ass back home to pick up my daughter from school. (My wife is picking up after my bad commuting- she just got an electric bike.) So I had to search for about 30 minutes to find a spot, and then I had to sprint all the way to work.
No worries, because the entire city of Seattle was late to work yesterday.
I felt like I wanted to go out and put out a hat and tell inspirational stories.
I bet I could come up with a motivational program in about 30 seconds. F..k it, I'm doing it live. I'm going to create a motivational program for you to follow right now! No editing necessary!
5 Steps (Is 5 enough? Is 5 a bad number? How about 7? People really seem to like to have 7 things that they won't do after the motivational speaker. Okay, it's 7 now.)
7 Steps
1. (I could start with one. Or I could start with 7 and then make it like a rocket take off. And zoooom! You're motivated!)
7 Steps
7. Find a hero. (Sure, you could choose me, but what would I know? I'm just the survivor of depressed, alcoholic, drug addicted (Both scrip and street) parents, and I was raised on Social Security Death Benefits after my Mother took her life, and my Father agreed to take the kids, but only because he got 2 Soc Sec checks every month in our names. Even then, there was nothing remotely resembling a cohesive family unit. I began working at 14, paid my own way through college with no support- and I was the first in our family to ever graduate college. Nah. I don't have enough money to be considered motivational or inspirational.)
6. Create a life plan. (That's simple, right?)
5. Do 7 things towards your life plan every day. If your life plan is to become a rich white guy and give motivational speeches, then practice being motivational. Create catch phrases like, "Even experts are beginners!" Other nice catch phrases to motivate people to buy your books: If you stand for nothing, you'll fall for anything! Giving 110% is not enough! Shamelessly self promote!
4. Take aim at the poor people. Try to sucker them into buying your books. (This might seem slightly cynical. However, given that I am a motivational speaker, all I really care about is whether you're a big enough sucker to buy my "Get Motivated! Workbook." I don't care if you even do the work in it. To prove that, I've left that final 112 pages blank for you to do your "though exercises" in. Go capitalism! Capitalism and religion are probably the two best places to sell blank pages for a 500% markup!)
3. When you're rich, talk to other people about getting rich. The benefit of this is that you also get richer. There is no such thing as "rich enough."
2. Zooom!
1. Pay me.
And that's the last time that Laura Bush will ever make me late for work again.
Let me just add again- WTF is Dan Rather doing cavorting with all those Republicans? Didn't those idiots get him fired for doing the simple task of reporting? They are probably blackmailng him with pictures of his wang.
4.
6.