Today's March started where we left off the previous day, outside of Madison a few miles, on Route 119. As the driver of the "Honey Wagon," my job is to drive ahead of the March, find a safe spot on the left side of the road and pull into that spot, then wait. Today, I had to wait for the guy servicing the porta potty to come and empty and clean them, which was a longer wait than we were expecting.
A lot longer. And then word come back that a coal truck was in a serious accident on the same area as the down pole of yesterday's 5 hour wait. So I was sent the long way around. A real long way around. As I approached the start point of today's March at the intersection of Route 3 and US 119, I saw the second porta potty vehicle awaiting the light to emerge onto US 119. Looks like the road was cleared. They had been discussing replacing the water pump in that truck as I left Marmet.
So I was getting to the marchers just ahead of the second vehicle, with no relief for the Marchers until one of us got to them. As I came upon the marchers, I gave a repeated tapping of my horn as a sound of support for the cause.
We get a lot of horns beeping at us in this area, and most of the time the horns are accompanied by vigorous hand waves by people that seem to have lost all but one of their fingers. Sometimes it is all fingers on the waving hand. Those with but a single digit left have some very special terms of endearment they share with us. The full fingered waves are usually accompanied by those thanking us. But we always look. And wave, with all our fingers.
Returning Roman Emperors knew the reception I received as they would come to Rome after a major victory in war. It had been a very, very long time since the Marchers had left for the caravan to today's start, with the assumption that I would be following shortly.
As I drove to get there, knowing how long it had been since they (hopefully) used the facilities before they left, images of little kids dancing around and clutching their groins in an attempt to hold it long enough to get to the bathroom ran rampant though my mind. Not to call the Marchers little kids, but the image of that was the first thing that ran through my head when I thought about their wait. But I am the oldest of seven, and have seen a lot of anxious waiting for the toilet by those with an URGENT NEED!
We met up in a park, fluids were drained and replenished, and we continued. Our next break was for lunch at a park in Madison, overlooked by this billboard.
But the break was welcomed. As was the river. I was encouraging those in the water to give me a few "Woodstock" shot of nude bathing, in a very smartass way. Hey, people would love to see nude hippy bathing, both those that see that as a hippy statement, and those looking for an opportunity to arrest us.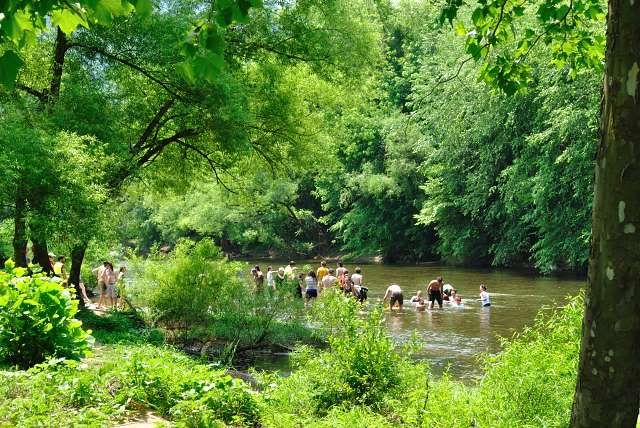 Official resistance to the March has been pretty stiff, but the marchers and organizers have "ever persevered."
I hope to be able to come back later and finish, but I am being told that my honey wagon is need to go now, so until later...