Come one, come all. Science talk is here. New discoveries, new takes on old knowledge, and other bits of news are all available for the perusing in today's information world. Over the fold are selections from the past week from a few of the many excellent science news sites around the world. Today's tidbits include astrophysicists use X-ray fingerprints to study the eating habits of giant black holes, methane gas from cows, paved surfaces can foster the buildup of polluted air, bacteria living on old growth trees may help forests grow, the race between evolution and climate change, nearby galaxy boasts two monster black holes, say goodbye to cool summers, and new constellations of species change ecosystems. Gather yourselves around. Pull up that comfy chair and bask in the sunshine. There is plenty of room for everyone. Get ready for one more session of Dr. Possum's science education and entertainment.
Featured Stories
The formation and life of black holes continues to be studied as a gateway to learning more about our universe.
Matter falling into black holes emits tremendous amounts of energy which can escape as visible light, ultraviolet light and X-rays. This energy can also drive outflows of gas and dust far from the black hole, affecting the growth and evolution of galaxies containing the black holes. Understanding the complex processes that occur in these active galactic nuclei is vital to theories describing the formation of galaxies such as the Milky Way, and is therefore the subject of intense research.

Though light cannot escape from black holes themselves, black holes with accretion disks – which are swirling clouds of matter about to enter the black hole – are among the most luminous objects in galaxies. By studying how the radiation and accretion disk interact, astrophysicists can learn much about the extreme gravitational fields, magnetic forces and radiation processes close to these black holes.
Methane is an important greenhouse gas produced by ruminants in their digestive system.
Cows, sheep and other ruminants are thought to be responsible for around one-fifth of global methane production but the precise amount has proved difficult to quantify. Methane production from animals is often measured using respiration chambers, which can be laborious and are unsuitable for grazing animals.

Archaeol is thought to come from organisms called archaea, which are symbiotic or 'friendly' microbes that live in the foregut of ruminant animals. These microbes produce methane as a by-product of their metabolism and this is then released by the animal as burping and flatulence.
Manipulating the diet of these ruminants changes the amount of archaeol in the feces and may be used as a means of measuring methane contributions by animals.
In most cities around the world paved surfaces are the usual for highways and roads of all sizes.
...the proliferation of strip malls, subdivisions, and other paved areas may interfere with breezes needed to clear away smog and other pollution.

The research team combined extensive atmospheric measurements with computer simulations to examine the impact of pavement on breezes in Houston. They found that, because pavement soaks up heat and keeps land areas relatively warm overnight, the contrast between land and sea temperatures is reduced during the summer. This in turn causes a reduction in nighttime winds.

In addition, built structures interfere with local winds and contribute to relatively stagnant afternoon weather conditions.
The biology of forests is complex and beginning to be seen to be more complex than thought before as the interactions between old trees, mosses and cyanobacteria, which contribute to nutrient dynamics are understood.
There are three players in this story: 1) large, old trees; 2) mosses that grow along their branches; and 3) a group of bacteria called cyanobacteria associated with the mosses. The cyanobacteria take nitrogen from the atmosphere and make it available to plants–a process called "nitrogen fixation" that very few organisms can do.

The growth and development of many forests is thought to be limited by the availability of nitrogen. Cyanobacteria in mosses on the ground were recently shown to supply nitrogen to the Boreal forest, but until now cyanobacteria have not been studied in coastal forests or in canopies (tree-tops). By collecting mosses on the forest floor and then at 15 and 30 metres up into the forest canopy, Lindo was able to show both that the cyanobacteria are more abundant in mosses high above the ground, and that they "fix" twice as much nitrogen as those associated with mosses on the forest floor.

Moss is the crucial element. The amount of nitrogen coming from the canopy depends on trees having mosses.
As climate change continues over time organisms struggle to adapt.
Animals and plants may not be able to evolve their way out of the threat posed by climate change, according to a UC Davis study of a tiny seashore animal...The tide pool copepod Tigriopus californicus is found from Alaska to Baja California — but in a unique lab study, the animals showed little ability to evolve heat tolerance.
At the heart of most large galaxies including our own Milky Way there lies a black hole.
For decades, astronomers have known that the eastern nucleus of Markarian 739 contains a black hole that is actively accreting matter and generating prodigious energy. The Chandra study shows that its western neighbor is too. This makes the galaxy one of the nearest and clearest cases of a binary AGN (active galactic nuclei).

The distance separating the two black holes is about a third of the distance separating the solar system from the center of our own galaxy. The dual AGN of Markarian 739 is the second-closest known, both in terms of distance from one another and distance from Earth. However, another galaxy known as NGC 6240 holds both records.
Once again the climate change news suggests we can say goodbye to cool summers.
Tropical regions in Africa, Asia and South America could see "the permanent emergence of unprecedented summer heat" even within the next decades...

Such dramatic changes in temperature would have a major impact on human health, food supplies and biodiversity, warn the researchers.

Large areas of the globe are likely to warm up so quickly that, by the middle of this century, even the coolest summers will be hotter than the hottest summers of the past 50 years.
As climate change continues around the globe some species benefit while others suffer. The change in species leads to changes in the surrounding ecosystem, too.
At the same time as species disappear or are made extinct, many species expand their range as a result of humans introducing new species to new environments and because certain species benefit from ongoing climate change.

Some researchers have studied the consequences of losing a species in an ecosystem, while others have been interested in what happens when new species are added.

Even though species loss and species gain occur in parallel, researchers have not studied these two phenomena at the same time. However, it is important to do so if we wish to understand how human activities impact ecosystems' production, nutritional cycle, and capacity to store carbon.

(snip)Today we have limited knowledge of how species loss affects ecosystems, because this has mainly been studied in a random selection of species in controlled experiments, despite the fact that species do not disappear from ecosystems by chance.
Other Worthy Stories of the Week
Waste slime turns jellyfish into ecological vampires
An increase in forest density is underway worldwide
Carbon release to the atmosphere is 10 times that of past times
Major step in improving forecasts of weather extremes
New computer dating technology changing the history of Britain
Study shows genetic rice breeding goes back 10,000 years
Wetlands are bad and good news for Arctic warming
A view of Venus's south pole
New telescope opens big eye to southern skies Photos, photos.
Rover recon: Mars images Photo gallery
King Tut's burial a rush job?
The diving bell and water spiders: How spiders breathe underwater
Ecology biased against non-native species?
NSA declassifies 200-year-old book
Cosmic blasts point to new class of supernova
Meteorite holds clues to organic chemistry of early EarthSixty new mutations in each of us: Speed of human mutation revealed in new family genetic researchCERN physicists trap antihydrogen atoms for more than 16 minutes w/video
Snowpack declines in Rockies unusual compared to the past
For even more science news:
General Science Collectors:
Alpha-Galileo
BBC News Science and Environment
Eureka Science News
LiveScience
New Scientist
PhysOrg.com
SciDev.net
Science/AAAS
Science Alert
Science Centric
Science Daily
Scientific American
Space Daily
Blogs:
A Few Things Ill Considered Techie and Science News
Cantauri Dreams space exploration
Coctail Party Physics Physics with a twist.
Deep Sea News marine biology
Laelaps more vertebrate paleontology
List of Geoscience Blogs
ScienceBlogs
Space Review
Techonology Review
Tetrapod Zoologyvertebrate paleontology
Science Insider
Scientific Blogging.
Space.com
Wired News
Science RSS Feed: Medworm
The Skeptics Guide to the Universe--a combination of hard science and debunking crap
At Daily Kos:
This Week in Science by DarkSyde
Overnight News Digest:Science Saturday by Neon Vincent. OND tech Thursday by rfall.
Pique the Geek by Translator Sunday evenings about 9 Eastern time
All diaries with the DK GreenRoots Tag.
All diaries with the eKos Tag
A More Ancient World by matching mole
Astro Kos
SciTech at Dkos.
Sunday Science Videos by palantir
NASA picture of the day. For more see the NASA image gallery or the Astronomy Picture of the Day Archive.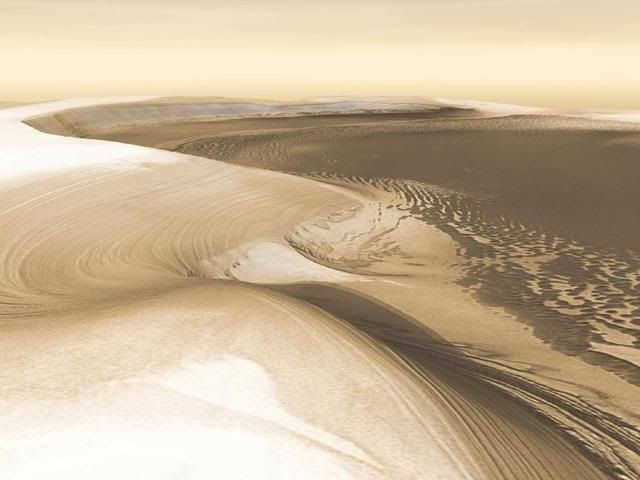 Chasma Boreale, Mars, NASA, Public Domain