Following up on what I diaried a few days ago that one of the most egregious premium rate gouging insurers in the nation Anthem/Blue Cross/Blue Shield of California, who once tried to raise their rates by 49% in a single year - has now announced it will be rolling back it's rates to 2008 levels and offering $180 Million in Cuts and Rebates to many of it's customers - the Federal Government has now announced that it will be drastically cutting premiums for the temporary "High Risk Pools" or Pre-Existing Condition Insurance Plans that the government is running directly by as much as 40%.
More follow-up on the news that the Obama Administration is cutting the health insurance premiums for the Pre-Existing Condition Insurance Plans (PCIPs). Even though the Department of Health and Human Services is cutting the health insurance premiums for the PCIPs in the 23 states and the District of Columbia that it runs directly, it doesn't look like that's necessarily translating into cutting health insurance premiums for the PCIPs in other 27 states.
Now the difference between the 23 States and the other 27 is the fact that those first 23 have so far refused to implement any program of their own causing the Federal Government, under the Affordable Care Act, to step in and offer these plans.
So far the enrollment in these plans have been low (at about 20,000), some have argued this is largely due to the exorbitant premiums which in some states (like California) have been as high as $900/month. Now it seems that may be changing as soon as July 1st.
If you're curious which states have established their on PCIP plans and which haven't - and why - all you have to do is look at this map.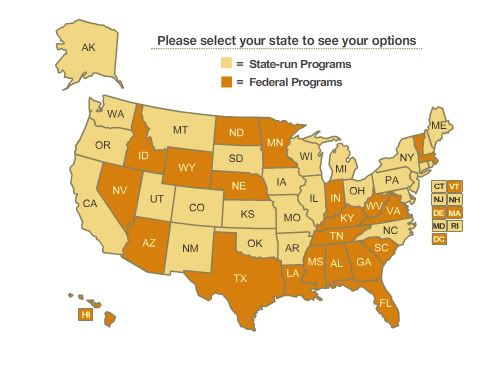 Is everything clear now?
[Almost] Every Republican controlled state with a few exceptions like Maine and Vermont - which just recently passed and signed it's own Single Payer Program - have opted out of trying to provide Health Care for people who've specifically been denied care and can't get insurance.
But now... the premiums for those Federally Managed Plans have just begun to come down. In fact it's already happening in Jan Brewer's [(Arizona and in] Nevada which just had their PCIP Premiums cut by 37%.
The first follow-up on the news that the Obama Administration is cutting the health insurance premiums for the Pre-Existing Condition Insurance Plans (PCIPs). The State of Nevada has announced that the Department of Health and Human Services is cutting the health insurance premiums for Nevada's PCIP by a whopping 37.5%, starting on July 1st.
And premiums have been cut in Rick Snyder's Michigan.
If you live in Michigan and have a pre-existing conditions and no health insurance, we have some good news for one of the country's most economically-challenged states. The organizers of Michigan's Pre-Existing Condition Insurance Plan (PCIP), HIP Michigan are dropping health insurance premiums in a move to try to reach out to more of the state's uninsured population. Even though experts estimated that more thann 3,000 Michigans would sign up for the health insurance program, only about 1,000 applied and only 245 have actually enrolled. 1.4 million Michigans are currently uninsured.
This means that premiums for these plans will now be competitive with those offered by regular insurers - except that those insurers continue to discriminate and deny coverage to these people.
The premium reductions will align costs with plans available on the individual market in each state. The states that will see the most significant decrease in premium prices will be Alabama, Arizona, Delaware, Florida, Kentucky, and Virginia.

In Florida, where 770 people have enrolled, a person 55 and over who subscribes to the so-called standard plan will see his or her monthly premium for the standard plan fall by $150 to $376.



Exactly what's going to happen to the premiums in the other 27 States remains largely in the hands of those states, but HHS is offering them some advice and a helpful hand.
The Los Angeles Times is reporting that there are no immediate plans to cut health insurance premiums for California's PCIP. "The federal government has communicated what it's doing and the thinking behind it," said Jeanie Esajian, deputy director of California's Managed Risk Medical Insurance Board, which oversees California's PCIP. "We'll look to see if there's anything we haven't done that we could try."
The irony here is that the Federally Run Program was able to make such a sweeping and impactful change that State run programs are going to have to struggle to keep up with - and that this has happened Largely In the Red States is going to put a bit of a dent in the "ObamaCare is the Death of America" argument.
Not that they'll stop saying it. Ever. It's just that now we have an answer to their blather that is hard to ignore.
Vyan
9:27 AM PT: Link to Press Release from HHS: http://www.hhs.gov/...
Under the changes announced today, PCIP premiums will drop as much as 40 percent in 18 States where the Federally administered PCIP operates. These premium decreases help bring PCIP premiums closer to the rates in each State's individual insurance market; in the six States where PCIP premiums were already well-aligned with State premiums, premiums will remain the same.


The changes announced today will make enrolling in the Federally-administered PCIP in 23 States and the District of Columbia easier. Starting July 1, 2011, people applying for coverage can simply provide a letter from a doctor, physician assistant, or nurse practitioner dated within the past 12 months stating that they have or, at any time in the past, had a medical condition, disability, or illness. Applicants will no longer have to wait on an insurance company to send them a denial letter. This option became available to children under age 19 in February, and this pathway is being extended to all applicants regardless of age. Applicants will still need to meet other eligibility criteria, including that they are U.S. citizens or residing in the U.S. legally and that they have been without health coverage for six months.




HHS also sent letters today to the 27 States running their own programs to inform them of the opportunity to modify their current PCIP premiums.