---
Some painters transform the sun into a yellow spot, others transform a yellow spot into the sun.
---
Some satellites view the sun as a yellow spot, one turns a yellow spot into a Star...
The Solar Dynamics Observatory is NASA's newest and most advanced satellite devoted to sun centered science. Launched on February 11th, 2010, it is the first of a series of missions in NASA's Living With a Star program.
You may have missed last Sunday's Tuesday's Science Videos where we introduced the Solar Dynamics Observatory. We took a look at the SDO launch and its first light observations. Today we'll talk a bit about SDO's overarching program, Living With A Star.
NASA's Living With A Star program will perform the science that will allow us to better understand the Sun Earth system and how this system affects life and society on our little planet. We do after all live within the Sun's atmosphere and understanding its moods and caprices will enable humanity to better appreciate both the beauty and dangers associated with living with a Star.

This is one of the first images taken by the SDO on March 30, 2010
with the Earth superimposed to scale.
[NASA/SDO] Enlarge
You can see why it behooves us to know as much about the Sun as we can possibly learn. It is only 8⅓ minutes away by light and a few days for anything else the Sun might throw at us.
NASA's Living With A Star program is designed to generate the data needed to gather that knowledge. There is a series of missions planned, projected, and in operation (SDO). Each mission is an important part of the LWS program design. Each in their turn covering a different aspect of the Sun/Earth system. The NASA LWS website describes the purpose of the program.
Heliophysics is the study of the Sun and its interactions with Earth and the solar system. The Heliophysics science program consists of two strategic programs/mission lines: the Solar Terrestrial Probes and Living with a Star; one Principal Investigator- led competed line (the Explorers); and a set of Research programs including a fleet of operating missions known as the Heliophysics System Observatory. All play a part in the development of scientific understanding of the heliophysics system.

Living With a Star emphasizes the science necessary to understand those aspects of the Sun and space environment that most directly affect life and society. LWS missions target the linkages across the interconnected system with an ultimate goal of enabling a predictive understanding. The first LWS mission is the Solar Dynamics Observatory (SDO), which was launched early in 2010. This mission observes how the Sun's magnetic field is generated and structured and stored magnetic energy is converted and released into the heliosphere in the form of solar wind, energetic particles, and variations in the solar irradiance. The second LWS mission will be the Radiation Belt Storm Probes (RBSP). The twin RBSP spacecraft will determine how charged particles in space near the Earth are accelerated to hazardous energies that affect satellites, astronaut safety, and high-altitude aircraft. Concurrently with RBSP, the Balloon Array for Radiation-belt Relativistic Electron Losses (BARREL) will measure the high-energy particle precipitation from the radiation belts into our Earth's atmosphere. RBSP will launch in 2012.
I've already looked at the launch and first light of the Solar Dynamics Observatory, the first element of the mosaic. Now, let's take a quick tour of the rest of the LWS missions.
Living With A Star Future Missions
The Radiation Belt Storm Probes Mission, part of NASA's Living With a Star program, will provide unprecedented insight into the physical dynamics of the radiation belts and give scientists the data they need to make predictions of changes in this critical region of space.

Beginning in 2012, two spacecraft will orbit the Earth, sampling the harsh radiation belt environment where major space weather activity occurs and many spacecraft operate.

The two spacecraft will measure the particles, magnetic and electric fields, and waves that fill geospace. Only with two spacecraft taking identical measurements and following the same path, can scientists begin to understand how the belts change in both space and time.
The RBSP is scheduled for launch this 15th of August. NASA Edge produced this video with interviews with some of the scientists responsible for this wonderful instrument.
BARREL (Balloon Array for RBSP Relativistic Electron Losses) is a multiple-balloon investigation that will study Earth's Radiation Belts. Atmospheric losses of relativistic electrons play an important role in radiation belt dynamics; precipitation into the atmosphere may even completely deplete the radiation belts in some cases. BARREL is the first NASA Living with a Star Geospace Mission of Opportunity, and will support NASA's RBSP (Radiation Belt Storm Probes) mission.

BARREL will consist of two Antarctic balloon campaigns conducted in Austral summers of 2012 and 2013. During each campaign, a total of 20 small (~20 kg) balloon payloads will be launched to an altitude of 30-35 km to maintain an array of 5-8 payloads. Each balloon will carry a NaI scintillator to measure the bremsstrahlung X-rays produced by precipitating relativistic electrons as they collide with neutrals in Earth's atmosphere, and a DC magnetometer. The balloons will be launched from the South African Antarctic Station (SANAE IV) and the British station, Halley Bay.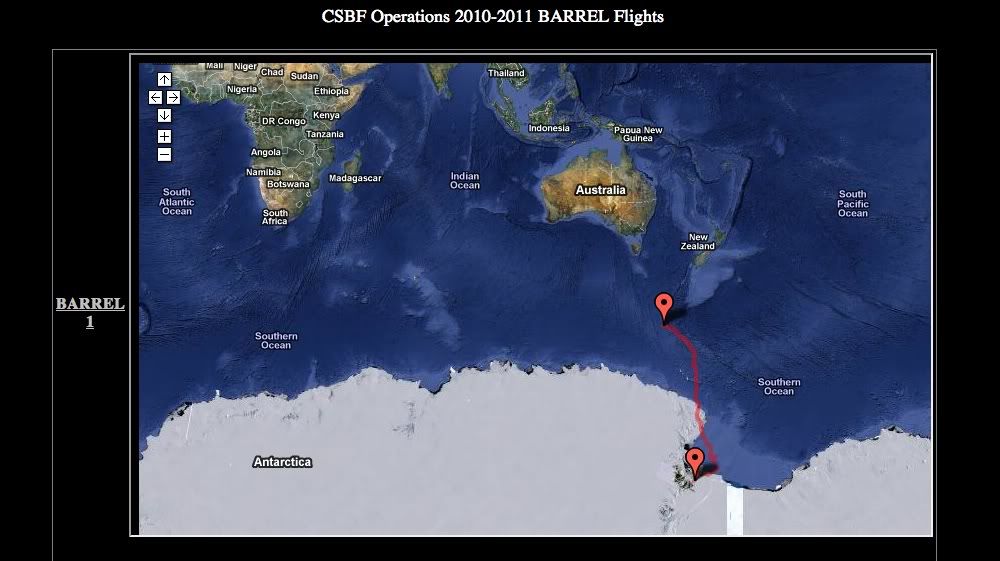 The Space Environment Testbeds (SET) Project performs flight and data investigations to address the Living With a Star (LWS) Program goal of understanding how the Sun/Earth interactions affect humanity. It is the part of the LWS program of Science Missions and Targeted Research and Technology (TR&T) ground-based investigations that respond to the following questions:

How and why does the Sun vary?
How do the Earth and planets respond?
What are the affects on humanity?
There are also two missions in preliminary stages of development.
These Living With a Star missions promise to generate a wealth of important data over the coming years. The SDO, all by itself, transmits over 1.5 terabytes of data back to Earth each day. This brief survey of the LWS program hardly does it justice but I hope it clearly demonstrates the far-reaching impact the few dollars tax payers do spend doing space research are for our little world.
Links
AIA - Atmospheric Imaging Assembly
Atmospheric Imaging Assembly for the Solar Dynamics Observatory
Helioseismology - Wikipedia, the free encyclopedia
Smithsonian Astrophysical Observatory - Wikipedia, the free encyclopedia
LWS Living With a Star Program
Living With a Star Program Details
Living With a Star Targeted Research & Technology Program
Radiation Belt Storm Probes (RBSP) Web Site
Home Page - Heliophysics Science Division - 670
SDO | Solar Dynamics Observatory
Solar and Heliospheric Observatory Homepage
Camilla Corona SDO- Stanford Solar Center
SolarIMG - Solar and Terrestrial images and data
ARTIS @ SolarIMG
HEA Research: Sun
Balloon Array for RBSP Relativistic Electron Losses
Dartmouth College - Space Physics - Balloon Group
Helioviewer - Solar and heliospheric image visualization tool
SolarSoft Latest Events
NASA - Living With a Star Program
NASA - The Sun-Earth Connection: Heliophysics News
'Spectacular' First Images from New Solar Observatory Released | Space.com
Guide to SDO Data Analysis
Heliophysics
Well, once again, I've bitten off more than I should. There is a veritable rabbit warren of information out there. So much information to convey and so little time and space. I hope these articles have given you some idea of the science going on at NASA. Stay tuned next week for the exciting conclusion covering the SDO's onboard instruments and experiments.
As always I look forward to your comments and questions. I hope I've entertained and informed you with this little (or not) diary. Thank you for taking the time to wade through this essay.
palantir