In the course of modern political bloviation, we often allow distinctions between "big-R" and "small-r" republicans, as well as "big-D" and "small-d" democrats, to go unchallenged – it's perfectly acceptable for a Democrat to express profound reverence for the republican form of government, or for a Republican to claim that he believes in democracy. It also works with other, less complimentary, words: when rightists refer to us as followers of Marx, they use the "small-c" version of "Communist," because the capitalized version would indicate membership in an organization that hasn't wielded much power for a very, very long time. Accusing someone of being active in COMINTERN just isn't the flamebait it once was.
But that doesn't mean the foe isn't onto something when he appropriates the lower-case versions of ideologies in order to associate the left with a past menace – the Cold War may be two decades gone, but folks still remember that the Communists were the bad guys, and they don't put much thought into the fact that "Communist" and "communist" sound pretty much the same in their spoken form.
Well, turnabout's fair play. Join me, if you will, in the Cave of the Moonbat, where tonight I hope to convince the Gentle Reader that the modern crop of Republicans may not be Fascists, but they are fascist - and we have only to compare GOP domestic policies and proposals to those implemented by the real Fascists of the 1930s in order to prove it.

Better Living Through Genetic Purification
For a conservative, that old saw about learning the lessons of history is applied in only the most literal of senses – if a series of events aren't repeated in exactly the same order, and with precisely the same results, then no analogy can be drawn, no lesson learned, from earlier events. Similarly, conservative "logic" holds that entire historical arguments are invalidated when a single fact can be shown to be non-analogous. They're wrong, of course – just because Congress hasn't passed the "Let's All Be Nazis Act of 2011" doesn't mean we aren't sinking into a state of totalitarian fascism at a rapid and accelerating pace.
The foe miss the larger point, which is that the lessons aren't learned from specific events, but rather, from seeing the historical patterns and movements at work within, behind, and driving those events. It's the similarities that make all the difference, not the differences that destroy the similarities.
Good example: On March 11, 2011, the Concord (NH) Monitor reported that a Granite State Lawmaker advocates eugenics. The article went on to quote Senator Martin Hardy (R-Barrington) as stating that
"the world is too populated" and there are "too many defective people," according to an e-mail account of the conversation by (constituent Sharon) Omand. Asked what he meant, she said Harty clarified, "You know the mentally ill, the retarded, people with physical disabilities and drug addictions - the defective people society would be better off without."

and…

"I wish we had a Siberia so we could ship them all off to freeze to death and die and clean up the population."

and…

"Hitler did something right, and I agree with (it)."

Ibd.

He later said he was kidding about Siberia, and denied making the Hitler comment, but didn't walk back the eugenics stuff. There's more to the story, of course: Harty, a retired peddler and market vendor, is 91 years old, and once fought in Patton's army in North Africa and Italy. He was apparently somewhat McCainlike to work with, too – one colleague said,
"In our committee . . . he is constantly confused, easily swayed, hard of hearing, and prone to offer up unrelated commentary or go off on unrelated tangents"

Ibd.

The thing is, Harty was in his first term! He wasn't some old coot that people had been re-electing since the Truman Administration – he was, literally, a freshman nonagenarian. Relish those words, because they don't appear in sequence very often. I didn't delve too deeply into the circumstances – the local politics – that put him into office; what's important here is that enough Republicans and their Useful Idiot allies got together to elect a guy who believes in eugenics to high state office. What's also important is that even though Harty resigned a few days later, the idea is now out there. Sure, the first time a genetic purification of America is suggested it's by a crazy old man who quickly disappears from public view, but it doesn't take long for such ideas, properly fertilized, to go mainstream. The same sort of talk would only have been heard on the lips of a few thousand diehard Nazis in the 1920s, too, but by 1936, the National Socialists could get away with their Racial Policy Office advertising their magazines with posters like this: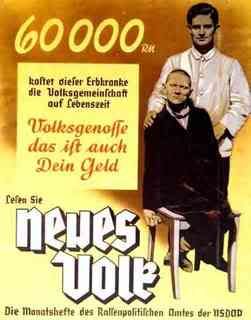 "This genetically ill person will cost our people's community 60,000 marks over his lifetime. Citizens, that is your money. Read Neues Volk, the monthly of the racial policy office of the NSDAP."


"The Nazis Were Pagans and the Commies Were Godless! We're Different; We're Good Christians!"
So was António de Oliveira Salazar, para-fascist dictator of Portugal from 1932 to 1968. He was not a friend of Hitler – helped the same side in the Spanish Civil War, remained neutral in WWII – but he hated communism and tried to emulate the way Mussolini blended the corporate and national state. Whereas both Mussolini and Hitler reached agreements with the Church (in 1929 and 1933, respectively) in exchange for silence or tacit support, Salazar effectively made Catholicism the state religion – the Church was legally "separate" from the government (Salazar exiled several parish priests – and even a bishop – for criticizing his rule), but enjoyed many special positions, especially in the area of education. The Library of Congress CountryStudy describes his regime thus:
Salazar's state was established on the principles of traditional Roman Catholicism, with an emphasis on order, discipline, and authority. Class relations were supposed to be based on harmony rather than the Marxist concept of conflict. The family, the parish, and Christianity were said to be the foundations of the state. Salazar went considerably beyond these principles, however, and established a full-fledged dictatorship. His corporative state continued about equal blends of Roman Catholic principles and Mussolini-like fascism.

Ibd.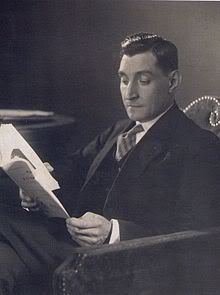 Salazar was not a charismatic leader a la Mussolini or Hitler, and he was not a military man like Franco. Rather, Salazar came from his peasant background into politics through academia – he'd studied to become a priest, then took up economics. He was a professor of political economy at the University of Coimbra before accepting the position (twice) of Finance Minister during the 1926 overthrow of the First Portuguese Republic (only in existence since 1910). He made his moves and chose his friends wisely, and became a permanent fixture in the right-wing coalition that seized power during the chaos of the late 1920s, as military prime ministers were coming and going. The Library of Congress makes Salazar's tenure as Finance Minister sound like Paul Ryan's best-case-slipping-into-fantasy scenario (well, except for the "improving revenue" part):
Salazar accepted the post on April 27, 1928, only after he had demanded and had been granted complete control over the expenditures of all government ministries. In his first year at the Ministry of Finance, he not only balanced the budget but achieved a surplus, the first since 1913. He accomplished this feat by centralizing financial control, improving revenue collection, and cutting public expenditures.

The same source also lets us know how Salazar was able to parlay the trust built by this success into a full-fledged dictatorship. Change a few nouns in this passage, and one can clearly see how a combination of ruthless economic austerity, political repression, and devout, conservative Christianity can be paths to genuine totalitarian power:
From his first successful year as minister of finance, Salazar gradually came to embody the financial and political solution to the turmoil of the military dictatorship, which had not produced a clear leader. Salazar easily overshadowed military prime ministers and gradually gained the allegiance of Portugal's young intellectuals and military officers, who identified with his authoritarian, antiliberal, anticommunist view of the world. Moreover, Salazar's ascendancy was welcomed by the church, which saw in him a savior from the anticlericalism of the republicans. It was also welcomed by the upper classes of landowners, businessmen, and bankers, who were grateful for his success in stabilizing the economy after the financial crisis of the First Republic.

Ibid.

Salazar promulgated what he called the Estado Novo ("New State") in 1933. Ellen W. Spaega, writing for the Penn State Press in 2008, takes a reasonable historical stance in describing whether or not the Estado Novo was "fascist," and whether or not, in the end, the distinction really matters: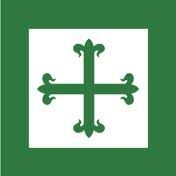 I take as my starting point the historical consensus that Salazar, in the first decades of his regime, built institutions and embraced social policies that were "fascistic," if not strictly fascist. The creation of a single party (the União Nacional [National Union]), civilian paramilitary forces and youth groups (the Legião Portuguesa [Portuguese Legion] and the Mocidade Portuguesa [Portuguese Youth]), and the establishment of a political police force (the PVDE, later known as the PIDE/DGS) all point to the existence of political and ideological affinities between Salazarism and fascism. In their emphasis on patriotism and nationalism, Estado Novo cultural practices also closely resembled the practices of other fascistic or authoritarian regimes that appeared throughout Europe during the interwar period.

…and he created a political environment that sounds like exactly the sort of sty in which today's Republicans so desperately wish to wallow:
Politics in Salazar's Portugal consisted of balancing power blocs within the country--the military, business and commerce, landholders, colonial interests, and the church. All political parties were banned. The UN, officially a civic association, encouraged public apathy rather than political involvement. Its leadership was composed of a small political and commercial elite, and contacts within ruling circles were usually made on an informal, personal basis, rather than through official channels. Within the circle, it was possible to discuss and criticize policy, but no channels for expression existed outside the circle.
One final parallel between Salazar-type fascism and the modern Republican version: an emphasis on empire and historical exceptionalism. In the 15th and 16th centuries, Portugal had been one of the first of the European imperial powers, and the country still claimed remnants of that golden age, most notably Guinea, Angola, and Mozambique. Salazar elected to ignore the 1960 United Nations declaration ending colonialism, which resulted in insurgent campaigns against Portuguese rule beginning in 1961. Portugal left her colonies with even less grace than the French did theirs – the "Colonial Wars" went on until 1974 (and looked to go on indefinitely), when the Portuguese government was overthrown in a coup, itself based in part on dissatisfaction with the wars. At its height, the fighting was consuming 80% of Portuguese military resources (60% of the troops were Africa), and a huge share of the nation's resources and energy. Salazar, the old arch-conservative para-fascist, was by that point was out of the picture: he suffered a debilitating stroke in 1968, and died the following year without ever awaking from a coma.


"When fascism comes to America, it will be draped in the flag and carrying a cross" -- Sinclair Lewis
The right wing is every bit as factionalized as the left wing, but whereas the left will deal with a political issue by forming a focus group to have a dialogue and attempt to reach a consensus, the right simply holds a pissing contest to see who is the bigger alpha dog. That's pretty much how things were working out in Austria during the time Salazar was coming to power in Portugal.
Like Salazar, Englebert Dollfuss was born of non-aristocratic stock (probably; his father was never identified) in a deeply Catholic environment. He studied in a seminary before taking up law at the University of Vienna, then moving to economics at the University of Berlin. As a soldier in the Great War, Dollfuss served more than 3 years on the Alpine Front, distinguishing himself many times over – when one was of uncertain parentage and a peasant background, getting promoted to the rank of Senior Lieutenant in the highly stick-up-the-ass army of Franz Josef was no mean feat. After the war, he became a bureaucrat in the Agriculture Ministry.
Weird Historical Sidenote: While Dollfuss is noted for being vertically challenged – he was 4'11" – the same could not be said for his secretary and personal assistant, Eduard Hedvicek, would stood 6'7".
During the 1920s, Dollfuss worked his way up the pecking order, aided by his associations in the conservative Christian Social Party – in 1931, after a stint as president of the federal railroad system, he was named Minister of Agriculture and Forests. Only a year later the Austrian President, a fellow member of the Christian Social Party, offered him the Chancellorship. Dollfuss' response was worthy of a teabagger meme:
In May 1932 that fell, and kindly old President Wilhelm Miklas called on 39-year-old Engelbert Dollfuss to form a Government. He gave no answer, but went to his favorite church and spent the entire night in prayer. In the morning he went home, bathed, shaved, ate a steaming bowl of his favorite potato soup with whipped cream, and accepted.

AUSTRIA: Eve of Renewal, TIME, Monday, Sept. 25, 1933

Dollfuss' piousness would similarly sell real well with many modern evangelicals (even if he was a Papist):
Chancellor Dollfuss' Catholicism is studded with Calvinistic phrases. He is devoid of personal ambition, believes himself directly inspired by God. Correspondents figure that when explaining his policies he uses the phrase "according to my conscience" at least once every ten minutes. Dollfuss, incidentally, like equally devout President Alcala Zamora of Spain, is one of the few statesmen who never prepare a speech, rarely use notes, never stutter at a loss for words. His speeches, like Calvinist sermons, are "directly inspired" too.
Note that Dollfuss was of the Christian Social Party – there was nothing ist about it. His government was a coalition of the Landbund (a right-wing farmer's party); the Christian Social Party; and the parliamentary wing of the Heimwehr ("Home Guard"), an ultra-nationalist paramilitary group with roots similar to those of Germany's Freikorps, but even so, he held only a one-vote majority in parliament. Notably, the coalition did not include the Austrian Nazi Party, as their platform called for unification with the Nazi state in Germany, and thus a surrender of Austrian sovereignty to a greater German reich – the Austrfascists were nothing if not defiantly nationalistic. They also stood against anyone on the political left, accusing socialists of incompetent governance, godlessness, and setting the nation on a slippery slope into Stalinism.
In March, 1933, the president and both vice presidents of the National Council (the lower house of parliament) resigned in an effort to politically outflank one another. Dollfuss accepted the resignations, then used them as a pretext when he asked President Miklas to suspend indefinitely the "unworkable" institution. Miklas complied, and Dollfuss ordered the police to bar the doors against National Councilmen who suddenly realized they'd been too clever by half. Democracy in Austria, only 15 years old, was dead.
Now that he could start ruling by decree (these were retroactively legitimized by a constitution promulgated by Dollfuss the next year), what sort of policies did the self-styled "Austrofascist" leader employ? Well, that TIME article seems to have a contemporary pulse on things:
Engelbert Dollfuss took office determined that Austria's independence shall be preserved. Because Adolf Hitler is determined to end that independence, Dollfuss fights Naziism tooth & nail. Foreign Hitler haters who bury Chancellor Dollfuss with verbal roses are apt to forget that this does not mean that he disapproves of all aspects of Naziism. Firmly as any brownshirt he believes that the Jewish-Socialist Government that ran Vienna for 14 years nearly ruined city and state. He has small use for parliaments. On the other hand as a Christian he has consistently opposed feeding Austrian Nazis their own medicine, such as terrorist raids and barbed wire concentration camps for political prisoners. There will be no open anti-Semitism from any Government of which Engelbert Dollfuss is Chancellor. More subtly, his Minister of Defense, elderly General Karl Vaugoin last week issued a general order. A crucifix must be hung in every room of every military barracks, a picture of the Virgin Mary must be embroidered, painted or printed on all regimental flags, all battalion and company guidons.
Later historians would point out that while Dollfuss might not have been planning Kristallnachts, things weren't exactly easy for Austria's Jewish population under his regime. Still, his leadership doesn't really jibe with what most of us today think of as fascist:
There was about as much anti-semitism in the Austrian republic as there had been in the Habsburg Empire - in other words, quite a lot. Dollfuss had met few Jews but at the seminary and among the peasant leaders of Lower Austria he encountered many ill-informed anti-semites. Though he was probably aware that the ejection of government officials known to be socialists was being used as a pretext to dismiss Jews who had no socialist connections at all, Dollfuss simply wasn't interested in copying Hitler's anti-semitic programme.

…

…he was very much a practitioner of the 'art of the possible', but contemporaries did not see him as a cynic or as a manipulator or a power addict. Dollfuss was not a magnetic, messianic would-be superman like Mussolini or Hitler. He was an altogether different type of leader: those who who knew him vouched for his being an uncommonly sweet-tempered, generous, affectionate, reasonable, forgiving, sincere and conscientious man who had made his way in life not by exceptional brains or charm but by the transparency of his devotion to his country.
Dollfuss' Catholicism forbade him from buying into Nazi racial and eugenics policies – a rare example of a right winger's core beliefs actually doing some people some good. Devout Catholic or not, though, Austrians were going to be coming along with Dollfuss, as he informed them in a speech in September, 1933:
"The old Parliament with the old leaders, is gone, never to return. The period of Socialist misguidance is over. We will build up a Catholic German State which will be thoroughly Austrian upon a corporative basis. It will be an authoritarian State based on corporations formed on occupational lines, but we decline coordination and terrorism. At the beginning of autumn we stand on the eve of renewal of our country."
A Little Fascist-on-Fascist Action
Dollfuss modeled his fascism on Italy's, and sought aid from Mussolini in maintaining Austrian sovereignty – indeed, in August, 1933, Il Duce issued a guarantee of Austrian independence as a means of thwarting Hitler's ambitions and leaving Italy a nice, mountainous buffer zone between she and Germany. The Italians also smuggled arms to and through Austria; in one incident described in the 1933 TIME article, Dollfuss turned the discovery by the British and French of 50,000 rifles and 200 machine guns that the Italians had sent to be "repaired" at an Austrian factory into a stirring, highly-publicized speech in which he called out Hitler's demands upon his country. For his part, Dollfuss would not consider any sort of union with Germany as long as the Nazis were in power there – to him, there were fascists, and there were totalitarians. He, Salazar, and Mussolini fit into one category; Hitler and Stalin into the other.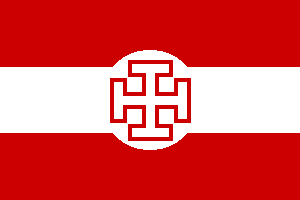 Dollfuss outlawed the Austrian National Socialist Party (the Austrian Nazis) and the Communist Party in late spring, 1933. The main socialist party went underground as a barely-tolerated nonpolitical organization with a strong militia component, while the Nazis also remained armed and dangerous, especially in the mountainous western region of Tyrol. With the potential for armed insurrection from both the left and the extreme(-er) right, Dolfuss consolidated other rightist parties, including the Heimwehr, into the Vaterländische Front ("Fatherland" or "Patriotic" Front). Later that same year, he reached a Salazar-esque concordat with the Vatican – itself established by a concordat with Mussolini in 1929 – and survived an assassination attempt by means of a fortunately-placed snuff tin. He also added the Jerusalem Cross to the Austrian flag.
In February, 1934, the socialists rose up in what is variously described as a "series of uncoordinated attacks" or the result of the efforts of Nazi agents provocateur - regardless, they rose up, and Dollfuss showed exactly what he thought of dissent. Small-bore mountain howitzers were used to bombard leftist enclaves in civilian areas in the industrial outskirts of Vienna, and though only six people were killed as a result of the shelling,
…the spectacle of a right-wing politician who governed by decree employing artillery against the homes and families of left-wing workers sent a thrill of horror and excitement throughout the capitals of Europe. Dollfuss's next step was to ban all political parties in Austria except the Vaterländische Front.
The Austrian Civil War lasted for only two weeks in February, but it exposed the tenuousness of the hold the "Christian Fascist" government had upon the strife-torn country. Seeking to re-clarify things, Dollfuss promulgated a new constitution in April, 1934, before an extraordinary session of the legislature consisting of only his own party members. The constitution's corporatist structure had much in common with the Estado Novo of the previous year, and it was every bit as authoritarian. The Nazis, especially, fought back through acts of sabotage and murder, but when Dollfuss opened up barbed-wire detention camps and re-instituted the death penalty, the first person to be hanged under was a socialist.
The Nazis took the hanging of a socialist to mean that Dollfuss would come after them next, so they launched a preemptive strike. On July 25, 1934, scarcely 15 hours after the socialist was hanged, around 200 Austrian Nazis wearing military uniforms pulled up in military trucks outside the Ballhaus, the chancellery of choice of the great conservative icon Prince Metternich. Since Austria's army had been limited by the Treaty of Versailles to a laughably-small 30,000 men, paramilitary militias were established to skirt the stipulations; many of their uniforms looked pretty similar, so the undercover Nazis stormed out of the trucks acting like they owned the place, and bullied their way past the bewildered guards, who were subsequently disarmed and detained.
While another group simultaneously captured the radio station and announced that the government had been taken over by a pro-Nazi leader who had been previously sent off as ambassador to Rome, the Nazis in the Ballhaus went methodically through the building, breaking down the thin white doors with their rifle butts and taking hostages as they searched for the Chancellor. Finally,

ten pistol-brandishing Nazis had burst down the last white door and caught Chancellor Dollfuss at bay on the threshold of the historic Yellow Room in which met the Congress of Vienna.
Without a word to the Chancellor Nazi gunmen shot him down, first bullet in the chest, second in the neck, as he threw up his arms and fell, crying "Help!"
"Let the animal die," growled a Nazi. Others roughly picked up bleeding Dollfuss, dumped him on a divan.

AUSTRIA: Death for Freedom, TIME, Monday, Aug. 06, 1934

They let him lay there in agony while he bled for three hours, ignoring his pleas first for a doctor, then a priest. Outside, the Minister of Education, Dr. Kurt Schuschnigg, organized the Heimwehr response and muzzled the press, who knew Dollfuss had been at the least gravely wounded but were persuaded to keep quiet about it. Siege lines and barbed wire were set up around the Ballhaus and the radio station, while negotiations began between Schuschnigg (through a spokesman) and the Nazis in the chancellery. These talks did not go well for the Nazis: they were told that they would surrender or the building would be dynatmited.
The phones in the building were still working, so the Nazis called the German minister to Austria, Dr. Kurt Rieth, and begged him to back their coup. When he refused, they got one of the hostages to plead with Schuschnigg to call the diplomat. When he finally showed, Rieth worked a deal with Schuschnigg whereby the Nazis would disarm surrender, then be transported to the German border. That's what they were told, anyway: grateful for a means of surviving the failed takeover attempt, the surrendering Nazis piled into trucks – and that's where they realized they'd been screwed. They were taken not to Germany, but jail, and several of the ringleaders were subsequently tried and hanged.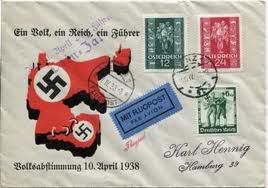 Dollfuss' Austria had around 6.5 million inhabitants; it is estimated that 500,000 of them attended his funeral. Far from proving the rallying moment that the Austrian Nazis thought it would be, his assassination set back their cause of unification with Germany by several years – and when it finally came, very little of it was done on their terms. Schuschnigg took over as Chancellor and tried to steer along the course set by Dollfuss, but he increasingly realized that Austria was not going to be able to go toe-to-toe with Hitler much longer. Italy's focus had shifted to Ethiopia, and Hungary (not a fascist state, but an anti-Hitler authoritarian one), Vienna's other ally-of-necessity, was buckling.
In 1936, he reluctantly signed the Austro-German Agreement, which released Nazi prisoners and forced the inclusion of German-style National Socialists in Schuschnigg's cabinet. The bullying reached a crescendo when, in early 1938, Schuschnigg was summoned to Hitler's mountaintop hideaway at Bertchesgaden, in the German Alps near the Austrian border. There Schuschnigg was coerced into signing an ultimatum that gave Fuhrer-picked Nazis the ministry of public security – including control of the police force – and the ministry of finance, which was to begin preparing Austria for economic union with Germany. In return, Hitler promised to publicly re-affirm Germany's commitment to Austrian sovereignty.
Proving the old adage that it's not a good idea to trust a Nazi, Hitler returned to the Reichstag and announced,
The German Reich is no longer willing to tolerate the suppression of ten million Germans across its borders…

…and all sorts of other bellicose stuff. Schuschnigg decided to prove to the world that Austria did not want to become a province of the Third Reich by holding a plebiscite, which he slated for March 13. He also put his fingers on the scale: while Fatherland Front members of any age were allowed to vote, members of other parties had to be at least 24. Since the Nazi movement was primarily a young one, this had the effect of disenfranchising a huge bloc of Nazi voters. Hitler cried foul, moved troops to the border, and demanded that the plebiscite be cancelled. When Schuschnigg complied, Hitler next demanded his resignation, plus the installation of the one of the Nazi cabinet ministers as the next Prime Minister. Old President Miklas had to be threatened with military intervention before getting on-board with that last one, and though he eventually did sign off, it really didn't matter: Hitler sent the troops in anyway. Thankful to see order imposed after years of belt-tightening and government dysfunction – not to mention relentless Nazi propaganda and terror campaigns – the Austrian people turned out en masse to welcome the Germans, and within days, Germany announced the Anshcluss.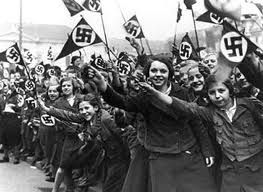 And what became of Schuschnigg, heir to Dollfuss? He was placed under house arrest almost immeadiately, then transferred to solitary confinement in a Gestapo facility. He spent most of the war in the concentration camps at Sachsenhausen and Dachau, but was transeferred to a camp for VIPs in Tyrol before it ended; it was there that he was liberated by American troops in 1945. He emigrated to the US and taught political science at the University of St. Louis until 1967, when he returned to his native land. He died in 1977.


Historiorant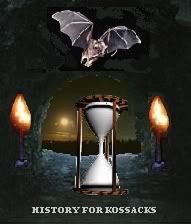 The problem with understanding analogies is that one has to understand context first – and since context is almost never reduceable down to bumper-sticker size, it remains a major stumbling block to getting conservatives to understand how to learn history's lessons. A Republican may well have seen no parallels between current events and the above three stories; let's hope we on the left are a little more astute. Fascism came in many forms, and was applied in many ways – it didn't always wear swastikas and buy into Hitler's racism – and we'd do well to understand a little more about the lesser-known versions of fascist ideology. You can be certain that although the Useful Idiots may not know anything about the Estado Novo, their overlords have certainly looked into historical evidence surrounding the care and feeding of a theo-fascist state.
Context also uses up a lot of cyber-ink, and alas, given my tendency to babble on, I've once again looked under fewer fascist rocks than I'd expected when I first started writing this. We'll have to leave it to a future historiorant to look for historical analogies in Governor Scott's takeover of local governments via Emergency Financial Managers, Governor Walker's suppression of unions, and the cancerous growth of the security state since the passage of the USA PATRIOT Act…