I apologize for the quality of my pics this year. Please, someone tell Apple to improve their camera on the iPad. (Heh, I sound like a Republican, blame someone else, doncha know!) But I still love every one of them.
If I get anyone's name wrong, let me know and I'll edit.
For those of you who did not attend NN11, please start stuffing your piggy banks now so we can meet up at NN12 in Providence, Rhode Island.
Here is the winningest photo ever of Navajo and Common Sense Mainer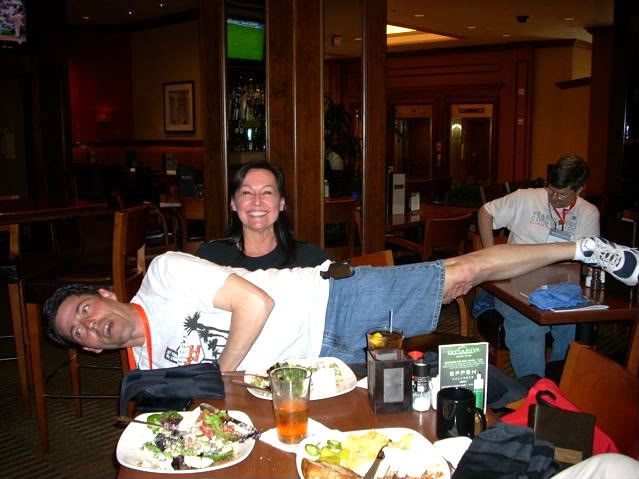 Terry & John (couldn't read your handle!) and Ed in Montana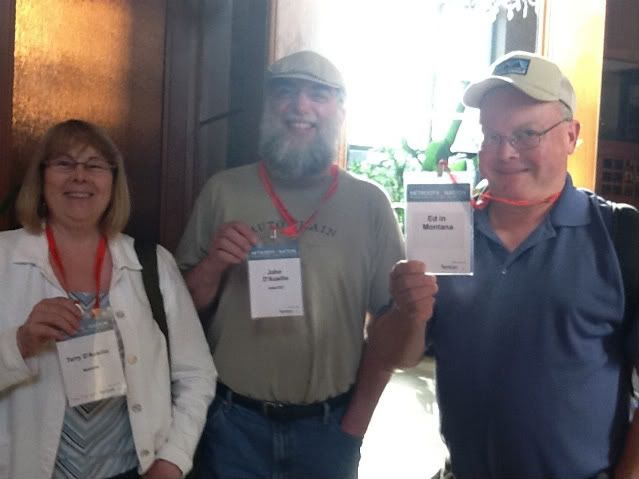 A bunch of us "ran into each other" in the bar Wednesday afternoon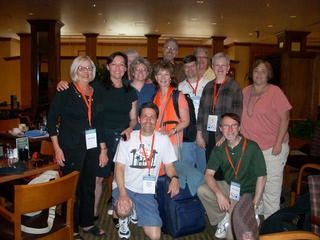 This was on my baggage tag when I arrived back in Phoenix on Monday. Thanks to someone at Delta baggage in Minneapolis! Made my day.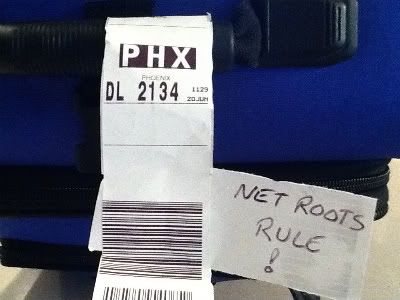 Sidnora(who's team took 2nd in the Pub Quiz) and Lefty Coaster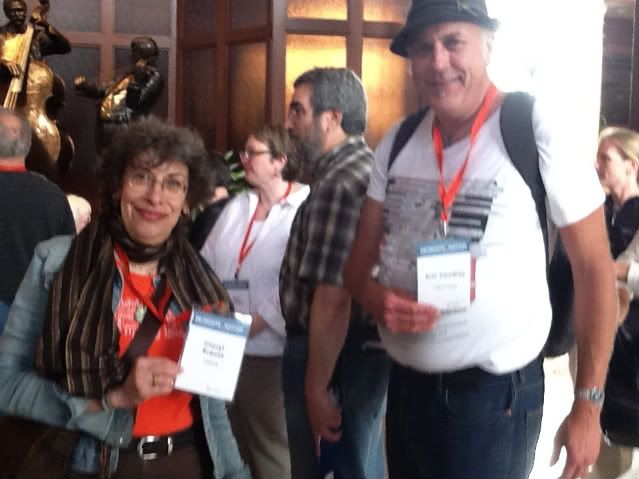 Maggiejean, CA Berekeley WV and Smileycreek ready for C&J dinner.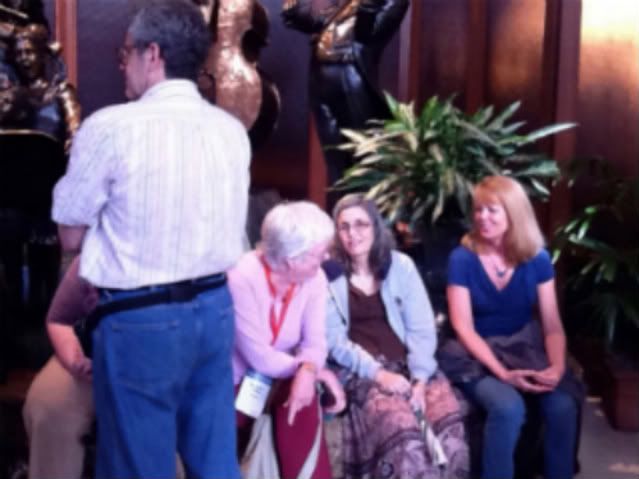 jnhobbs and Land of Enchantment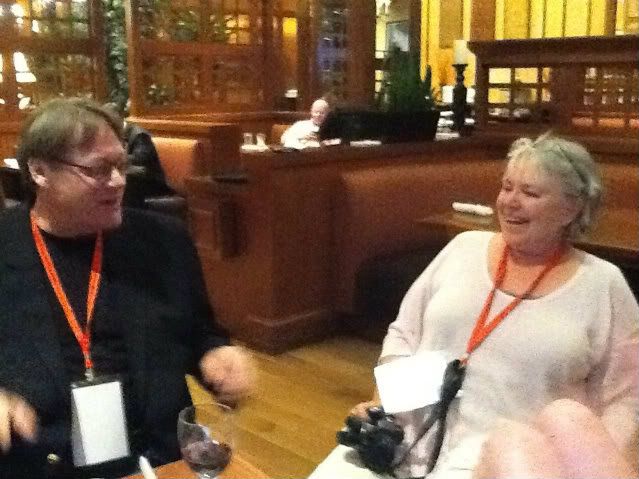 Thursday Morning News Dump. The show was worth getting up early for and I so hope they do it again next year. I can't identify all of them but Pam from Pam's House Blend, Lizz Winstead, dunno middle guy, Cliff Schlecter,Shanny Moore, Sam Seder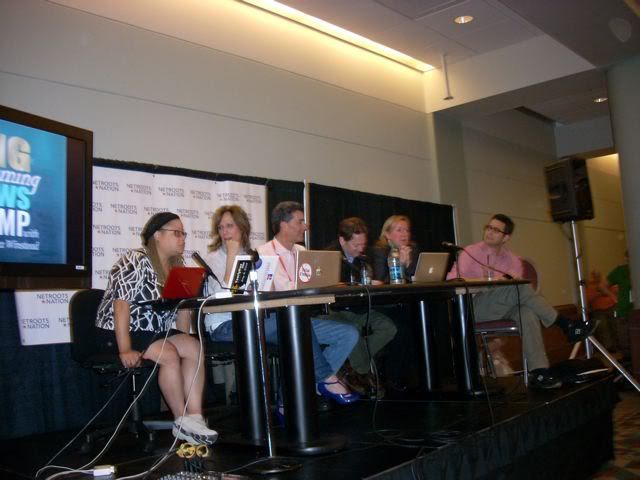 Loggersbrat and ramara's hats are a must photo-get! Norm in the front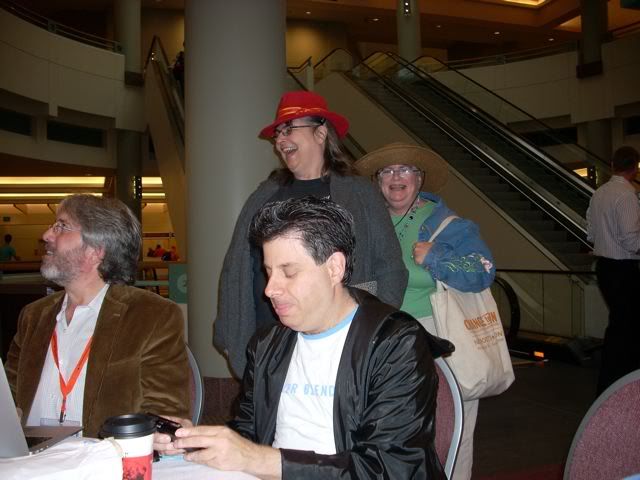 Texasmom, Meteor Blades, side pocket


In the bar...Bfskinner, Simple, Common Sense Mainer, UnaSpenser, N in Seattle.
The guys in the blue dress shirts behind us are the Republicans...heh, they won't be there next year!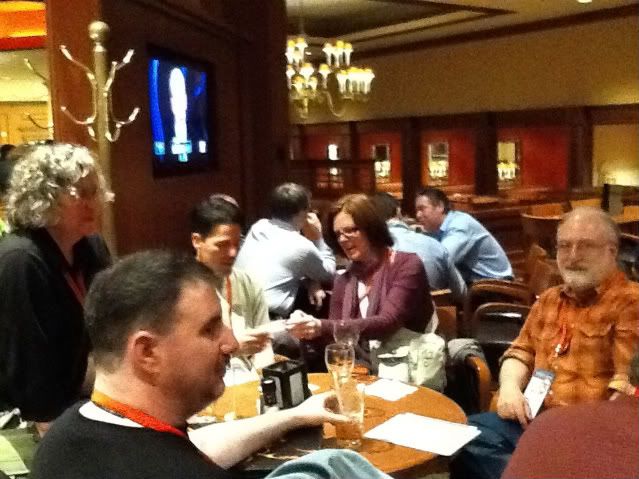 At the other end of the bar, N in Seattle, Trashablanca, sberel (how did you get to the other end so fast, N in Seattle?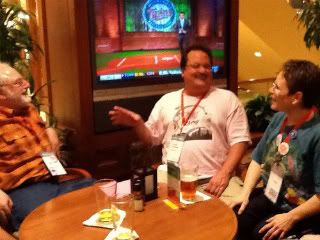 Hmmm, lots of shot in the bar! Ed Tracy, Floja Roja, E.R.Doc,BFSkinner

This was the sweetest lady. She's from Detroit. She plans to join up at DailyKos and I promised that we'd be nice to her...so be nice to her! Of course she was found at Trashablanca's table, he is an incredible people magnet. I think he should be named the Pied Piper.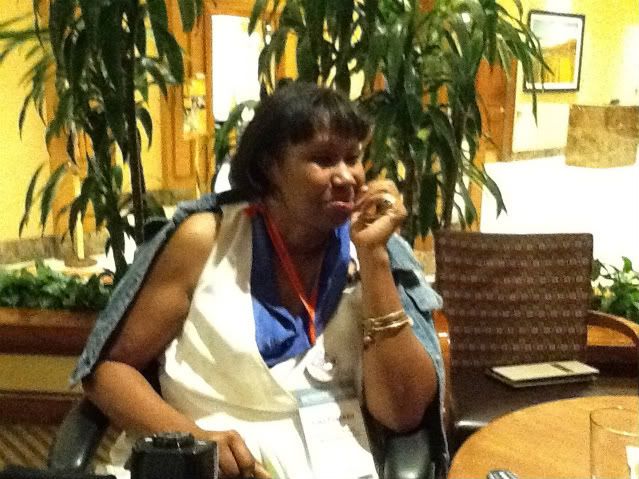 And speaking of the Pied Piper, here he is, laughing, as usual...What's so funny Trashy?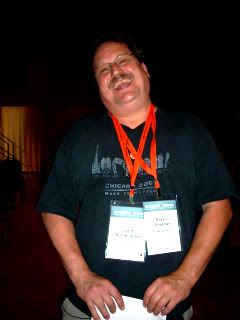 When a Kossack friend could not make it to the convention, Trashablanca picked up her name tag for her, got her bag and filled it with goodies from every corner of the exhibit hall...and had a T-shirt made for her. Ya, this is a tough guy alright.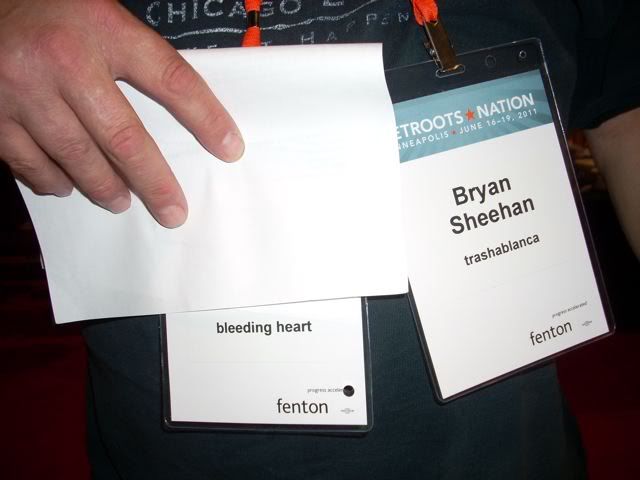 A tip for any of you who go to NN alone, just find smileycreek and paradise50, you'll get hugs and they are a hoot to hang with. My goal this year was to get 1 pic of her with her eyes open...oh well, maybe next year:)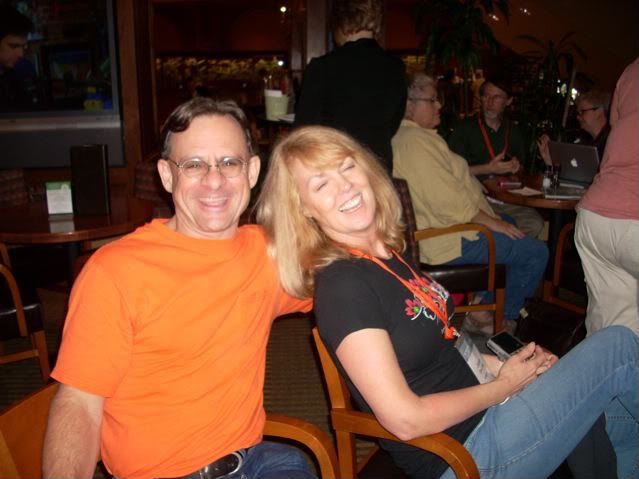 Kodiak 54 What a joy to meet the person who fed our hunger for news of what was happening at the Wisconsin State Capitol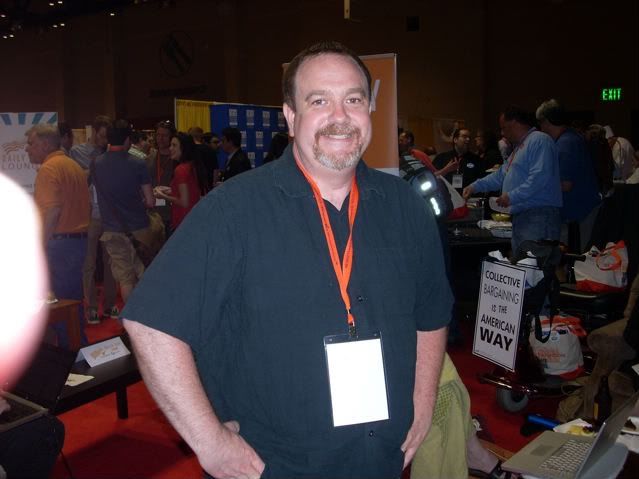 No convention is right without having your picture taken with Bill and Michael.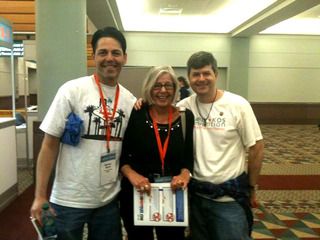 Caroline, I can't read your handle! I have my magnifying glass...I give up, please tell me in the comments if you see this:) Okay, Cali Scribe says it's Skohayes..that works for me!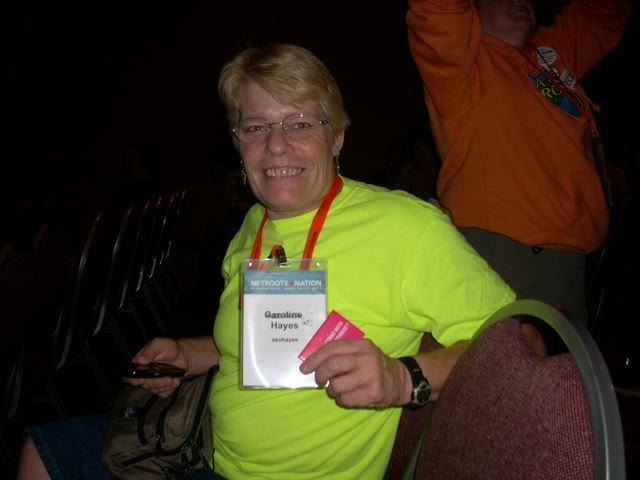 Vicki and Maggiejean....poor things, they don't look like they are having any fun.....NOT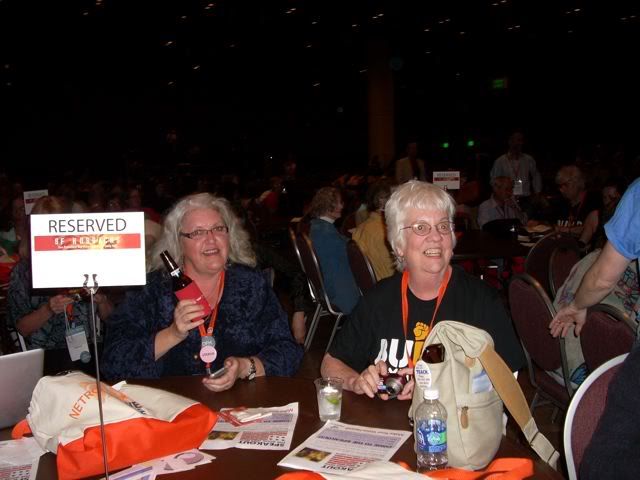 ccasas ... nice to see you again, Cathy!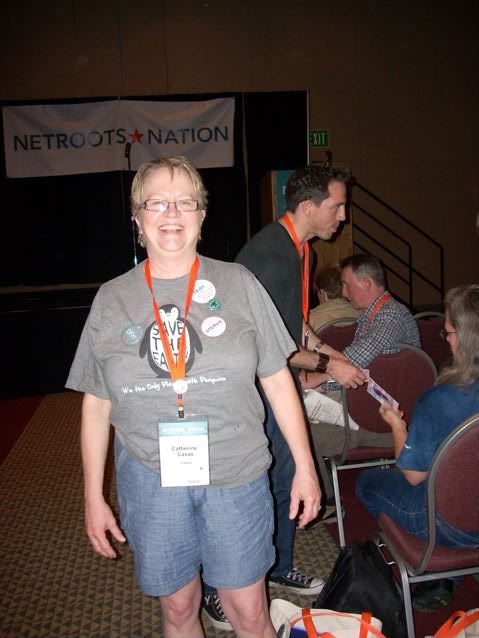 A fantastic panel: Promoting People of Color in the Progressive Blogosphere.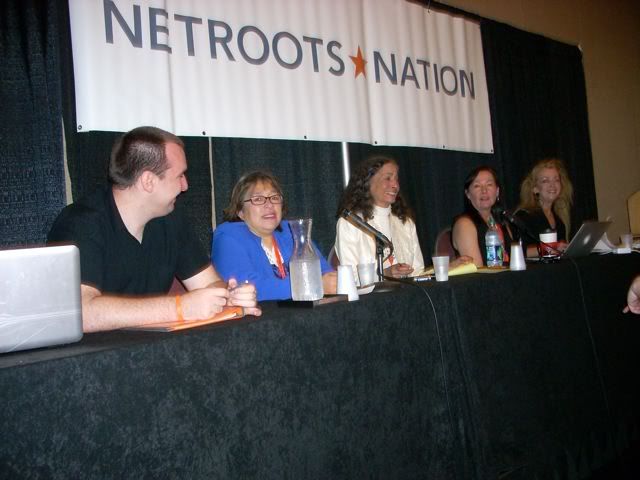 William Smith (ya, they call him Will) he reads us but does not blog at this point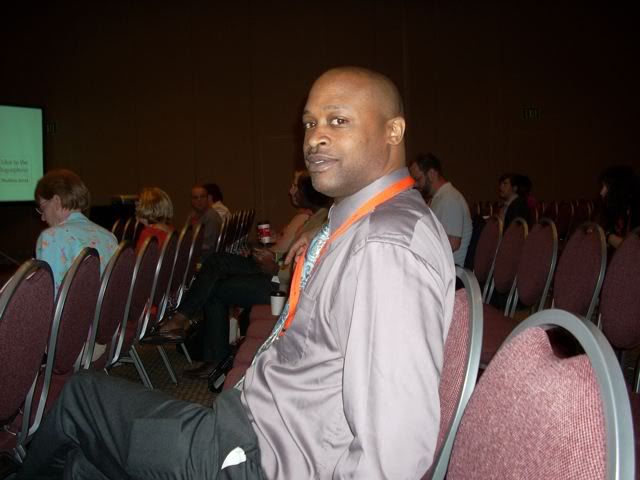 Bill, Navajo and Michael...ya think she enjoys herself?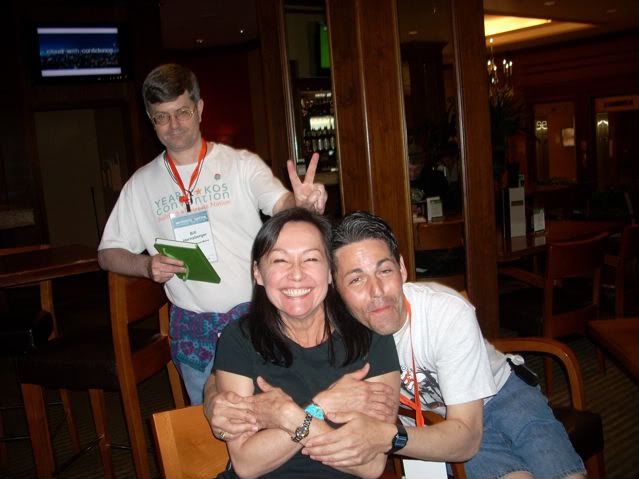 My team for the Chairman's Pub Quiz...in case you missed it, we beat the two time champions Sea Org, who just happen to be DailyKos front pagers. Puzzled, cskendrick, Dave Weigel, Jessie Opoien, Sharoney, Mr. Sharoney...missing is me, occams hatchet, Anne Schupach, and Rep. Brad Miller (NC-12) joined us for the first couple rounds of questions.

Everyone on the team received a bucket of stuff...the best thing being an autographed copy of Sen. Franken's book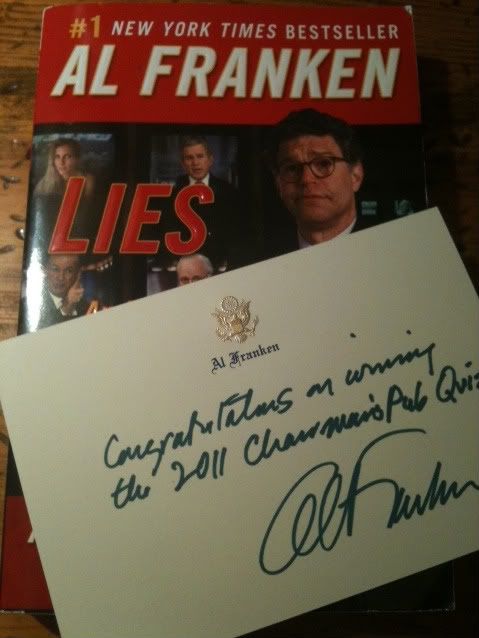 We also received a T-Shirt that we could design. Here's mine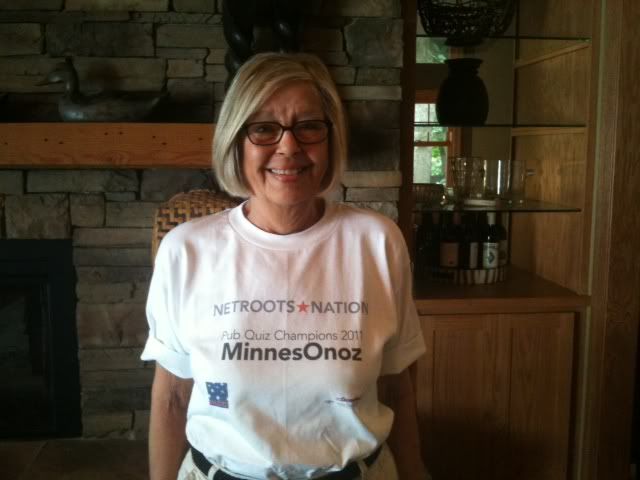 Celebrating our win...Sharoney, Mr. Sharoney, Vicki, how did you get in there?! You're funny!)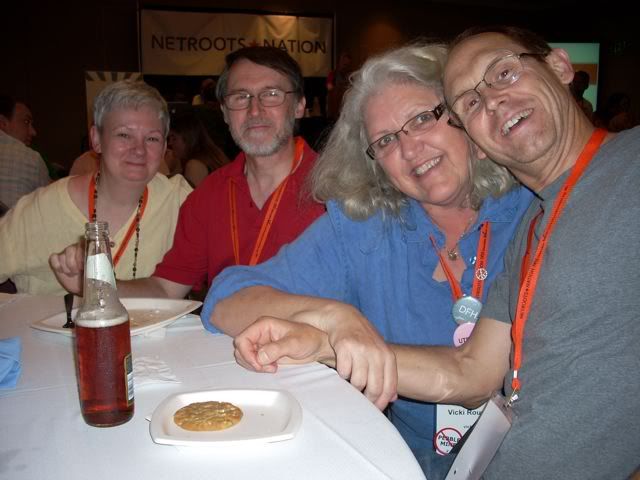 I feel that the team "Democrats for Lieberman" deserve kudos for the best props at the Pub Quiz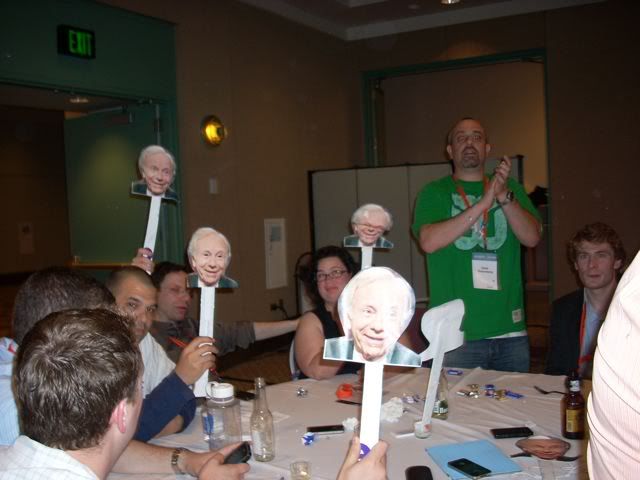 I'll throw in the grainy pic of AdamB and his entourage!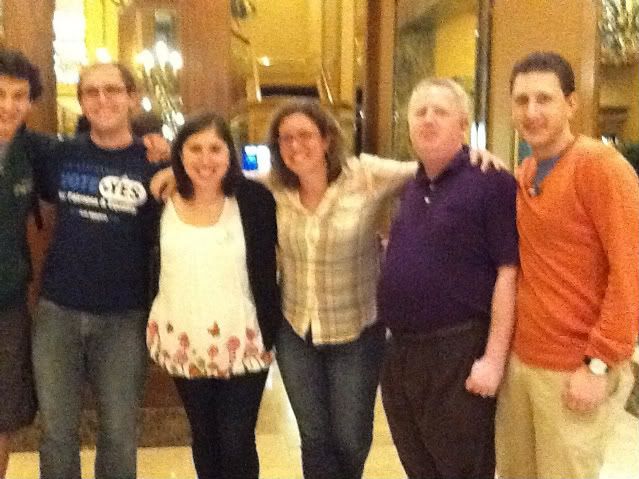 And this guy? Heh, Paradise50 models the boxers that smileycreek won for him