Text 'REDCROSS' to 90999 to donate $10.
If you are a Ham radio operator the Red Cross in Minot needs your help! 3937mhz
Boil water order in effect for Minot. Officials aren't certain the water is safe.
Follow on twitter using #Minot, #Minotflood, and #Flooding.
The Souris River in Minot has crested. It's expected to crest within 24 hours in Sayer and late Monday/early Tuesday in Velva.
As of 7:00AM CDT on June 25, the Souris River in Minot is at 1561.52 feet.
As of 4:30PM CDT on June 25, the Souris River in Minot is at 1561.63 feet.
As of 7:30AM CDT on June 26, the Souris River in Minot is at 1561.72 feet.
As of 6:00Am CDT on June 27, the Souris River in Minot is at 1561.3 feet.
As of 6:00AM CDT on June 28, the Souris River in Minot is at 1560.66 feet.

Water levels in Minot are declining more rapidly now. The Souris River is expected to remain above flood stage for at least another week.
Approximately 4000 homes damaged.
The river appears to also be cresting in Velva. Other downstream communities are reportedly not in any danger.
The weather forecast is clear and warm until June 30.
New article-Minot vs Fargo flooding
Background: Minot, ND is a city of just over 40,000 people less than 60 miles south of the US/Canada border. This city was built at the junction of two major transcontinental railroad lines (BNSF and CP Rail-both have suspended operations in this area due to the flooding, which means Amtrak is hampered as well.)
Due to the Williston Basin oil boom, the housing supply is extremely tight-people are sleeping in their cars.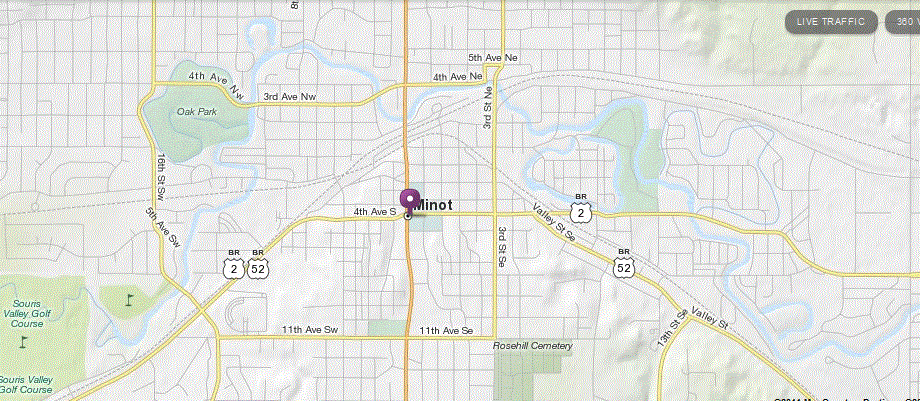 This flooding was predicted by NOAA back in March, but the timetable has accelerated dramatically due to substantial rain in Canada, which has had to release large volumes of water from the Rafferty and Alameda Reservoirs to prevent damage. That water has gone right into the Souris River, which flows south into the US, loops around, and heads back into Canada. (Yes, geography is weird there.) Usually Lake Darling Dam releases are timed to increase and decrease with area snowmelt, but water levels are increasing so fast they can no longer be controlled.
This event is expected to keep evacuees away from their homes for several weeks.
Evacuation information and assistance:
Please check road conditions before you try to drive anywhere! Many bridges and roads are unusable!
ND Road Conditions
Minot evacuation zones
Burlington evacuation zones
Ward County Flood information
Minot American Red Cross
FEMA disaster assistance FAQ
If people have damage they should call FEMA immediately at 1-877-212-0316 to start the process.
Souris River height tracking at NOAA
Interesting NOAA map showing topology and other communities in ND under threat
USGS Lake Darling Flood Monitor Page
Inundation maps-large file! loads slowly!
Corps of Engineers Minot levee review, undated
May 20 Article about rising water outflows
Free topo and satellite maps!
The default is Mt Rainier-doesn't look like I can change it-but it's easy to use. Zoom out, use the arrow to move east, and zoom back in-you can trace the Souris River as it loops around ND and back into Canada.
Significant event timeline:
June 24
1:30pm Souris River is officially over record flood stage.
June 23
4:14pm Outflows from Lake Darling increased. Expected crest now 1565ft. Expanded evacuation areas to be announced. Broadway Bridge closed.
June 22
9:30am The Souris River begins to overflow levees in Minot.
11:00am The National Weather Service issues a flash flood warning after the water levels rise four feet in a brief period of time.
12:57pm Warning sirens for evacuation begin to sound, 5 hours early.
Kossacks Blog the Flood
noddem's photo diary
noddem lives in Burlington, ND-also under evacuation
RuralRoute's original diary on Minot, ND flooding
Other Media Resources:
yfrog photos by Minot resident
cbc.ca
PlainsDaily.com
Paul Douglas at startribune.com
kxmc livestream
weather.com Flood tracker
cnn.com story
local Minot media reports
Minot Daily News
KMOT
KFYRTV.com
A decent summary from the Washington Post
A review of flooding from the Canadian side, including the Souris River
26 communities in Saskatchewan are under some kind of flood surveillance
Results of google news search-lots of articles on both US and Canadian flood efforts