I'm done with Shoujo for a while, and am moving on to its natural successor in my series: Shounen manga. Shounen, Japanese for boy, is, obviously, directed towards a younger male audience. And as one can imagine, has a markedly different set of styles and themes than mangas aimed a younger female audience. There is more emphasis on fighting, on the idea of getting stronger, (I say that in the blandest and most general way possible), surpassing rivals, discovering who you are, etc. The humor also tends to be a bit cruder, to put the matter bluntly.
Personally, even as a guy I find Shoujo more interesting, if only because I've lived my entire life with what can only be described as passive masculinity, and I find Shoujo opens up an entirely different and interesting set of sensibilities and emotional outlooks that I love exploring. (This does apply more to manga though, as I tend to watch mostly Shounen shows, if only because so many Shoujo animes are awful, even of series I love). In other words, my Shounen suggestions are going to be in some ways more eclectic and diverse than what I suggested with Shoujo.

I'm going to start with my number one recommendation, as always. Imagine a Shounen manga. Now imagine a Shounen manga with medieval Jewish mysticism as its framework and Satan as its protagonist. That is exactly what you get with 666 Satan (also published in some countries as O-Parts Hunter, for understandable reasons), a manga by the twin brother of the mangaka of Naruto. It is that rare blessing of a finished manga (it seems like I'm constantly waiting for the next chapter of something or another to come out), and it is a sci-fi fantasy built around the Jewish Kabbalah and Christian angelic and demonic mythology.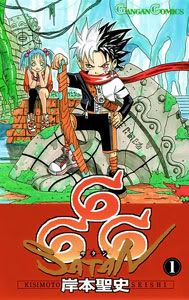 The Kabbalah of course divides God into eleven different concepts, or, more accurately, states that God is revealed in different manifestations. Keter and Daat, though, are two parts of one whole, thus creating the ten sephirots which form the "Tree of Life":
Keter (supernal crown, representing above-conscious will)
Chochmah (the highest potential of thought)
Binah (the understanding of the potential)
Daat (intellect of knowledge)
Chesed (sometimes referred to as Gedolah-greatness) (loving-kindness)
Gevurah (sometimes referred to as Din-justice or Pachad-fear) (severity/strength)
Rachamim also known as Tiphereth (mercy)
Netzach (victory/eternity)
Hod (glory/splendor)
Yesod (foundation)
Malkuth (kingdom
which account for ten separate concepts. The fascinating aspect of Kabbalah lies in its distinct Eastern-flavor. God as a whole cannot be comprehended, and thus there are numerous aspects of God—feminine, masculine, compassionate, wrathful, good, evil, all of which are not matters of God changing, but expressions of a greater unrevealed whole. A main line of thought in Kabbalah is that no angels or demons exist—in other words Satan is merely another manifestation of God, and evil is just another limited portion of our perspective of God.
I go into this digression into Jewish Mysticism because it serves as a crucial element of 666 Satan, as does Christian mythology. The mangaka borrows the names of Christian seraphim and cherubim and attaches them to the concepts laid down among the Sephirots of Kabbalah. And he does it in a well-informed and intelligent way—he's not fucking around with third grade world history impressions here. A fascinating subject, and the way it's mined for a manga framework is equally fascinating.
The manga is about a young girl named Ruby, who, while searching for her father, (a famed archaeologist), runs across a strange and immensely strong young boy named Jio who saves her life and agrees to be her bodyguard in exchange for food. The setting lies in a strange but fascinating, anarchic world, where there are advanced alien devices called O-Parts, which only a microscopic percentage of the population can use. The devices themselves are more fantasy than science, but as one famous sci-fi author once said, 'Any science sufficiently advanced beyond our own would seem like magic' (a quote that I am mangling). These O-Parts (out of place artifacts), are remnants of an alien race that came to the planet a vast time before, crashing in an advanced ship called, surprise, the Ark.
The essential idea behind O-Parts is that they manipulate the universe by understanding the data behind it and certain functions. The various unique abilities they display keep the reader guessing and help add to the excitement and charm of this manga. As does its surprisingly wide and vivid cast of characters, both among the enemies and the protagonists (including an extremely likeable set of major protagonists).
Beyond anything of the plot, the ideas of this manga fascinate me, even if, in the end, they aren't fully exploited. It really explores the idea of humanity; particularly with characters, the Sephirots, who appear human, and might once have been human, but are now organic machines for all intensive purposes; weapons. Not only weapons, but representations of an alien technology and thus literally separate from their humanity. The main plot-line deals with the fact that two separate groups are trying to unite the Kabbalah (which means absorbing the ten Sephirots), and use it's power to take over the world.
While it may be by the twin brother of the mangaka of Naruto, and the artwork definitely shows their shared influences, (and there are some small similarities in the plot), 666 Satan has a moral seriousness that Naruto lacks, as well as more interesting and fascinating ideas that it is pursuing; such as the interaction between mankind, between nature, greed and conscience, what constitutes and drives evolution, and most interesting, an interplay between the two main enemies. This interplay is that of megalomaniac idealism against pragmatism, culminating in the assertion, (not giving away anything more than this), that unity is not the ultimate evolutionary path, but the end of evolution and of progress. And it's final speech, proclaiming that true power lies not in weapons and abilities, but in the interaction between people, between other sentient beings.
666 Satan is one of the most interesting and well-balanced mangas I've read. Brutal for a Shounen, and filled with complex ideas (not necessarily perfectly developed, but I give it lots of credit for trying and bringing those ideas to me, making me think about them) within an imaginative use of sophisticated religious theology, adjusted seamlessly to better fit the authors needs (he creates two Trees of Life, a demonic and an angelic, and uses them as actual representations of specific beings). At 76 chapters and the most gargantuan average chapter length (I'd say 56 pages at least), I've ever come across for a manga, it's a meaty and satisfying read, that has been concluded (I'll be waiting 5-6 years for the same thing with some of my other mangas). A word of caution: the ambiguous ending may be a severe disappointment or area of consternation for some. If so, be sure to come to me and we'll rant/share ideas on the matter. Heh.
P.S. Please vote in my poll. I'm interested to see how many separate users read this. I always appreciate having an accurate view of the size of my audience.