GTM Research predicts we'll have 50 GW of module global production capacity by the end of the year reports Stephen Lacey of Think Progress in Solar is Ready Now: 'Ferocious Cost Reductions' Make Solar PV Competitive.
Notice that this 50 GW of total global photovoltaic generation capacity, is literally "off the chart" here which only goes up to 20 by 2010. And, accelerates the 65% compound annual growth rate, to almost 200% in this last year. (Just for the year, not the average for the five years.)
Tonight, I have 8 articles about developments in alternative energy that I hope will generate both optimism, and interesting conversation.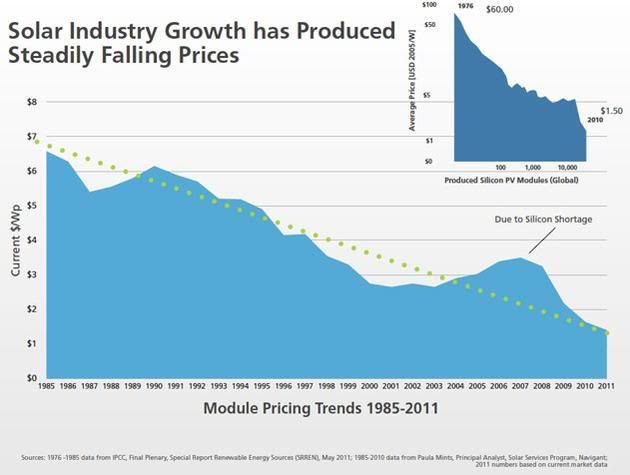 Stephen Lacey Solar is Ready Now: 'Ferocious Cost Reductions' Make Solar PV Competitive
Last month , Tom Dinwoodie, CTO of SunPower and Dan Shugar, formerly of SunPower and current CEO of Solaria gave briefings to Washington decision makers to push the idea that "ferocious cost reductions," are accelerating the moment of "grid pariety," when solar power is less expensive for electrical generation than fossil fuels. Keeping in mind that these are executives from for-profit companies marketing their "solar agenda" we should examine their finanical analysis as it portrays rapidly growing markets, reductions of cost, and "grid pariety" that may already be here in certain markets.
As recounted by Stephen Lacey of Think Progress:
Dinwoodie and Shugar are responsible for developing over $3 billion in PV projects around the world. They were making the rounds in Washington this week, giving presentations to journalists and policymakers about the changing economics of Solar PV. Joining them was Adam Browning, the executive director of the Vote Solar Initiative, an organization responsible for much of the state-level progress for solar in the U.S.

Their goal: To explain that solar PV is no longer a fringe, cost-prohibitive technology – but, rather, a near-commodity that is quickly becoming competitive with new nuclear, new natural gas, and, soon, new coal.

These slides are a must-see for anyone interested in solar, or in the business of energy generally. While I think some of the predictions and comparisons between technologies aren't telling the full picture, the underlying data is very compelling: We are starting to realize grid parity in solar – all with technologies available today.

Notice in the first chart how steadily manufacturing costs have come down, from $60 a watt in the mid-1970's to $1.50 today. People often point to a "Moore's Law" in solar – meaning that for every cumulative doubling of manufacturing capacity, costs fall 20%. In solar PV manufacturing, costs have fallen about 18% for every doubling of production. "It holds up very closely," says Solaria's Shugar.
PR Newswire writes, on July 4, 2011 The Expenditure on Solar Power Photovoltaic Output in 2011 Will Reach $50.62bn' Says Visiongain Report
LONDON, July 4, 2011
Visiongain's latest energy report, The Solar Power Photovoltaic (PV) Market 2011-2021 calculate(s> that expenditure on photovoltaic output in 2011 will reach $50.62bn. Capital expenditure on solar power photovoltaic will see unprecedented growth over the forecast period as emerging market such as China invest heavily on PV technologies.

The future for photovoltaic solar power generation is brighter than ever before as the costs of production is falling and new power technologies are enabling companies to roll out photovoltaic (PV) panels on a larger scale, with greater efficiency. Although in many regions of the globe consumers still require financial support from governments to buy PV panels, the cost of electricity from PV panels is expected to fall continually over the years to come, and eventually be as competitive as conventional processes of electricity generation. In remote locations unconnected to the grid, solar photovoltaic power is already an effective replacement for grid connections. In countries like Australia and the United States long distances and few distribution points make centralised power relatively expensive. The use of solar power photovoltaic along with storage systems is becoming an alternative option to a direct grid connection.

Electricity prices are soaring as a result of high commodity prices and energy companies are faced with difficult investment decisions with regard to sourcing their future electricity supply. Some energy companies are favouring solar power as a solution because of its low maintenance cost and the financial incentives provided by the government.
Ben Schills, of Bloomberg News writes China to Benefit From Solar Power Mergers
Solar-panel makers in China will increase their market share as overcapacity and falling prices force weaker foreign competitors to seek takeovers or go out of business, Standard & Poor's forecast.

Chinese producers including Yingli Green Energy Holding Co. and Trina Solar Ltd. (TSL) that benefit from government support are driving down the price of photovoltaic panels even as it crimps their profit margins to pressure European rivals that face higher costs, credit analyst Swami Venkataraman said in a research report. "China has become the dominant producer," Venkataraman said. "The exit of high-cost, stand-alone panel manufacturers will become inevitable in the next few years unless an explosion in demand allows all producers to thrive."

First Solar Inc. (FSLR), based in Tempe, Arizona, is likely to remain the market leader because its cadmium telluride generators cost at least 30 percent less to produce than the polysilicon panels made in China, Venkataraman said. "Even if poly prices were to fall significantly below the current spot price of about $50 per kilogram ($22.70 a pound), First Solar would still have a significant edge over the lowest- cost Chinese players," he said.
Mridul Chadhad, Student, Environmental Engineer, Writer $1.78 Billion to be Invested in Asia's Largest Solar Park (500 MW) in India
The government of the western state of Gujarat in India has announced the establishment of Asia's largest solar park that will provide 800 million units of power in two years when commissioned with a power production capacity of 500 MW.

The state-owned Gujarat Power Corporation is developing the solar park, which will cover 2,000 hectares of land, ... The companies like GMR and Lanco, will invest $1.78 billion in the proposed project and already received the allotment letter for the solar power generation under the Gujarat Solar Mission.

In the first phase of the operation, Gujarat Energy Transmission Corporation will set up a power pooling station to collect the generated power from 150 solar power production companies that will generate around 176 MW. ... The project when completed will generate around 800 million units of power.
"We would have around 100 MW solar power capacity commissioned by the end of this year, as part of the 500 MW solar park project. Overall, we have allotted 274 MW capacity to companies. Around Rs 15 crore ($3.33 million) would go into setting up every MW of power," D J Pandian, principal secretary (energy) in the state government said.

Gujarat had announced a solar policy in January 2009 with an ambitious target of installing 1000 MW of solar power capacity by the end of 2012 and 3000 MW in the next five years. The state has already signed power purchase agreements of 934 MW.
Source: Clean Technica (http://s.tt/...)
Zachary Shahan, of CleanTechnica reports that we a student has built a solar powered bikini for powering an Iphone, that is generating a lot of interest. Solar Bikinis for Iphone and Ipods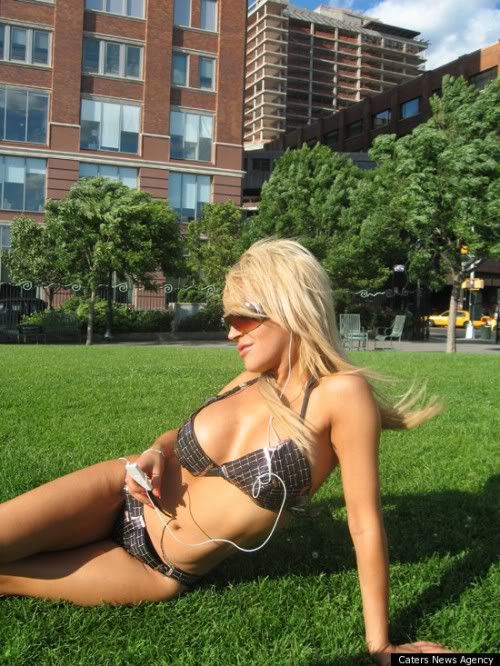 Solar Bikinis for iPhones, iPods, etc? Apparently, Yes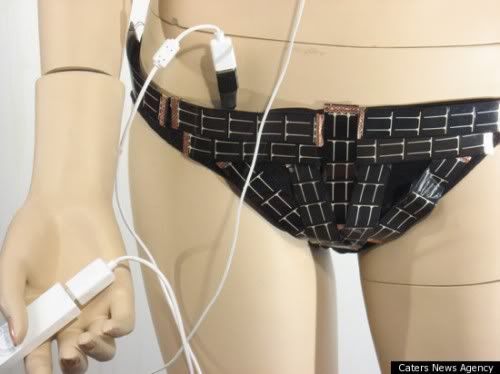 Solar Photovoltaic Bikini, designed by NYU student Andrew Schneider. (click to enlarge)
This is too wild to pass up….

An NYU student from Brooklyn, Andrew Schneider, decided he wanted to create a swimsuit that would cool his beer. The result: using flexible solar photovoltaics surrounded by plastic, he created a bikini that can power your iPhone, iPod or similar device. Apparently, he's getting to work creating a male version as well, the iDrink. This one, having more surface area, will be able to power a 1.5 amp peltier junction that can cool a beer in a custom coozy. ...

In any case, it isn't being mass-manufactured and most of you probably haven't heard about it. Reportedly, no swimsuits, which are custom-made and require 80 hours of work, have actually been sold.
Despite the lack of sales, though, Schneider has been quite happy with the response and thinks it has been serving its main purpose.
"There's been a lot of interest. It was more of a conceptual thing," he says. "I really am interested in it as a design object…. This object can bring awareness to how alternative energy can be fun."
Reportedly, the Solar Bikini can get wet — you just need to be dry before trying to hook up your electronics again.

"The suit is a standard medium-sized bikini swimsuit retrofitted with 1″ x 4″ photovoltaic film strips sewn together in series with conductive thread. The cells terminate in a 5 volt regulator into a female USB connection." There's a thin strap along the back connecting the top to the bottom as well, so that the energy harvested at the top can actually be used.
I saw reports that it cost $200 and reports that it cost $500. If you're interested in the product, contact Schneider about it.
Caleb Denison Marine Energy A Big Deal In United Kingdom
Carbon Trust's analysis shows that, so long as technology is successfully developed and deployed internationally and the UK builds on its existing lead, then it is in a position to capture just under 25% of the world's marine energy market-the equivalent of up to over $124 billion (£76 billion) for the UK economy by 2050. Additionally, the growing renewable energy sector could provide up to 68,000 UK green jobs through growing export markets in countries like Chile, Korea, America and some of Europe's Atlantic-facing states.
Image Via SeaGen

The analysis also indicates that total marine energy capacity in the UK could grow to be 27.5 gigawatts by 2050, which would be capable of supplying the equivalent of just over a fifth of the country's current electricity demands. .

According to Carbon Trust's statement, the UK currently provides about 35 of the world's 120-130 wave energy and tidal stream device developers. British companies like Pelamis, Aquamarine Power and Marine Current Turbines are actively deploying their technologies in UK waters. Almost half of Europe's wave resources and over a quarter of its tidal energy resources are located off the British coastline.
The analysis provides more than just impressive statistics, though. It also highlighted three challenging issues that face the industry. The organization suggests that the marine energy industry needs to push innovation in order to get technology on its way to commercial development since existing full-scale demonstrations need to be followed by utility scale deployment. Also, it is recommended that costs be reduced so that marine energy can compete with other renewable energy technologies. Finally, the analysis indicates that marine energy will need wider support in the way of public approval, grid upgrades and a manufacturing supply chain in order to reach the forecasts issued by the Carbon Trust.
Caleb Denison, of Earthling.com writes, Underwater Kites Harness Deep Sea Energy from March 17, 2012.
It was just last year that we covered a story about kites flying under the sea to harness tidal energy. Now, Minesto, the company behind that under-sea kite project called "Deep Green", has announced they've received £350,000 (over $560,000) from The Carbon Trust to dive forward with deploying a prototype of their technology. If their trial is successful, it could lead to a large-scale implementation of underwater kites around the UK coastline that the company says would generate enough juice (530 GWh) to power all of the homes in a city the size of Newcastle (population 189,863) by 2020.

These under-sea kites harness the power of oceanic forces in much the same way that land-based kites capture wind energy. As this article from SmartPlanet illustrates, a rudder-controlled kite "flies" through the deep ocean in a figure eight pattern, capturing and magnifying wave energy as water passes through, then channels it through a turbine which sends the power to a generator located below on the sea floor. Because the motion of the kite against the current can intensify the power of the ocean current by a magnitude of 10, this device can work effectively, even in less-than-vigorous waters.

Benj Sykes, Director of Innovations at the Carbon Trust, said: "Minesto's Deep Green is a very exciting technology as it could provide a step change reduction in the cost of tidal energy and open up swathes of the UK's coast to generating electricity. Tidal energy has the potential to produce up to 18 terawatt hours of electricity, equivalent to over 5% of the UK's electricity consumption."
Stephen Nielsen, of Bloomberg News writes, Geothermal May Produce 3.5 Percent of Power With Aid, IEA Says
Geothermal energy's share of global capacity may increase more than 10-fold by 2050 if governments implement incentives according to the International Energy Agency.
Power generated from underground heat sources may account for as much as 3.5 percent of worldwide electricity within four decades, up from 0.3 percent now, the Paris based agency said today in a report on its website.

Streamlined permitting procedures and pricing incentives may result in more than 200 gigawatts of installed geothermal capacity by then, according to the IEA's technology road map. ...

The IEA suggested that governments provide resources for at least 50 pilot projects that generate electricity from dry rock, which comprise most of the world's usable subterranean heat. ...

Well, I hope this is enough to start a good discussion. Please forgive me for not having more interpretation, but, I'm worried that if I don't publish this soon, everyone will be asleep.
Cheers.