Despite all evidence to the contrary, Grover Norquist has managed to convince the Media, and much of their American audience, of these taken-for-granted, Unquestioned Truisms:
-- Tax Cuts spur the Job Creators -- to create Jobs.
-- Corporations must be coaxed to invest in America.
-- America has a Spending Problem.
-- Government Spending is a Bad thing.
-- Government must Cut Spending -- no matter the fallout.
-- If a family can cut back on its Budget, so can the Government.
-- Raising any Tax anywhere, is Un-American.
-- Government itself is a Bad thing.
-- Letting Americans keep more of what they've earned, will Fix the Economy.

The Media accepts, and repeats, all of these "mantras" or some variation of them, without Question; as if they were written on Stone Tablets, and brought down from some Mountain, by one of Reagan's helpers the Gipper's Gophers.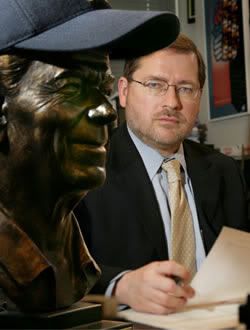 Maybe they were? How do you know? ... Were you there?



Here are a few counter points for our so-called "objective" Media Pundits to ponder:

-- We've had over 10 years of unprecedented Tax Cuts -- Where are the Jobs?

-- Corporations are sitting on Trillions, in excess Cash, and they got their Tax Cuts too -- so, Why are they still so afraid to hire out-of-work Americans ?

-- Families can live within a tight Budget -- but Families don't have to build Roads, Schools, Power Grids, or "provide for the General welfare or National Defense", either.

And another thing ...
-- Raising Taxes to provide for those things, is NOT Anti-American -- in fact the Constitution tells us to Raise Taxes, and to honor our Debts, to provide for the General Welfare and National Defense.

Those things are what the Founding Fathers wanted ...
Grover Norquist's vision for a Me-First, Me-Only Society, not so much.

"Sink or Swim, each on our own" (as Beck advocates for Koch) -- is NOT what they meant by "United we stand" ... I don't think, putting all of Reagan's "rugged individualism" aside. That was Hollywood, afterall.

Of course with the help of our "chronically forgetful" Corporate Media, Grover Norquist has finally managed to accomplish his main goal, with the blind allegiance of his Obstructionist Tin soldiers, now occupying the current Congress:

"We will make it so that a Democrat cannot govern as a Democrat."
So much for the 2-Party system. So much for the America Dream ... where there once thrived, equal opportunity for all. (and Liberty and Justice too.)

Long as our "Media Barkers" can perpetually 'stir the pot' -- Why should they ever be expected to Fact Check anything they say? Or that, which they allow to be said? Over and Over and Over, again.
Besides Grover knows bests. (Psst. ... He worked for Reagan. He schooled the Gipper. Step aside people, step aside.)