I've been batting this diary around for along time. The way I see it those of us on the left have been playing short term defense for too long, because too many of us fail to understand the long term offensive plans of modern conservatism. Today's radical conservatives don't just want to "win" they want to prevent the left from being able to return to power in any meaningful way. Attacks on ACORN, Union busting, trying to tie Democrats to sharia law, pushing for government funding of for profit Universities, limiting class action law suits are all tied to one master idea.
>>>>>> DEFUNDING THE LEFT <<<<<<<<
In the 1990's Karl Rove researched who "funds" Liberals and Democrats. He realized that the majority of funding (80%) for progressive cause came from 3 source. Unions, trial lawyers, and "Jews" (this is his finding). So he helped author plans to kick out 3 of these legs by breaking public sector unions, limiting class action suits, and to breaking the "special relationship" between Jews and the Democratic Party. The fourth and more recent strategy is to break the "brains" of progressive ideas by attacking academia by promoting for profit "non-research" Universities (professors teach and don't do research on inconvenient things like global warming, classism and sexism).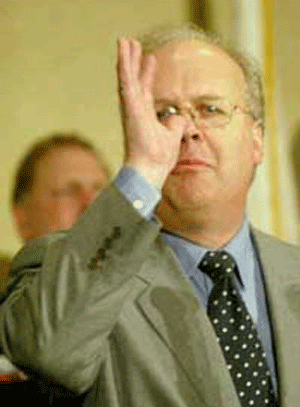 The Swift Boat Veterans for Lies is but a tiny piece of a schematic Rove has been carrying in his head since his salad days in Texas. Bush's Brain will die happy the day he achieves his two greatest goals. The first of these is to turn the U.S. into what is fundamentally a one-party system. Secondly, he wants the federal government to have so little money that it can do nothing to get in the way of business interests; nor will it be able to sustain any kind of socially progressive assistance for disadvantaged Americans.

His desire to destroy the Democratic Party is not about fair play politics. Rove sees a country where there is only symbolic opposition and democracy is more of a "Potemkin Village" show than an actually tallying of votes and a discussion of issues. He and the Republicans believe they know what is best for America. They do not consider ideas from the left or the center. Those people are simply wrong to them.

Of course, the irony is lost on Rove and his henchmen that a one-party nation, at the worst, turns us into something akin to a communist country or, as a minimum, the pseudo-democracy maintained for decades by Mexico.

I made some bold assertions so where is my proof? James C. Moore, Co-Author of "Bush's Brain" also the author of Bush's War for Reelection: Iraq, the White House, and the Truth, and "The Architect: Karl Rove and the Master Plan for Absolute Power. He is an Emmy Award-winning TV news correspondent with more than a quarter century of print and broadcast experience.This is from 2004.
So what is he doing? Why do I believe one guy is ruining our political system? Because I know his three-step plan.

It began here in Texas when Rove was rebuilding the Republican Party in the Lone Star State. Rich people were asked to contribute to an organization called the Civil Justice League. They were billed as a grass roots political action committee that wanted to elect judges more sympathetic to the business community. And they did. They also carried the message that trial lawyers are bad people who are ruining our civil justice system. Eventually, sweeping tort reform was enacted in Texas and trial lawyers discovered there was no money in taking most cases because the size of settlements had been limited.

It is not a coincidence that trial lawyers contribute mightily to Democratic Party causes. And tort reform in Texas was not about bringing more justice to the courtroom. It was a step in taking away the ability of trial lawyers to make contributions to Democrats. And it worked. Rove has taken the lawyers are bad people campaign onto the national stage and he is winning there, too. Trial lawyers are getting hammered on issues like asbestos and mercury poisoning and every other case they bring against corporate America. If President Bush is re-elected, we will see sweeping reforms that drastically limit the amount of money any lawyer can earn in a liability lawsuit. Trial lawyers will discover, as they already are, that they cannot afford to take most contingency cases. Damage caps generally will not cover costs of preparing for trial. This accomplishes Rove's first step: Lawyers without money mean the Democratic Party has lost a critical source of funding.

Step two is to destroy unions. They, too, give greatly to Democrats. Every chance he gets, Rove has a Republican member of congress drop a provision into a bill that weakens collective bargaining rights. This was the Democrats main complaint against the Bush-backed version of the Homeland Security Bill. A key provision reduced the ability of federal workers to negotiate for better pay. Every time an industry is on its knees, Rove sees a chance to get government to help them, but only if its workers will make concessions to get the company going again. These are always about the strength of unions. If he can destroy unions, Rove will take away another critical source of money for Democrats. If Mr. Bush wins another term, there will be draconian measures enacted reducing the negotiating power of unions in this country and their right to organize and negotiate.

The third ingredient in Mr. Rove's political stew is Israel. Through the years, Jewish voters in America have contributed as much as 40 percent of the funds for the Democratic Party on an annualized basis. This is an astounding figure given the fact that people who identify their faith as Jewish in census forms amount to only about two percent of the U.S. population. Their money is critical to Democratic issues and Rove wants to get as much of it over to Republicans as possible. To do this, he has simply had the president step back from criticizing Israel. Bush Administration policy regarding Ariel Sharon has been strictly laissez faire. Sharon can do no wrong. Israel has a right to protect itself, White House spokesman Scott McClellan says ad infinitum. There is little, if any, pressure for Sharon to make concessions for peace.

America's interests are Israel's interests and since our sworn enemy is Arab Muslim, this calculus is easy for Rove. The Bush White House has been the most disengaged on the question of Israel and Mideast peace of any in the past half century.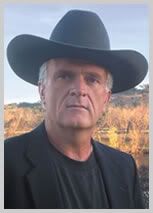 James C. Moore
This has been the game plan for a long time, but I see very few on the "professional left" beating this drum. This is what they are up to. So when you see attacks on public unions (defunding union money), claiming Democrats support "sharia law" (defunding Jewish donors), the Supreme Court limiting class action lawsuits in the Walmart Case (defunding trial lawyers) stop seeing them as separate actions. Stop seeing them as political "pay back", conservatives following the Tea Party, ideological crusades, or any of the other reasoning I have heard. It all comes down to one over arching reason only. Movement conservatives want to prevent the left from having the resources to fight back and challenge their vision of America.
When Rove has finally dried up the lifeblood of the Democratic Party, he will guide the president and congress in a direction that begins to bleed the federal government of its money.

Eventually, the Washington bureaucracy will be a vestigial organ, a government that cannot govern because it has no money. There will be no social programs to help the poor. Businesses will develop risky products without the risk of liability and the great institutions, which have nurtured the growth of our nation, will begin to falter and fail.

So now that I outlined what were are up against, I think we need a counter-offensive strategy not a defensive one. For 30 years Progressives have been focused on trying to maintain the gains we made between New Deal and the Great Society. But there are too many targets to defend if conservatives aren't defending their own turf.
This is part one in my outline for attacking the funding of conservatism. Before I begin I know I, don't have all the answers. But I know WE have all the answers. I'm writing this to hopefully provoke the same kind of long term strategic thinking on the left that conservative have nurtured. If not I hope to at least open the eyes of movement progressives to what we need to do, and begin a discussion.
Secondly I'm not a big believer that boycotts alone will do this. Yes we were able to drive Glenn Beck off the TV, but I have no doubt that he will be replaced by a more carefully worded demagogue. Boycotts are only effective against the most outrageous of characters, it's why the Right has gone for a break the left model over calling for boycotts.
I believe we need to mount a dedicated decades long counter offensive. We need to fight fire with fire, but also do so in a way that is consistent with our beliefs and values. Motivating ordinary every day progressives is hard. We won't do it by using draconian byzantine rules. Progressives by our nature are egalitarian, so we have to play off of this strength to level the playing field.
My strategy for defunding conservatism Part 1.
1) Use ballot initiatives to break corporate funding of elections at the state level.
Use language such as this:
All corporations that do business in this state must divulge all their civic, charitable, and political corporate donations to all their owners, share holders, and debt holders.
Banning them is what we want but it's a political harder sell. Also our current ideological supreme court would most likely throw it out since they view corporations as "people". But this attacks the heart of Randian Conservatism don't the property owners get to decide how their money is spent. By forcing corporations to divulge this information to all their share holders (including shares in 401K accounts) this information will be made public in about 15 seconds. This effectively will effectively destroy secret corporate donations, if enough states pass this bill.
2) Propose laws in Congress
a) No entity that can not legally vote in the United States may donate to political causes.
This would ban corporation, unions, foreign entities, and church groups from engaging in electioneering. Yes this would hurt our side by eliminating union money, but corporations outspend unions by 9 to 1 it's a bitter pill for our side, but it's poison for conservatives. It's also allows us to take the high road, where conservatives will have to argue a nuanced position.
b) Direct Election of corporate compensation boards by shareholders.
Many on the left have for years been trying to contain CEO pay by having shareholders vote on pay packages. This is my opinion ineffective, and based on a misguided understanding on how CEO pay is determined. At most corporations CEO pay is determined by a board that compares a CEO's pay performance to his or her peers. This has generally lead to escalating pay cycles as boards are constantly looking at other CEO's pay going up an matching them. But if compensation boards are directly elected they will be forced to answer directly to shareholders. Try winning a share holder election after giving a failed CEO a golden parachute. Direct elections of CEO by shareholders meets with a lot of resistance some of it good, but the argument that no employee (and the CEO is an employee of the shareholder) caries a lot moral a logical weight. If moderns finance is based on pay absolute homage to the shareholders over all other stakeholders let's use it to our advantage.
3) Defund Judicial Conservatism
Pass Federal rules regulating how all judges may except campaign donations, and force judicial recusals in more cases where large donations are made.
Now that corporate money is more interested in judicial elections this is long term loser for progressives. I was never a fan of elected judges, and I only see this situation becoming worse. I can't see how idealistic judges (on the left or right) will win over those who view themselves only as "super judicial senators".
What these proposed laws and rule all have in common is they can stand on their own merits, but tied together they help break one of the legs that fund movement conservatism, corporate money.
This concludes part one. I've detailed what we're up against, and also given some first step ideas on how we counter them. Next week I'll continue this in part II.