According to Oak Park, Michigan, Julie Bass has violated the local city ordinance of what one can and cannot have for landscape in their front yard.
Water wasting turf? YES!
Ornamental plants that look nice but do little else? Yes!
Raised Garden beds growing your own organic fruits and vegetables to feed your family of 8? Hello no!
Julie Bass of Oak Park, Michigan -- a mother of 6, law-abiding citizen, and gardener -- is facing 93 days in jail after being charged with a misdemeanor.
Her crime? Planting a vegetable garden in the front yard.
Michigan Woman Faces 93 Days in Jail for Planting a Vegetable Garden


Photo Credit: Julie Bass via Treehugger
Yes, it's not your typical landscaping, but that is what raised garden beds look like and I would rather look at that than unused turf any day of the week.
And of course consider this, wouldn't you rather feed your family vegetables that you've grown yourself rather than ones that you have to pay too much money for that have been grown in commercially farmed (if you don't have access to local Farmer's markets etc). pesticide laden traditional methods.
As we push for a healthier Nation, the backbone of this should be vegetable gardens and lots of them. Eating healthier, knowing where you food comes from and smaller scale, closer to home food production. We will need this more than ever in the coming years. It's mores sustainable and it's just common sense.
And well, if anyone in Oak Park hasn't been paying attention, there's a great, big beautiful vegetable garden at the White House on the South Lawn near the Kitchen, you know, where you prepare FOOD (Below is a video of the 2011 Spring Planting with local school children).
You can even get a tour of the White House Kitchen Garden when you visit the White House.
So what's the big deal?
About the City Ordinance

Supposedly, Bass is in noncompliance with a city ordinance that states that only "suitable" plant material is allowed on the lawn area of residences. When local media asked city planner Kevin Rulkowski what that meant, he said suitable means "common:" lawn, nice shrubs, and flowers. However, the city ordinance does not specifically state that those are the only allowed plant materials.

By the way, there are a few varieties of ornamental plants that serve as organic pest control, it's called companion planting. Four O'clocks, marigolds, Delphiniums, White geraniums and tansies are all great for pest control and the are beautiful and colorful flowers as well (this is part of my piece I wrote for the Aliso Viejo Patch on how to make those edible front yards gorgeous as well as perfectly practical).
What can we do to support such Julie and her ability to use her front yard as she sees fit (And no, she does not have a Home Owner's Association).
How to Help

If you want to help support a gardener's right to grow food for her family (even if it is -- gasp -- in the front yard!) there are several things you can do:

1. Email or call officials for the city of Oak Park. Mrs. Bass has listed contact information for the mayor, city manager, and other city officials in the sidebar of her blog.
2. "Like" the Oak Park Hates Veggies Facebook Page.
3. Spread the word via Facebook and Twitter. By gaining attention to this particular issue, with this particular homeowner, the hope is that other cities will reconsider before they harass another homeowner for something like this.
Edible landscapes, Kitchen Gardens and vegetables in the front yard will be the new norm in the not too distant future. My City, Aliso Viejo, is working on its own Green City Initiative, which I've been writing about in my local Patch and I am very excited about. It's part of the reason I love my City in fact.
Included the City's Green Initiative Land Use Workshop, a discussion of how we could allow more Organic Gardens in different places in the city too place. When you go to the City's website under land use for the Green Initiative, one of my favorite things to see (Besides my suggestion of "Plant wildflower ecosystems in underutilized disturbed open spaces") is:
The city should permit organic gardens anywhere they are feasible.
Sustainability is what we should be focusing on and this is exactly what Julie Bass is doing. We need to adjust to a new normal and a new idea of what is pleasing to the eye. Growing food should not be considered unsightly!
And it has already gone mainstream, Better Homes and Gardens has great garden plans and there are many books about edible landscapes, etc. This is not some fringe idea!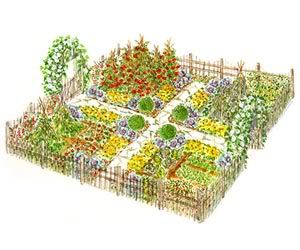 So get out there, don't just support Julie in her effort to feed her family. Why not start your own push for edibles in the front yard!