Given that past practice and state law prescribe that the building blocks of state legislative districts be municipal wards, I had previously thought that redistricting in Wisconsin would not occur until the fall, which is when the municipalities finish the process of drawing the wards lines. That would mean after the recalls, which present a chance of ruining the trifecta Republicans have and providing for at least a court-drawn map. However, with Republicans changing law to indicate that census blocks are the basis of districts, that means they could pass the maps before the recalls. In term of preventing this, there does not seem to be that much that can stop this as the map is VRA compliant and if they change the law regarding municipal wards vs census blocks, well they change the law. Of course, the ability to stop this is wholly dependent on Democrats taking back the State Senate next month in the recall elections, which is far from a sure thing. The Republicans presented their maps last Friday. Initially, I knew they were brutal but I waited until I plugged the districts into DRA before providing more detailed analysis and seeing if there is a legitimate road to a majority. The good news is that yes, there is a path. The bad news is that path is made significantly harder than it is under present maps.
Two notes. Since the districts in DRA are the wards and since the lines cross ward maps, the Obama percentages are not exact and would be off by a few tenths or so.
Additionally, I am not going to go through all 132 seats, but rather focus on the seats with important partisan changes and ones which Democrats need to win for majorities.
For more detailed maps, you can go here:
http://legis.wisconsin.gov/...
For the 2010 Gov and 2008 presidential election results for all the districts go here: http://www.jsonline.com/...
First, the Senate: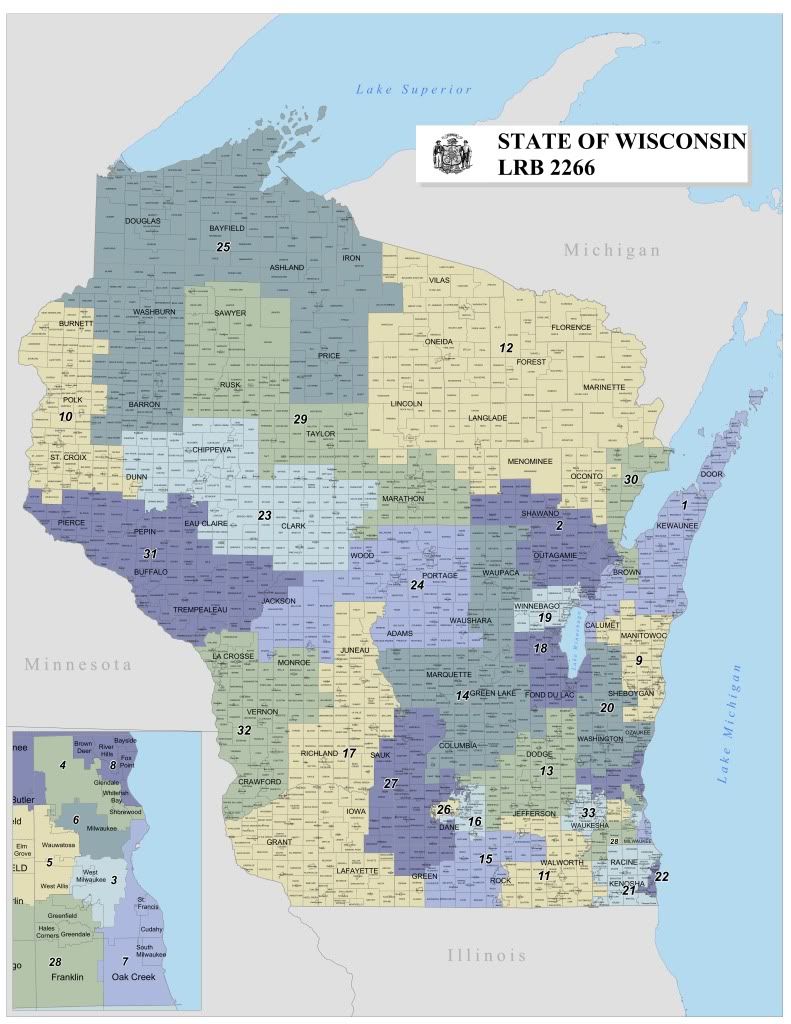 The Republicans here did not go after any present incumbents. Rather they tried to shore up their marginal seats. This is most pronounced in the 5th, 8th, and 21st. The 5th loses most of eastern (read Democratic) areas and shifts west to include all of Brookfield and northern New Berlin. As a result it shifts from 51.4 Obama to 45.1 Obama, so safe R. The 8th loses Shorewood and the parts in Milwaukee (read most Democratic) and goes further north and west. Thus it shifts from 51.4 to 43.9 Obama so again Safe R. The 21st is perhaps a bigger loss because at 55.3 percent Obama it was looking to be one of the top pickup priorities. But since the Republicans mushed the cities of Racine and Kenosha together (which is arguable from a CoI standpoint) in one district and mushed the suburbs and exurbs of those cities together in one district, the 21st losses most of the city of Racine and this shifts to 47.2 Obama, so Safe R. Additionally, the 9th is firmed up. At 52.6 Obama, it was a plausible pickup once Leibham ran for something higher. But by moving south it also moves to 50.4 Obama and thus only in the best case scenario would we win this seat.
However, there is a plausible path to a majority. This map leaves 13 seats where the Democrat would be favored. I am including Dave Hansen because at 56.5 Obama, it should still be favored for a Democrat to retain. The low hanging fruit would be the 32nd, which is likely to be won by Jen Schilling next month and at 60.5 Obama it would be safe D, and the 17, which is still plenty Democratic at 59.8 Obama. However, the Republican Dale Schultz, has earned a lot of moderate cred by voting no on the collective bargaining, but he did vote for the budget, so taking his seat would be tossup at worst and if a Dem could do it they should retain it. That leaves use with 15 seats.
There are 4 more seats which Democrats should look to target: the 1st, 19th, 23rd, and 29th. The 1st does not change that much from 53.4 to 53.9 Obama and with incumbent Frank Lasse taking some unusual stances (which are being brought to light due to his interest in the US Senate), it could be won. The 19th is also quite similar from 54 to 54.3 percent Obama, however due to Ellis' personal popularity, this seat would be harder than the partisan numbers indicate. The 23rd is weakened a little from 55.1 to 53.7 Obama due to most of Eau Claire being vote sinked into Vinehout's district (in the form of the 91st AD), but it is a winnable seat. Finally, the 29th also does not change that much from 53.4 to 53.3 percent Obama, so maybe State Rep. Donna Seidel might want to give this a shot. Given that the 1st, 23rd, and 29th are held by freshman, they should be easier to take down than Ellis who has been there for a long time.
As for other districts, Holperin in the 12th is still in a marginal going from 52.7 to 52.2 percent Obama, so even if he holds the seat next month, it would be difficult to hold throughout the decade. For Fred Clark and Nancy Nusbaum, while they are drawn out of their seats, if they were to win and move to their new seats, they still would have seats with similar partisanship with the 14th being at 51.2 Obama and the 2nd at 52.3 Obama. As for Jess King in the 18th and Shelly Moore in the 10th, their districts do not change that much with the 18th being at 51.2 Obama and the 10th being at 50.4 Obama. So for these 5 Democrats, if they can win and hold these seats, great, but we do not need to reach that far down the swingometer for a majority and holding down these seats will be difficult. The 14th might benefit from continuing growth in the Madison area as it bleeds into Columbia county though.
The path for majority in the Senate through the decade, is to hold the 30th, have Jen Schilling not have a live boy/dead girl moment, find a way to stop ticket splitting in the 17th, and win two out of the four remaining tossups. The one problem is that nearly all of these seats are not normally up until 2014 and I do not know if the DPW will try to recall these Senators when they already have to work on President, US Senate, the Walker recall, and defending any candidates that win next month. On the hole though, it seems as if the task is straightforward. The assembly is not so easy.
Here is the Assembly map: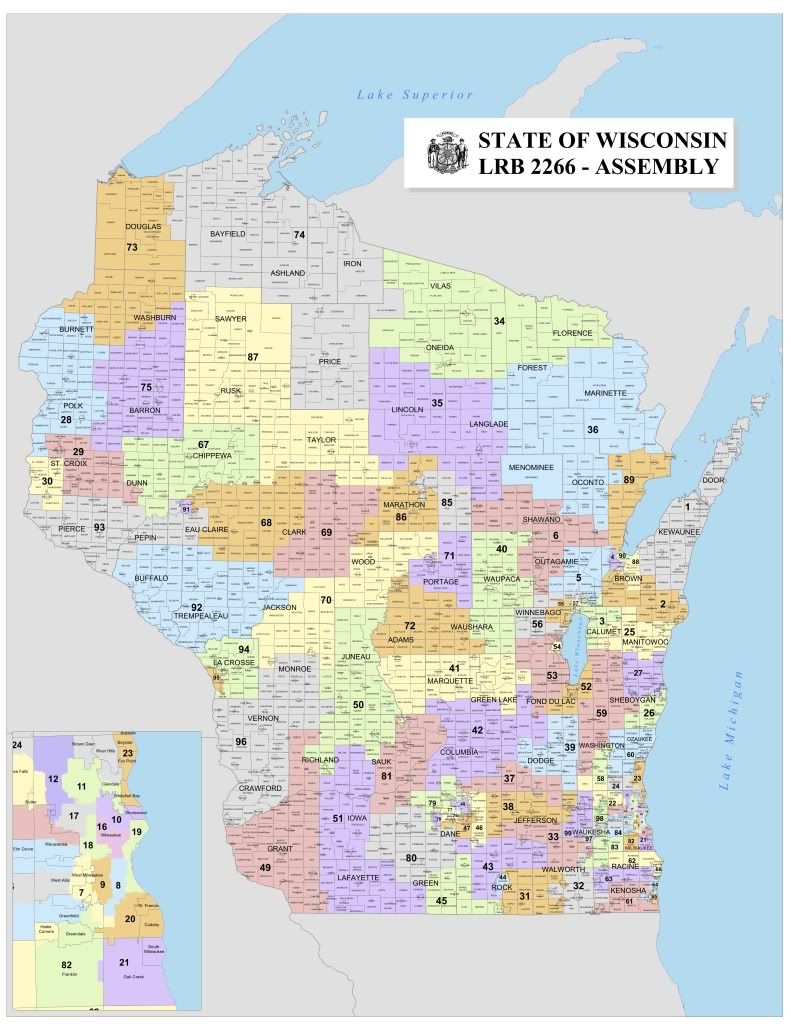 This map is simply brutal. As opposed to the Senate map which does not go after incumbents, this map does goes after many incumbents, particularly with the baconmander in the Milwaukee suburbs. Democrats Sandy Pasch, Andy Jorgensen, Cory Mason, Tony Staskunas, and my own Rep. David Cullen are in districts they could not win. However, two GOP incumbents in the Green Bay (Karl Van Roy and the infamous John Nygren) look to be drawn into the same district to make room for a Green Bay vote sink of the 90th. I think the rationale is instead of likely having two Democratic seats (88th and 90th) in Green Bay, the Republicans just concentrated the Democrats into one seat. Thus, just due to redistricting Republicans should have 63 seats and Democrats 36. That means Democrats have to find 14 seats to take back a majority. There are 17 Republican held seats where the Obama performance was around 53 percent or above, so the Democrats would have to reach down the swingometer about as much as for the Senate.
As with the Senate, there are a number of seats which were very Democratic, but now are marginals or even Republican seats. The most dramatic examples include the districts of Mike Endsley of the 26th which goes from 59.4 to 48.9 Obama; Keith Ripp, old 47th new 42nd, which goes from 58.4 to 51.7 Obama; Amy Loudenbeck, old 45th new 31 which goes from 62.2 Obama to 50.5; Dean Kaufert in the 55th, which goes from 58.3-52.4 Obama; Kathy Bernier in 68th which goes from 59.5 to 55.7 Obama; John Klenke of the 88th which goes form 61.6 to 53.8 Obama; and Warren Petryk of the 93rd which goes from 59.5 to 52 percent Obama. So that is 7 seats that switch from pretty Democratic to marginal/Republican.
As for other Democratic incumbents, there are some which would be on the lookout. Josh Zepnick of the 7th (current 9th but new 7th) goes from 67.1 Obama to 56.3 and a bunch of new territory, Christine Sinicki of the 20th goes from 57.8 Obama to 56.3, Amy Sue Vruwink in the 70th goes from 56.5 Obama to 54.8 Obama, Steve Doyle in the 94th goes from 55.5 Obama to 54.7, so these four Democrats would be ripe for some GOP offense. is at 56.3 percent Obama. Thus besides the GOP seats strengthened, the Dem seats destroyed, there are still 4 seats (by my estimation) where the GOP could legitimately play some offense.
But as I indicates above, there is a path to a majority. But unlike with the Senate, which just required winning 2 out of 4 of the seats which I classified as tossup (1st, 19th, 23rd, and 29th) Democrats would have to win 14 out of the 17 seats that are above 52.7 percent Obama. However, if the Democrats really want to expand the map, there are 20 seats which Obama did get over 50 percent in, so I could imagine some seats in that tier falling with the right campaign.
So here are those 17 seats:
1st-56.4 Obama, 5th-53.9 Obama, 35th-53.3 Obama, 36th-52.8 Obama, 43rd-61.9 Obama, 44th-66.9 Obama, 49th-61.1 Obama, 50th-55.8 Obama, 51st-62.3 Obama, 67th-52.7, 68th-55.7 Obama, 69th-53.1 Obama, 72nd-54.5 Obama, 80th-67 Obama, 88th-53.8 percent Obama, 90th-65.7 Obama, 96th-59.5 Obama
The low hanging fruit of the bunch seems to be the 43rd, 44th, 49th, 51st, 80th, 90th, and 96th, bringing the Democrats to 43 seats. The 80th and 90th are new open seats and the 43rd, 44th, 49th and 51st are held by Republicans who won in the wave last year, so these seats should be not hard to win. However, the 96th is held by Lee Nerison who is like a Dale Schultz in that he is pretty moderate and voting against the collective bargaining bill, so like Schultz it will be tough to take him down but one that seat is won it should be retained.
Here are the 20 seats which Obama won, but given that they are only from 50 to 52.7 Obama, would be difficult to win and hold given Obama over performance in the state, but nevertheless are worthwhile targets:
2nd- 52.3, 3rd-52.6, 4th-52.3, 6th-50.9 ,21st-50.5, 25th-51.8, 27th-50.6, 29th-52.6, 30th-51.5, 31st-50.5, 34th-50.6, 40th-50.5, 41st-51.5, 42nd-51.7, 55th-52.4, 75th-52.2, 86-51.1, 87th-51.6, 89th-52, 93rd-52
In conclusion, this new map does not make Democratic majorities impossible, but rather much more difficult, particularly in the Assembly.