West Hollywood & Beverly Hills, west and a little north of Los Angeles, is bordered by 3 super freeways, the 101 on the east and north, the 10 on the south, and the 405 on the west, between LA and Santa Monica.
Today and tomorrow, for about 60 hours, the 405 will be closed for the 10 mile stretch from highway 101 to highway 10, through what is colloquially known as 'West Los Angeles', and I like to call Casa Pendejo Hombre.
This is THE vein in the heart of the area and millions of people use it daily to connect their lives with their passions. With the 405 closed, tens of thousands of cars, busses, trucks and motorcycles will be displaced throughout the surface streets and getting from anywhere there to anywhere else will be..




More on the other side...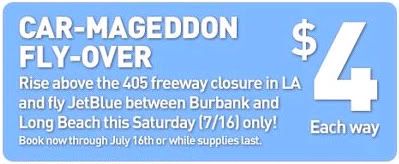 Jet Blue, looking to capitalize on the situation, is offering $4 (each way) flights from Long Beach to Burbank, "Or for $5 customers can also enjoy an Even More Space (EMS? Really?) seat on their Carmageddon Fly-over, which includes early boarding and early access to overhead bin space as well as a spacious seat with extra legroom (didn't you already give me EMS?)".
Loverly! I'd go for it, that's for sure. But some 'cycle and public transportation advocates' had other thoughts..
..they were trading tweets Thursday, including this one:

@Tom Vanderbilt Given airport travel time, security, runway delay, etc, I'd bet a good cyclist could travel BUR to LBG faster than Jet Blue. #carmageddon

Soon after, writer Joe Anthony had tweeted his way into a free ride on a $4 Jet Blue Carmageddon special between Burbank and Long Beach airports.

And Silver Lake-based bike crew Wolfpack Hustle had lined up the elite riders who would race the plane: John Gabriel, Jon Budinoff, Fabian Vasquez, Evan Stade, Stephen Andranian and Aram Dellalian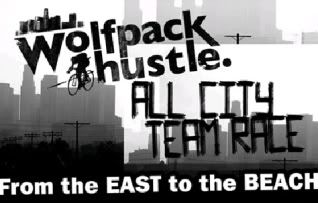 Introducing Wolfpack Hustle bike 'enthusiasts' from LA (don't bother with the video). They've challenged that they can bike the distance faster than the plane can make it. That, even with all the traffic, and the distance (some 40 miles for the bikers), the airport delays, etc., will give them the advantage. Although Jet Blue has not 'officially' accepted the challenge, they did assign a particular seat at the front of the plane for one Joe Anthony.
The rules are as follows:
· Cyclists will depart from a residence near the intersection of Cahuenga and Chandler Blvd. in North Hollywood at 10:50 AM PST (Saturday, July 16) Flight Departs 12:20pm and we're basing the cyclists' departure time on the airline's recommended passenger arrival time of 1.50 hours before departure. (we're doing a little less to be fair)

· Cyclists will be required to follow all traffic laws.

· The finish line is the light house at the Shoreline Aquatic Park in Long Beach (adjacent to Acquarium of the Pacific)

· Ezra and I will take a cab from LGB to the finish line courtesy of GaryRidesBikes

· First to arrive at the light house wins



I don't do twitter, but those of you who do, and who follow biking (cough MARCOS ): "Follow the whole thing on Twitter at #flightvsbike, and these accounts are your leaders: @bikecommutenews @wolfpackhustle @ohaijoe @ezrahorne"
Sounds like fun. I'd take the plane, love flying. I'd have bought a seat on every flight and made a weekend of it :¬)


L.A. Streets Blog is hosting the live stream from a GPS on rider John Gabriel's bicycle.
Here is a link to the stream, which will go live during the race.



The story has gone viral and has been picked up by national media including MSNBC's Rachel Maddow.



Maddow is betting a dollar on the cyclists.


'Carmageddon' (the actual work being done) updates throughout the day from the LA Times, here: http://www.latimes.com/...





Thanks for taking the time to read my Diary :¬)
Comments, TIPs and RECs are gladly accepted