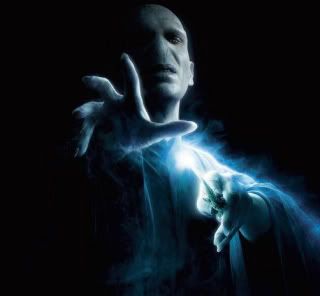 Whatever the hell is going on in Washington is pretty much anyones guess at this point. I must admit, lately I've been too preoccupied with what's been going on inside the beltway to watch a whole lot of movies this week, and I suspect I'm not alone, although I did find a few things about Hollywood to chuckle over.
Even still, Harry Potter's final film has debuted to record setting openings and rave reviews while good seems to sputter along in fighting evil in DC (that would be the GOP, NOT Obama just to be perfectly clear). Though evil at its worst in Hollywood's propaganda arm seems to have sputtered out in movie theaters all across America this week. This IS unparalleled as well.
Someone get the lights, plz, and join me over the fold by the Pop Corn Stand....
Palin Campaign Headquarters Launches "The Undefeated"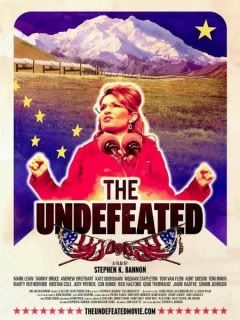 You may or may not know this but this Friday was the nationwide release of Sarah Palin's own homespun documentary all about her (of course) and her unstoppable desire to completely redo the nations political landscape while selling paperback dust collectors from the back of some greyhound bus off a road side rest stop somewhere near you soon. In the few years that America has come to know Sarah Palin she has gone from a question mark in 2008 as McCain's "surprise" VP choice to a set of exclaimation points behind that question mark on either side.
(A)lthough Palin is not interviewed directly, the film features on-camera interviews and commentaries from 10 Alaskans who played different roles in her political rise, as well as six Lower 48 denizens who defend her in more visceral terms, including prominent conservative firebrands Mark Levin, Andrew Breitbart and Tammy Bruce. How is that for a trio of radical propagandists? The film extols every one of Palin's minor successes but fails to even make mention of the less flattering topics, such as the Troopergate saga — which had little effect on the VP campaign but left a lastingly negative impression of Palin in the eyes of many Alaskans — and her unimpressive series of interviews with Katie Couric. But really, would you expect anything different from Palin? She does not take criticism well and always portrays herself as a victim.

One major obstacle to the film's goal of re-booting the Palin image however, is that next to nobody will ever actually view the film.... - Lynnrocket

Sarah Palin's attempt at marketing herself by means of a theatrical film is egocentric at best and flat-out comical at worst. Some of us believe that Sarah Palin is a very bad joke, and one that is particularly dangerous in a divided and contentious country. Whatever I may think, the country's movie goers, which is really just another way of saying the country, seems to have fairly overwhelmingly lost interest. The best we can do about Sarah Palin is to ignore her. Or, just make fun of her.
So here's to Sarah Palin and her movie! Kum and GO!
Hot Tub Time Machine

I actually liked this movie.
The Tempest

Released in Dec. 2010, The Tempest is one of those rare films that is in many ways unparalleled coming out of Hollywood giant film industry. The film may have some glaring faults for some but to my mind is a success at least in its attempt to bring the imagination of one of the English speaking worlds greatest writer, William Shakespeare, whoever he really might have been, a contempory expression through the seemingly unbounded potential of imagry today and speak to another generation. As an accomplished and respected author towards the end of his career when he penned his Tempest, Shakespeare frequently referred to his character creation, the aging wizard Prospero as a stand in for himself. His wizardry was with words in outlining the complexities of life in this world even when he defied physics and the natural science of this world to do so.
The cast is outstanding (with one glaring exception) in bringing to life the passion of every character in an exceptionally gifted ensemble. Film writer and director, Julie Taymor, may even have improved the original play in switching the gender of the wizard to a woman increasing the depth of the bond between child and parent which is essential in the story. For a bit of culture in exploring the depth of human emotion and love especially Shakespear speaks across the generations and speaks true.
For a more comprehensive review I'd refer people to the NY Times film review, Dreaded Thunder, Yes, It's Shakespeare, along with encouraging folks to enjoy a tad of wonderment at the movies by sitting down with Prospera and this version of a timeless and epic tale.
"The Tempest" is, perhaps above all, the portrait — the self-portrait — of an artist on the verge of saying farewell to his art. By abjuring her "rough magic," burying her magician's staff and drowning her book of spells, Prospera elects to live in a world without supernatural possibilities; having demonstrated the power of art, she accepts the limits of that power and forsakes hubris for humility...
The Libertine

"The life of a 17th-century hedonist was rough going..."
Many people who may be aware of William Shakespeare may not have ever heard of John Wilmont, the Second Earl of Rochester, but he was perhaps as influential during his own day for a very brief but critical period in English history. Following Shakespeare who wrote and brought great glory to Queen Elizabeth, England went through a series of civil wars which was highlighted following the Second with the beheading of King Charles I by Cromwell (To Kill A King, starring Rupert Everett as Charles Tim Roth as Cromwell) - another act unparalleled in Western history - and ended with his son,Charles II, re-instated on the thrown.
While Charles II and his Royalist allies may have ruled the day, the King's position was notably undermined by the nations recent history and so the King of England was looking to upgrade his status as much as possible by enlisting as many Lords in Parliament as he could. The Second Earl of Rochester was not only one such Lord, a privileged aristocrat, but also widely popular as the primer play write of the times for a long while. The Earl of Rochester is played by Johnny Depp in what is perhaps his finest performance ever. Interestingly Johnny Depp's status as one of America's most beloved movie stars is much like that of the character he plays making his opening line in the film somewhat intuitively contradictory. "You will not like me", Depp almost commands us before we even get to see the film despite the fact that most movie goers already love him.
So it was with the Second Earl of Rochester, many of his fans didn't really care what he did, they loved him already for the entertainment he had provided them. When King Charles attempted to allign the Second earl with his royal majesty, hoping that he would become to him what Shakespear was to Queen Elizabeth all hell broke loose. Instead of selling out, the Earl played along with the King up until the opening night of the play he'd written. With the King and his court present along with French dignitaries, The Second Earl of Rochester unleashed a production that was so lude and insulting that the King was seriously tempted to have HIM beheaded but thought twice about the possible consequences of that given the not too distant past of the English once they'd gotten outraged enough at Royal temper tantrums.
Historians are agreed that the work of this author was pivotal duting this era. Voltaire wrote that he was "a man of genius and the great poet," and Charlotte Bront may have named Jane Eyre's Mr. Rochester after him. Centuries after his death in 1680, Rochester remains a central figure in serious considerations of the Restoration and its social and cultural upheavals though he did have his critics. "Thus in a course of drunken gaiety and gross sensuality, with intervals of study perhaps yet more criminal, with an avowed contempt of all decency and order, a total disregard to every moral, and a resolute denial of every religious obligation, he lived worthless and useless, and blazed out his youth and his health in lavish voluptuousness; till, at the age of 1 and 30, he had exhausted the fund of life, and reduced himself to a state of weakness and decay." - Samuel Johnson, English Historian (1709 – 1784).
Again I'll refer folks to the NY Times full film review for more history and the detailed story line but perhaps the point I want to make here that is not made in that excellent review is that as corrupt as the Second Earl of Rochester appears to have been during his brief hour when he strutted and fretted upon the stage he could not be corrupted for corruption sake alone, only his own. In the end he pleaded with his nation to be fair. If not fair to him, fair to one another and their leaders including their King.
Today's American aristocrats and billionaires from Wall Street, however, seem ever so much more unlikeable and untalented where creating jobs out of what is in many cases no taxes at all is concerned, don't you agree?
End Credits / Closing Remarks:
Given that the greater part of our site's purpose here on the Street of Prophets is to provide a place where people who might describe themselves as faithful progressives can come together to explore not only faith but the larger questions that revolve around it and our hopes of impacting the world in a positive, progressive way, I am providing these sometime weekly film reviews (whenever). I thought that submitting reviews of controversial or off-the-beaten-track films that often nudge this kind of thought and discussion might be a plus. I'll be offering this each week on Fridays (as the Spirit moves me) and would happily entertain recommendations for future reviews. Feel free to post comments about the films reviewed here today as well as your own recommendations of films you feel may fall along these lines.
My religion is to seek for truth in life and for life in truth, even knowing that I shall not find them while I live. Miguel de Unamuno