The bike saddle, that is. Two weeks ago I was on vacation, and last week I was on the injured list. It feels good to be back in the saddle.
Thanks to the folks at Park Avenue, I was prepared on what to expect at Zion National Park.
We flew into Las Vegas and drove out to Zion. My husband was dismayed by Nevada. "Why is this all here? This isn't sustainable!!" he kept muttering. When we crossed into Utah, it was a different story. He kept wanting to stop so I could take pictures.
Nothing could have prepared us for the beauty of Zion.
We hiked the Emerald Pools trail, and did the Ride with a Ranger trip.
Emerald Pools is a fairly easy hike. We took the longest paths, starting at The Grotto, hiking up Kayenta Trail to the Upper Emerald Pool, then down to the lower pool and back around to Zion Lodge and up the very easy Grotto Trail.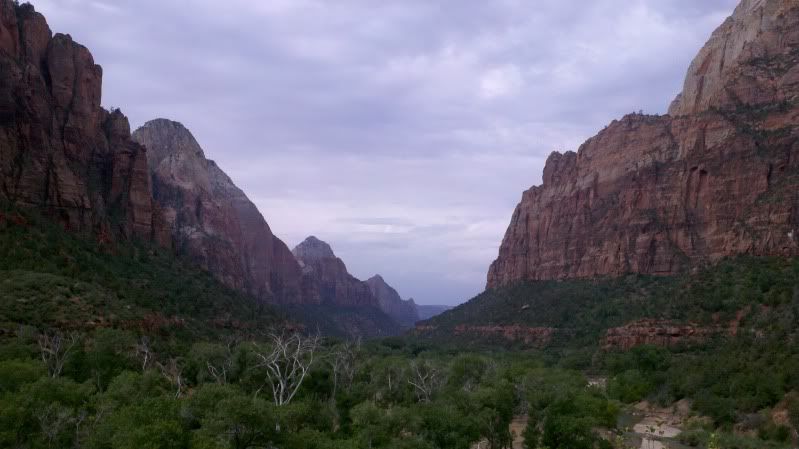 We also did the Riverwalk, but didn't hike the Narrows - the weather was too iffy.
From Zion, we drove down to the North Rim of the Grand Canyon. We had a great campsite with a view of a side canyon, and immediately walked down to Grand Canyon Lodge for a view of the Big Deal.
The next day, we drove over to the Walhalla Plateau, planning to hike the Cape Final and Cliff Springs Trails, ending at Cape Royal.
I heartily recommend the Cape Final Trail. It's about 4 miles round trip, with spectacular views along the way and a shady woodland path. Not at all a difficult hike, even in the heat. The end of the trail is at a rocky outcropping, very easy to scramble out onto for a great view.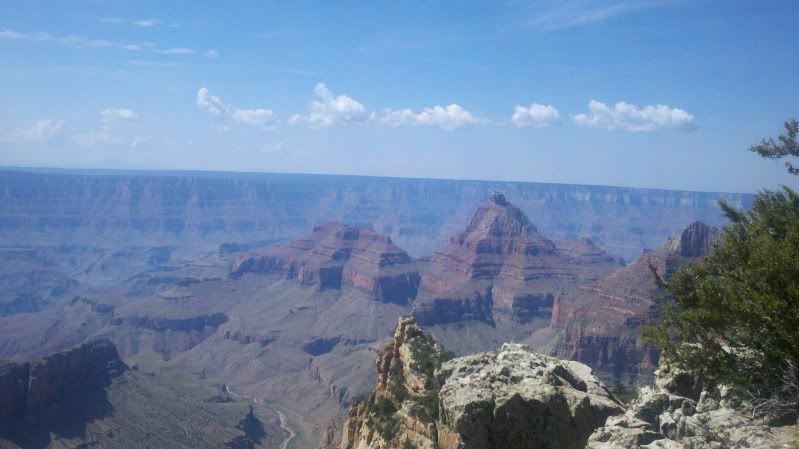 I also recommend the Cliff Springs Trail. It's very short - about a mile round trip. It's down a shady rocky trail to a rocky overhang under which the eponymous spring arises.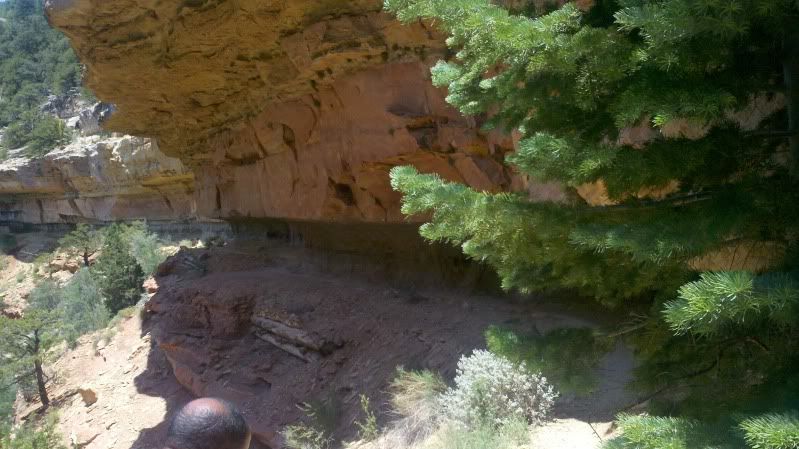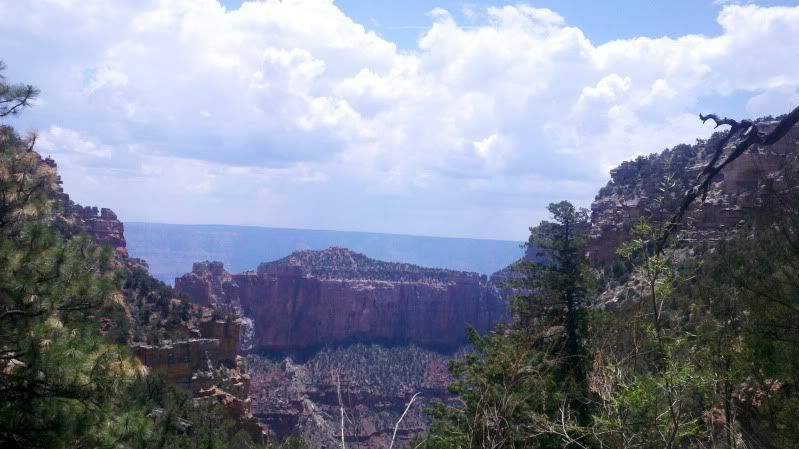 On the way back, I slipped and fell. About 10 feet into a ravine. I tumbled over and over, hitting rocks on the way down, landing with my head on a rock. I was petrified, and kept saying "I'm ok" over and over. Luckily, not much blood and nothing broken, but it was clear I was gonna need medical attention.
Adrenaline got me back up the trail (about a quarter mile) to the car, and it was about a half-hour to the ranger station. They made a brief assessment, but recommended we head out to the nearest emergency room - an hour and a half away! By this time I had a goose-egg on my head and another on my knee.
We broke camp, bought ice, and headed to the hospital. I kept talking, mainly to convince my husband the head wound wasn't serious. I stayed lucid and didn't slur my speech. That reassured both of us.
The emergency room staff were fantastic. Being from the city, we were expecting to have to wait for help, but they saw me right away. They took some x-rays and assured us that nothing was broken, no signs of serious damage. WIN! I got lucky.
After that, we decided no more camping, and drove back to Vegas the next day. We toured the Hoover Dam - again, highly recommended and gawked at the strip, my husband still complaining that the whole city isn't sustainable.
My head's still a little sensitive where I landed on it, but no serious headaches or weird cognitive stuff.
Last week, my leg was still too swollen to bend successfully, so it wasn't until this weekend I could get back on my bike. It's still a bit stiff, but I think the riding will help break up adhesions and help my leg heal faster.
So my recommendations: Visit our National Parks! They are a tremendous resource, and genuine treasures. If you plan to injure yourself, plan to fall AT the Grand Canyon, not INTO the Grand Canyon. The folks at Kane County Hospital are very nice, but don't go to the lengths I did to meet them.