Voice of America is appealing for aid for the millions of Somalians, Kenyan, and Ethiopians who are starving, due to the worst drought in the Cape Horn African region in 60 years. UN Appeals for Famine Aid for Somalia.
Our own Boatsie wrote a heartbreaking diary, early this morning, calling our attention to this crisis. Somalia: This is the Children's Famine. The primary purpose of this diary is provide a few updates, and then send you to the boatsie diary which has a more complete background. Also, I just discovered this great article by JamieG from MD, for the Daily Kos Free Rice Team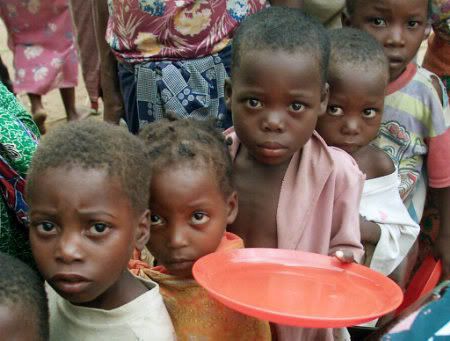 Voice of America, reports
This week, the United Nations declared a famine in parts of Somalia. A famine is declared when three conditions are reached. Hunger rates among children rise above thirty percent. More than two people in every one hundred thousand die each day. And many people are unable to get food and other basic needs.
Mark Bowden, the UN humanitarian coordinator for Somalia, made the announcement Wednesday in Nairobi, Kenya.

MARK BOWDEN: "We estimate that almost half of the Somali population, 3.7 million people, are affected by this crisis and a full 2.8 million people live in the south, the most seriously affected area. It is likely that tens of thousands will already have died, the majority of these being children."

The United Nations says a lack of rain over the past few years has created a famine in two areas in southern Somalia: Bakool and Lower Shabelle. Officials say the famine could spread to other areas.

This is the first time since nineteen ninety-one that the UN has declared a famine in Somalia. The Horn of Africa is experiencing its worst drought in sixty years. UN officials have said more than eleven million people are in need of food aid.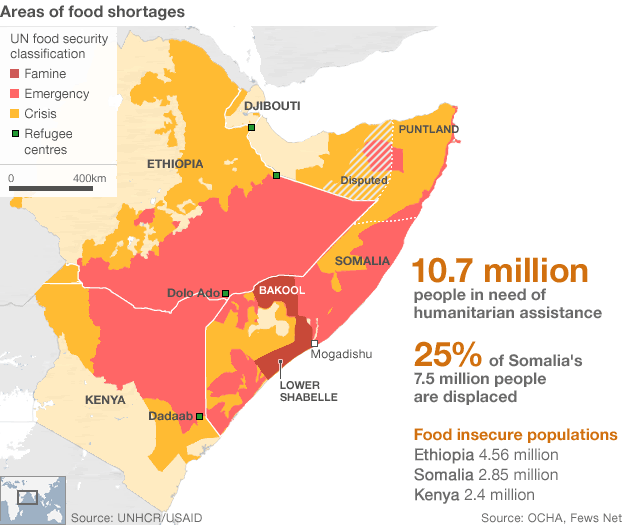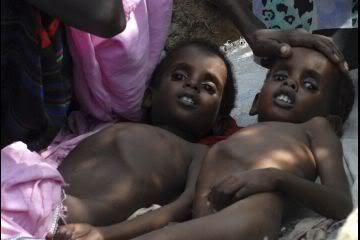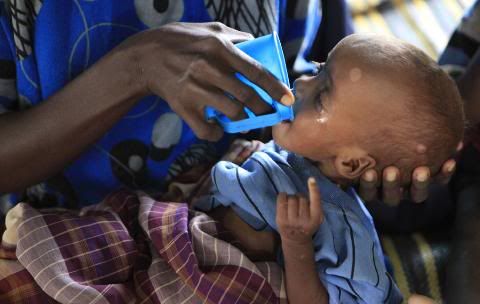 Micheal Kimber, of the New York Times, writes, an excellent overview article called Somalia which is worth reading.
Somalia has not had an effective central government since 1991, when the former government was toppled by clan militias that later turned on each other. For decades, generals, warlords and warrior types have reduced this once languid coastal country in Eastern Africa to rubble. Somalia remains a raging battle zone today, with jihadists intent on bringing down a transitional government which relies on African Union peacekeepers and Western funding for survival.

No amount of outside firepower has brought the country to heel. Not thousands of American Marines in the early 1990s. Not the enormous United Nations mission that followed. Not the Ethiopian Army storming into Somalia in 2006. Not the current peacekeepers, who are steadily wearing out their welcome.

Somalia continues to be a caldron of bloodshed, piracy and Islamist radicalism. There are currently 6,000 Ugandan and Burundian peacekeepers in Mogadishu, but they are struggling to beat back Islamist fighters, who are rallying around Al Shabab, a brutal group that is aligned with Al Qaeda and has turned Somalia into a focal point of American concerns on terrorism
.

In 2011 Somalia experienced a full-blown famine in several parts of the country, with millions of people on the brink of starvation and aid deliveries complicated by the fact that militants control the famine zones.

The Islamist militants controlling southern Somalia forced out Western aid organizations in 2010, yanking away the only safety net just when one of the worst droughts in 60 years struck. When the scale of the catastrophe became clear, with nearly three million Somalis in urgent need and more than 10 million at risk, the militants relented and invited aid groups back. But few rushed in because of the complications and dangers of dealing with the militants.

American government rules banning material aid to the Shabab complicate aid efforts. Aid officials have worried that paying so-called taxes to the militants who control needy areas could expose them to criminal prosecution.
The following links, facts, and sources are from Boatsie's diary.
East Africa Famine Facts
• 12 million people are in need of humanitarian assistance
• Over 2 million children under the age of five who are suffering from malnutrition; 480,000 are severely malnourished
• UN declares famine in two regions of southern Somalia
• Women are disproportionally affected by the drought as they are the last to eat when food is limited.
• Aid response nearly $1 billion short of what is needed

What is a Famine
Most major aid agencies - the FAO, the WFP, the Famine Early Warning Systems Network, Save the Children UK, CARE International, the European Commission Joint Research Centre and Oxfam - only describe a crisis as a famine when the situation on the ground reaches level five on the Integrated Phase Classification (IPC) system. This means:

* at least 20% of the population has access to fewer than 2,100 kilocalories of food a day
* acute malnutrition in more than 30% of children
* two deaths per 10,000 people, or four child deaths per 10,000 children every day

There are three different categories of famine -- supply-based, food consumption-based and mortality-based -- and five definitions: (See Wikipedia: Famine Scales). The Levels range from Level 1 (Food Secure) to Level 5 (Extreme Famine). Currently, the UN has established a Level 3 (Famine) exists: a situation in which mortality rate ranges from 5-10,000 per day.
Resources
•BBC: What you Need to Know
• Q&A: BBC
• Al Jazeera Horn of Africa (english)
• How Bad is the Horn of Africa Drought: AlertNet Q&A:
• PBS Newshour: PhotoEssay: 7/11
• Guardian Interactive Horn of Africa Drought Map
• Why doesn't a drought go away when it rains?
• Oxfam: Food crisis in Wajir, Kenya
Coverage @ KOS
This is the latest in a series of diaries covering the Horn Of Africa Crisis. Please provide links in comments below to other diaries omitted from coverage below. This series is being run through the Ecojustice Group.
The Troubador on 7/22: My Cousins are about to Die
rebel ga on 7/18: Worst Drought In 60 Years For Somalia, Kenya And Ethiopia!
boatsie on 7/14: East Africa Drought: You say La Niña & I'll say ... HELP!
boatsie on 7/12: East Africa: Famine II
boatsie on 7/11: Famine Threatens 11 Million in Horn of Africa
GlowNZ on Sunday, 7/10: People are Starving
Stranded Wind on Sunday, 7/10: Somalia's Dying Time
HELP
• WFT: 10 Ways You Can Help
• The World Food Programme: Fill the Cup: (THE WFP needs $200 million just to meet this year's needs in the Horn of Africa.)
• Care International
• MEDECINS SANS FRONTIERES
• UNICEF: Donate to Save Children in Horn of Africa Crisis
• FreeRice- donates 10 grains of rice to the WFP for each answer you answer correctly.
• The HungerSite - Click to give free food.
Social Media
Twitter: #HornofAfrica, #drought, #famine
Facebook: Horn of Africa
MapSourcing
Regional Drought Response Plan: East Africa Droughts.
Please support our Daily Kos efforts to give compassion and humanitarian aid to our brothers and sisters, in so much need.
Thanks,
HoundDog
Fri Jul 22, 2011 at 11:49 PM PT: If you would like to see a heart breaking photo series guarenteed to make you cry follow this link to Holbrook Andrew Holbrooke - click on Somalia
2:55 AM PT:
Militants vow to keep food aid, out of Somali
(Mustafa Abdi/AFP/Getty Images)
By Abdi Guled
Associated Press / July 23, 2011

MOGADISHU, Somalia - Al Qaeda-linked militants in Somalia vowed to keep most international aid workers out of the country despite a worsening famine, and the UN warned yesterday that 800,000 children could die in the region from starvation.

Frustrated aid groups said they want to deploy more food assistance in Somalia but do not have the necessary safety guarantees to do so. The anarchic country has been mired in conflict for two decades and its capital is a war zone.

The renewed threat from Al Shabab means that only a handful of agencies will be able to respond to the hunger crisis in militant-controlled areas of southern Somalia. And the largest provider of food aid - the UN World Food Program - is not among those allowed inside. The UN fears tens of thousands of people have died in the famine, which has forced Somalis to walk for days to refugee camps in Kenya and Ethiopia....

"If we are to save lives, we need to act now, to bring in massive quantities of medicines, vaccines, nutrition supplies into the region as quickly as we are able and then get them out to the children who need it most,'' said Shanelle Hall, director of UNICEF's supply division.

Somalia is the most dangerous country in the world to work in, according to the UN's World Food Program, which has lost 14 relief workers in the past few years. WFP pulled out of Islamist-controlled southern Somalia after rebels demanded cash payments and other concessions.

Al Shabab began to ban aid agencies in 2009, fearing the groups could host spies or promote a way of life contrary to Islamic beliefs.

But yesterday, spokesman Sheik Ali Mohamud Rage said aid agencies the group had previously banned are still barred from operating in areas under its control.

He said the UN's declaration of famine in parts of Somalia this week is politically motivated and "pure propaganda.''

Somalia's prolonged drought devolved into famine in part because neither the Somali government nor many aid agencies can fully operate in areas controlled by Al Shabab.