A study released by West Virginia University has shown that communities near Mountaintop Removal mines has a higher concentration of poverty and health issues than other communities giving those who believe that the practice and further use of coal as a continued source of energy more firepower to stop mining.
Mountaintop removal mining has already been proven to be detrimental to watersheds, the environment and ecosystems by how it leaves a wasteland behind as well as the byproducts of the practice (slurry anyone?). Anyone who has seen the before and after photos knows that no community can be considered the same after an operation has moved through with particular mining process.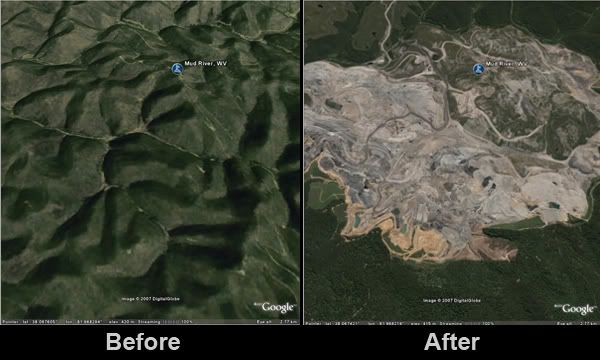 Photo Courtesy ThinkProgress
"Mountaintop mining areas had significantly higher mortality rates, total poverty rates and child poverty rates every year compared to other ... counties," Hendryx wrote in his paper, which appears in the current issue of the peer-reviewed Journal of Health Disparities Research and Practice. "Both poverty and mountaintop mining were independently associated with age-adjusted mortality rates."
And it's no wonder things are affecting these communities, just by looking at the proximity of mines to schools for example.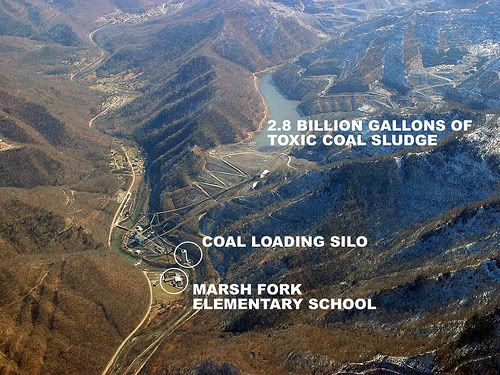 Photo Courtesy Ecocinema
At what cost do we put energy independence at? The cost of how many lives, how many families, children and communities? And really, coal won't gives us that independence, the pollution, cost of health related affects, environmental damage, etc. those external costs make it far too expensive and to reiterate to those who push "clean coal", there is no such thing.
The EPA is using this and other studies to push back on mountaintop mining and the coal industry in general because of the massive push to deregulate the industry.
"Possible human health impacts from coal mining activities have also been documented, including peer-reviewed public health literature that has preliminarily identified associations between increases in surface coal mining activities and increasing rates of cancer, birth defects, and other health problems in Appalachian communities," EPA said in its new guidance document.

Coal industry officials and coalfield political leaders have blasted the EPA guidance, and are working in the courts and Congress to block the federal agency's actions.

"With this guidance document, EPA has not only appointed itself judge, jury and executioner, but has also deemed itself Almighty God," said Rep. Nick J. Rahall, D-W.Va. "While EPA goes to great pains to state this guidance is not legally binding, we are all too aware that it will use it as a club to subdue all parties involved in the permitting process to its will."

Almighty God!
Congressman Rahall has been in the news more than once this week regarding Coal issues, he was also quoted regarding some other big West Virginia Coal Mining news. Mayor Bloomberg announced this week that he gave $50 million of his own money to the Sierra Club to fight coal and he was booed. (There is already a diary on Bloomberg's donation to Sierra Club's Beyond Coalhere.)
Booed.
Bloomberg disclosed he handed a $50 million donation to the Sierra Club from his own pocket for use in the group's quest to shut down coal mining the two consider an environmental hazard.

His action triggered a swift and predictable response in coal-rich West Virginia.

"The next time the lights go out, the people in New York City will all know exactly whom to blame — their mayor, Michael Bloomberg," Rep. Nick Rahall, D-W.Va., said from his Capitol office.

Bloomberg said his gift would enable the Sierra Club to close as many as one-third of America's oldest coal-fired power plants by 2020.

Yes, but what about those communities that live near the mines. I'm sure they might care?
"It sends a terrible message to coal miners and families that depend on coal, not only in West Virginia but across this country," Raney said. "It has provided energy to make steel and power throughout the history of this country. Now, all of a sudden, he's made a lot of money doing something, and he wants to put it into something that sounds pretty shallow, pretty selfish."
I get it, people who depend on this industry that ends their lives earlier don't really care about studies if they have no viable alternative to feed, clothe and care for their families. There needs to be an alternative for the communities in West Virginia and when someone like Bloomberg gives $50 to the Sierra Club, there has to be a consideration for Coal Miners and workers in those plants to what will happen to them and their jobs.
This is the reality. We all have a moral obligation to not just protect the environment, to protect the health and well being of those who live closest to natural resources (because generally those who do are the poorest and most unhealthiest of us and most likely people of color in many parts of the Country). WE have to look past just what happens when we stop the mining and stop and close down the dirty plants, we have to think about alternative jobs for these human beings so they can continue to contribute to their communities so they don't become ghost towns.
And just as importantly, we must push for alternatives and for more investments into alternatives to coal and other carbon and dirty energies. We cannot just shut down plants and stop jobs.
Poverty will continue even after we stop this horrific practice. We have to remember the people of West Virginia and elsewhere after we stop such practices of mountaintop removal. The battle does not end there.
Want to learn more? do something? Please go to Beyond Coal.
Or visit Earthjustice, Stop Moutaintop Removal Mining