In this weekly series we have been discussing the benefits of a vegetarian diet including: better health, food safety, animal rights, public health, global food crisis, frugal living and the immense contribution of livestock/meat production to climate change/resource depletion.
Over the last two decades, small- and medium-scale livestock farms have given way to factory farms that confine thousands of cows, hogs and chickens in tightly packed facilities. The growth of these factory farms has contributed to a host of environmental, public health, economic, food safety and animal welfare problems. Tens of thousands of animals can generate millions of tons of manure annually, which pollutes water and air and can have health repercussions on neighbors and nearby communities.
The rise of factory farming was no accident. It resulted from public policy choices driven by big agribusinesses, especially meatpackers and processors that dominate the critical steps in the food chain between livestock producers and consumers. The silos and gentle meadows pictured on the labels of the food most Americans buy have little relation to how that food is actually produced. Most of the pork, beef, poultry, dairy and eggs produced in the United States come from large-scale, confined livestock operations.
This week I wrote about the 2012 Farm Bill and how It Will Affect You.
TAKE ACTION: Let's start influencing the 2012 Farm Bill by signing this petition from Food and Water Watch asking for a Fair Farm Bill
I was inspired to create this series by former Beatle and vegetarian advocate Paul McCartney(Macca) who partnered with the Meatless Monday campaign to promote less consumption of meat. We not only discuss the many advantages of a less meat diet we also do some cooking, share recipes and listen to great Beatle/McCartney music!
This time of year one of the most refreshing and cooling things possible is drinking a very cold glass of lemonade. Another very cooling thing to do is soak in a tub filled with water cooled by blocks of ice..but I digress. A cold glass of lemonade can be a cool pick-me-up to a blistering Florida afternoon. I always try to have fresh lemons in my kitchen and when they're in season I juice some and freeze in ice cube trays to use when they're harder to find or to use as flavoring in cold drinks or in recipes. Join me for a cooling summer drink...


LEMONADE
1 1/3 cup sugar
Zest of 3 lemons (no pith!)
2 cups boiling water
4 cups cool water
1 1/3 cup lemon juice (approximately 6 lemons)
5 or 6 strawberries (optional)
ice cubes
Pour the sugar and the lemon zest into an empty pitcher. Pour the 2 cups boiling water onto the sugar and lemon zest and stir until sugar is dissolved. Pour in the 4 cups cool water, then pour in the lemon juice and stir. I sometimes pour the lemonade through a strainer to take out the lemon zest but not necessary.
For strawberry lemonade, put the strawberries into a blender, along with a cup or so of the lemonade and blend until juiced. Can strain this as well to get rid of the strawberry seeds if you like. Then pour the strawberry-lemonade mixture into the pitcher along with the rest of the lemonade, and there you have it!
Refrigerate until cold, and drink with ice cubes!


MINT ICE CUBES
Fill ice cube trays with water than add a whote peppermint or mint leaf to each cube, freeze and serve with lemonade..makes your lemonade extra special and is a great way to freeze a large bunch of mint.


BRUSSELS SPROUT SALAD
I know we have some b. sprouts lovers out there..well, have you tried it raw in a salad?..it's awesome. Serves 4-6. If you have a mandoline slicer now is the time to use it as it works perfectly here. I don't have one so I just slice(very, very thin) by hand.
1 1/2 pound brussels sprouts, freshest you can find
3 tablespoons extra-virgin olive oil
2 - 3 tablespoons fresh lemon juice
1 teaspoon fresh thyme leaves
1/3 cup fresh chives, minced
2-3 big pinches of salt
1 1/3 cups hazelnuts, smashed just a bit and toasted
2 ounces hard, salty, aged cheese, shaved (pecorino, dry aged jack, Parmesan, etc)
Shred the brussels sprouts whisper thin using a mandoline, or alternately, a knife. Five minutes before serving, place the shredded sprouts in a large mixing bowl and toss gently with the olive oil, lemon juice, thyme, chives, salt, and hazelnuts. Taste and adjust the seasoning, adding more lemon juice if needed, keeping in mind the cheese will bring a salty element to the salad. Add the cheese and toss once or twice to distribute it evenly throughout the salad.


MEYER LEMON RISOTTO with WHITE ASPARAGUS
This is an elegant entree, serves 4-6, adapted from Sanura Weathers
1 lb. white asparagus or use green or even string beans
1/2 cup fresh sweet onion, diced
2 celery stalks, diced; adding chop celery leaves with the mint is optional
2 cloves of garlic; minced
1 cup arborio rice
2 tbsp. olive oil
1 tbsp. butter (optional)
Sea salt and fresh black pepper; to taste
A pinch of red pepper; to taste
A dash of celery seed
1/2 cup white wine
1 bay leaf
2 to 2-1/4 cups vegetable stock
The juice and zest of 1 to 2 meyer lemons or use regular lemons; to taste (be careful, too much juice obscures the mint)
1/4 cup Parmigiano-Reggiano cheese, finely grated
1/4 to 1/3 cup fresh mint; minced plus more for garnish
1. Be careful when handling white asparagus, because it is very delicate. If white asparagus is thick, use a vegetable peeler to remove tough outer skin (the part before the blossoming part). Chop and discard about one inch of the bottom stem. Chop the rest of the asparagus into one-inch pieces. Steam or blanch asparagus pieces over boiling water for about 2 minutes. Remove from the pot and rinse with cold water to stop them from cooking. Place aside.
2. Heat and cover vegetable stock over medium heat to a boil. Turn off heat and cover. Place aside.
3. Over medium temperature, heat olive oil and butter (if using) in a large skillet. Place onions and celery to cook until onions are transparent for about a few minutes. Add salt, fresh black pepper, crushed red pepper, celery seed, and garlic. Stir for 30 seconds. Add the rice and stir for about a couple minutes.
4. Add the wine and a bay leaf. Stir until the liquid has evaporated. Ladle a 1/2 cup of warm stock into the rice. Stir until the liquid has evaporated. Repeat this step until all the stock has evaporated (Note: I only used 2 cups of veg stock for an al dente taste. Add another 1/4 cup if desired). Adjust seasonings after 1-1/2 cups of chicken stock is added (any combination of salt, fresh black pepper, and celery seed).
5. Add the lemon juice to the rice and cook until the liquid has evaporated.
6. Add the asparagus, mint, and lemon zest to the rice. Sprinkle in the Parmigiano-Reggiano cheese. When the ingredients are heated thoroughly, it is ready to serve.
7. Spoon into individual bowls. Garnish with fresh mint.
I wonder how this would taste using limes? Ummmm....


SPINACH BREAD PUDDING with LEMON and FETA
This is a great brunch dish as you can assemble and keep in fridge overnight and just pop in oven the next morning...adapted from Heidi Swanson. Serves 6-8
3 tablespoons extra-virgin olive oil, plus more for greasing the dish
8 ounces whole wheat bread, cut into 1/2-inch cubes
5 ounces baby spinach, finely chopped
1/2 cup crumbled feta cheese
2 teaspoons Dijon mustard
1/2 teaspoon finely grated lemon zest
1 tablespoon fresh lemon juice
6 large eggs, beaten, organic, free roaming
2 cups milk, unsweetened soy is good here
Kosher salt and freshly ground pepper
1 teaspoon chopped oregano
Preheat the oven to 350°. Lightly oil a medium baking dish. Spread the bread cubes on a baking sheet and bake for about 10 minutes, until dry but not browned. Let cool, then transfer to a large bowl. Stir in the spinach and 1/4 cup of the feta.
In another bowl, whisk 2 tablespoons of the olive oil with the mustard, lemon zest and lemon juice. Add the eggs and beat until blended. Add the milk and season with 1 teaspoon of salt and 1/2 teaspoon of pepper. Pour the egg mixture over the bread cubes and stir until they are evenly moistened. Transfer the bread mixture to the baking dish and let stand at room temperature for 2 hours or refrigerate overnight.
Sprinkle the remaining feta on the bread pudding and bake in the center of the oven until risen and set, about 40 minutes. Turn on the broiler. Drizzle with the remaining 1 tablespoon of oil and broil until the bread pudding is golden and crispy on top, about 2 minutes. Scatter the oregano on top, cut into squares and serve.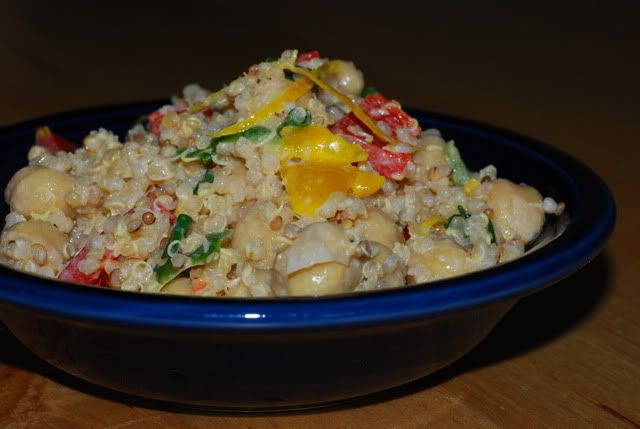 LEMON SCENTED QUINOA SALAD
Serves 4
1 cup quinoa
2 cups water
1/2 teaspoon fine grain sea salt
1 can garbanzo beans, or dried equivalent
1/2 cup cilantro, chopped or may use Italian parsley
1/2 red onion, chopped
Tahini Dressing:
1 garlic clove, smashed and chopped
1/4 cup tahini
Zest of one lemon
scant 1/4 cup fresh lemon juice
2 tablespoons olive oil
2 tablespoons hot water
scant 1/2 teaspoon fine grain sea salt
Rinse the quinoa in a fine-meshed strainer. In a medium saucepan heat the quinoa and water until boiling. Reduce heat and simmer until water is absorbed and quinoa fluffs up, about 15 minutes. Quinoa is done when you can see the curlique in each grain, and it is tender with a bit of pop to each bite. Drain any extra water and set aside.
While the quinoa is cooking make the dressing. Whisk together the garlic, tahini, lemon zest and juice, and olive oil. Add the hot water to thin a bit and then the salt.
Toss the cooked quinoa, beans, cilantro, red onion, and half of the dressing. Add more dressing if you like and season with more salt to taste. Serve garnished with a bit of cilantro or parsley.


PASTA with PESTO and PEAS SALAD
This is really, really good and perfect for a home picnic, adapted from Ina Garten, serves about 12
3/4 pound fusilli pasta
3/4 pound bow tie pasta
1/4 cup good olive oil
1 1/2 cups pesto, packaged or see recipe
1 (10-ounce) package frozen chopped spinach, defrosted and squeezed dry
3 tablespoons freshly squeezed lemon juice
1 1/4 cups good mayonnaise(or use Veganaise which is GOOD)
1/2 cup freshly grated Parmesan
1 1/2 cups frozen peas, defrosted
1/3 cup pignoli (pine nuts)
3/4 teaspoon kosher salt
3/4 teaspoon freshly ground black pepper
Cook fusilli and bow ties separately in a large pot of boiling salted water for 10 to 12 minutes until each pasta is al dente. Drain and toss into a bowl with the olive oil. Cool to room temperature.
In the bowl of a food processor fitted with a steel blade, puree the pesto, spinach, and lemon juice. Add the mayonnaise and puree. Add the pesto mixture to the cooled pasta and then add the Parmesan, peas, pignolis, salt, and pepper. Mix well, season to taste, and serve at room temperature.
Pesto:
1/4 cup walnuts
1/4 cup pignolis (pine nuts)
3 tablespoons chopped garlic (9 cloves)
5 cups fresh basil leaves, packed
1 teaspoon kosher salt
1 teaspoon freshly ground black pepper
1 1/2 cups good olive oil
1 cup freshly grated Parmesan
Place the walnuts, pignolis, and garlic in the bowl of a food processor fitted with a steel blade. Process for 15 seconds. Add the basil leaves, salt, and pepper. With the processor running, slowly pour the olive oil into the bowl through the feed tube and process until the pesto is thoroughly pureed. Add the Parmesan and puree for a minute. Use right away or store the pesto in the refrigerator or freezer with a thin film of olive oil on top.
To clean basil, remove the leaves, swirl them in a bowl of water, and then spin them very dry in a salad spinner. Store them in a closed plastic bag with a slightly damp paper towel. As long as the leaves are dry they will stay green for several days.
Yield: 4 cups

LEMON MINT GRANITA
Beautiful dessert for lemon lovers and you don't need a machine to make this!
4 lemons
4 cups water
Sugar, to taste (we used 3 tablespoons, like a tart lemonade)
Handful of fresh mint leaves
Clean and wash the lemons. Cut off the top quarter of the lemons and slice a thin bevel off the bottom, so they can stand up straight. (You can skip this step if you don't want to serve them in frozen lemon cups.) Using a grapefruit knife, carefully remove all of the lemon flesh and juice (working over a bowl ensures you won't lose any), being careful not to cut through the bottom. Stand the lemons on a plate or cookie sheet and freeze until solid.
Using a food processor (a blender will work as well), toss a handful of washed and dried fresh mint leaves into the work bowl. (I used about 25 to 30 leaves from 6 to 9 sprigs.) Add the scooped out lemon flesh and juice, and pulse until mostly pureed. Let mixture stand for 15 minutes, so the mint releases its flavor, then press the mixture through a fine-mesh strainer. You'll end up with approximately one cup of lemon-mint juice.
Stir in the water, then sugar, one tablespoon at a time until the sugar is dissolved and the mixture is to your desire level of sweetness. Pour the mixture into a large roasting pan or baking dish, large enough that the liquid isn't more than one-inch deep. (Otherwise it takes forever to freeze, trust me. A 9×13-inch pan worked great here.)
Freeze for one hour, then remove the mixture and scrape with two forks to break up the ice. (Your freezing time will vary, depending on the temperature of your freezer.) Return to the freezer and freeze until solid, about 2 to 3 hours, scraping it again with forks every hour or so.
When the granita is frozen, rake until glittery. Scoop into frozen lemon shells (or, you know, plain old dishes) and serve . Take a bow when you serve to guests:)
"Rain" The Beatles "when the sun shines, they slip into the shade and sip their lemonade"

"Across The Universe" The Beatles...John Lennon

What have you all been cooking? Please share your recipes and fave Beatle/McCartney/Lennon/Harrison/Starr music here!