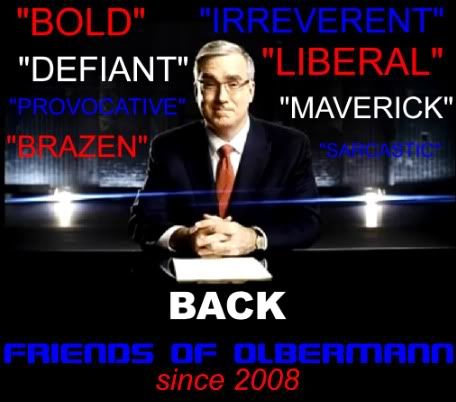 I spent a good chunk of my day in a migraine haze. The "witty" part of my brain that gets all cutesy, I think, are still hazed or consumed by Mad Men streaming on Netflix, so we're going to jump right on into SPARK. :)
In WV, 5 days after watching a bunch of guys who are paid to drive like maniacs, just guess what behavior was on the up - swing on highways? I found a new method of gun control - in the "Show Me Your Papers" state of all places! And, since not nearly enough other people (outside of DC, that is) being ultra maroons out there...
Let's Countdown!
AAAawWWww...I think Keith's gonna be a happy camper tonight with his first "partner in crime" in the house.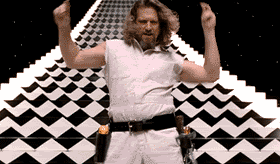 "Debt on Arrival" AKA "Debt Vote Follies" AKA "Boehner's Bad Day" - Ya' know, I hope that post office that was just renamed in Peoria isn't on the list of ones to close - AWKWARD! ;D The vote for Speaker Sobbing Small Price to Pay Goldilocks' debt ceiling shtick that probably won't pass the Senate that President Obama will veto is being delayed. Well, why put off tomorrow what can be put off today - even though we may have only 5 days to do anything. From what I know about Walt Disney, he & the Speaker Sobber would've gotten along well, so Walt's frozen dead a$$ is probably a happy frozen dead a$$! :D :D Bat$hit Bachmann & fellow tea baggers still don't want to vote for the "Speaker's" plan. Don't forget that the "plan" being debated in the House will repeat all this $hit over again in about 6 months.
11 religious leaders protesting the plan were arrested?! Now, THAT'S some damn fine publicity for the cause. BRILLIANT! Rep. Barney Frank gets to talk shtick delay. He's crying a river over the troubles the tea baggers are giving to his "bosses." OK, I lied; he's not crying a river for them but maybe for the rest of the country! He thinks the only thing that will wake the damn GOBP up is for this country to default; I'm not sure about that. If we default, they'll just blame President Obama - like they will do ANYWAY. Brian Beutler gets to give the "outside the Hill" perspective. All that kumbayah stuff from yesterday appeared to be a fib; I know you're shocked - SHOCKED! - to hear about the prospect of the GOBP fibbing. ;D Neither of them are sure Speaker Sobber will have much of a leadership position no matter what happens in the 2012 elections.
"Hacks" AKA "More Victims, More Denials" - OK, here's the newest latest ilk on the Murdoch boys & Our Miss Brooks. Our Miss Brooks gave a cell phone to the mother of another murdered girl. THAT phone was hacked into by the peeps of the aforementioned Our Miss Brooks.

Little Jimmy Murdoch still has whatever job he had. Wow, and this woman defended NOTW when all the $hit began to hit the fan; Scotland Yard informed this mother the phone had been hacked. Robert Moore gets this lovely update duty. I remember Miss Brooks' testimony on the subject of that kidnapping. This update brought this story back to the front pages of papers across the pond. Little Jimmy actually got a "ringing endorsement" from the B - Skye - B peeps; he probably has "stuff" on all the board members. ;D
"Time Marches On!" - There's dancing clowns in Mexico City - LOTS of 'em! The Apple Daily peeps are at it again - this time with Rep. Wu's resignation. I liked the drool on the dude! There was even a tiger suit & a "thank you sir - may I have another" moment; these people don't miss a thing!
The next time anyone decides to take one of them donkey rides to the bottom of the Grand Canyon, your donkey might be glowing because a mess of uranium mines might be in the area.
A whole mess of environmental rules are being monkeyed around with under the cover of all this debt ceiling $hit. Kate Sheppard gets glowing Grand Canyon donkey duty!
WPITW - A TX Congress critter is fibbing about what goes on in military funerals & claiming "God" isn't involved. Is he hanging around the Phelps?! Lonesome Rhodes is still obsessed with Nazis & the Hitler Youth, but he's the victim; don't you forget it! Newtie Gingrich's campaign swag isn't made in this country - OOPS!
"ESPN the Movie" - That big 'ol book about ESPN is going to be made into a movie; gee, I'm surprised that decision has taken as long as it has! ;D Look how young the fellers look!! And, here's Mr. Patrick! He thinks the movie might focus on the mid - 90s...around the time Mr. Keith was making waves. All righty! Interesting casting choices, don't cha' think?!