It just breaks your heart.
TAMPICO [Illinois] – Two 14-year-old girls were electrocuted Monday morning in rural Tampico, and eight others were hurt in the accident that happened while they were detasseling.

Dead are Hannah Kendall and Jade Garza, best friends who would have been freshmen at Sterling High School this fall.

Authorities wouldn't reveal the names, ages or sexes of the other workers, who likely also were younger than 18. They worked for Monsanto Corp.

Sauk Valley Newspapers: Two Sterling teens electrocuted, 8 others hurt in detasseling accident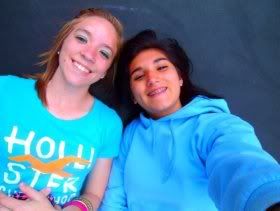 The accident happened about 9:30 am Monday morning (July 25, 2011), and the story is still developing. Two other workers, sisters Bailey and Delanie Knapp, 15 and 14, respectively, were taken to CGH Medical Center in nearby Sterling, Illinois, and Delanie was subsequently airlifted to OSF St. Anthony Medical Center in Rockford. Her condition was upgraded from critical to fair Wednesday. Local and state authorities, as well as the Occupational Safety and Health Administration (OSHA) are investigating. Damage to the power supply of a center-pivot irrigator as a result of a purported lightning strike the day before has been suggested as a factor. An OSHA representative earlier said the agency's report could take six months.
Those who have followed my sporadic series How regulation came to be recognize the twist in the title. The facts of this incident touch on so many topics that we've delved into in the series that one wonders how something like this could happen -- and at the same time perhaps explain how it could happen. And the sheer pathos of the tragedy is the kind of thing that could -- and perhaps should -- spur us to demand further regulation.
Exactly how the incident happened is not yet clear. At this point it appears that teenagers working as
detasselers
in a field producing hybrid seed corn for Monsanto either came in contact with a center-pivot irrigation arm or received a shock through a pond of water left by heavy rains over the weekend in which the irrigation arm was parked.
Reports indicate that, in a pattern also common in confined space accidents (another agricultural industry hazard such as this incident that took place last year 30 miles from the site of Monday's tragedy) several fellow workers attempted to come to the rescue of the stricken workers and were themselves injured by the electric current.
Tristen Dudley, 13, of Rock Falls told Sauk Valley Media he was one of the workers who saw the girls being electrocuted. He said several others tried to help them.

"I heard them yelling. I went over to help," Dudley said. "I didn't do anything because I would have been sucked in."
Chicago Tribune: 2 electrocuted, 8 injured while removing tassels from corn in rural northwestern Illinois

Chevy Conkling was among the 72 detasselers in the field Monday when four of their number were electrocuted, killing 14-year-old Hannah Kendall and 14-year-old Jade Garza.

"We were just like detasseling and we heard screaming and all went down hill," said Chevy Conkling.

Chevy, a first year detasseler himself, says he watched as Hannah, Jade and two other detasselers walked past an above ground irrigator.

"One of the girls was laying on ground and couldn't feel her legs and she was screaming for help, then two were passed out on it," said Conkling.
foodfacts.com: Monsanto loses two young employees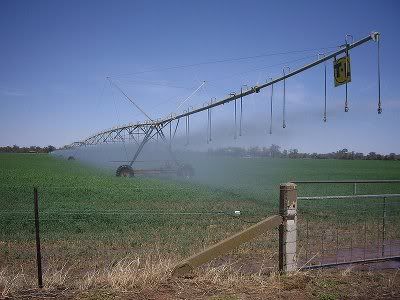 Despite numerous media reports describing the young workers as "working for Monsanto" it does not appear they were employed directly by the company. As this article suggests, they were apparently employed by a sub-contractor which assumes the responsibility for hiring and verifying employment eligibility, supervision, managing payroll and taxes, often training workers, providing proper safety equipment, and so forth. Such an arrangement is now the norm in seed corn production.
Monsanto does not own the land where the accident took place; that belongs to a local farm family, Donald and Virginia Matthews. Based strictly on my understanding of current practices common in the seed corn industry, they likely contract to grow parent corn strains provided by Monsanto to the company's specifications. Few hybrid seed corn companies own the land on which their seed is produced any more.
While Monsanto is stepping up and expressing proper concern and determination to protect workers, and pulled their crews from area fields for several days while the incident was investigated, the fact is that they are probably well fire-walled.
It is also unlikely the center-pivot irrigator involved in the incident belongs to Monsanto, either. While electricity and water is never a good mix, it's a style of irrigation equipment that has a less-than-stellar record in some circles.
A rural power supplier conducted a series of electrical tests and inspections of electrically driven center pivot systems with electric pump motors. The survey showed 37 percent were potentially hazardous because of the lack of a grounding conductor. Nearly 40 percent did not have a ground rod installed. More than 50 percent failed to have a fuse or a means of disconnection. Other hazardous situations were found, including loose connections, improper circuit and motor protection and deteriorated insulation.

A second series of inspections (by a Nebraska state electrical inspector) showed similar results. Of 77 systems inspected at the owners' requests, 10 were classified as lethal; 38 were definitely hazardous; the remaining 29 were potentially hazardous. The 10 lethal systems had current flowing to ground at the time of the inspection or had almost killed someone shortly before the inspection. The National Electrical Code (NEC) had been violated in all 77 installations
University of Missouri Extension: Electrical Safety for Center Pivot Irrigation Systems
(Emphasis mine)

Monsanto, in numerous news articles, stresses that workers are instructed to steer clear of the irrigators, although it appears that is not universal in the industry, and when workers are warned, the warnings tend to be more focused on the mechanical hazards of the machinery, not concerns of electrocution. The distinction can make a world of difference in how a worker approaches the hazard.
Hemminghaus [owner of a detassling contract company not connected to the accident] said workers are instructed to steer clear of field irrigators if they come upon a piece of machinery, but not for fear of electrical shock.

"We tell the kids to stay away from a pivot (irrigator) if they find one in their row - to walk around it and go on the other side," Hemminghaus said. "You can just get into all sorts of problems climbing over one with the danger of falling or tripping or twisting an ankle. It's better to stay away from mechanical things in the field."
Peoria Journal Star: Few dangers in detasseling

New work rules implemented by Monsanto since the accident suggest that the previous rules may not have been as strict as necessary to protect workers -- and were perhaps not as strict or as strictly enforced as Monsanto representatives claimed them to be.
Monsanto's crews are back in the fields but with new regulations.

The company is instructing it's detasselers to steer clear of irrigators at all times.

"We're supposed to stay 10 feet away, or as far away as possible," said John Neubauer, crew leader. "They turn it off and they tell us before we can go in. We can't go in until that's taken care of."

The new rules are welcome news to many. They say they've seen irrigators on and driving through the fields while detasselers were walking the rows.
KWQC: New Rules For Monsanto Detasselers And Irrigators

The Occupational Safety and Health Act of 1970 was intended to protect workers on the job, but years of Republican efforts to defund and starve the agency created by the act of the resources necessary to effectively do its job have left OSHA undermanned and toothless. Its activities, of necessity, have shriveled to being merely reactive and not proactive. They will investigate after a fatality has occurred; they no longer have the resources to inspect to prevent a fatality from occurring. They are now investigating the Tampico incident in partnership with the Whiteside County Sheriff's Department.
Additionally, the application of OSHA regulations to agriculture is complicated by Congress barring, in the appropriations bill that funds the agency, the use of money appropriated by the act to enforce the law against farms employing ten or fewer workers. The agricultural industry is protected by a virtual mythology built around the independent American farmer that results in a "hands-off" approach by legislators and regulators that, in this case at least, may not have served anyone well.
Ironically, the image of farmers as independent and responsible individuals and of agriculture as a special occupation has contributed to the exclusion of most of the farm population from the Occupational Safety and Health Act, the major federal occupational safety program. As a result, most US farms lie outside Occupational Safety and Health Administration (OSHA) coverage, which helps explain the continued high rate of injuries and deaths to farm owners and employees.
Timothy W. Kelsey: "The Agrarian Myth and Policy Responses to Farm Safety" (pdf)

I'm not a lawyer and it's not clear to me whether the exemption would apply to the farm where the incident occurred. On the face of it, the 72 detasselers working in the fields easily exceeds the threshold, but the workers were employed by a contractor and not for the farm directly. This sort of arrangement is also common in migrant labor. Perhaps someone versed in labor law can clarify for us.
For many youngsters in the corn-producing regions of the mid-west, detasseling serves almost as a rite of passage. For many, it is their first job and first paycheck (although, since agricultural jobs enjoy an exemption from minimum wage and overtime laws in some circumstances as well, it can be a paltry check.) An estimated 300,000 youth under the age of 20 are employed as detasselers for a few weeks each year. And because detasseling is generally considered a relatively safe task, it is not subject to the age limits applied to more hazardous jobs.
No minor under 12 years of age, except members of the farmer's own family who live with the farmer at his principal place of residence, at any time shall be employed, permitted or allowed to work in any gainful occupation in connection with agriculture, except that any minor of 10 years of age or more may be permitted to work in a gainful occupation in connection with agriculture during school vacations or outside of school hours.
Illinois General Assembly: EMPLOYMENT (820 ILCS 205/) Child Labor Law (emphasis mine)

At the end of each "How regulation came to be" entry, I've closed with a little statement that says that all too often regulation comes from terrible tragedies that spur the public to demand action from our representatives to try to insure such things never happen again. Will this be one of those? I don't know. Already the incident, even locally, seems to be fading from the headlines. By the time OSHA delivers its report, memories of the tragedy may already be laid to rest, as Jade Garza amd Hannah Kendall were Friday. Maybe it takes a bigger death toll to capture the public's attention. Maybe more egregious and callous behavior on the part of the employer is necessary. Time will tell. In the meantime I will take what small action I can to encourage our legislators not to ignore these tragic deaths. I hope others will do the same.
Thanks to marykk for alerting me to this incident
The "How regulation came to be" series