A quick report from the frontlines in the battle to roll back Scott Walker's reactionary agenda in Wisconsin, where the elections to recall six state Senate Republicans will take place a week from tomorrow, on August 9.
I don't actually live in Wisconsin anymore, but I grew up in Alberta Darling's district (SD-08) and my mom still lives in it. I blew into town Saturday with mrs. and l'il litho to visit her for a few days, and yesterday she invited us out to brunch at Benji's Deli in Shorewood, which really does offer the best corned beef in the world. Joining us at the deli were my mom's closest friends, a couple and their adult daughter. The father is a business agent for the Wisconsin Education Association Council, the state affiliate of the National Education Association. Because of the elimination of collective bargaining under Walker's budget, my mom's friend might very well lose his job this year.
More on the flip...
While we were eating, our friends mentioned they were planning on canvassing in the afternoon. Now, I had been rolling the idea around in my head from the second I crossed the state line from Illinois, seeing the abominable "Open for Business" graffiti Walker had afixed to the "Wisconsin Welcomes You" sign that stands at the border.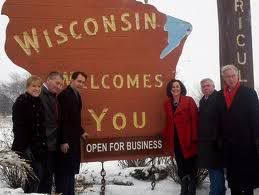 That sign has stood on the stateline for as long as I've lived in Wisconsin, going all the way back to 1972. Before Walker scrawled his partisan slogan on it, it used to look like this: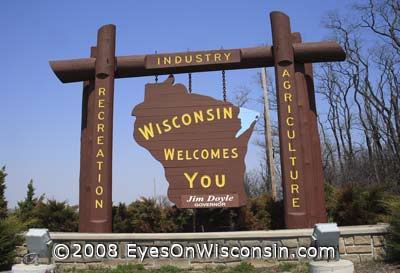 So I'd been thinking about doing it already, but it was really just the germ of an idea. I hadn't mentioned it to anyone, and hadn't put together concrete plans of when or how or anything. When my friends said they were going, I leaped at the chance.
We finished eating, went home and digested a bit, and then about three o'clock we met up at their house to drive up to Sandy Pasch's campaign office. The office, surprisingly to me, is located in River Hills, the ritzy suburb Republican Darling calls home. As we were driving up, I noticed a large number of Pasch yard signs in River Hills itself, and they seemed even to outnumber the Darling signs.
The polls in this race are very close. An internal poll by the Mellman group in mid-July put Pasch up by one point, though the PPP poll for Daily Kos later in the month gave Darling a five point lead. My sense is that this one is going down to the wire, and could be as close as the State Supreme Court race between Kloppenburg and Prosser. I also feel that this is the biggest of the recall elections: if we win this one, it will be a major symbolic victory striking close to the core of the GOP leadership in the state. Darling is not in Walker's inner circle, but she has represented the district for almost twenty years and chairs the powerful Senate Finance Committee.
The turf they gave us at Pasch's campaign office was in Whitefish Bay, a tidy middle class suburb on Lake Michigan just north of Milwaukee. I know the community pretty well, as my first wife grew up there. It is not Milwaukee's most diverse community, and in college we used to jokingly call it "White Folks Bay." I can't find a link right now, but I recall a recent newspaper column (last twenty years) detailing a pretty outrageous "driving while black" incident in the town.
Pasch herself lives in Whitefish Bay, and Pasch signs outnumber Darling signs by 2:1 or even 3:1. That's even true among the stately mansions that line the bluff overlooking Lake Michigan along Lake Drive, some of the most expensive pieces of property in the metropolitan area and perhaps in the state of Wisconsin itself.
Our turf was inland, well-maintained but small two story homes with postage stamp yards on streets that followed a strict grid pattern. With the election only a week away, our instructions were straight GOTV. The doors in the turf were all id'ed Democrats, and most of them were strong Pasch supporters. Many of them in fact had Pasch signs in the yard, and more than one of the doors I knocked had multiple Pasch signs.
I've done a lot of canvassing over the past five years, and this was literally the best turf I've ever had. First off, it was compact. The houses were close together, with sometimes fifteen or even twenty id'ed strong Dems per block. You didn't have to walk long distances, much less drive!, to get from one door to the next. We divided each turf into three pieces -- my friend, his daughter, and myself -- parked the car, and hit the entire thing in a half-hour or so.
Second, people were enthusiastic. I probably knocked fifty doors yesterday and had live contact with maybe twenty voters. Maybe three of them did not indicate that they will vote for Sandy Pasch on August 9. One lady, who answered the door speaking Russian, I'm not convinced understood exactly what I was asking her about. Another two guys, the husbands of women on my list, said they wouldn't be voting for Pasch, one because he was pissed at the issue ads outside groups were running on tv and the other maybe because his door had been knocked one or two too many times.
Everyone else I talked to was fully up on the issues and on the importance of the election. The last person I met talked almost like a kossack, lamenting that too many folks had stayed home in November last year and that maybe we needed this reactionary surge for people to understand that elections really do have consequences.
One gentleman told me he has been living in his home for over forty years. When he moved in, he said, Whitefish Bay was overwhelmingly Republican -- maybe 90%. Today, he told me, it has completely flipped. It's now at least 80% Democratic.
I know when I was growing up in the 1970s, inside the city limits on the East Side of Milwaukee, I looked at Whitefish Bay as a conservative town, home to bankers and lawyers. Yesterday, however, most of the people I met were nurses, teachers, folks of modest means. And they were Democrats. Boy, were they Democrats.
It's going to be a tight race. Every single vote counts. The people I talked to yesterday all knew that before I even knocked their door, and they were all planning to vote.
It was an invigorating day, notwithstanding the 90 degree heat.