This story has slipped by most news sources, including Daily Kos, to my astonishment. I guess the background noise has been too much, and as for the MSM, the heroes didn't fit into the usual mould. Or perhaps they didn't boast enough about actions that might have won them the Congressional Medal of Honor if members of the US military had acted in this way under battle conditions.
It shouldn't be forgotten.
Here's a picture of the two women, Hege Dalen and Toril Hansen. They look like a nice couple.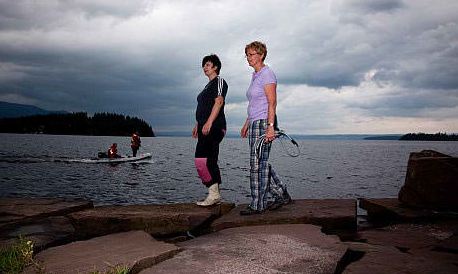 Hege Dalen and Toril Hansen are a married lesbian couple living, or perhaps visiting, in Norway.
On the day of the Norway massacre, they were having dinner on the shores of the lake that holds the island where the massacre took place. They heard shooting, and then screams. They saw people rushing into the water.
Their response was to put their boat into the water and make straight for the island to rescue people. It was a small boat, and couldn't carry more than a few, so they made the run four times, saving 40 people, some of them wounded.
They very nearly paid heavily for their heroism. Bullets hit the side of their boat. The killer must have spotted them. They saw the bullet holes, but it didn't stop them making another run (source).
It is odd that this story isn't all over the media. If a single MSM source carried it, I was not able to find that source searching in Google. It should have been very interesting to some people, so soon after DADT was ended. Of course, I may have missed it.
I hope it isn't missing for the first reason that came into my rather cynical mind.
(Note: Credit to TheDevilFromHavan at deviantart.com for making me aware of this story.)
8:45 PM PT: Update: Of course, as someone is sure to notice before long, this story has been covered on Daily Kos by TheSolipsisticMe under the title "Horrifying News on the Gay Agenda: Another Cautionary Tale." http://www.dailykos.com/... Unfortunately, that diary didn't show up with the search terms that I used to check if the story had been previously covered.