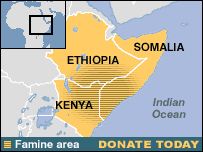 East Africa Food Crisis: 48 Hours of Action
This weekend, Daily Kos is participating in 48-Hour Fundraiser hosted by environmental websites and nonprofit organizations to benefit the 12 million people struggling for survival in the East African countries of Somalia, Ethiopia, Kenya and Djibouti. Last week, the United Nations announced famine -- already declared in two districts -- is likely to spread throughout southern Somalia. This week, the UN issued a warning that food insecurity in northern Uganda is sufficiently alarming to raise the possibility that the country might become the fifth nation impacted by the worst drought in the Horn of Africa in sixty years.
Also participating in this weekend of action are 350.org, Oxfam International, WiserEarth, tcktcktck, DeSmogBlog, MIT Climate CoLab, BPI Campus, Climate Change: The Next Generation, RedGreenAndBlue.org, Cool HIVE, MedicMobile, and The Enough Project.
Over the course of the weekend, experts in the field of humanitarian assistance will join environmental writers to outline the history of the region and detail how geopolitics, colonialism, ongoing civil wars, climate change and geographic vulnerabilities have combined to create the perfect storm now ravaging East Africa.

Each participating organization is choosing its particular group for donated funds. Daily Kos is donating all monies raised to directly support the work of Oxfam in the Horn of Africa. Please add $.01 to your donation so it ends up being $5.01, $20.01, $50.01, $100.01, and so on. This will enable Oxfam to keep track of all Daily Kos donations.
Click here to Go directly to Oxfam's donation page.
Please read this if you live outside the United States - to make a donation, click this link and scroll down a bit to find your country. If not listed, please Google Oxfam in your country.

Welcome to the DailyKos branch of the 48 Hours of Action, a multi-organization effort to raise funds to help those in the Horn of Africa facing severe food crisis due to drought, rising food prices and long-term national and international policies which have left Somalia and the region without a sustainable infrastructure.
This is no small emergency we're attending to. Oxfam has reported this as "the world's worst food crisis":

"Two successive poor rains, entrenched poverty and lack of investment in affected areas have pushed 12 million people into a fight for survival."
12 million people.
As many of you may know, I'm one of the hosts of the Witnessing Revolution diaries. Perhaps because I've borne witness to so much horror in the past 7 months, I'm unable to make my appeal regarding this famine warm and comfortable for us all. For all the images of people who have been shot or tortured by their governments, at least it was in the context of them rising up against oppression. As traumatic as it is, there is a regaining of one's dignity and pride in that. There is nothing dignified about starving to death. It is a long slow process to go from food security to starvation. It strips away one's dignity before bringing on horrendous pain and suffering.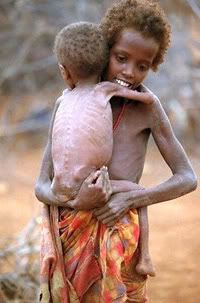 So, I'm not going to pull my punches here. This is what famine looks like. Families flee their homes desperate for food and many die en route to refugee camps. Children lose their parents. Parents lose their children. Children carry their siblings, who have become nothing but bones.
Perhaps it isn't the Witnessing, but simply the fact that I'm a mother who cannot imagine watching my child go through this. A mom who knows that every mother struggling to get food for her children is suffering not just her own hunger but an overwhelming amount of pain and anger and despair for the sake of her children. No matter that I am disabled and unemployed and my husband is unemployed and we had to ask for a forbearance on our mortgage and get food stamps to feed our family. I had a yard sale last week and some of that money is going to this effort. I couldn't eat a meal tomorrow if I didn't make that donation.

Donate now - Donate to Oxfam America

No, we don't expect DailyKos to solve this crisis. We're not in this fund raising effort alone. We're part of a large coalition of concerned people around the world. So, yes, your $50, your $20, your $10, your $5, even your $1 will help. Imagine if every person around the world could give $1. That would be billions. Ok, we won't get every person on the planet to give, but you get the point. Don't hesitate just because you don't think you can give enough to make a difference. Every dollar counts and every click of that donation button is telling the world that another person cares. Please care enough to give whatever you can. Imagine if that was your child in that photo. Or you as a child.

Donate now - Donate to Oxfam America

Again, I'm not pulling my punches. I'm going to ask you not to simply give out of compassion. I'm going to go there and suggest that we should all feel a little guilt, too. Why? I'll let Al Jazeera explain:
Genocidal politics and the Somali famine

The blame for Somalia's devastating famine should not be leveled at the weather, but at geopolitics and armed militia.
...
The climatic record show that droughts frequently occur in the Somali peninsula, but have not produced famines over the past fifty years, until 2011. However, the UN and other international actors have been arguing about the devastating drought in the area for nearly a year, while only a handful of scholars and activists were alarmed by the creeping famine. What thoughtful people must ask is: "Why famine now?"
...
The Somali people in the affected regions have been made vulnerable to ecological disturbances because of several political and military forces. These include the US "War on Terror", the al-Shabaab terrorist group, Somalia's Transitional Federal Government (TFG), the Ethiopian invasion of Somalia and its continuous political and military involvement there, and finally East Africa's Intergovernmental Authority on Development (IGAD) and the UN.

These actors have created circumstances in which local food resources were exhausted and assistance from outside was denied or delayed until tens of thousands of people starved.

Exactly what role did each of these forces play in manufacturing the famine? First, the US agenda in Somalia has been to fight what it calls "Islamic terrorists", and al-Shabaab in particular. Since the bombing of the US embassies in Kenya and Tanzania in 1998, and especially since 9/11, clandestine operations were conducted to snatch "terrorists" and dry up their support base in Somalia. These operations sought assistance from several of Mogadishu's warlords, who formed the "Alliance for the Restoration of Peace and Counter-Terrorism" in 2005.

Somalis despised this alliance and their patron, and ultimately turned against them under the leadership of the Union of Islamic Courts (UIC) in 2006. The UIC defeated the warlords, restored peace to Mogadishu for the first time in 15 years, and brought most of southern Somalia under its ambit.

Consequently, the US and its Ethiopian ally claimed that these Islamists were terrorists and therefore a menace to the region. In contrast, the vast majority of Somalis supported the UIC and pleaded with the international community to engage them peacefully. But the peace did not last. The US-supported Ethiopian invasion begun in December 2006 and displaced more than a million people and killed close to 15,000 civilians. Those displaced then are part of today's famine victims.
Our nation has been actively involved in destabilizing Somalia. There is no real governance there now. The country is embattled by warlords and last year aid organizations were kicked out. All in the name of our War on Terror.
So, while we may be worrying about our debt ceiling and our unemployment levels, which are not unrelated to the bad acts we are committing in other parts of the world, we are not facing the near decimation that the Somalis and others in the Horn of Africa are facing today. And it is our electorate who keep putting people in office to continue these humanity-crushing policies. We still live in relative comfort and wealth, while, in our name, our government and our corporations destroy other countries to such an extent that millions of people are about to starve. We bear some responsibility for this as a nation. We should feel remorse and do what we can to rectify what we have perpetrated.

Donate now - Donate to Oxfam America

Pontificate about the politics. Natter about the neoliberalism. Inveigh against the Islamophobia. Do whatever you need to do to vent your frustration, your anger, your feelings of powerlessness. Let the pie fights ensue! AFTER you give. This is one of those moments where it is imperative that you act in the meatspace before you get enmeshed in the internet.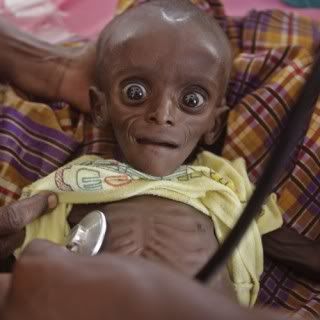 This weekend, if you buy a cup of coffee or a muffin or a book or a new pair of shoes or something for your hobby or a beer or a chocolate bar or anything at all which is not an absolute necessity, I hope that you can look into this child's eyes and say, "I gave all that I could."
I wish I felt more gentle about this. I wish that I had the magic confection of sweet, warm, gooey words that would make us all feel exquisitely mesmerized into giving. But, look at that face. What the people in East Africa are trying to survive through is in no way sweet or comfortable or gentle. So, please, take a moment and feel it with them. Bear witness. Bear witness with your eyes, your heart and your gut. Bear witness so that you may shine a light in their darkness. Today that light comes in the form of a donation. Nothing else is going to save them right now.

Donate now - Donate to Oxfam America

Thank you. Thank you. Thank you.

Schedule of Daily Kos Diaries - August 6th and August 7th
Saturday, August 6th - PST
6-8: UnaSpenser
8-10: A Siegel
10-12: FishOutOfWater
12-3: rb137
3-6: wader
6-9: Jeremy Bloom
9-12: Oke
Overnight: boatsie
6-8: blue jersey mom
8-10: Daisy Carlson (CoolHIVE.org)
10-12: 350.org
12-2: Ellinorianne
2-4: Patriot Daily News Clearinghouse
4-6: JekyllnHyde
6-9: jlms qkw
9-12: The Enough Project
Overnight: Chacounne

CLICK THE BELOW LINK TO MAKE A DONATION

Donate now - Donate to Oxfam America

Please read this if you live outside the United States - to make a donation, click this link and scroll down a bit to find your country. If not listed, please Google Oxfam in your country.