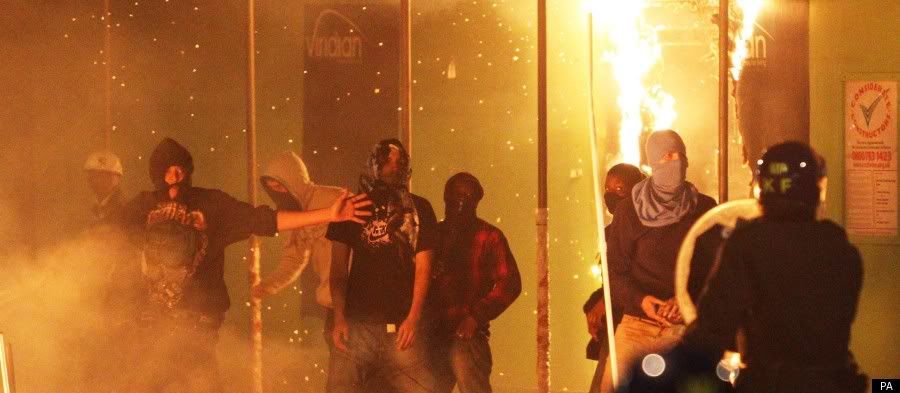 At first glance I thought this picture was of a battle in Lybya, Yemen, or Syria. But, it turns out to be of a riot in Tottenham, England, where protests of a controversial policy shooting have escalated into violence.
Huffington Post, UK, reports, Riot In Tottenham After Protest At Mark Duggan's Killing By Police

PRESS ASSOCIATION -- Eight police officers are being treated in hospital following riots which broke out two days after a man was shot dead by police.

Scotland Yard said at least one of the officers had suffered head injuries after protesters clashed with police in Tottenham, north London.

Trouble flared after members of the community took to the streets to demand "justice", after Mark Duggan, 29, was shot dead by police on Thursday.

The riots saw buildings and vehicles set alight, including two patrol cars, a police van and a double-decker bus, and shops looted as police in riot gear arrived on the scene.

Hundreds of people gathered in the street, including mounted police, as smoke poured into the air from the lighted bus. Fire engines descended on the area and thunderflashes were thrown at police on horseback.
Pictures of cars and shops burning, and mayham in the streets, remind us of the breakdown in law and order in New York City, decades ago, when riots broke out at night after a power blackout
How frightening to watch how thin the veneer of civilization might be, covering our more primitive potentially savage natures, waiting for any discontinuity to erupt into destructive rages of violence.
A local woman, who declined to give her name, said: "There's a theory going on that the man who was shot had dropped his gun, but they still shot him. I'm hearing that most of the shops in the High Road are being burgled and robbed."
It is not clear if this report of 9 people taken to the hospital includes the 8 police officers.
While I am not sufficiently aware of the details of this case to make comments on the original shooting, no matter how the count comes out, we also see here remarkable discipline, training, and restraint from the local police with regard to their handling of the riot.
Few are the places where, if 8 police were hospitalized, and petrol bombs thrown on them, the police would not have retaliated with fierce reprisals.
What a poignant paradox of civility.