The Atlantic Wind Connection is a wind power project that starts with a 5.5 billion dollar HVDC offshore trunkline from central New Jersey to Southern Virginia. Capable of a 6-7 gigawatt capacity, the undersea supergrid project is led by independent transmission company Trans-Elect, CEO Bob Mitchell hopes to accelerate wind power development by building the 350 mile long supergrid backbone to attract wind turbine installers.
The eastern seaboard has terrific potential for offshore wind. With more than 60,000 MW of offshore wind potential in the relatively shallow waters off the continental shelf. The HVDC backbone of the AWC will be 15-18 miles offshore, have a limited number of landfall points, lessening environmental impact and keeping wind turbines out of sight.
The Google backed project plans to take advantage of the relatively shallow waters of the continental shelf to install HVDC cables that can initially support 7,000 Mw of generation.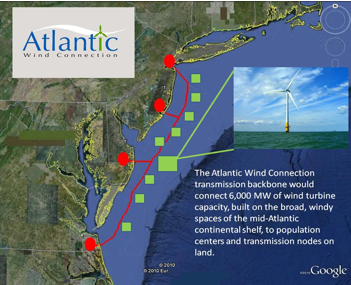 The AWC backbone is critical to more rapidly scaling up offshore wind because without it, offshore wind developers would be forced to build individual radial transmission lines from each offshore wind project to the shore, requiring additional time consuming permitting and environmental studies and making balancing the grid more difficult. As those in the Northeast remember from the 2003 blackout, transmission is severely overstretched on the east coast.
Have you heard that Donald Trump is complaining about proposed wind turbines? The turbines are going to be only 1.5 miles from Trumps Golf Course. Remember those complaints about the wind farm off Cape Cod? Cape Wind is shoehorned into a small congested area, between 2 shipping lanes. And all within sight of shore. Dept of Interior graphic, shows distance to Nantucket, Martha Vineyard and Cape Cod.
The Atlantic Wind Connection avoids being in sight of the beach, so is not likely to be seen by any NIMBY types, only has 4 landfall points for the HVDC cables to hook up with the existing grid, this reduces and simplifies permitting issues. And its scalable.
In May of 2011 U.S. Federal Energy Regulatory Commission (FERC) conditionally approved of the AWC plan:
The approval includes rate incentives and the opportunity to recover 100% of prudently incurred costs if the first-of-its-kind project is abandoned for reasons outside the company's control.
offshorewindbiz also reported that the Cape Wind Project mentioned above, has had its Loan Guarantee application placed on hold by the Department of Energy.
Cape Wind intends to secure project financing expeditiously.......
The Atlantic Wind Connection appears to be a well thought out large scale project. They are taking on some risk, as of yet, no one has signed up to build turbines on the AWC HVDC backbone, though 4 companies have expressed interest. Construction is expected to start in late 2013 or early 2014.
______
The companion diary to this one, details on the HVDC supergrid