Howdy, pards.
More video fun. Putting together Clark's vid last week was fun, and I'll have another half-assed artsy music vid next week, but today we're back to the politics of class warfare.
And that's the crux of it all, isn't it? One group of Americans favors rules to make sure that all have a fair shot at economic security and advancement, while another thinks there should be no rules at all, so long as they are on top. And, despite the rhetoric, both groups love government, so long as it serves their agendae.
And one of those groups is most assuredly winning the fight.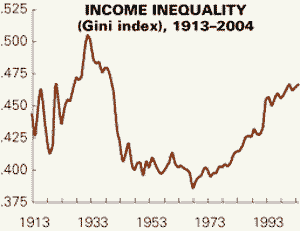 I look at that chart, noting that mid-20th century sweet spot of increased opportunity and prosperity and remember again why, despite its failures and frauds, I support the Democratic party.
Anyway, do enjoy the new vid. The song is, near as I can tell, my most (illegally) downloaded cut, so someone out there may like it. Students cramming for history tests may get a boost from it, too.
I'll be trying to figure out some whoop do do launch for it next week, but for now, sit back, and enjoy 70 years in 3 minutes. Please let me know if I got anything really, really wrong.