This diary is about sea turtles and how simple solutions (like the changing of a hook) may help to solve complex problems. Over the past decade, many tax and donated dollars have gone towards the development of effective methods to reduce/mitigate sea turtle catches in the world's commercial fisheries. Through scientific trials, the large circle hook has shown great promise in the effort to save sea turtles from extinction; and I have been but a bit player in this effort.
There are seven species of sea turtles in the world and six of them are considered endangered or threatened by the IUCN Red list. Some species are used as political pawns by groups whose ultimate goal is to shut down all commercial fisheries and some populations are critically endangered and drastic mitigation of commercial fishery catch is necessary to ensure protection from extinction. the political divides on this issue are gargantuan, and this diary is not intended to address those issues. It is simply about one small aspect of recent research that may portend a more hopeful future for sea turtles.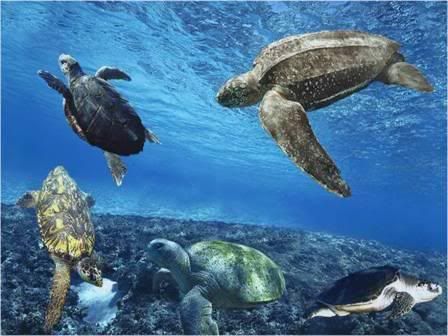 Artistic rendering of 5 species of sea turtles: from left to right: top two= loggerhead and leatherback; bottom three= hawksbill, green, and olive Ridley--- not shown= Kemp's Ridley and flatback (Source: NOAA).
Most sea turtles are threatened by humans interacting with their nesting activities, catastrophic habitat events such as the BP oil spill in the Gulf of Mexico, and by near-shore fisheries that kill juvenile turtles, eggs, and hatchlings both as food sources and incidentally to other fisheries.
But, I work with pelagic commercial longline fisheries. For these fisheries, catching a sea turtle is a rare event- In over 1,500+ fishing days on commercial boats, I have only seen two captured sea turtles and both were released alive. Yet globally, these fisheries incidentally capture sea turtles by the thousands every year. The fishermen do not want to catch sea turtles (there is no market for them), they are targeting tunas and billfish (e.g., swordfish). From my experiences, fishermen are eager to embrace any new gear technology that reduces sea turtle takes!
Large circle hooks may help to reduce turtle takes and mortalities!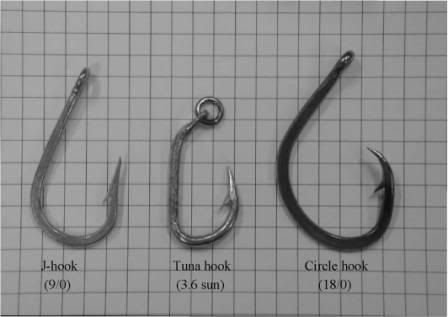 Three most common types/sizes of hooks (on cm grid) used in pelagic longline fisheries in the Pacific (Source: Tharu1).
In pelagic fisheries there have historically been two types of hooks used- a J-hook for swordfish and a tuna hook for tunas. Research (in the US and Australia) suggests that a switch to large circle hooks throughout the worlds' longline fleets would not only drastically reduce the total numbers of sea turtles captured, but also increase the survivability of released turtles.
Large circle hooks benefit turtles in 2 ways: The overall size of the hook itself (minimum width) is greater than the traditional J and tuna hooks and the mechanism by which a fish/turtle becomes ensnared on the hook results in a higher probability that the hooking event will result in a superficial wound in the corner of an animal's mouth and not be ingested into the stomach of the animal. This leads to a less invasive extraction of the hook and to a higher probability of survival for the captured animal.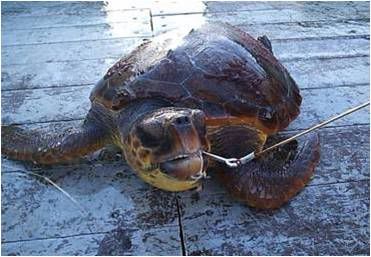 A jaw hooked turtle caught with a large circle hook and released alive (Source: tharu1).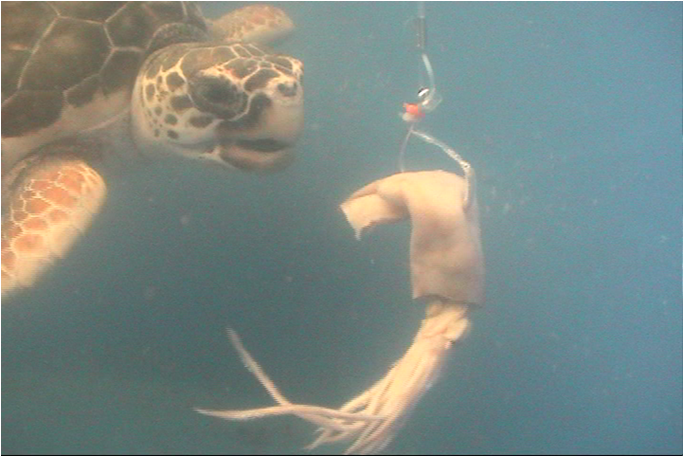 Circle hook testing with squid bait on a captive turtle. Source: NOAA.

A longline caught loggerhead sea turtle equipped with a satellite tracking tag. Source: Tharu1.
What we can do collectively: When you go to your favorite sushi restaurant- ask how the tuna/sashimi and swordfish were caught. Were they caught by US or Australian longline fisheries that have actually instituted sea turtle friendly circle hook regulations? If not, do they even know where their fish comes from? Most Chinese, Japanese, Korean, and Taiwanese fisheries still use the Japanese style tuna hook- that results in high mortality rates for sea turtles.
Longline fishing can be turtle friendly, unfortunately- many nations simply do not care about this issue, it is up to the retail buyers to press the issue and make the large circle hook the de-facto hook for all pelagic longline fishing!
(Note: My opinions do not necessarily reflect those of my employer and I haven't shown any information that has not already been made public.)