I have been researching my family history for only a few months now. Specifically, about the same time DKos 4 went live and edwardssl created this group. Inspiration. So far, my family has been relatively (no pun intended) boring. Mostly hard working farmers breeding like rabbits. Unfortunately, my family is not one of those that held on to letters and other paper records other than a few documents here and there. So I don't have a literary trail to comb through like so many others have been lucky enough to have.
As a result, even though I've been wanting to write a diary for months now, I don't seem to have any story to tell that would be "diary-worthy". Nothing that wouldn't take more than a paragraph to tell in the comments of an open thread. So, what I decided to write about is something that I have NOT discovered. Yet, the thought of it has been haunting me. This isn't just an ordinary brick wall that I expect will be broken through eventually. More like a 20 foot thick steel vault. This is something I have perfectly good reason to believe I will never discover, but I can't stop thinking about it. It's like winning the lottery (1 in 195,249,054 for Powerball). You don't actually expect to win, but you can't help dreaming about it anyway.
This is what I refer to as the Holy Grail of my family history research (because it makes me think of the Monty Python movie). There might be the tiniest, remote, sliver-of-a-chance that I'll discover it which keeps me dreaming. But I know I probably won't. And I'm okay with that. It's nice to dream.
A picture of my great-grandmother
My dad is the son of German-Russian immigrants. My grandfather, Gottfried, settled in Idaho, married my grandmother and had 5 children - 4 sons and one daughter. My dad's brothers all joined the military during WWII and the Korean war. He was one of those who were turned away because of a silly "deformity" (crooked toe or something like that). So as his sister married and left the house and his brothers went off to war, then to college and/or started their own families; he was left taking care of his parents. They lived with him until they died. He presumably knew them better than any of his siblings and he had all of their belongings.
My great-grandparents were all alive after the turn of the century as photographs were becoming more common. I should be able to find a picture of all eight of them. I have a family photo of my dad's maternal grandparents that was taken in Russia before they moved. That great-grandfather died 2 years later in 1907 (the earliest death of any of my great-grandparents). I have a picture of him and my dad's maternal grandmother.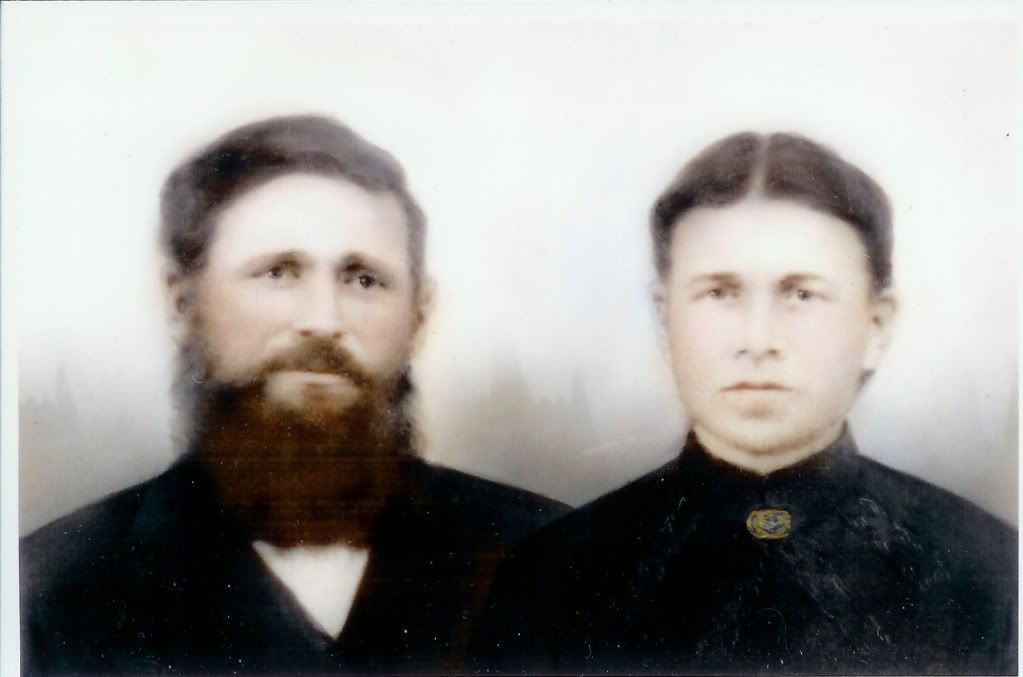 This is actually a picture that was "photoshopped" in the 50's or 60's from a larger family picture - they cropped out the parents and put them together in a single picture, blew it up, added color, and framed it under an oval-shaped bubble glass.
I even have a picture of Dad's paternal grandfather that his dad brought with him from Russia.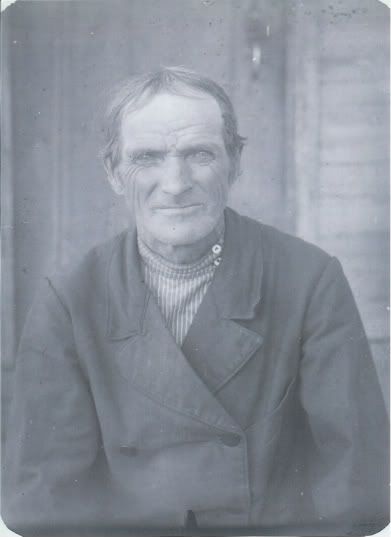 So it's not like photographs were simply out of the question for his father's family. I can't for the life of me figure out why my grandfather would bring a picture of his father with him to America, but not his mother. Dad doesn't understand it either. He thinks it might be due to Grandpa feeling guilty about his little brother dying when he was suppose to be looking after him. I guess that's something Grandpa took to the grave.
How about other relatives? All his life, my dad knew that his father was an only child - except for the younger brother who died after being kicked by a horse at a very young age. So my dad has no cousins who might have pictures of his grandmother handed down by siblings of my grandfather.
My 1 in 200 million chance of finding a picture? After contacting the AHSGR (American Historical Society of Germans from Russia) Village Coordinator who got a hold of some church records from this particular Russian village, I found out that my great-grandmother was my great-grandfather's second wife. He had a first marriage and at least 6 children from that first wife. Only one of those children was a surviving son and I think I found records of him immigrating to Kansas with his family. There's no telling (without finding more church records) what happened to any of the daughters. So maybe, just maybe, there is someone out there who has a picture of their grandmother's or great-grandmother's or grandfather's or great-grandfather's step-mother (and actually knows who the lady in the picture is). Yeah. I'll keep dreaming.
So to be clear, it's not just about me wanting to have a picture to know what my great-grandmother looked like. As I mentioned earlier, there's the whole mystery of why my grandfather felt the way he did. Why didn't he want to discuss anything about his family? Why on earth didn't Grandpa keep a picture of his mother? Was there some complicated emotional reason? Or maybe simply that his mother just didn't feel like sitting for a photograph. I'm sure I'll never know.
---
So what about you? What are the known-unknowns in your family history that keep gnawing at you even though you know you'll never make that discovery? Summer is almost over, let's spend today daydreaming about impossibilities.
Of course, this is the open thread. So comments on all things genealogy-related are welcome.