I just read Fareed Zakaria's My Take article which said that this current election will be nastier than the last one:
If you think politics have heated up this summer, you ain't seen nothing yet. The presidential campaign is going to get underway in a serious way soon and expect it to get nasty.

I'm not making any assumptions about the Republican candidate and what he or she will say on the stump.

 I'm making this prediction because I think we're going to go into an election with a bad economy the likes of which we have rarely seen.
Ok; this will get nasty. Well...read Zakaria's article which shows how challenging our economic situation is. But what about evidence for this upcoming nastiness? Here is what might be the tip of the iceberg...
David Limbaugh (Rush Limbaugh's brother) tweeted this photo: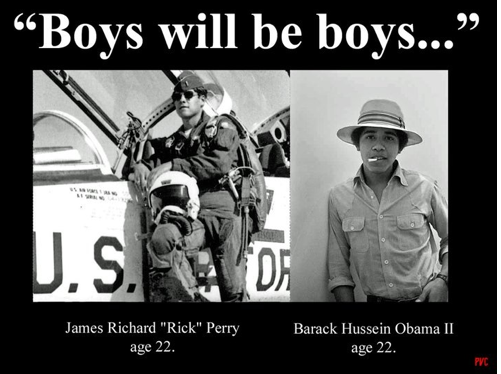 Of course you get the intended effect: Mr. Perry is "American" and Mr. Obama is "one of them". Of course, Mr. Obama really looks more boyish than Mr. Perry here....why is that? Could it be that:
(For what it's worth, the Obama picture seems to come from a roll of film shot by a friend at Occidental college, which Obama left, in favor of Columbia, years before he was 22.)
Yes, that quote was from National Review, a conservative magazine. Kudos to them for pointing this out.
Still, expect more of this sort of nonsense from Perry supporters.

3:04 PM PT: Note: Rick Perry flew the C-130 (thanks regis!) which is an honorable job...but not quite as sexy as a jet fighter...