This is a fairly depressing region to analyze. WARNING: Be prepared to read SAFE REPUBLICAN and LIKELY REPUBLICAN a lot. I made sure I am including Madison and Delaware Counties, so I get to use the word "Democrat" more often. There are only six Democrats currently in this group of seats, and it may be less next time. I thought I would leave the Metro Indy Districts for last. Most of this area is Republican, and there are only a few opportunities for Democrats to win some seats in this area. The GOP has done a number on Allen County (Ft. Wayne). They have created a minority-majority seat, and then cut up all other possible Democratic precincts, several which jet out into other counties. In fact, Allen County is large enough for a little over five and a half seats. There are four seats completely within Allen County, and then five fingers that take in the rest of the county. The five fingers are likely to be controlled by the counties that anchor them. This essentially robs the Ft. Wayne area of a State House seat.

Also, look at how the GOP chopped up Grant County, to prevent a Democrat like Joe Pearson from winning here. Also part of their plans can be seen in Madison and Delaware Counties. Each county is just short of two seats each. However, there are seats in Muncie and Anderson, and then the chop up the rest of Madison County three ways and Delaware County four ways.
I know you may be excited by the HD26 and HD 27 Obama numbers in the Lafayette area. But remember this, the Tippecanoe Democratic Party is pathetic. In 2008, when Obama won, they lost every county office and one State House seat. The only silver lining is that they do compete in city elections in Lafayette and West Lafayette. It just goes to show that IU is better than Purdue!
District 13: Open Seat, McCain 54.6, Obama 43.8, Black 1.3, Hispanic 4.8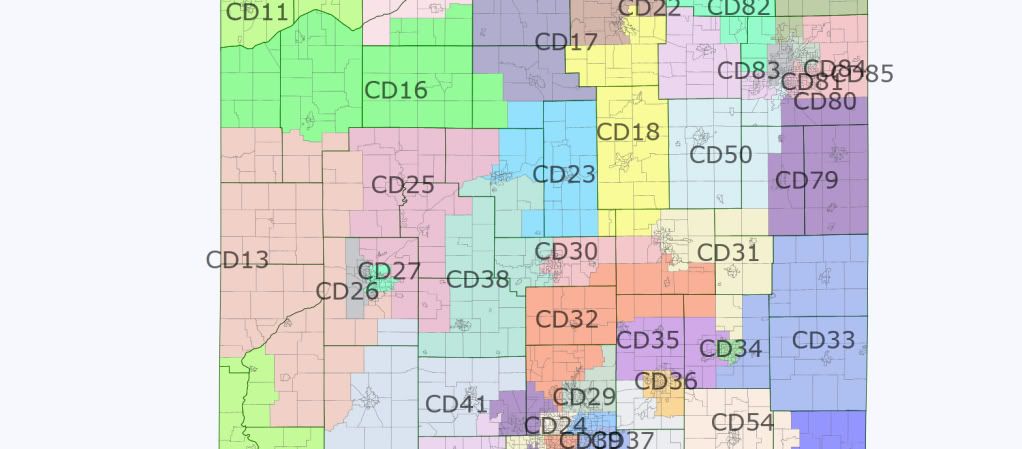 If it seems strange that this seat is here, it should. It used to be in Lake County. It bears some resemblance to a seat in this area that was held by Democrat Claire Lueck of Benton County up until 2002. She retired that year and the Democrats dismantled it, gave a lot of the territory to a seat now occupied by Don Lehe, and created a new seat in Marion County. That is to say that this area is winnable for Democrats, with a very strong candidate. But it is not to say it will be easy even though the numbers for this seat were not as Republican as I expected. This seat takes in all or parts of eight counties, the most in the state, so there is no one large bank of votes. One Republican that ran last election, Sharon Negele, who is the Clerk/Treasurer of Attica, in Fountain County is expected to run. She lost to Rep. Dale Grubb in HD42. However, the GOP may want to look for a different candidate. I do not expect she will have the field to herself. This could be a crowded race. While she came within 600 votes of winning, she lost the areas in this new district that overlap by a higher amount. Democrats do not have a candidate yet, but have the possibility to put this seat in play. This district LEANS REPUBLICAN.
District 23: Incumbent: William Friend (R), elected 1986, McCain 55.5, Obama 42.9, Black 3.2, Hispanic 8.2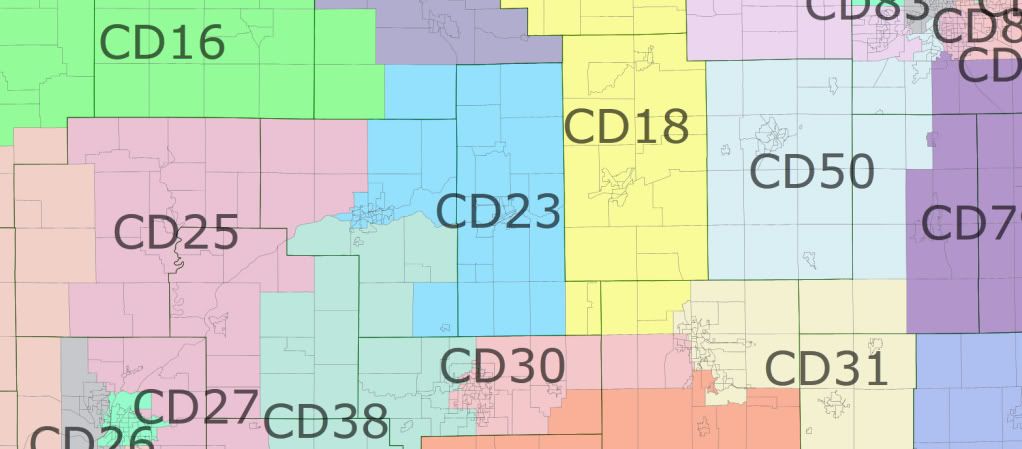 You may notice that Cass County is split three ways. That is not an accident. The GOP knows that there are enough Democrats here, particularly in the City of Logansport to make a run at a seat based there with the right circumstances. This district pairs all of heavily Republican Miami County with the Democratic-leaning City of Logansport. In addition to hurting Democrats, they the GOP also took away a lot of Rep. Rich McClain's base of support, and paired him with Rep. Don Lehe in HD25. It also does not make a "community of interest" sense to split a Cass-Carroll District. The counties have traditionally been linked. This seat is held by the No. 2 Republican in the House, Rep. William Friend. His district was always based in the Peru area, but it used to extend north, taking in Western Kosciusko County, Eastern Marshall County, and a few precincts in Southern Elkhart County. It is definitely more competitive that his old district, but he should have no trouble at all here. This district is SAFE REPUBLICAN.
District 25: Incumbents: Rich McClain (R), elected 1986, Don Lehe (R), elected 2002, McCain 53.6, Obama 44.9, Black 0.4, Hispanic 4.8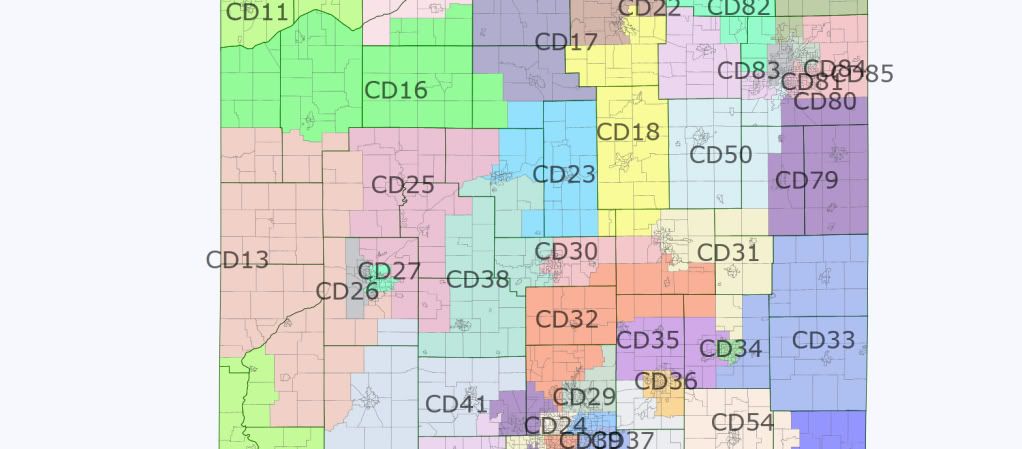 This district is really a lot more like the old District 24 than 25. The GOP basically eliminated District 25 from Marion County and moved it to Boone and Hamilton Counties. But for some reason, they numbered it 24, and this seat 25. This is one of those intra-party matchups. Rep. Rich McClain was not treated well. He lost nearly all of his base in Logansport, and even part of Carroll County. He faces White County based Republican Don Lehe, whose district used to extend to Schereville in Lake County. This district's population centers are now most of White County and Carroll County, with several of the precincts outside the Lafayette area. There are only a few Cass County precincts. So, both of these candidates have a lot of new territory. If I were McClain, I would look at this: Lehe has been a divisive figure and consistently underperformed in his old district. The key if one of these candidates does not back down will be how the Tippecanoe precincts vote. If they decided to try compete here, Democrats would much rather face Lehe than McClain, who is a tough candidate. They made serious challenges to him in 1998 and 2000 with Bob Sabatini, who was the popular Sheriff in Cass County. This district is Republican, but not overwhelmingly so. Democrats could compete here, but it would not be easy. This district is LIKELY REPUBLICAN.
District 26: Incumbent: Randy Truitt (R), elected 2008, Obama 57.0, McCain 42.1, Black 4.1, Hispanic 6.4, Asian 10.8


On paper, this should be the top Democratic pickup opportunity in the entire state. There is no district in Indiana where the Obama number is higher. However, one may note that Tippecanoe County had one of the greatest Kerry to Obama gains in the nation. The problem is that it did not translate down the ballot that well. Despite the Obama landslide here in 2008, Republican Randy Truitt picked up the open seat vacated by Democrat Joe Micon, who won here in 2004. Some Democrats blamed the loss on the new "vote center" project in the county, claiming that some voters were given the wrong district ballots. The strange thing is that Truitt lost to Democrat Jared Polles by 65 votes in Tippecanoe County, but few precincts in Warren County gave him an 89 vote margin. This the opposite of 2004, when Democrat Joe Micon lost Tippecanoe by a hair, but was put over the top by Warren County. But in a county that has had a consistent pattern of voting Republican for(ever), Democrats losing one of their own seats in their best year since LBJ is inexcusable. The Democrats also lost every county office in 2008. This is pathetic. The only saving grace for Democrats is that the only places that they seem to compete are in city elections in Lafayette and West Lafayette and most of Districts 26 and 27 are in those cities. This seat had about 8,000 too many people and it dropped its parts in Warren County and Shelby Township. It traded a few Republican precincts east of Lafayette for some ones to the south that were Democratic. The effect was that this went from a 56/43 district to the numbers seen now. But any idiot could figure out that the Obama number here should put the word opportunity in Democratic heads. I know that Tippecanoe County is not Monroe County, but it appears to be moving that way. Democrats should take heart that the largest Purdue campus precinct is in this district. I hope the campus Democrats do some work to boost turnout. Maybe the Purdue area Democrats could learn something from the IU-Bloomington Democrats on how to win elections. I know that Purdue students are not the same as IU students in that Purdue is not a liberal arts campus. The good thing for Democrats here was up until 2000, Tippecanoe County always voted several points higher Republican than Indiana did as a whole. The percentages were about the same in 2000 and 2004, and then Obama won in 2008. The trend is in favor of Democrats. Now if IU could find a way to get a winning basketball team again. Like many places in Indiana, all the focus is on city elections, so we will see if Democrats want to contest this seat seriously in 2012 after November 8. Right now, this district LEANS REPUBLICAN.
District 27: Incumbent: Shelia Klinker (D), elected 1982, Obama 59.3, McCain 39.6, Black 4.9, Hispanic 9.6, Asian 4.9


Republicans insist election after election that Shelia Klinker is vulnerable, yet she always wins by large margins. Her seat is on the Lafayette side of the river and is a few points more Democratic than HD26. She must have been pleased with redistricting. She was one of the handful of Democrats to vote for the GOP redistricting bill. However she lost some Democratic precincts in southern section of Lafayette and gained some GOP precincts east of the city. It dropped from a 61.0/37.7 Obama district to a 59.3/39.6 district. If Klinker were used to races within a couple of points, it might make a difference, but she has had a lock here for a long time. However, she did manage to hold on to her precincts around campus, Wabash 15, 16 and 17 (those three account for a third of the district's population) on the west side of the river. Republicans every cycle try to put out false rumors that Klinker will retire or run for other office, or that she is vulnerable. This might may be contested if she does leave the seat, but she is a cinch to win in 2012 with Obama bringing out students. If Republicans have hope here, it is in a low turnout off year election, not when Obama is on the ballot. This seat is SAFE DEMOCRAT.
District 30: Incumbent: Mike Karikoff (R), elected 2010, McCain 50.2, Obama 48.6, Black 8.1, Hispanic 3.2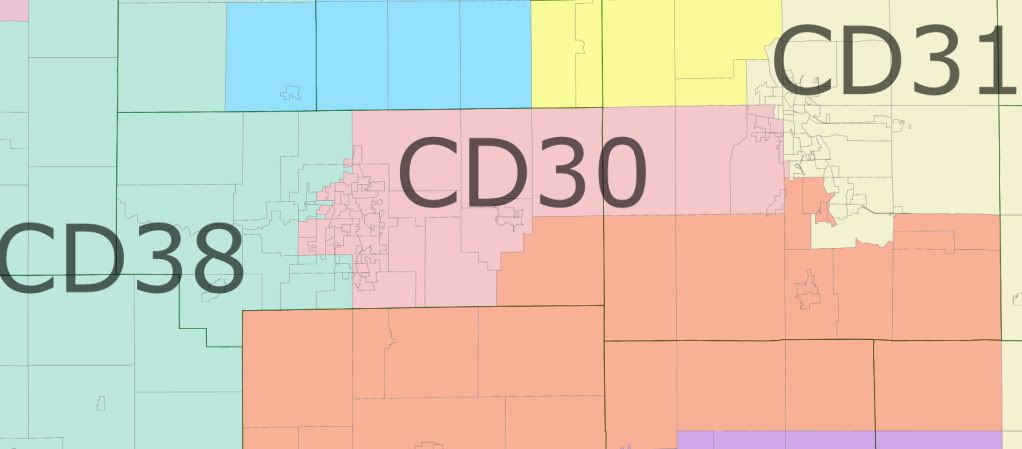 I expected Republicans to try to do a number on Kokomo. The old District 30 was over 7,000 short of its population target. I thought the GOP would try to break the city in half. Instead, they kept the city largely intact and extended the district east to the outskirts of Marion. It really didn't matter which way they went. The precincts in Howard County that were not in District 30 were largely Republican in either direction, but it seems they wanted to protect Rep. Heath VanNatter in HD38 from a primary challenge by adding more of his base in Western Howard County. The old district was Obama 50.6, McCain 48.2. This is not enough to take the seat out of the competitive category, but it could mean the difference in a close election. It essentially means that an election that was 50/50 before, would be a thousand vote GOP win. The big question I have in this area is why any person in Kokomo would vote Republican. The largest employer here is Chrysler. Had the auto industry went under, Kokomo would be a ghost town. But instead, Howard County voted overwhelmingly for Richard Mourdock, who sued to block the Chrysler sale, and voted out Rep. Ron Harrell, who is not planning on running again. Why did Democrats not brag about how they saved the auto industry here? It would be nearly impossible for Democrats to win the House without this seat. Kokomo Mayor Greg Goodnight could likely win this seat easily, but there is no indication he is planning on running, but Democrats will surely target this seat. This seat currently LEANS REPUBLICAN.
District 31: Incumbent: Kevin Mahan (R), elected 2010, McCain 52.3, Obama 46.6, Black 6.4, Hispanic 3.1


When Democrats drew this district in 2001, the goal was simply: combine traditionally Democratic Blackford County with the best precincts they could find in Grant County. The result was McCain 49.6, Obama 49.3. After two races less than 30 votes apart in 2004 and 2006, Democrats finally won it in 2008 with Joe Pearson (who is not running this time), who had narrowly lost the Secretary of State race in 2006. The victory only lasted two years. This district had to gain population, a lot of it. It had the 4th worst population loss of any district in Indiana. It needed to gain over 9,000 new people. Republicans made sure the new residents were in mostly GOP precincts. They added several Grant County precincts around Marion, two townships in Southern Wells County and six new Delaware County precincts. Mahan, who was the Blackford County Sheriff won by around 1,000 votes. Redistricting netted nearly 600 new GOP votes. This is a lot like District 30, in that it is a must win for Democrats to win the House. They fully expect to contest this seat, but have not announced a candidate yet since Joe Pearson will not run. This district currently LEANS REPUBLICAN.
District 32: Incumbent: Eric Turner (R), elected 1994, previously served 1982-1986, McCain 60.4, Obama 38.4, Black 0.6, Hispanic 2.6


Eric Turner is one of the leading social conservatives in the House, leading the way on a gay marriage ban and further abortion restrictions. He is also one of the leading proponents of a statewide smoking ban. His district changed a great deal. It was once centered around Marion, but now its population base is in Tipton and Hamilton Counties. It just so happened that Turner used to live in Marion, but now lives in Cicero, in Northern Hamilton County. This district is considerably more Republican than it used to be. It is SAFE REPUBLICAN
District 33: Incumbent: Bill Davis (R), elected 2004, McCain 52.0, Obama 46.5, Black 0.6, Hispanic 2.4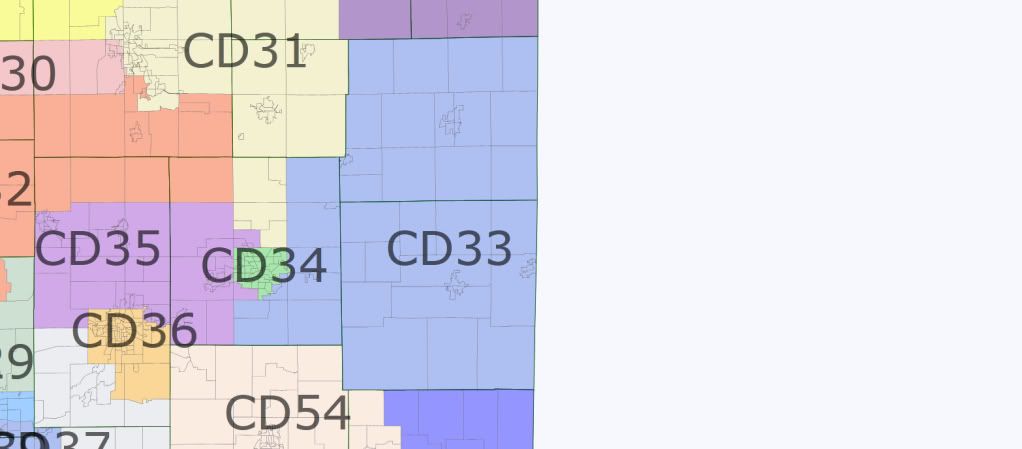 Believe it or not, Democrats actually held this seat for quite a while until Rep. Ron Liggett upset some of his voters in Jay County and lost it in the strong GOP year in Indiana of 2004. He tried to win it back in 2006 and 2010. Do not let the Obama number here fool you: this district has a decided Republican lean. Redistricting made it more Republican. It needed to add about 6,000 people and then took away a few Muncie area precincts and added the rest of Republican Randolph County. A strong Democrat from Randolph or Jay County could make this a race. Davis has not completely nailed down this district either. This district is LIKELY REPUBLICAN.
District 34: Incumbent: Dennis Tyler (for now) (D), appointed 2007, Obama 65.9, McCain 33.1, Black 11.2, Hispanic 2.2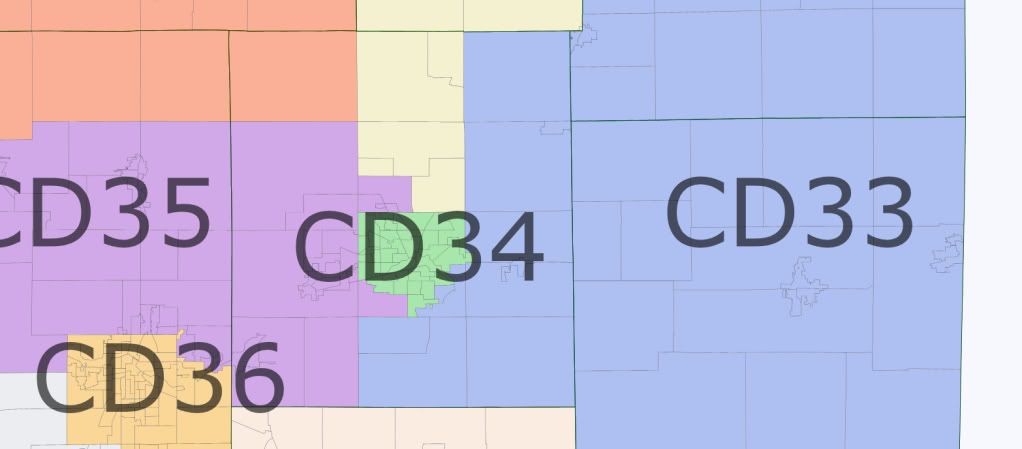 I use the term "for now" because Rep. Tyler is a near certainty to win the Muncie Mayor's race over incumbent GOP Mayor Sharon McShurley, who is one of the most unpopular mayors in Indiana. A lot of this might have been the fact that she won the race despite getting less votes that were cast. The race was narrow and the GOP controlled county election board managed to throw out several absentee ballots cast by Democrats on technicalities. Once Tyler takes office, there will be a scramble in Muncie for his seat, which is heavily Democratic. Whoever wins will then have a possible primary contest in May. It was strongly Democratic before, but the GOP packed in even more Democrats here. This seat is SAFE DEMOCRAT.
District 35: Incumbent: Jack Lutz (R), elected 1992, McCain 49.9, Obama 48.5, Black 1.3, Hispanic 1.8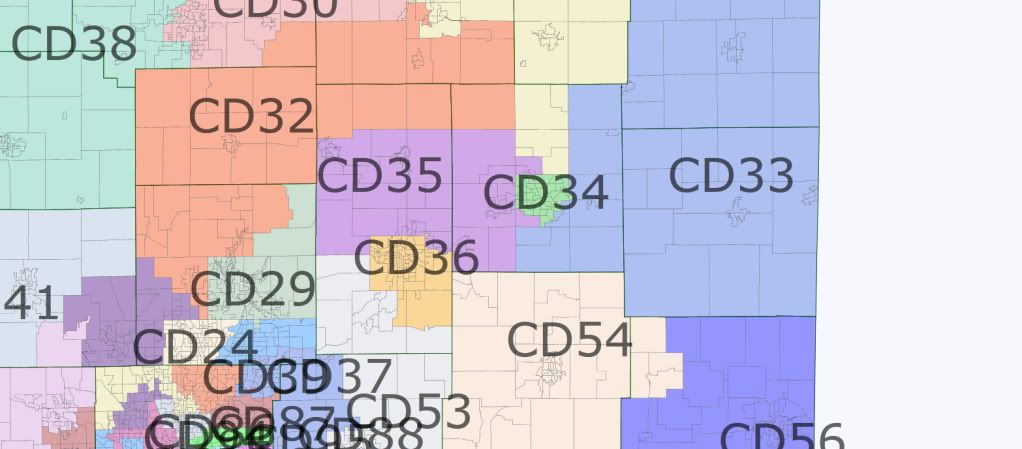 Jack Lutz had a close call in 2000 with Terri Austin, but has won by large margins in every year since, except in 2006. Redistricting changed this district into more what it looked like in the 90s. It lost its very Republican precincts in Hamilton and Tipton Counties and he gained most of the territory in the northern half of Madison County. I actually expected this to be an Obama district at first glance, but it deducted a few strong Democratic precincts in Muncie. But, even so, this district is more Democratic than it was before. I have not heard of any prominent Democrats stepping up to run yet, but this could be a targeted seat next year. I wish I could put this as only "lean GOP", but until Democrats show interest in targeting Lutz, this district is LIKELY REPUBLICAN.
District 36: Incumbent: Terri Austin (D), elected 2002, Obama 57.6, McCain 41.2, Black 13.2, Hispanic 4.2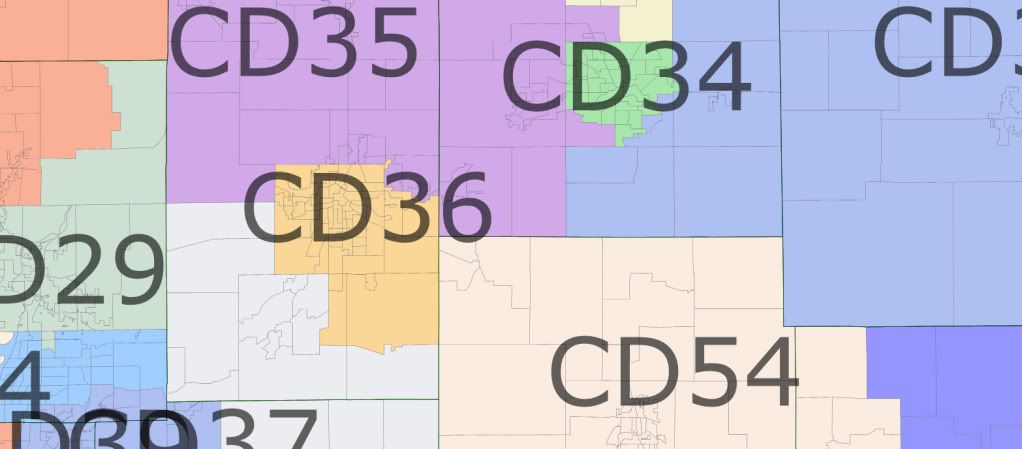 Terri Austin is one of the more talented Democrats in the State House and will undoubtedly be touted for Lt. Governor for John Gregg. She first ran against Jack Lutz in 2000 and narrowly lost. After redistricting, Lutz was moved to a more favorable seat and Austin won an open seat that was far from a sure thing for Democrats. It was the northern precincts in the City of Anderson and a large amount of Northern Madison County. It also had a few precincts in blood red Hamilton County. She managed to win in some tough years for Democrats. Her new seat is a lot more of Rep. Scott Reske's old seat than her former one. It is more or less the City of Anderson, and is very favorable for Democrats, but would not be completely out of reach for the GOP if the seat was open in a GOP wave year. Austin is as safe as they come in this seat. This seat is SAFE DEMOCRAT.
District 38: Incumbent: Heath VanNatter (R), elected 2010, previously served 2008, McCain 58.1, Obama 40.6, Black 1.7, Hispanic 8.2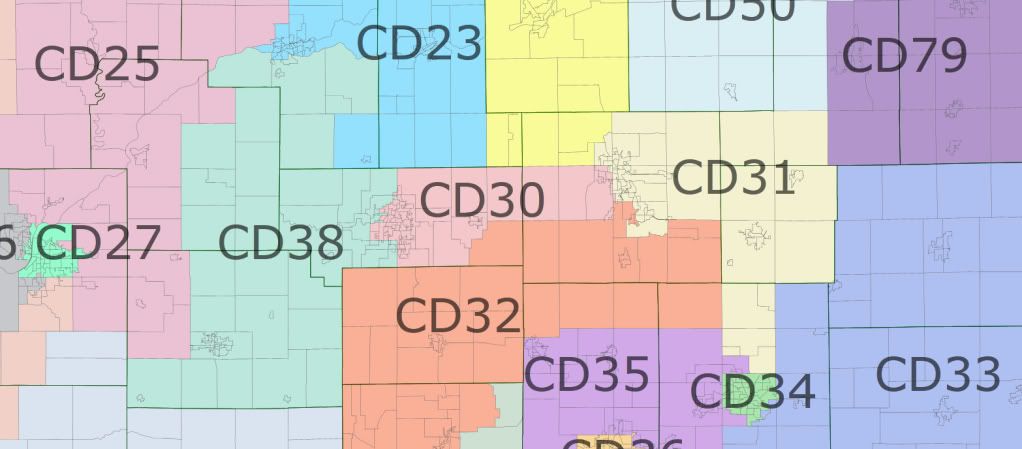 This district is based on its southern end with Clinton County. Then it takes in the leftovers from Cass, Howard, and Carroll Counties. The incumbent, Heath VanNatter is from Western Howard County. He came to office in one of the bizarre ways Indiana has ever seen. When a legislative, county, or city office is vacant, it is not filled by a special election, but by a caucus of the area's precinct committeepersons. This vacancy occurred after the primary, so there were two votes: one for the remainder of the term and one for the spot on the ballot in November. Rep. Jim Buck had been appointed to the Senate when Sen. Drozda resigned. Since this was and still is a strongly Republican district, the spot on the ballot was essentially the election for the seat. VanNatter faced Clinton County Auditor Jacques Clements. He won the remainder of the term and she was placed on the ballot in 2008, so he was a St. Rep. for a few months. He then challenged Clements in the primary and easily won with 58%. This district moved east to add more of Howard County. Protecting VanNatter may have been one of the reasons HD30 did not take in more of the areas west of Kokomo and kept it from being a few points more Republican. This district is slightly bluer when it dropped parts of Boone and Hamilton Counties and traded them for the leftovers in Carroll and Cass Counties. VanNatter might only need to worry about a primary from a Clinton County Republican, but not the fall in this GOP friendly district. This district is SAFE REPUBLICAN.
District 41: Incumbent: Dr. Tim N. Brown, elected 1994, McCain 60.1, Obama 38.6, Black 0.6, Hispanic 3.6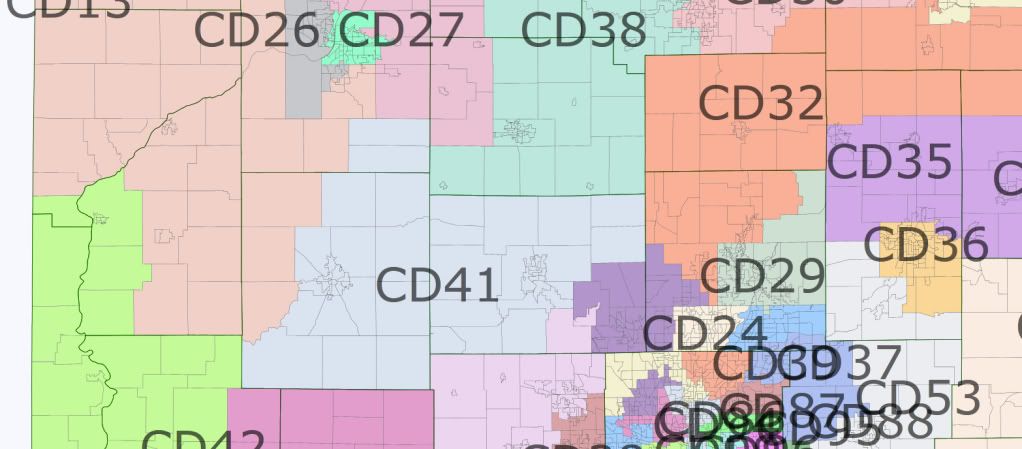 I debated until the end whether to put this district in this group or Metro Indy, but since Brown is in Crawfordsville, I went for this group. This district always had a base in Montgomery County and the City of Crawfordsville. However, it made up the rest of its population by taking in the leftover portion of Tippecanoe County plus a few precincts in Clay County. It retains most of Montgomery County, but it is filled out by heavily Republican Boone County, but without the Zoinsville area where some of the big population gains in Boone County have happened. However, the base of this district has shifted and will continue to shift to Lebanon, the county seat of Boone County. Initially I thought Brown would be fine, but upon further research I am not sure. While Brown lives in Crawfordsville, his practice is in the Lafayette area. The old district was perfect for him. However, even though Tippecanoe County was split three ways before, now it is split five ways. This seat was and will continue to be decided in the GOP primary. One wonders whether this new seat was set up to create a primary challenge to Dr. Brown. I do not know either way. Brown is a well-respected member of the House and is conservative as well. This seat is SAFE REPUBLICAN.
District 54: Incumbent: Tom Saunders (R), elected 1986, McCain 51.9, Obama 46.3, Black 1.8, Hispanic 1.3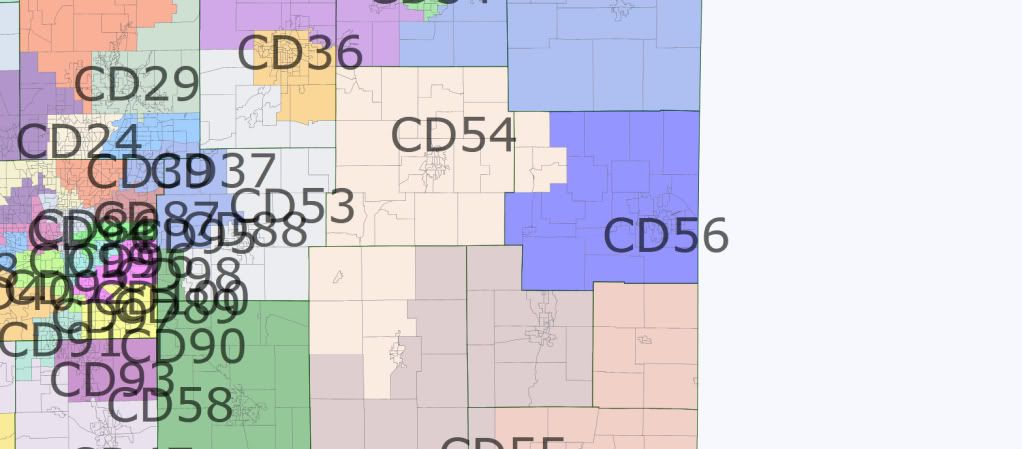 The old HD-54 was the leftover parts of Wayne, Henry, and Randolph Counties. This redrawn version takes in all of Henry County, half of Rush County and the leftover part of Wayne County. This makes this district more favorable to Democrats. The old seat was the leftover of the gerrymander created in HD-55 that linked Richmond and New Castle. This new version centers the seat on New Castle. The dangerous problem for Republicans is that despite the GOP lean of Henry County as a whole, the City of New Castle is fertile ground for Democrats to produce candidates from. I was frankly surprised that the Presidential numbers were are close as they were. I expected this to be more of a 55/45 McCain district. Saunders may have a two front challenge. Henry County Council President Nate LaMar had made noise about a run for Mike Pence's CD-6. There are rumors looking at this seat instead, given that most people think former St. Rep. Luke Messer is the frontrunner in the open 6th District. His exploratory site talks about the country's "drift towards socialism". Sounds like he is on the far right given that statement. It seems that there could be a right flank problem for Saunders in that in elections in 2006 and 2010, the Libertarian candidate drew a large share of the vote. Right now, Democrats are likely concentrating on regaining the Mayor's job in New Castle that they lost in 2007 for the first time since the 1950s. One potential candidate for Democrats could be former Mayor Sherman Boles, but he has lost his last three races for Mayor, so he may not be the strongest candidate. Democrats hold a few offices in Henry County, so they have a few plausible people. Rush County is stronger for the GOP, but the City of Rushville is not adverse to electing Democrats to city offices. Democrats need to put up a fight here, and with some help from the Libertarians, they could steal a seat away from the GOP. However, it is not to that point at this time. This seat is LIKELY REPUBLICAN.
The next part of this diary moves from the Hoosier Heartland to Northeastern Indiana and Ft. Wayne. Out of these 10 seats, the GOP could claim all but one of them.
District 50: Incumbents: Dan Leonard (R), elected 2002 and Jeff Epsich (R), elected 1972, McCain 59.0, Obama 39.9, Black 3.4, Hispanic 3.8


This district used to be a simple district of Huntington County (former home of Dan Quayle) plus most of Whitley County. However, the GOP made radical changes to this part of the state, in large part to crack parts of downtown Ft. Wayne to try to keep Democrats down to one seat out of Allen County. This district keeps all of Huntington County, but adds Western Wells County, then has a finger that takes in two Southwestern Allen County Townships before going into downtown Ft. Wayne. While doing this, it joins Huntington with Uniondale in Wells County, which is the home of powerful Ways and Means Committee Chair Jeff Epsich, the longest serving Republican in the House. On paper, this seat should favor Rep. Dan Leonard, from Huntington County. About 57% of this district is his old one, 27% from Epsich, and another 14% of new precincts in Ft. Wayne. However, looking at it this way does not account for the fundraising ability that a Ways and Means Chairman has. That definitely levels the playing field. This seat will be decided in May, not November. Democrats have virtually no chance here. This seat is SAFE REPUBLICAN.
District 51: Incumbent: Dick Dodge (R), appointed 2004, McCain 56.2, Obama 42.5, Black 0.4, Hispanic 3.5


If anyone watched the movie "The Distinguished Gentleman", you may remember the powerful committee chair that Eddie Murphy fought with was named Dick Dodge, like the St. Rep. here. Democrats actually held a seat based in LaGrange County up until 2002, with former Rep. Dale Sturtz. However, he lost in 2002 to Marlin Stutzman thanks to the parts of the district in Noble and DeKalb Counties. The current member here goes from a Steuben/DeKalb district to a Steuben/Noble district. What could be a problem for Dodge is that both of these counties are along the Indiana Toll Road, where he will have to defend his vote for selling it off for 75 years. It still dogged him in Steuben County in 2010, when he only narrowly won it despite its GOP lean. Make no mistake about it, this is a Republican area, but it has the lowest McCain number for this area outside of Ft. Wayne, and has been willing to consider a Democrat before. Since the Toll Road vote, GOP candidates in these counties have performed worse than they did in the two counties to the south. Brian Howey, who write the Howey Political Report, has said that Democrat Codie Ross may move to this seat and that Dodge may retire. This district is LIKELY REPUBLICAN, but could become more competitive if that scenario plays out.
District 52: Incumbent: David Yarde (R), elected 2008, McCain 59.8, Obama 39.3, Black 0.9, Hispanic 2.4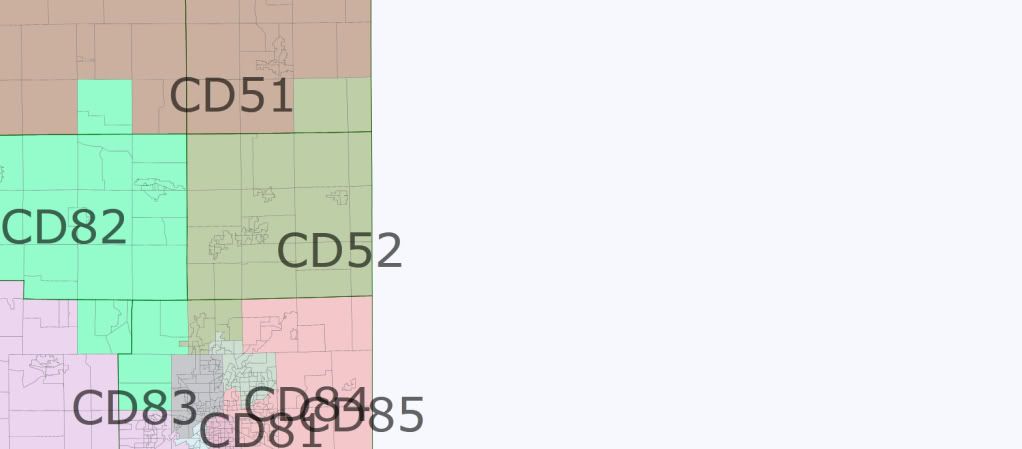 This district changed a lot, a whole lot. In fact, only a few precincts of the old HD52 are still left. The precincts in and around the City of Garrett are all that are left. This is a big boost to Yarde. He won this seat in a caucus after Rep. Marlin Stutzman was placed on the ballot for the Senate when Sen. Bob Meeks withdrew for health reasons. He was always potentially vulnerable because of geography in that nearly all of his district was in Noble and LaGrange Counties. Democrat Codie Ross, who ran against Dick Dodge in HD51 now lives in this district. While Ross lost by a decent margin, he ran a good campaign and never had a chance in the 2010 GOP wave in a GOP district. The GOP saw that Ross, who lives in DeKalb County ran very close to Dodge in Steuben County and wanted to split those counties apart. They did just that and added some strongly Republican precincts north of Ft. Wayne. I hope Ross seeks a House seat again, either here or in HD51, or even considers a race against Rep. Marlin Stutzman for the 3rd CD. Democrats in Indiana have been under the thumb of Evan Bayh for twenty years and it seems the only people that were allowed to rise were under his control. This has stifled the rise of potential young Democratic leaders in the state. Democrats like Ross, Sam Locke, and Pete Buttegieg could be part of a new generation of Democratic leaders. However, I fear that the GOP may have put this district out of range for Democrats. It is SAFE REPUBLICAN.
District 79: Incumbent: Matthew Lehman (R), elected, McCain 62.8, Obama 36.0, Black 1.0, Hispanic 3.5


This is a very simple and rectangular seat. About half the district is in Adams County, about 30% in Wells County and then remainder in Southern Allen County. Lehman should feel lucky. Had this district shifted west to pick up one particular precinct in Wells County, he would have had to face off with Ways and Means Chairman Jeff Epsich. This district traded a lot more of Wells County for its territory in Eastern Allen County. It did not change the fact that this is a strongly Republican district. This seat is SAFE REPUBLICAN.
District 80, 81, 84, 85 are the core Allen County (Ft. Wayne). This will show you that the Democratic vote is concentrated downtown. However, I would not say concentrated to one seat. I was working on a fair State Senate map. I easily drew a 66% Obama district. There could easily be two districts that Democratic here.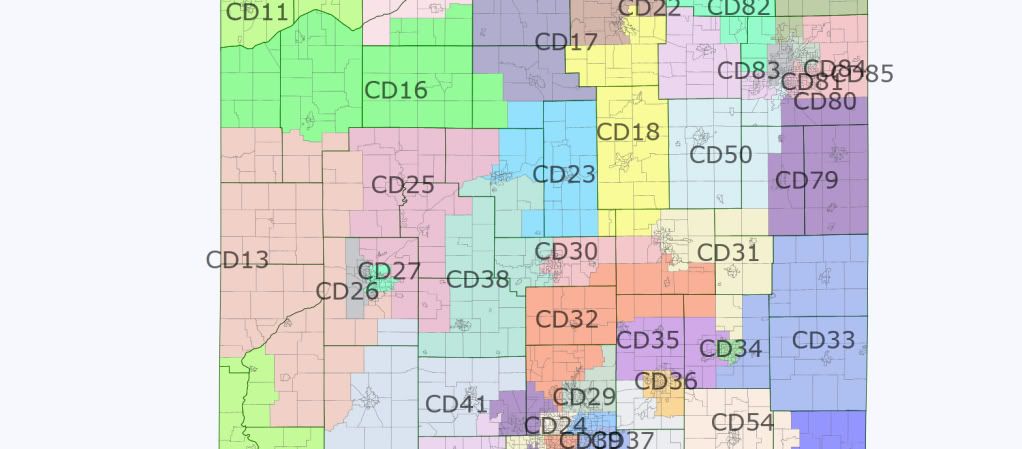 District 80: Incumbent: Phil GiaQuinta (D), elected 2006, Obama 80.2, McCain 19.2, Black 39.9, Hispanic 15.8, Asian 5.2


Democrats drew the Ft. Wayne area to create two Democratic friendly districts. Republicans drew it to try to pack as many Democrats as possible into just one seat. Allen County is big enough for about five and a half House seats. Republicans would like to drop that to just one. Allen County is Republican, but not that Republican. Even John Kerry won 36% in this county. The two seats for Democrats is probably about fair, with maybe an outside shot at a third seat. Isolating Democrats into one seat is terrible gerrymandering. It might not wind around in an odd shape, but it is just as bad. GiaQuinta won this seat when his father Ben retired in 2006. Since the last redistricting, it is been the slightly more Democratic of the two downtown Ft. Wayne seats. Now it is in the top ten most Democratic seats in the state. It is also nearly 40% black and 16% Hispanic. It will be interesting to see if GiaQuinta faces a challenge from an African-American in the primary. Whether he does or not, this seat is SAFE DEMOCRAT.
District 81: Incumbent: Win Moses (D), elected 1992, Obama 51.1, McCain 47.9, Black 6.6, Hispanic 7.3


This seat became whiter and more Republican. However, it is not out of reach. It did narrowly back President Obama. Moses has been around Ft. Wayne politics for a long time. He was a two term mayor in the 80s and has held this seat for 20 years. He faced a close call in 2002 when he was attacked on residency issues. He owns a large home in Indianapolis and lives in an apartment in Ft. Wayne. For Moses to continue to hold on here, he will need to work really hard. The GOP could have cut this seat up even further, but they left enough Democrats here to win, but gave themselves a chance to take it away. This race may start to take shape after the city elections are over in November. Right now this seat LEANS DEMOCRAT, but it could shift either direction depending on whether the Republicans field a serious candidate.
District 82: Open Seat, McCain 59.5, Obama 39.1, Black 0.3, Hispanic 7.5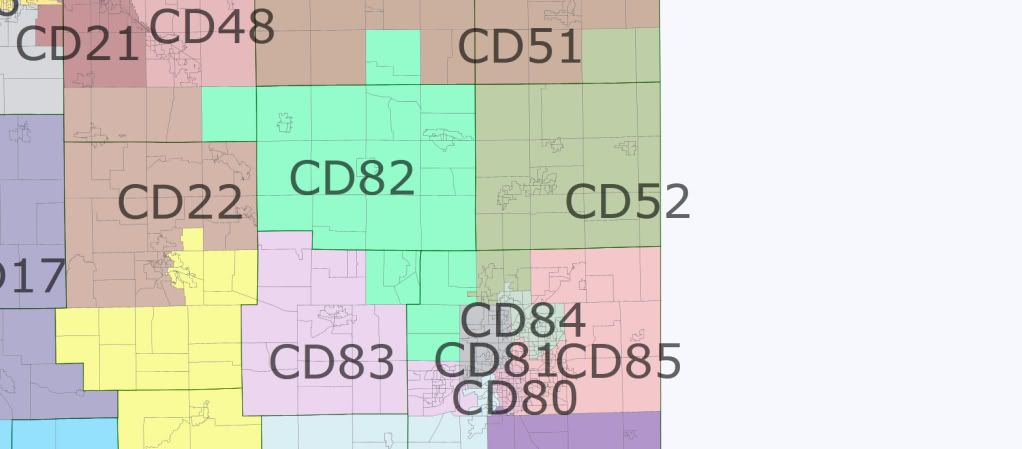 Why Republicans decided to pair Rep. Leonard and Rep. Epsich must be some type of internal caucus politics that I am not aware of, but the effect is this new seat centered on Noble County, and paired with leftovers from Elkhart, Allen, LaGrange, and Whitley Counties. The next member from here will almost certainly be from Noble County, where there a lot of Republicans that will likely seek this seat. The only strength Democrats have here is in the City of Kendallville, but outside of there, the precincts go from bad to worse. This is another seat that will be decided in May, not November. This seat is SAFE REPUBLICAN.
District 83: Incumbent: Kathy Heuer (R), elected 2010, McCain 60.4, Obama 38.8, Black 2.1, Hispanic 2.5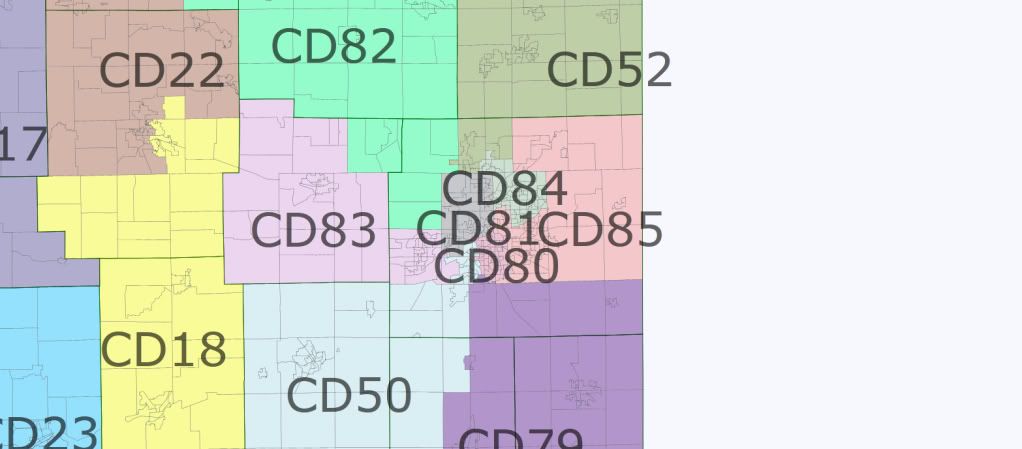 Heuer was a big winner here. This is a GOP seat, so the primary is the election. But for her, when Rep. Matt Bell withdrew after the primary, she won her ballot spot in a caucus after several ballots where she topped Phil Troyer. Heuer is from Whitley County and only a limited amount of Whitley County was in the district and most of the population was in Allen County. Heuer gained nearly all of Whitley County where she is well known and her husband is the County Judge. It is now about half and half between Whitley and Allen Counties here. The Allen County portion is mainly Aboite Township, much of which was annexed under former Ft. Wayne Mayor Paul Helmke. This was supposed to have made Ft. Wayne a solidly GOP city, but Democrats have managed to win the mayoral race three straight elections. After the annexation and further population growth, nearly feel under the UNIGOV law, so there could be a city-county consolidation, which would take away Democrats' chances in Ft. Wayne. However, the legislature changed the definition of a first class city to 500,000 or higher to keep Ft. Wayne from gaining that status. Since Heuer has not been tested in a GOP primary, it is not to say she might not get a primary challenge, but the new map makes it less likely that it would succeed. This district is SAFE REPUBLICAN.
District 84: Incumbent: Robert Morris (R), McCain 58.4, Obama 41.0, Black 5.5, Hispanic 3.6


This district did not change a considerable amount. It is still a compact district in the Northeastern part of Ft. Wayne. It moved into a few more precincts to the north. The overall effect did not change either. It is still strongly Republican. Robert Morris who took this seat from Rep. Randy Borror, when he left to join a lobbying firm. He tried to win the caucus when Rep. Mark Souder resigned, but St. Sen. Marlin Stutzman prevailed. Morris, like several others in this area, won a caucus and then easily won this heavily GOP seat. Like the others, he may still have a GOP primary, but that will be the election. This seat is SAFE REPUBLICAN.
District 85: Incumbent: Phyllis Pond (R), elected 1978, McCain 60.8, Obama 38.4, Black 4.5, Hispanic 2.7


This seat is safely in GOP hands, but Pond is rarity today: she is moderate-conservative. Pond has faced a primary in the last three elections and her margin has declined each time. That is not to say that they have came close to defeating her, she won easily each time. However, it shows that she will continue to be a target of the Tea Party and religious conservatives. It has seemed that the far right has been trying to pick off a moderate Republican in each primary. They took out Bill Ruppel (HD22) in 2010, John Ulmer (HD49) in 2008, and Mary Kay Budak (HD20) in 2006. None of them had scandal, they were just not conservative enough. Pond may be the next target of the far right. Redistricting probably helped Pond by removing DeKalb County, which has a very active Tea Party and putting this seat entirely in Allen County, where Republicans have tended more establishment. Either way though, this seat is SAFE REPUBLICAN.
The new running total before I hit the Indy Metro area. The Safe/Likely/Lean GOP number is already up to 43. It is going to easily exceed 51 when all the seats are analyzed.
SOLID DEMOCRAT (18):
1, 2, 3, 6, 7, 8, 9, 10, 12, 14, 27, 34, 36, 43, 61, 71, 77, 80
LIKELY DEMOCRAT (4):
19, 42, 66, 69
LEAN DEMOCRAT (2):
5, 81
TOSSUP/TILT DEM (2):
20, 45
TOSSUP (5):
5, 56, 60, 74, 76
TOSSUP/TILT REP (2):
62, 75
LEAN REPUBLICAN (8):
4, 13, 26, 30, 31, 46, 70, 72
LIKELY REPUBLICAN (12):
11, 21, 25, 33, 35, 48, 51, 54, 55, 59, 64, 73
SOLID REPUBLICAN (23):
16, 17, 18, 22, 23, 32, 38, 41, 44, 49, 50, 52, 57, 63, 65, 67, 68, 78, 79, 82, 83, 84, 85