Someday maybe the very real threats of Climate Change will warrant their own days of somber observance? What it lacks in drama, it makes up for in "punch" ...

Shocking: Tornado death rates in 2011 return to pre-1925 levels
by Jason Samenow, washingtonpost.com -- 06/15/2011
larger
In a briefing delivered by NOAA officials Wednesday afternoon about this past spring's extreme weather, the stunning slide above was displayed. It shows that the number of tornado deaths per million people in 2011 has shot up to levels not seen in the era of modern weather forecasting.

In fact, this year's death rate has not been matched since the 1950s and is most comparable to rates pre-1925, before effective mass communication, doppler radar and tornado warnings. Through June 7, 525 tornado deaths have occurred -- the sixth most on record in a single year.
[...]

Of course, Climate Change is a stealth killer ... unlike Al Qaeda ... (Hmmm?)



It's a very real "security threat" -- one that is already taking its silent toll ...

Climate-change death toll put at 300,000 a year
Think-tank releases findings before talks to discuss global emissions treaty
Associated Press, msnbc.msn.com -- 5/29/2009
LONDON — Climate-change disasters kill around 300,000 people a year and cause about $125 billion in economic losses, mainly from agriculture, a think-tank led by former U.N. Secretary General Kofi Annan reported Friday.

The Global Humanitarian Forum also estimated that 325 million people are seriously affected by climate change — a number it says will double by 2030, as more people are hit by natural disasters or suffer environmental degradation caused by climate change.

"Climate change is a silent human crisis," Annan said in a statement. "Yet it is the greatest emerging humanitarian challenge of our time."
[...]

Sometimes all you have to do, is look around, and open your eyes. And see the human fallout.

Climate Report: Crazy, Extreme Weather in 2011 Linked to Global Warming
by IB Times Staff Reporter, International Business Times -- Sept 9, 2011
A new climate report suggests that the extreme weather patterns seen in the U.S. this year -- flooding, heat waves, drought, heavy rain -- may have been partly caused by global warming.

The "Current Extreme Weather & Climate Change" report was released on Friday by Climate Communication, a non-profit science and outreach project.

The project involved researchers from the National Center for Atmospheric Research, Weather Underground, and the Scripps Institution of Oceanography.

"Greenhouse gases are the steroids of weather," Jerry Meehl of the NCAR said at a news conference.

And it doesn't take much for a big change to happen.

Sometimes all you have to do is comprehend some basic Science pictures ... that shows you the changes happening right before our eyes. Trend-lines that don't bode well for anyone ...

Current Extreme Weather and Climate Change Report
September 7, 2011
Climate Communication Science & Outreach -- Assist Journalists

Some selected trend-lines, from that just released report: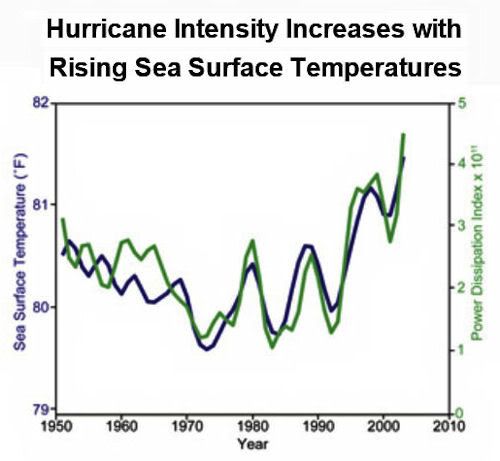 Perhaps we should be commemorating an important "half-way point" this week, too?
It's been 5 years, give or take a few days, since we were given one very sober warning ... from one very serious NASA Scientist.

World has 10-Year Window to Act on Climate Warming - NASA Expert
by Reuters, by Mary Milliken, commondreams -- Thursday, September 14, 2006
SACRAMENTO, California - A leading U.S. climate researcher said on Wednesday the world has a 10-year window of opportunity to take decisive action on global warming and avert a weather catastrophe.

NASA scientist James Hansen, widely considered the doyen of American climate researchers, said governments must adopt an alternative scenario to keep carbon dioxide emission growth in check and limit the increase in global temperatures to 1 degree Celsius (1.8 degrees Fahrenheit).

"I think we have a very brief window of opportunity to deal with climate change ... no longer than a decade, at the most," Hansen said at the Climate Change Research Conference in California's state capital.

If the world continues with a "business as usual" scenario, Hansen said temperatures will rise by 2 to 3 degrees Celsius (3.6 to 7.2 degrees F) and "we will be producing a different planet".

We're at the "half-way point" people, in that 10-year Window, to decrease our dependence on Fossil Fuels, and begin to dial back our 25% Carbon Footprint for the US.
How's that war-front been faring people? This is a Milestone time. Have we made any progress?

Not very much, by the looks of those climate trend charts.

Not very much progress, by the hundreds, and thousands of people, already dying each year due to our National Inaction towards that very real Security Threat, otherwise known as Climate Change.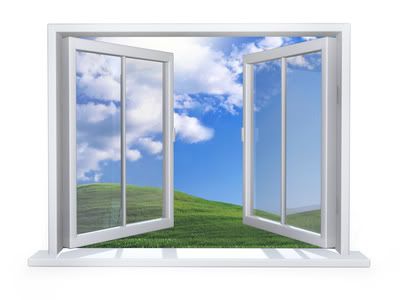 It's a terrible force -- without any flags or banners. It is the force of our own procrastination and near-sightedness. As we continue squeeze the Planet for all she's worth, rarely taking the time to give anything back ... that will make this battle better ...

Future Generations, will NOT thank us for this ... for ignoring those insidious enemies ... those very real national planetary threats, who's impacts will last for generations, if not longer.
No, I imagine their commemorations will curse our callous inaction, not celebrate it. Don't you think?
Only Five years left to do something ... SO, what's the point? (we said.)
The Five Year Fade ... that's what they'll call it. Those future generations, our kids, and our grand-kids ... they'll, find some scarce shade, and even scarcer scraps of food, and once again ask ... Why?