This part focuses on Marion County (Indianapolis) and its surrounding suburban counties. A few of the districts that were split between the suburbs and other areas have already been covered. The seats all or partly in Marion County are Districts 86-100. Every one of the seats here that are completely within Marion County are all rated "Safe Republican". None of them are likely to change in the next ten years either. Though I have a detailed breakdown at the bottom, overall 36 seats are SAFE REPUBLICAN, 12 more LIKELY REPUBLICAN, 9 LEAN REPUBLICAN. Only 24 are SAFE DEMOCRAT, 6 LIKELY DEMOCRAT, and 2 LEAN REPUBLICAN. That leaves only 11 seats in the TOSSUP and TILT seats. In a very bad year, Republicans could have over 70 seats here. This map locks in a GOP majority for a decade. Democrats would have to win all the seats that are in their direction, all the tossup seats and then eight more GOP leaning seats to win the House. This is an extremely tall order. It might take a perfect storm for the Democrats to get a majority here.

If one looks at the map used for the last ten years, you may wonder where District 25 on the west side is located. The GOP did a cute numbering trick here. Not wanting to admit it moved it to the suburbs, the switched the district numbers of Districts 24 and 25. Don't be fooled: that Marion County seat is tucked neatly on the Hamilton/Boone County border.
Just to give a little history here. Republicans have decried the Democratic map the last decade. It is nothing compared to the map the GOP drew in the 70s and 80s. Both of them went to the U.S. Supreme Court. One interesting thing about the 70s map was a single 15 member Marion County district. Democrats could go for that now. The 80s map relied on multi-member districts to keep Democrats down. Democrats drew that last two sets of maps. As much as the GOP did not like them, they kept the House control competitive. Democrats held control by winning most all of the swing seats and a few GOP districts.
For Marion County, many years ago it was easy. The largely square shaped county was divided into nine townships. Democrats and the black population were largely concentrated in Center Township and a few areas on its outskirts (especially near 38th Street). Under the unified system of government where Indianapolis was almost all of Marion County, the GOP dominated politics here for a long time. A hint of the end of this came in 1996 when Frank O'Bannon won the county over Indianapolis Mayor Steve Goldsmith. Then Democrat Bart Peterson won the Mayor's job. Then in 2000, Marion County was one of the few counties in the country that voted for Bob Dole and then Al Gore. John Kerry won it by a larger margin, and Barack Obama won it nearly two to one. Though Democrats lost the Mayor's race in 2007, they are in a race to get it back this year. What essentially happened was that Republicans moved to the so-called "donut counties" and the Democratic areas pushed in nearly every direction (not so much to the south). While this sounds great for Democrats, the donut counties had rapid population increases, where they demanded new seats. Marion County's population growth came close to that of the State each time, so these new seats had to be found in other parts of the state. Democrats would have had to have been very creative to prevent this if they had won redistricting control. About one to two new seats were due to the donut counties, but the GOP squeezed out three new seats. They did so by destroying a seat in Marion County and others in Madison and Monroe Counties. The only thing I would not that it not positive about the Democratic growth in Marion County: it seems that it has led the state party to become lazy and not focus on other traditionally Democratic areas in the state and is sending all its resources here.
I am afraid this GOP map ensures big majorities for them for a long time. At the end, I have a final analysis after putting all the seat rankings together.
First the suburbs (for those of you who want to skip to Marion County, these are all "Safe Republican"):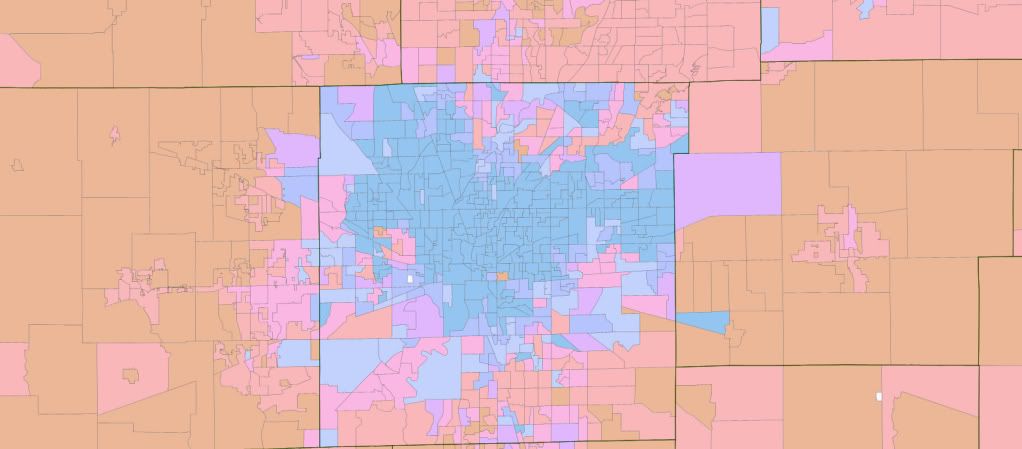 District 24: Open Seat, McCain 61.9, Obama 37.5, Black 2.6, Hispanic 3.2, Asian 6.2


This is where District 25 on the West Side of Indianapolis is now located. It takes in the areas on the Boone Hamilton County border and parts of Zionsville, Westfield and Carmel. Rep. Cindy Noe sacrificed a lot of this territory to create this seat. There will likely be a lot of Republicans looking at this seat. It is SAFE REPUBLICAN.
District 28: Incumbent: Jeff Thompson (R), elected 1998, McCain 65.6, Obama 33.4, Black 1.7, Hispanic 1.9


This is the strongest Republican district of the ones in the suburbs of Indy. It is the remainder of Hendricks County plus a few Boone County precincts. It lost its old territory around Lebanon and all of Montgomery County. Thompson lives in Hendricks County and is safe here. There is very little else to say here. It is SAFE REPUBLICAN.
District 29: Incumbent: Kathy Kreag Richardson (R), elected 1992, McCain 61.5, Obama 37.7, Black 3.2, Hispanic 4.0


Barack Obama should feel good here. He got the highest percentage any Democrat received in Hamilton County since the landslide FDR win in 1936 (he still lost Hamilton County). While this is a major help statewide, it means the difference between someone locally losing three to one or two to one. This district is in Noblesville, which 60 Minutes once described as the "Most Republican Place in America". Evan Bayh was probably the last Democrat to ever win here in his 1992 landslide re-election for Governor when he won a record 62% statewide (for a Democrat) and barely edged his opponent that year. He lost every other race he ran here despite big statewide numbers. This district has been crunched into Noblesville to deduct Fishers. It had to shrink a lot. The old District 29 was nearly large enough for two seats. It is still just as Republican. It will also continue to grow. This should empty out Republicans from Marion County, but it means more GOP districts in the donut counties. The member here Kathy Richardson is in the leadership and has the possibility to be the first female Speaker someday. This seat is SAFE REPUBLICAN.
District 37: Open Seat, McCain 59.0, Obama 40.5, Black 5.7, Hispanic 3.6, Asian 5.4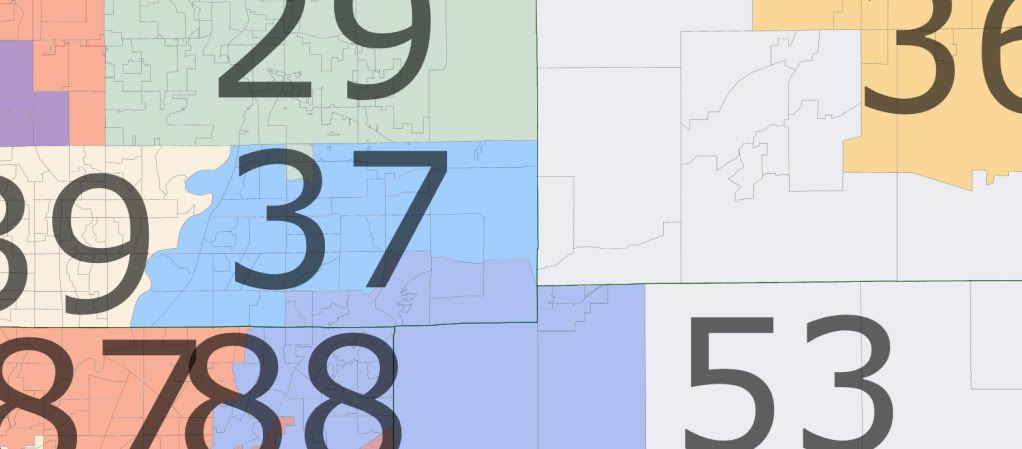 I read in The Howey Political Report that Democratic State Chair Dan Parker thinks Democrats can compete here. He cites the problems with Secretary of State Charlie White who was the President of the Fishers Town Board. Who knows what will happen with the challenge to his office and the criminal case on voter fraud. One thing is obvious here: this is a solid GOP seat. Any Democrat that thinks they have a chance to win this seat is clearly on either meth or crack. If Democrats even look at this seat or spend one penny here, whoever is in charge should be fired immediately, unless the GOP candidate has just robbed a bank (and the Republican still likely wins). No Democrat is going to win a seat located entirely in Hamilton County. There will be a Fishers area Republican win this seat. This seat is SAFE REPUBLICAN.
District 39: Incumbent: Jerry Torr (R), elected 1996, McCain 60.4, Obama 38.9, Black 2.5, Hispanic 2.6, Asian 6.9


This is a compact, densely populated suburban district set in Carmel. Some of the wealthiest people in Indiana live here. It is the highest income district in the state and many fundraisers are held here. It is strongly Republican. I once asked a Democratic state legislature how many Democrats lived in Carmel and he said, "There were two, but they moved out". Jerry Torr should have no problems here. This seat is SAFE REPUBLICAN.
District 40: Incumbent: Greg Steuerwald (R), appointed 2007, McCain 56.9, Obama 42.2, Black 8.6, Hispanic 4.2, Asian 3.2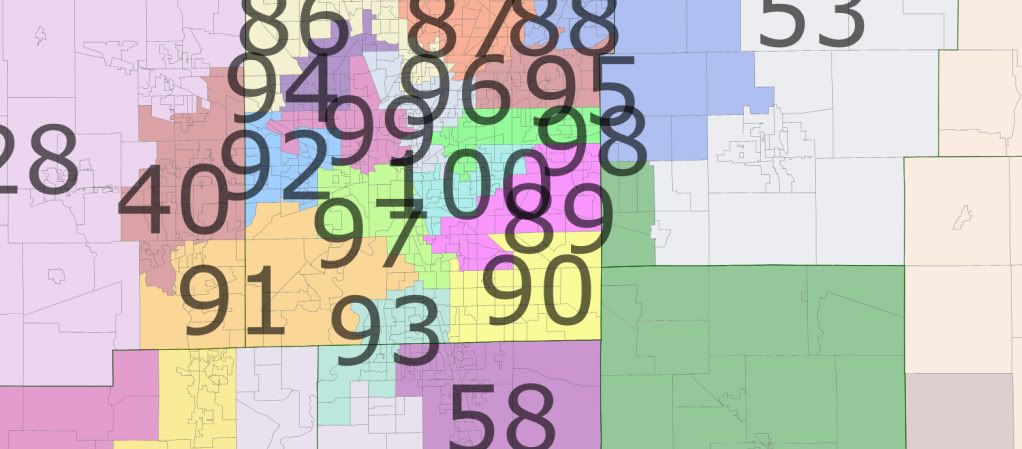 This was the second largest seat after the Census. It needed to shed nearly 30,000 people. It shrank to a small seat along the Marion County line, including parts of Plainfield and Avon. It is the least Republican of all the seats entirely outside Marion County in the Indy suburbs. But it is still not going to the Democrats. It is SAFE REPUBLICAN.
District 47: Open Seat, McCain 62.7, Obama 36.3, Black 0.8, Hispanic 2.3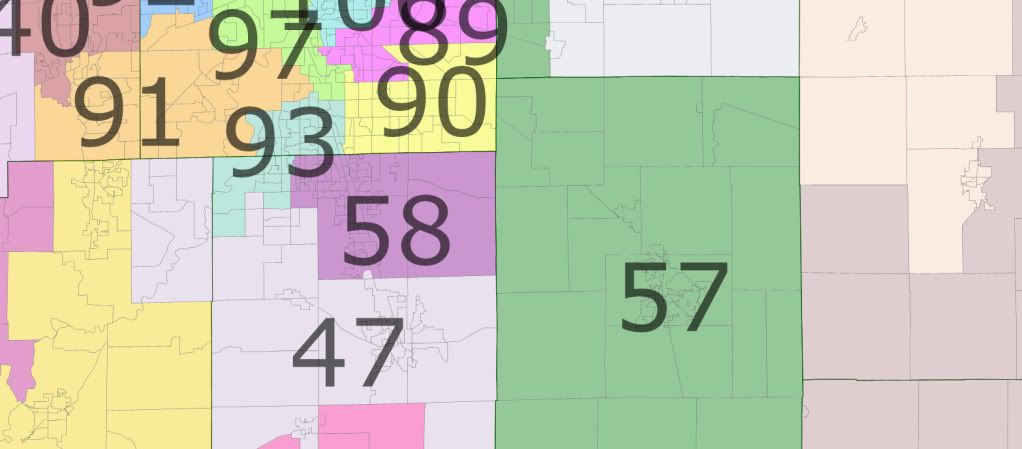 This is the third new seat in the Indy suburbs. For all practical purposes, what is now numbered District 60 was cut apart and it is a Morgan County based seat with several Monroe precincts. What was District 47 was mostly a Morgan County seat, with bits of Johnson and Hendricks County filling it out. The cutting up of Peggy Welch's district made this one possible. Its base is the City of Franklin in Johnson County. Beyond that it takes in some leftovers from Johnson and Morgan Counties. Like the other two new seats in this region, this one is heavily Republican and is out of reach for Democrats. It is SAFE REPUBLICAN.
District 53: Incumbents: Scott Reske (D), elected 2000, and Bob Cherry (R), elected 1998 McCain 61.5, Obama 37.3, Black 3.2, Hispanic 1.8


Republicans made defeating Reske a top priority in 2010 and came up short. This time, they simply chopped up his seat. Reske lives in Pendleton in Madison County and the GOP paired it with Greenfield and other parts of Hancock County. The result is Reske went from a Democratic leaning seat to a safe Republican one. Looking at running in a 62% McCain State House seat, he is looking at the new 5th Congressional seat, which is only about 52% McCain. This is one of the few times a state legislator has a better chance to win a seat in Congress than in the State House. Reske has no chance here. This seat is SAFE REPUBLICAN.
District 58: Incumbent: Woody Burton (R), elected 1988, McCain 60.5, Obama 38.6, Black 1.4, Hispanic 4.3, Asian 3.1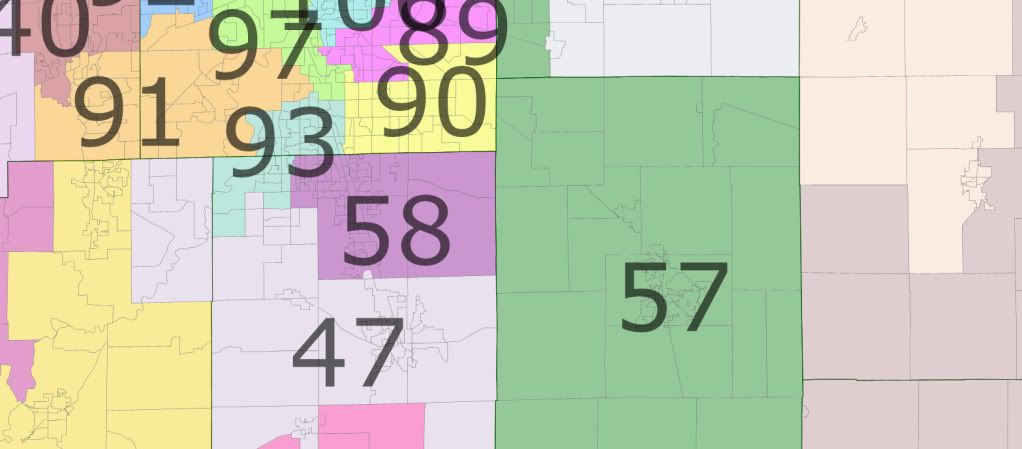 This seat lost its precincts around Franklin and now is concentrated in Greenwood. This is Dan Burton's brother who has more sanity and manages to get along with Democrats in the House. He even voted against right to work when it came up in 2006. He is still conservative, but doesn't recreate the Vince Foster case in his backyard. The seat is still strongly Republican and Burton is not going anywhere. I would note that wikipedia says Burton lives in Shelbyville. This is incorrect. He lives in Whiteland. He is not paired with Sean Eberhart in HD57. Interestingly, Woody Burton will no longer be represented by his brother in Congress. Johnson County was moved to Rep. Todd Young's district. This seat is SAFE REPUBLICAN.
Now: Marion County (some districts extend to suburban counties). There are five African American majority seats. Right now all the action here is on the race for Mayor of Indianapolis. It is the biggest prize in Indiana this year.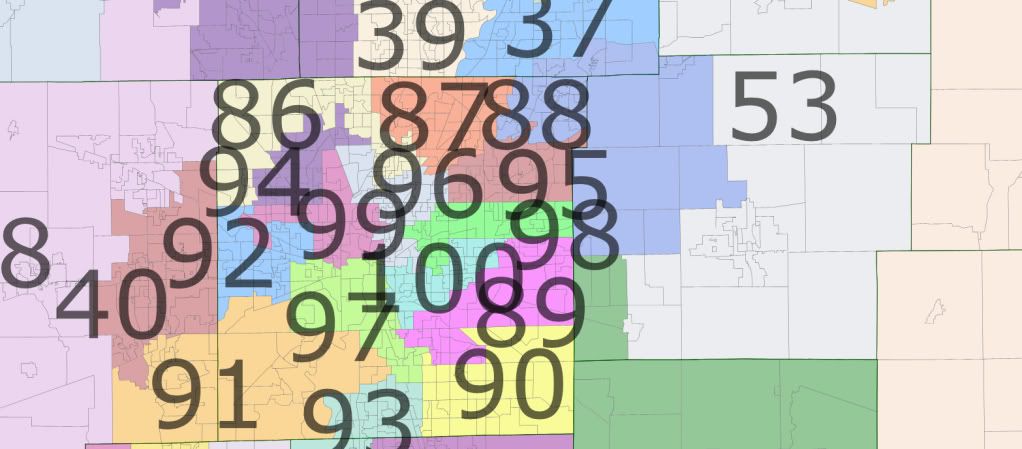 District 86: Incumbent: Ed Delany (D), elected 2008, Obama 61.7, McCain 37.5, Black 18.2, Hispanic 6.3, Asian 2.4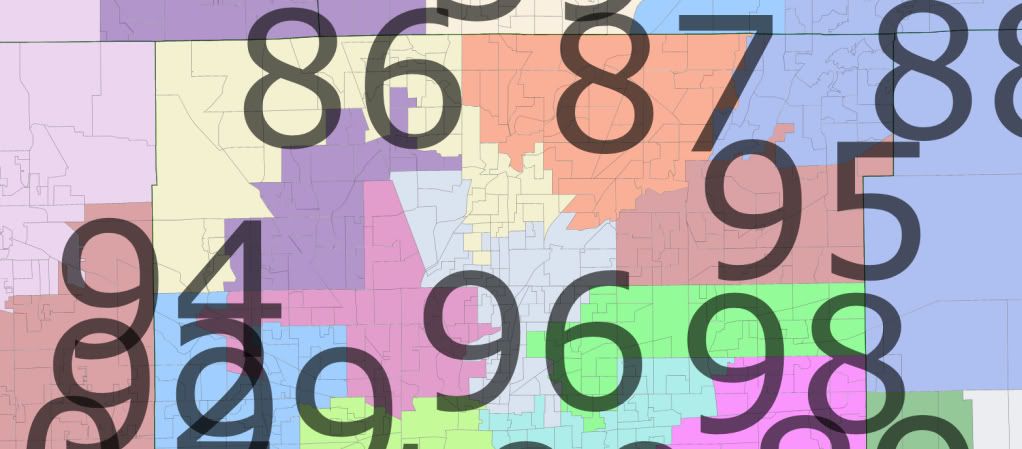 Republicans seem to always want to target this seat. After all, it was held by a Republican until 2002, when Democrats placed him in a competitive seat that he lost. David Orentlicher held it until his ill-fated run against André Carson. Then Ed Delaney, husband of powerful Democrat Ann Delaney, won the seat and held it easily. The GOP removed some minority precincts, but more importantly, they eliminated Hamilton County. While the Obama number overstates the Democratic nature of the seat, it still leans Democratic and will continue to drift that way, just has the outer townships of Marion County in nearly every direction. Delaney should not have trouble in 2012, but he could face problems in a low turnout midterm. This seat is LIKELY DEMOCRAT.
District 87: Incumbent: Cindy Noe (R), elected 2002, Obama 52.8, McCain 46.5, Black 14.6, Hispanic 7.1, Asian 3.4


Cindy Noe had a district on the North Side of Indy plus parts of Hamilton and Boone Counties. That made for a heavily GOP seat. This new version is entirely in Marion County on the north side of Washington and Lawrence Townships. This version voted for Obama, but not by a large margin. Her very strong right to work stance may not play as well here as it did in her old district. Given her ties to the new District 24, she could find overlapping precincts and attempt to run there, but it is likely she will stay here. It probably will not go Democratic in 2012, but given trends, by 2020, it will be in Democratic hands. This seat is currently LEAN REPUBLICAN.
District 88: Incumbent: House Speaker Brian Bosma (R), elected 1986, McCain 57.6, Obama 41.8, Black 7.4, Hispanic 2.6, Asian 2.2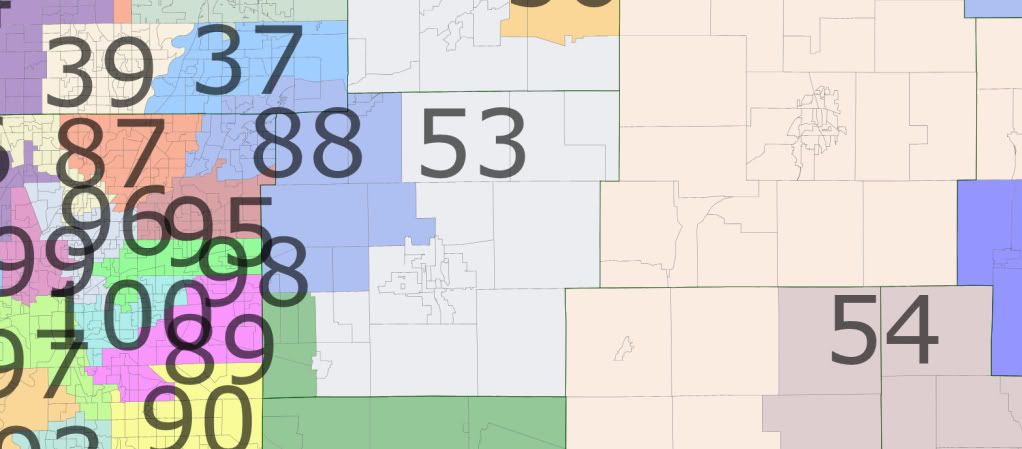 The Speaker really made a lot of improvements for himself. The Indy portion of this seat in Lawrence Township shrank and it moved into a few more Fishers precincts and into the corner of Hancock County. The result is that he has a fairly solid GOP seat. He may have been worried that if his seat were entirely in Marion County, that it might slip away from him by 2020. This seat will not, it is SAFE REPUBLICAN.
District 89: Incumbent: Cindy Kirchhofer (R), elected 2010, Obama 51.8, McCain 47.1, Black 13.9, Hispanic 6.2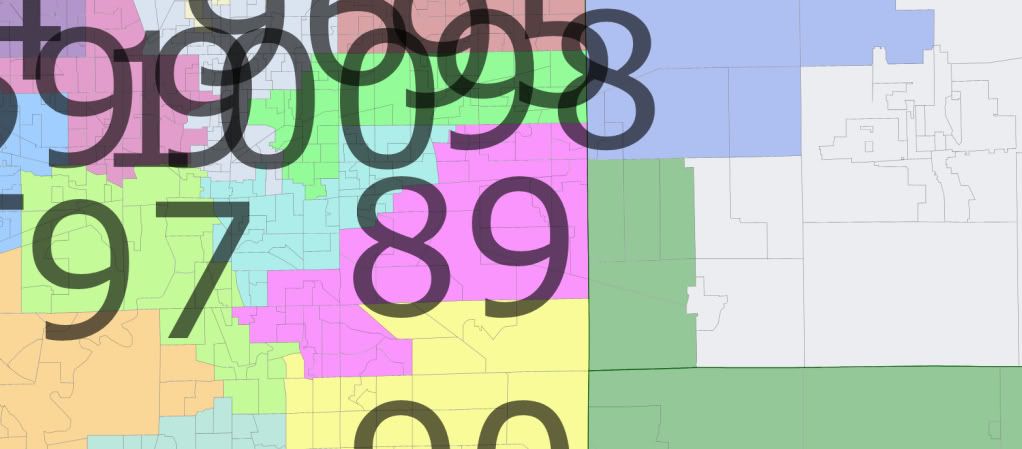 This seat flipped to Democrats in 2008, then back to the GOP in 2010. It may be a rematch with John Barnes in 2012. This seat is largely set in Warren Township and Beech Grove. The Republicans tinkered with it to add a few more favorable precincts, but the seat was drawn in 2002 to be a safe GOP seat, but it drifted away. This seat may do the same. Democrats benefit with Obama on the ticket in 2012, but there will likely be a turnout drop off in 2014. Even if Democrats do not win this seat in 2012, they will likely take it by 2020. This seat is a TOSSUP.
District 90: Incumbent: Mike Speedy (R), elected 2010, McCain 58.2, Obama 40.9, Black 3.4, Hispanic 4.1, Asian 3.1


The most Republican part of Marion County used to be in the north: Pike, Washington and Lawrence Townships. Now, Republicans run strongest in the south: in Franklin and the southern half of Perry Township. This seat is simple and takes in nearly all of Franklin Township plus the southeastern part of Perry Township. It makes for a seat more Republican than Speaker Bosma's seat. The GOP will have no trouble here in 2012, or likely much in the next decade. It is SAFE REPUBLICAN.
District 91: Incumbent: Robert Behning (R), elected 1992, McCain 54.4, Obama 44.4, Black 4.5, Hispanic 5.6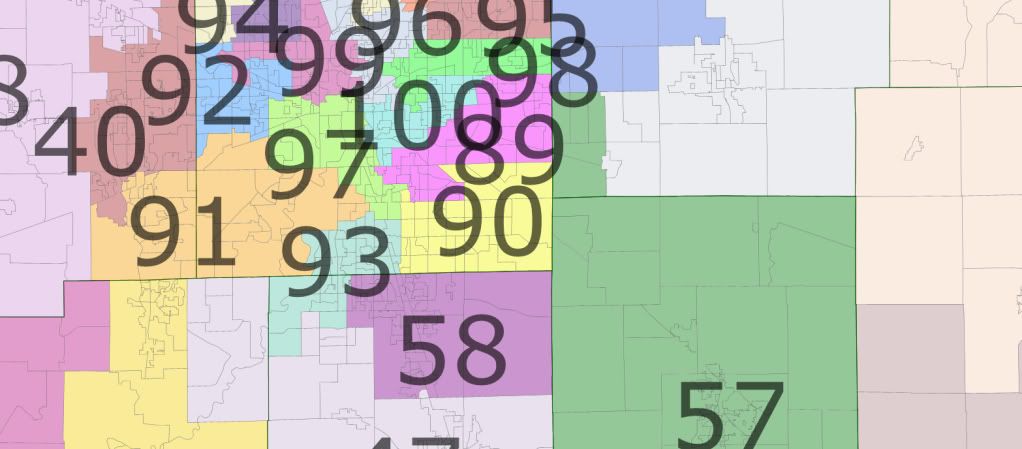 I thought this seat would be more Republican than it is. It takes in all of Decatur Township, a few precincts in Perry Township, plus runs into the Plainfield area. Behning lost his heavily Republican areas in Mooresville to the Welch/Foley HD60. In addition, Jeb Bardon's seat was eliminated and those precincts had to go somewhere. Behning will not have any trouble in 2012. This seat did vote for McCain by 10 points. I also doubt how much this area will drift to Democrats. However, I would start to keep an eye on it around 2018 or 2020. Right now it is SAFE REPUBLICAN.
District 92: Incumbent: Phil Hinkle (R), elected 2000, not running for re-election, Obama 54.7, McCain 44.3, Black 20.1, Hispanic 12.8


Phil Hinkle has problems. They seem to revolve around his phone and the downtown Marriott in Indianapolis. Speaker Bosma has called for him to resign, but he has refused. He has said he will not seek reelection. This is unfortunate for the GOP that he is involved in this scandal now. When Jeb Bardon's seat was blasted apart, some of those precincts went into this seat. The result is Obama won by 10 points here and it is only 62% white. Outside of the West Lafayette seat of Randy Truitt, this is the seat with the highest percentage for Obama held by a Republican. It is also completely in Wayne Township. Democrats mounted a serious challenge here in 2010 with labor leader Brett Voorhies. However, as the winds of 2010 started to become evident, Democrats were trying to protect their own, not expand the field. The GOP might have wanted to add some precincts in Hendricks County had they known of this earlier. This will be a very competitive seat. Hinkle was a very strong candidate before his scandal, and election results reflected that given his strong ties to Wayne Township. This scandal has only recently broken. We will find out who is running here later. This seat is now a TOSSUP.
District 93: Incumbent: David Frizzell (R), elected 1992, McCain 58.7, Obama 40.3, Black 2.4, Hispanic 4.6, Asian 5.6


Frizzell's seat takes in part of Perry Township and a few Johnson County precincts. The result is the district mainly just got smaller. It is still heavily Republican and will stay that way. Frizzell will hold this seat as long as he wants. It is SAFE REPUBLICAN.
District 94: Incumbent: Cherrish Pryor (D), elected 2008, Obama 82.6, McCain 17.0, Black 52.2, Hispanic 16.4, Asian 2.7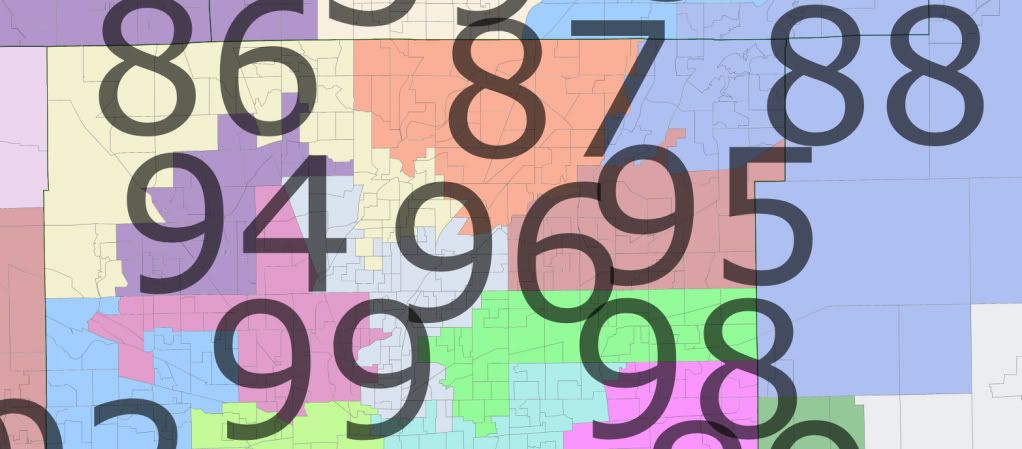 This seat is the minority precincts in Pike Township plus a few Washington Township precincts to keep the African American number over 50%. This district does not have any of the super-Obama precincts. Sadly, his best precinct here was only 95%. This seat is SAFE DEMOCRAT.
District 95: Incumbent: John Bartlett (D), elected 2008, Obama 79.2, McCain 20.4, Black 52.4, Hispanic 11.2


This is the least Democratic of the minority Marion County seats, only 79% Obama, though there are a few of his 99% precincts. It is a compact set entirely in Lawrence Township. He also squeezed a few unfavorable precincts away from Speaker Bosma in redistricting. This seat is SAFE DEMOCRAT.
District 96: Incumbent: Greg Porter (D), elected 1992, Obama 87.3, McCain 12.2, Black 53.7, Hispanic 4.3


This was the highest Obama district in Indy and second best in the state. It also contains Precinct 23-002. It has the distinction of the only Indiana precinct that President Obama received 100% of the vote. Many other precincts here, McCain got less than ten votes. This is one of the seats that had such a turnout boost that it pushed the President over the finish line in Indiana. This seat starts downtown, then goes north around 38th Street and finally takes in Butler. This seat is SAFE DEMOCRAT.
District 97: Incumbent: Mary Ann Sullivan (D), elected 2000, Obama 58.8, McCain 40.0, Black 8.6, Hispanic 13.6, Asian 2.2


Democrats lost this seat in 2006. To add insult to injury, the man who lost it, Rep. Ed Mahern, drew the last set of maps. However, this seat is plagued by low turnout. It is the lowest turnout district in the state. Only about 16k voted in 2008. The next lowest was around 20k. Less than 9k voted in 2010. Democrats easily took it back in 2008 and held it in 2010 easily. It became a little bit more Republican as it drifted into the center of Perry Township. It is still in the Democrats favor. Republicans would like the man who won the seat in 2006, Jon Elrod to run again. It is unlikely he could win in a presidential year, but anything is possible in a mid-term. Hopefully, the lesson of 2006 will keep the Democrats from napping here. Keep an eye on it, but this seat is LIKELY DEMOCRAT.
District 98: Incumbent: Bill Crawford (D), elected 1972, Obama 82.4, McCain 17.0, Black 52.9, Hispanic 10.1


Bill Crawford is one of the most senior members of the General Assembly and is very well respected as well. His seat starts on the east side and then takes in minority precincts in Warren Township. It has a few of the precincts with McCain getting less than 10 votes as well. This seat is SAFE DEMOCRAT.
District 99: Incumbents: Vanessa Summers (D), appointed 1991 and Jeb Bardon (D-retiring), elected 1998, Obama 84.2, McCain 15.3, Black 51.2, Hispanic 16.5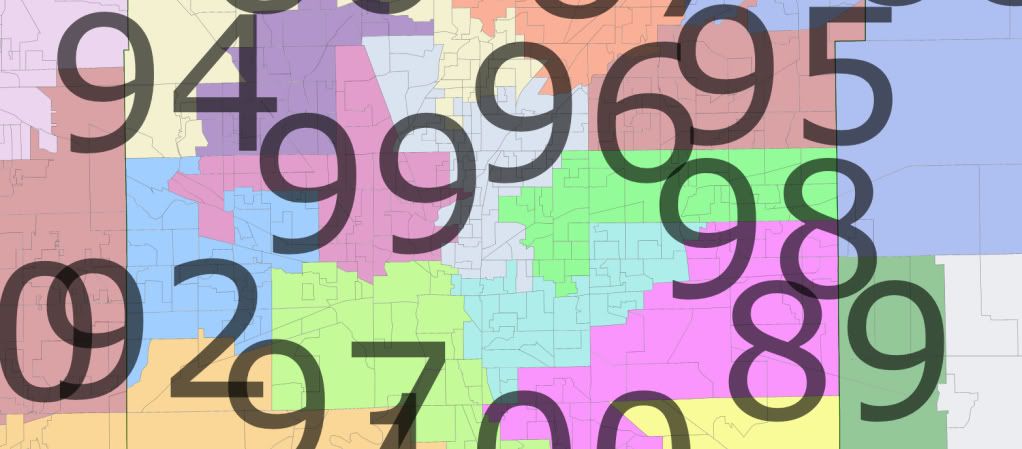 Jeb Bardon took away a Republican seat in 1998 from Candy Marendt. It was configured heavily in his favor in 2001 and he held it easily. Republicans eliminated it and he was paired with Rep. Vanessa Summers. He took it well. He announced he would be supporting Summers. This district is mainly on the west side, but has tenticles north and west to pick up addition black voters to keep the number above 50%. Nothing much else to say here. This seat is SAFE DEMOCRAT.
District 100: Incumbent: John Day (D), elected 1996, previously served 1974-1994, Obama 63.3, McCain 35.4, Black 15.5, Hispanic 10.9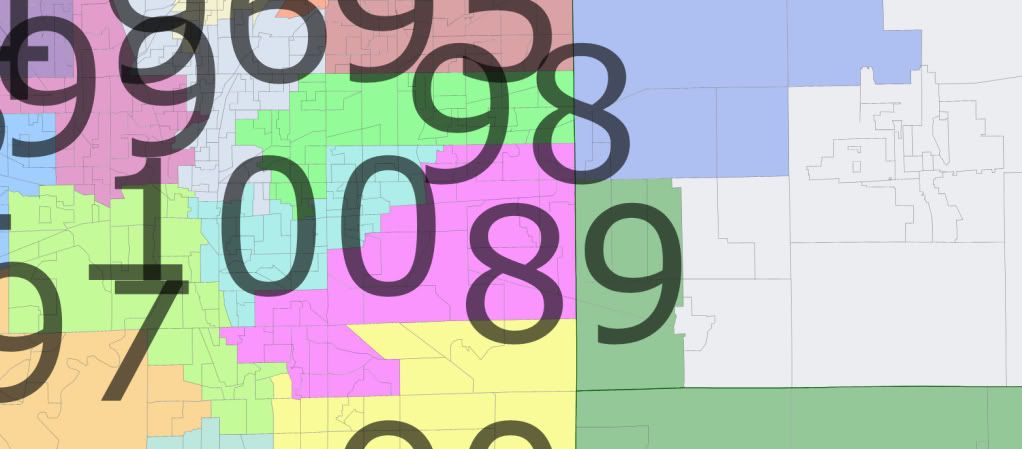 Day has been here a long time and redistricting did not change that. His seat is still strongly Democratic and he does not have need to worry about a minority primary challenge. My guess is once the GOP drew the minority seats, they rounded up as many Democratic precincts as possible to put here to help out Republicans in HD89 and 97. They may have succeeded there, but to the benefit of John Day. This seat is SAFE DEMOCRAT.
This is the final count. Republicans drew a fair map my back side. 48 seats are either Safe or Likely Republican, and that may be a conservative estimate. To take the House back, Democrats would need to win every Democratic seat, all the tossups, and all but one Lean Republican seat. Democrats may struggle to even hold the number of seats they have today. Even if Democrats won every seat leaning their way, plus all three groups of tossups, they are still at only 43 seats. In a landslide year, the GOP could get close to 70 seats. This is disturbing and hypocritical. For years I heard Brian Bosma and the GOP complain that they got a certain percentage of the total vote in the state legislature but did not win the majority. This map could put them at majorities far above their total vote share.
SOLID DEMOCRAT (24):
1, 2, 3, 6, 7, 8, 9, 10, 12, 14, 27, 34, 36, 43, 61, 71, 77, 80, 94, 95, 96, 98, 99, 100
LIKELY DEMOCRAT (6):
19, 42, 66, 69, 86, 97
LEAN DEMOCRAT (2):
5, 81
TOSSUP/TILT DEM (2):
20, 45
TOSSUP (7):
15, 56, 60, 74, 76, 89, 92
TOSSUP/TILT REP (2):
62, 75
LEAN REPUBLICAN (9):
4, 13, 26, 30, 31, 46, 70, 72, 87
LIKELY REPUBLICAN (12):
11, 21, 25, 33, 35, 48, 51, 54, 55, 59, 64, 73
SOLID REPUBLICAN (36):
16, 17, 18, 22, 23, 24, 28, 29, 32, 37, 38, 39, 40, 41, 44, 47, 49, 50, 52, 53, 57, 58, 63, 65, 67, 68, 78, 79, 82, 83, 84, 85, 88, 90, 91, 93