I am teaching a college course on research methods and last week, I taught a lesson on ethics in research. This is one of my favorite lessons in the course because I get to discuss the details of some of the greatest abuses in the history of science--the Nazi medical research and the Tuskegee syphilis study.
While nearly all of my students are familiar with the Nuremberg trials, most have only a vague familiarity of the Tuskegee syphilis study and few have knowledge of the Nazi doctor trials. The details usually arouse some emotion in the classroom and I often end up in email conversations following. This week, a student contacted me to inform me of a documentary about a survivor of the Nazi medical experiments. Her story is amazing.
Eva Mozes Kor
Eva Mozes Kor was eight years old when her family was sent to Auschwitz. Upon arriving at Auschwitz, prisoners were divided into two groups. One group consisted of relatively young, healthy adults who could be put to work. They were sent to a work camp. Everyone else was placed in a second group, a group which was sent to the extermination camp where they were executed.
'When the doors to our cattle car opened, I heard SS soldiers yelling, "Schnell! Schnell!" (Quick!), and ordering everybody out. My mother grabbed Miriam and me by the hand. She was always trying to protect us because we were the youngest. Everything was moving very fast, and as I looked around, I noticed my father and my two older sisters were gone. As I clutched my mother's hand, an SS man hurried by shouting, "Twins! Twins!" He stopped to look at us. Miriam and I looked very much alike. "Are they twins?" he asked my mother. "Is that good?" she replied. He nodded yes. "They are twins," she said ...

Once the SS guard knew we were twins, Miriam and I were taken away from our mother, without any warning or explanation. Our screams fell on deaf ears. I remember looking back and seeing my mother's arms stretched out in despair as we were led away by a soldier. That was the last time I saw her..."
Eva and her sister were the only survivors in her family...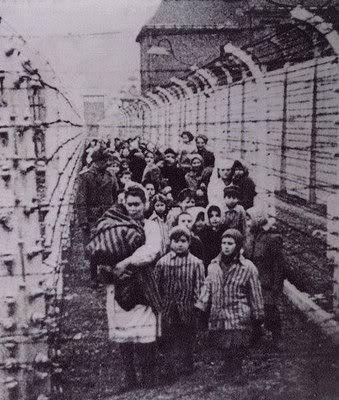 This photo of Auschwitz survivors leaving the camp was taken after its liberation by the Soviet military in 1945. Eva, and her sister, Miriam, are in the very front, holding hands.
Eva and Miriam were spared the gas chambers because they were twins. One of the Nazi scientists, Dr. Josef Mengele, had a perverse interest in studying twins. Of the 1500 twin pairs Dr. Mengele studied, only 100 survived. Some were killed and dissected after the experiments. The rest succumbed as a consequence of his brutal studies, which sometimes included swapping limbs (amputation and re-attachment of the siblings limb) or in at least one case, surgery to create conjoined twins by sewing them together.
While Forgiving Dr. Mengele (Netflix link) spends some time talking about Eva's experiences as a victim of Dr. Mengele at Auschwitz, most of the film is spent discussing how she survived. Eva chose to forgive Dr. Mengele and all of the Nazis who were responsible for harming herself and her sister, and taking the lives of her loved ones. Watch the trailer below.
"Getting Even Has Never Healed a Single Person"
For Eva Kor, the best way to heal herself was to forgive the enemies who'd imprisoned and tortured her and killed her family.
It will heal your soul. It will set you free.
I've been thinking a lot about forgiveness since I watched this documentary, and what it means for me in my own life. My experiences as a gay man growing up in a homophobic community can't compare to the horrors that this woman experienced. Still, she was able to go to Auschwitz with one of the Nazi doctors on the 50th anniversary of its liberation and offer him her forgiveness. Surely, there is a lesson in there for me.
I grew up gay in a small, conservative town in Reagan Democrat country. I attended an evangelical church that was extremely anti-gay. Because I was gender non-conforming as a child, I was bullied at school and at church. And the church community overlooked the bullying every bit as much as the school officials. We ended up leaving that church because of how I was treated, and very few people really seemed to care.
Looking back on the bullying I faced so many years ago, at church, in high school, even in college, I can remember what happened. I can remember how I felt. But I have trouble with many of the names. I can't remember who they are, only how they made me feel. If the only thing that I am holding on to is the pain that they inflicted upon me so many years ago--it's been more than 20 years since my family left that church--perhaps forgiving those who never apologized is the best way to move on?
I'm not sure. This is something I don't like to think about. But Eva's story has been making me think about the past.
There is some debate about what forgiveness means. Does it mean forgive and forget? Can you forgive someone for harming another? Does forgiveness show disrespect to those who died and cannot speak for themselves?
What does forgiveness mean to you?
Erase the hate.
Erase the discrimination.
Speak up.
Get involved.
If you would like to contribute to our Erase The Hate group, you can follow us by clicking the "heart" icon on our group profile, and ask us for an invitation by sending a message to one of the administrators. We look forward to hearing from you.