What do you think of when you hear or read the word "defiant?" Is your first gut reaction positive? Does your gut reaction resemble the words synonyms?

balky, contrary, contumacious, disobedient, froward, incompliant, insubordinate, intractable, obstreperous, rebel, rebellious, recalcitrant, recusant, refractory, restive, ungovernable, unruly, untoward, wayward, willful (or wilful)
Now pair that word with the fact that it is being used to describe the final words of someone before they were put to death. Do you get the image of the giant "fuck you" of Timothy McVeigh, or these words:
"I'd like to address the MacPhail family. Let you know, despite the situation you are in, I'm not the one who personally killed your son, your father, your brother. I am innocent.

The incident that happened that night is not my fault. I did not have a gun. All I can ask ... is that you look deeper into this case so that you really can finally see the truth.

I ask my family and friends to continue to fight this fight.

For those about to take my life, God have mercy on your souls. And may God bless your souls."

- Huffpo
Hardly the "defiant" words one would expect. But those words above, don't allow for the dog whistle of an angry black man going to his death is the 11:21pm update's (last night) title on NPR (screen capture below). Those words above are the last words of Troy Davis.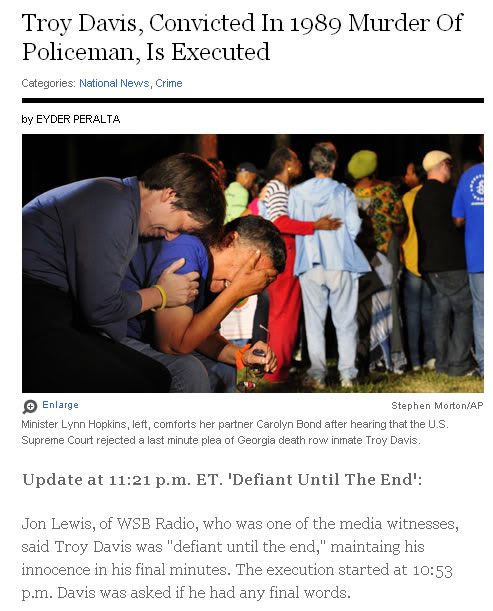 When the drugs to kill him entered Troy Davis' body he moved very little. When he was pronounced ded at 11:08pm MacPhail's (the victim) son (22) and his brother smiled.
For weeks, months, years the MacPhail family have said that this was about justice, and serving of same, not about revenge. While those smiles may have been because they feel justice was served, they seem out of place in rooms where the overall atmosphere was, by all accounts, solemn.
Only the MacPhail's know what they were feeling when Troy Davis was pronounced dead. One can only hope it wasn't jubilation because that would be indicative of revenge, and revenge blinds one to justice.
Don't rejoice when your enemies fall; don't be happy when they stumble.
Proverbs 24:17
"The MacPhail family seem to get some satisfaction," said Lewis.

[snip]

"I'd like to have some peace now that it's over," Anneliese MacPhail told CNN right after the Supreme Court rejected Davis' request for a stay.

- NPR

I'm sorry Ms. MacPhail, that peace is only won by true justice and there is #toomuchdoubt. Troy Davis may now be dead and the state of Georgia might never re-open it or try someone else. You may think that you will now have peace, and the state of Georgia may actually try to help in that regard.
They are less likely now to try another person for this crime since doing so would be admitting that they made a mistake in trying and executing Troy Davis. States are loathe to do that even when there is no death penalty involved, the Innocence Project has a few cases where they have proven innocence but the state refused to release the wrongly jailed person.
Sylvester "Redd" Coles, the person many believe actually committed the crime, and one of the 2 of the 9 eyewitnesses who didn't recant has statement may even be feeling very safe this morning. Well, he may have felt safe before because it has been reported that he did confess to friends but also stated that he would allow Troy Davis to take the fall.
Your family and Coles may think that this is over, and that may have been true at another time, but I don't think so today. The rest of this month, this year or the years to come, there will be no peace, for there is #toomuchdoubt to be sure justice was truly served. (if the death penalty in this instance can truly serve justice)
Troy Davis got an army on his side because the facts of his case and how he was convicted did not and do not pass the sniff test. That army will now work to clear his name for the ages.
If it proves that Troy was truly guilty then it is proven. If it proves he was innocent, there will never be peace, an innocent man was executed, "oops" and "I'm sorry" will not be worth much.
"better that ten guilty persons escape than that one innocent suffer",
- Blackstone's ratio
Peace is only obtained through true justice. No justice, no peace.
Truer words were never spoken.
---

full disclosure: My cousin is currently being held, charged with capital murder. He is in a death penalty state. Due my family's request I am not at liberty to say more than that. But one day, there will be a diary on it, I promise.