Well, I've been fine-tuning this effort to give Democrats a shot at 8-0 in Maryland for a few days now and during that time roguemapper, KingofSpades, SaoMagnifico, glam, and jncca have each produced Maryland efforts that are all worth a view.
Like most Swingnuts, I've tinkered with Maryland many times. This (final) time around, I decided to really throw caution (read: communities of interest) to the wind. The map I have produced is a callous piece of gerrymandering that would spark a torrent of criticism from any good government group.
The only "rule" I really obeyed was that the Eastern Shore cannot be split.
My goals were as follows:
1. Make every Dem incumbent's seat 60.0 or more based on President Obama's vote.
2. Make MD-1 a true toss-up that a Frank Kratovil-type Dem can win and hold by making the district as Democratic as possible without splitting the Eastern Shore.
3. Take out Roscoe Bartlett while somewhat maintaining a "western district."
MD-1 (Royal Blue): OPEN
As Andy Harris lives somewhere in the Cockeysville area, he no longer lives in MD-1 under this map, creating an opening for former Rep. Kratovil or some other moderate Democrat to make a play for the seat. In order to make the district more Democratic, I sent an arm of the district into Annapolis and the outer DC Metro area.
OLD: McCain 58.3%, Obama 39.8%
NEW: Obama 53.4%, McCain 45.1%; Dem Avg. 55.0%, GOP Avg. 45.0%
VAP: 67.1% W, 23.7% B, 5.7% H, 2.6% A
MD-2 (Green): Dutch Ruppersberger (D-Cockeysville)
A district that was already part of a very ugly set of lines around Baltimore, MD-2 currently weaves deep into Anne Arundel County in a sort of dance with MD-3. Under this map, it loses much of its territory in Anne Arundel, taking in only some pretty Democratic territory in the northern section of the country, and instead weaves into Howard County over into the area around the cities of Columbia and northern Laurel. The district maintains much of what it had previously in Baltimore and Harford counties and Baltimore City.
OLD: Obama 59.8%, McCain 38.3%
NEW: Obama 60.3%, McCain 37.8%; Dem Avg. 64.4%, GOP Avg. 35.6%
VAP: 60.3% W, 29.7% B, 5.7% H, 5.2% A
MD-3 (Purple): John Sarbanes (D-Towson)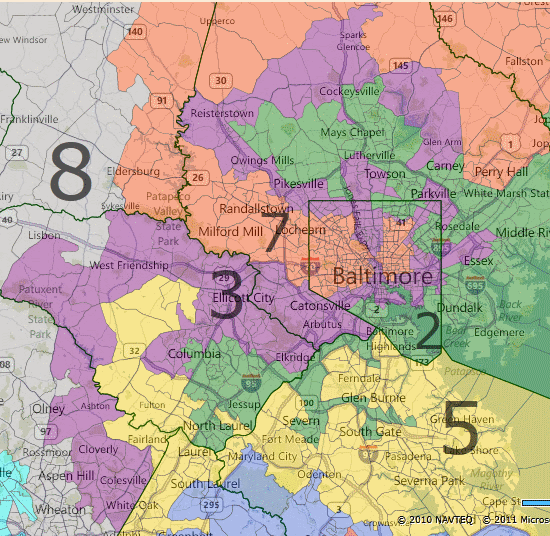 Redrawing Maryland's districts, even in a more partisan fashion, could be made much simpler if not for the fact Sarbanes and Ruppersberger live practically right next door to each other in the northern suburbs and exurbs of Baltimore. With this map, Sarbanes district now meanders from north of Baltimore all the way down to the outer DC suburbs in Montgomery County.
OLD: Obama 58.8%, McCain 39.2%
NEW: Obama 60.9%, McCain 37.1%; Dem Avg. 63.4%, GOP Avg. 36.6%
VAP: 62.0% W, 20.1% B, 8.9% A, 6.3% H
MD-4 (Red): Donna Edwards (D-Fort Washington)
The first of the majority-minority districts, Edwards' district currently cuts across the DC suburbs to take in the outer portions of Montgomery County. In this map, it instead takes in much of southeastern Maryland, except for the little part that keeps Steny Hoyer's home in MD-5.
OLD: Obama 85.1%, McCain 14.2%
NEW: Obama 73.2%, McCain 25.9%; Dem Avg. 73.5%, GOP Avg. 26.5%
VAP: 51.6% B, 39.5% W, 4.4% H, 2.4% A
MD-5 (Yellow): Steny Hoyer (D-Mechanicsville)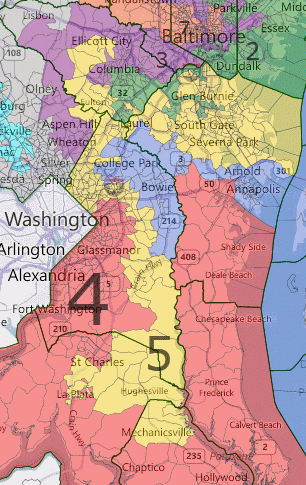 Now this thing is a piece of work. Hoyer's district shoots up from his home in Mechanicsville (where I left a little area around it in his district for incumbency's sake), stretches up into areas he already had in suburban DC, and then takes in the ruby red areas of Anne Arundel County to negate their impact in any election. This district also has a little tentacle that stretches into Howard County in an effort to take in some more GOP-leaning areas.
OLD: Obama 65.4%, McCain 33.3%
NEW: Obama 62.1%, McCain 36.4%; Dem Avg. 63.7%, GOP Avg. 36.3%
VAP: 47.1% W, 30.0% B, 15.3% H, 4.9% A
MD-6 (Cyan): Roscoe Bartlett (R-Buckeystown)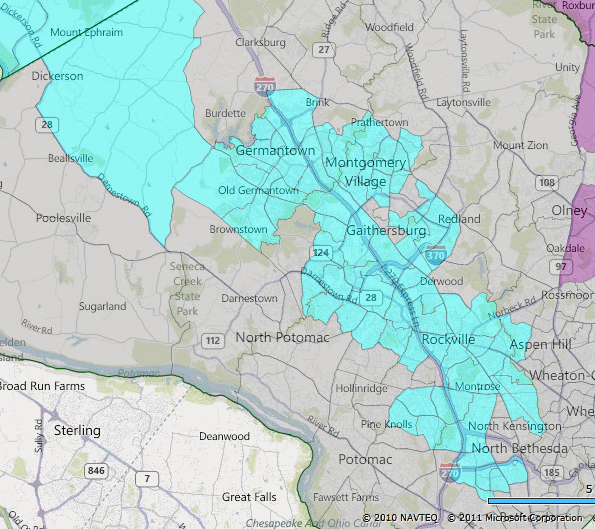 I could have drawn Congressman Bartlett out of the district but it doesn't really matter. The "western Maryland" district is now far too blue for a member of the Tea Party caucus to hold onto. Really, this district creates the opportunity for a Frederick Democrat to get a shot at a seat, though with all the area in Montgomery Co, the Dem might very well come from there.
OLD: McCain 57.7%, Obama 40.2%
NEW: Obama 56.9%, McCain 41.3%; Dem Avg. 56.8%, GOP Avg. 43.2%
VAP: 64.0: W, 11.9% B, 11.3% H, 9.8% A
MD-7 (Orange): Elijah Cummings (D-Baltimore)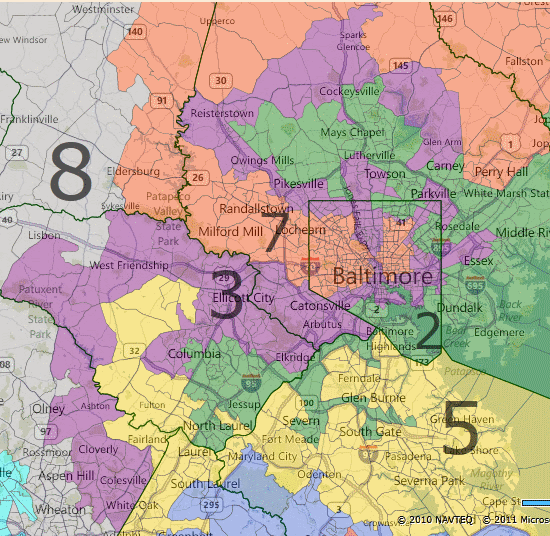 This might be a good time to have a shot of Metro Baltimore:
The second majority-minority district, MD-7 now curls around to take in heavily GOP areas in Carroll, Baltimore, and Harford Counties, all while maintaining its status as majority-minority. You could make this district slightly more black by trading back certain areas in Baltimore from MD-2 or MD-3 to MD-7 for exurban and rural areas in the aforementioned counties. With the vast majority of the Democratic base being black in this district, an African-American should be able to easily hold onto this seat.
OLD: Obama 78.9%, McCain 19.89%
NEW: Obama 66.2%, McCain 32.2%; Dem Avg. 64.1%, GOP Avg. 35.9%
VAP: 51.6% B, 41.6% W, 2.4% H, 2.0% A
MD-8 (Gray): Chris Van Hollen (D-Kensington)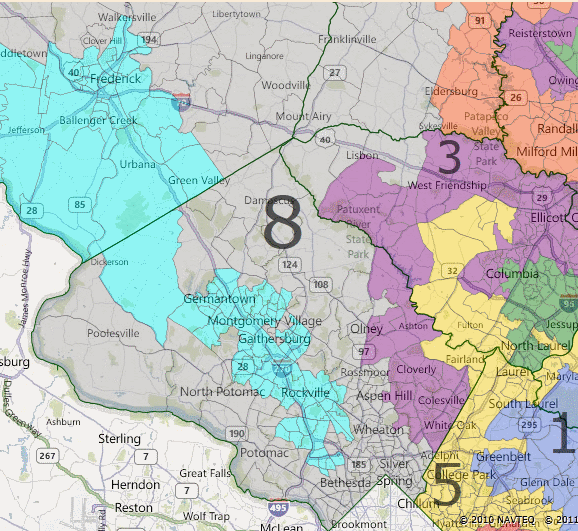 Rep. Van Hollen's district now incorporates a great deal of red area in Carroll and Frederick Counties. The district should still be safe for Democrats.
OLD: Obama 73.9%, McCain 24.7%
NEW: Obama 61.0%, McCain 37.4%; Dem Avg. 61.9%, GOP Avg. 38.1%
VAP: 64.4% W, 13.3% H, 11.1% B, 8.5% A
Final Statistics: