My mom passed away at about 7:30 yesterday evening. As many of you know, Mom had suffered from severe dementia and a variety of other ailments for the past two years. She was about a month shy of her 93rd birthday. Mom was born on November 12, 1918, the day after World War I ended. She was born in the middle of the flu pandemic and two years before women were granted the right to vote.
For most of her life, my mom was strong, smart, and resilient. She survived a bad marriage and a messy divorce and came out stronger for it. She raised my sister and me almost single-handedly. Mom worked full-time until she was 75. She doted on her three grandsons, and she lived long enough to see them all grow into fine adults.
Mom was one of the last of the old-fashioned liberal Republicans. She admired Senator Jacob Javits and NYC Mayor John Lindsay. She was a proud supporter of public education, civil rights, and a woman's right to choose. She was terribly disappointed by Nixon, and her view on W was "Can't that man do anything right?" She voted for President Obama in 2008.
Here is a picture of my family in happier times. This was taken in about 1952. I am the fat, blonde baby sitting on my mom's lap. My grandmother, "Grammy", is sitting next to us, and my cousin Mimi is on her lap. Grammy lost her battle with cancer a few years after this picture was taken. My favorite uncle Bob, Mimi's dad, is in the back. Bob was my mom's kid brother. He earned a Silver Star and a Purple Heart fighting the Germans during World War II. To this day, no one in my family uses sugar in her coffee because during the war Mom and Grammy saved all their sugar so that they could make cookies to send to Bob.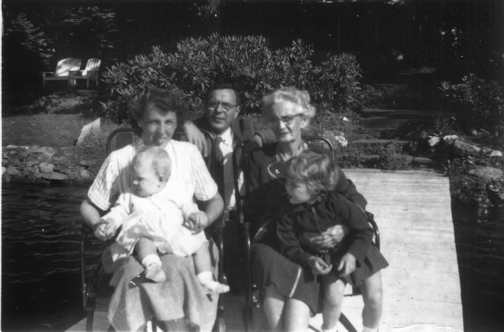 I miss my mom terribly, but I know that she is in a better place. Thank you all for your kind thoughts and prayers during the past two years.