Our decade of war in Afghanistan has again seen the death of a US soldier. After six decades, another US soldier has returned home. Tonight, we wecome these two young men back from their final journey:

Army Private Danny Chen who was from New York
Corporal Edward M. Pedregon who was from Texas
Army Private Danny Chen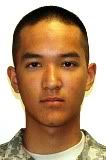 Danny Chen was from New York. He entered the Army in January of this year and had trained at Fort Benning in Georgia.

He was assigned to the 3rd Battalion, 21st Infantry Regiment of the 1st Stryker Brigade Combat Team of the 25th Infantry Division ("ARCTIC WOLVES"), which is stationed at Fort Wainwright, Alaska.

Chen deployed to Afghanistan in August as a part of the 4,000 member 1st Stryker Brigade Combat Team, 25th Infantry Division which is on a yearlong deployment in Afghanistan.

According to Army Coronel Todd Wood, commander of the 1st Stryker Brigade Combat Team, 25th Infantry Division the unit is assisting the Afghan police and army in securing and stabilizing Afghanistan:

The unit's primary mission in Afghanistan, according to Wood, is assisting and training the local police and Army units in security so that they are able to create a stable country for their people, but they have also assisted in economic development and other projects.

"We are making a difference," he said.

He said roads are being built, schools are being established and a variety of economic development projects are assisting the people of Afghanistan to be more self-sustaining and self-sufficient
Private Danny Chen died on October 3rd, in the Kandahar province of Afghanistan while in the service of the United States of America. He was 19 years old.
The Army has not released details on how Private Chen died in Afghanistan. His family was notified earlier this week.
The infantryman is being honored in New York today. The city's governor, Andrew M. Cuomo, has directed that flags on New York government buildings be flown at half-staff on Friday, October 7th to recognize the service and passing of Private Chen.
"On behalf of all New Yorkers, I send my profound sympathies to the family, friends, and fellow soldiers of Private Chen," Governor Cuomo said. "We will remember the service and mourn the loss of this New York soldier."

Governor Cuomo has directed that the flags on all state buildings be lowered to half-staff in honor of and in tribute to our state's service members and those stationed in New York who are killed in action or die in a combat zone.
The parents of Private Chen have requested that the
Patriot Guard Riders
participate in the funeral services for their beloved son.
~~~~~~~~~~~
Corporal Edward M. Pedregon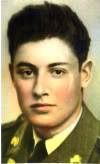 In late November 1950, Corporal Edward Pedregon, as a member of the Heavy Mortar Company, of the 31st Regimental Combat Team – known as Task Force Faith – was attacked by Chinese forces near the Chosin Reservoir in North Korea. After several days of heavy fighting, Task Force Faith was forced to withdraw, but was stopped by enemy blockades that overpowered them on Dec. 2, 1950. Pedregon was reported missing in action on November 30, 1950.

In 1953, following the exchange of all prisoners of war by both sides of the conflict, no further information was gained to indicate that Pedregon had been held as a prisoner of war, and he was declared dead. At that time, the corporal was 19 years old.

In 2004, a joint U.S./Korean People's Army team excavated several sites in the Chosin Reservoir area and recovered the remains of at least nine individuals and military equipment. The location of the remains corresponds to the positions temporarily held by elements of Task Force Faith in late November 1950.

Among forensic identification tools and circumstantial evidence, scientists from the Armed Forces DNA Identification Laboratory used dental records, and mitochondrial DNA – which matched that of Pedregon's mother and brother—in the identification of the remains.

Pedregon's sister is quoted in an article by CNN:

Pedregon was 17 when he enlisted, the newspaper reported. His mother, Juana, signed the papers so he could serve.

"My mother passed away in 2003, and if she were here today, she would probably say, 'My beloved son, the image of your face was always in my heart,' " said Pedregon's sister Violeta Carrillo.

Family members said Juana Pedregon never stopped believing her son would return.

"Before my mother passed away, she would always say, 'He'll be back. He'll be back,' " Gonzalez told the newspaper. "And the important thing is that now, he's here."
The remains of Army Corporal Edward Pedregon of El Paso, Texas, were returned to the United States and he was buried in Arlington National Cemetery on October 6th. A memorial service was held in San Elizario, Texas, on October 1st.
Family and friends remembered "Lalo" during his homecoming, as reported by the
El Paso Times News
site:
They remembered a young man who was "muy buena gente," a good guy who loved to play or hang out and talk.

Like the song said, "una madre no se cansa de esperar." A mother never gets tired of waiting. On a warm, cloudless autumn morning, the young soldier from San Eli, who kept a mother waiting for more than 50 years, came home to the mournful serenade of taps.

Lalo had returned at last.
For additional information on the Defense Department's mission to account for missing Americans, visit the
DPMO website
.
**********************
Helping our troops:
If you wish to assist our military and their families, consider contributing to Fisher House. Donating to Netroots for the Troops provides care packages that make a real difference in a military person's life. To assist the animal companions of our deployed military, information is available here. Also, you could visit:

When our veterans come back home, they need jobs. Look at the programs of Hire Heroes USA and Welcome Back Veterans to see if you can help out.
About the IGTNT series:
"I Got the News Today" is a diary series intended to honor, respect, and remind us of the sacrifice of our US troops. Click here to see the series, which was begun by i dunno, and is maintained by Sandy on Signal, Monkeybiz, Noweasels, Blue Jersey Mom, Chacounne, Twilight Falling, Joyful, SisTwo, Spam Nunn, True Blue Majority, CalNM, Wide Awake in Kentucky, Maggie Jean, Jax Dem, Kestrel 9000, & TheFatLadySings. These diaries are heartbreaking to write, but show our community's respect for those who have died.
Fallen service members whose names have been released by the US Department of Defense will usually be diarized two days after the official announcement on the DoD website. This allows the IGTNT team to cover each person more fully, but still in a timely manner.
Please bear in mind that these diaries are read by friends and family of the service members mentioned here. May all of our remembrances be full of compassion rather than politics.