The special master map did two important things: a new seat was created in Clark County at the expense of the rest of the state, and the two multi-member seats were spilt. I put this on Dave's Redistricting App, but the lines are approximate, but they should be accurate within about 1%. There is only one Hispanic majority seat, but four with over 40%. 10 of the 21 seats are Safe Democrat and only 5 are Safe Republican. Democrats should be largely happy with this map.
Rural Nevada/Cow Counties
Senators from the Cow Counties have always had more influence than their numbers due to key Senators within the GOP leadership. Today, only one of these three seats does not reach into Clark or Washoe Counties. Take those parts out, and the cow counties only would get a little over two seats.

District 17- Fallon-Tahoe, Mike McGinness (R), term expires 2012, term limited, and James Settelmeyer (R), term expires 2014, McCain 58, Obama 39, GOP 64, Dem 36, 13% Hispanic, Reg.: GOP 50.15, Dem 28.34
This is the only rural seat not to be in either Washoe or Clark County. It is the 2nd most Republican in the state. Two Republicans are merged here. SAFE REPUBLICAN

District 19- Ely-Elko-Pahrump- Dean Rhoads (R), term expires 2012, term limited, McCain 62, Obama 34, GOP 67, Dem 33, 17% Hispanic, Reg.: GOP 47.94, Dem 30.84
This is the largest and most Republican seat in the state. It stretches from the Idaho border to south of Las Vegas. Probably the largest legislative seat in the country. About 20% of the seat is in Clark County. SAFE REPUBLICAN

Reno/Sparks/Carson City
The special masters could have drawn basically three Washoe County seats, but they chose two whole districts and two part districts. I felt that there could have been two seats drawn here for Democrats but there is one solid seat, and one tossup seat. If Democrats can win the other Reno seat, they would only need 9 of 15 Clark seats to win the majority.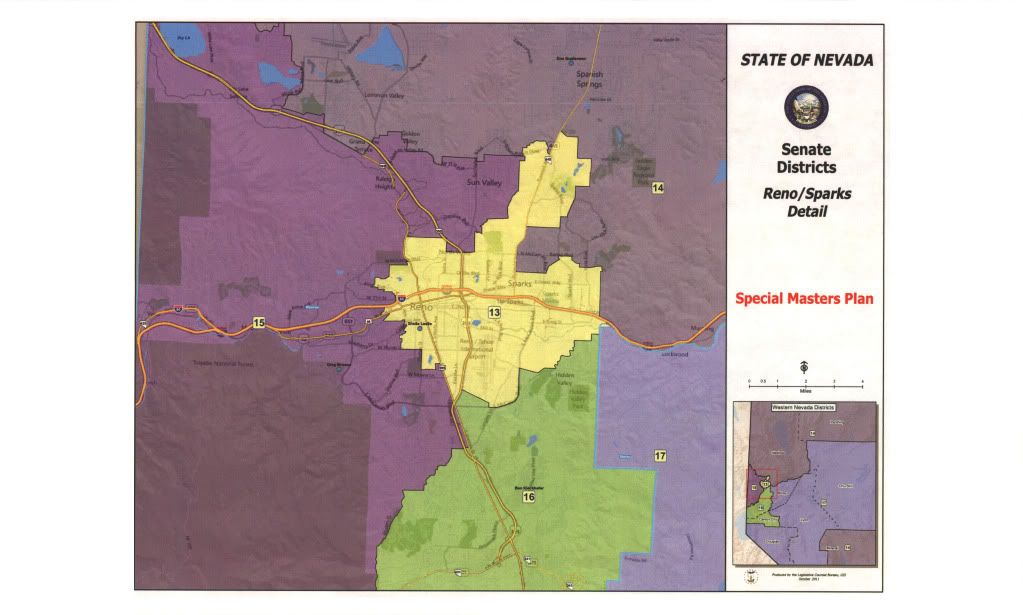 District 13- Sparks-East Reno- Shelia Leslie (D), term expires 2014, Obama 65, McCain 33, Dem 61, GOP 39, 34% Hispanic, Reg.: Dem 46.33, GOP 28.97
This is the strongly Democratic seat in the Reno area and the only Democratic held seat outside of Clark County. SAFE DEMOCRAT

District 14- North Washoe-Battle Mountain- Don Gustavson (R), term expires 2014,, McCain 53, Obama 45, GOP 58, Dem 42, 19% Hispanic, Reg.: GOP 44.39, Dem 34.64
Don't be fooled by the size of this seat. Nearly 70% of the population here is in Washoe County. It is very strongly Republican outside Washoe and leans Republican in the Washoe portion. SAFE REPUBLICAN

District 15- West Washoe- Greg Brower (R), term expires 2014, Obama 56, McCain 42, Dem 52, GOP 48, 18% Hispanic, Reg.: GOP 39.36, Dem 38.71
I hoped this seat would be more Democratic, but it did make a 4 point Democratic improvement. Brower was appointed this year to replace moderate Republican Bill Raggio and has never faced the voters. TOSSUP

District 16- South Washoe-Carson City- Ben Kiechhefer (R), term expires 2014, Obama 49+, McCain 49-, GOP 55, Dem 45, 17% Hispanic, Reg.: GOP 45.92, Dem 33.25
Carson City is now whole and paired with southern Washoe County. This seat may be moving to Democrats someday, but not now. SAFE REPUBLICAN

Las Vegas/Clark County


15 seats are now wholly within Clark County, and there is one new seat here. The old Clark County Districts 5 and 7 with two members are gone. All seats as single member seats. With one solid Democratic seat in Reno, Democrats only need to win 10 of these to secure a majority and Obama got over 60% in nine of them and McCain won only one.
District 1- Northeast Metro Vegas- John Lee (D), term expires 2012, Obama 64, McCain 34, Dem 62, GOP 38, 27% Hispanic, 22% Black, 11% Asian, Reg.: Dem 49.56, GOP 28.39
This seat moves further north and loses nearly everything east of I-15. It is now nearly a perfect square and heavily Democratic. SAFE DEMOCRAT
District 2- North Las Vegas East- Mo Dennis (D), term expires 2014, Obama 76, McCain 22, Dem 79, GOP 21, 67% Hispanic, 12% Black, Reg.: Dem 61.9, GOP 16.49
This is the lone Hispanic majority seat in Las Vegas. It gained a little more territory to the east to make its population numbers even. SAFE DEMOCRAT

District 3- Las Vegas West- Valerie Weiner (D), term expires 2012, term limited, Obama 63, McCain 34, Dem 64, GOP 34, 43% Hispanic, 12% Black, 7% Asian, Reg.: 51.68, GOP 26.86
In order to get some more population, this seat picks up some territory south of Charleston Blvd. It stays roughly the same other than that. SAFE DEMOCRAT

District 4- North Las Vegas West- Steven Horsdorf (D), term expires 2012 (running for Congress), Obama 78, McCain 20, Dem 78, GOP 22, 47% Hispanic, 28% Black, Reg.: Dem 64.96, GOP 16.57
This is a heavily Democratic seat in North Las Vegas which should elected a minority senator to replace Horsdorf, who is running for the new 4th CD. SAFE DEMOCRAT

District 5- Green Valley-Henderson- Shirley Breeden (D), term expires 2012, Obama 55, McCain 43, Dem 53, GOP 47, 17% Hispanic, 7% Black, 11% Asian, Reg.: Dem 41.58, GOP 35.63
The old District 5 was a two member seat and it was split. The other half is now District 20. This is the more Democratic half of the district, in fact 4% more Democratic. It starts in Henderson and moves east along I-215. The person Sen. Breedon defeated to get here was Joe Heck, now the 3rd CD member of Congress. This area has a sizeable Mormon population, but leans to the Dems. Her re-election should be easier than her first election. LIKELY DEMOCRAT

District 6- Charleston-Summerlin- Allison Copening, term expires 2012, Obama 56, McCain 42, Dem 55, GOP 45, 21% Hispanic, 12% Black, 9% Asian, Reg.: Dem 43.71, GOP 34.80
Copening won this seat in 2008, defeating incumbent GOP Sen. Bob Beers. This seat had massive changes in redistricting. It moved to the southeast, boosting it from a D+1% registration advantage up to 9%. Copening got the best deal in redistricting of about anyone. She shouldn't have any trouble in this seat in 2012. SAFE DEMOCRAT
District 7- Paradise- David Parks (D), term expires 2012, Obama 63, McCain 35, Dem 61, GOP 39, 33% Hispanic, 10% Black, 9% Asian, Reg.: Dem 48.79, GOP 27.75
The old district 7 was a two member seat. Parks won the seat previously held by Dina Titus. The other District 7 incumbent now lives in District 21. This seat takes in a lot of unincorporated territory to the east of the airport, much of it along Tropicana Avenue and I-515. SAFE DEMOCRAT

District 8- West Sahara-Lone Mountain- Barbara Cegavske (R), term expires 2014, term limited, Obama 51, McCain 47, GOP 52, Dem 48, 12% Hispanic, 8% Black, 14% Asian, Reg.: GOP 39.64, Dem 38.47
Cegavske got a more GOP seat. Her old seat did not have the arm that reaches north to around Lone Mountain. The old seat was mainly areas area West Sahara and had a 2% Democrat registration advantage. This seat does not. The changes here made the 6th and 18th district more Democratic. She won by identical 10 point margins in 2006 and 2010, so this seat is not completely out of reach. LIKELY REPUBLICAN

District 9- Southwest Clark- Elisabeth Halseth (R), term expires 2014, Obama 60, McCain 39, Dem 52, GOP 48, 17% Hispanic, 10% Black, 25% Asian, Reg.: Dem 42.15, GOP 33.21
Halseth's seat was proportionally biggest gainer of any State Senate seat in America. The ideal population is around 128k and her seat had over 354k. When the old 9th was drawn many areas were virtually uninhabited on the west side of the Vegas Metro area. Her old seat was D+2.8 registration, this one is D+9.0. She barely won a GOP held seat in 2010 after she knocked off an incumbent Republican in the primary. She also got caught lying about her resume. She said last year she was pursuing an MBA, but it turns out she never even got a bachelor's degree. She is very right wing and is probably toast in 2014. LIKELY DEMOCRAT

District 10- Strip-UNLV- Ruben Kihuen (D), term expires 2014, Obama 67, McCain 31, Dem 68, GOP 32, Hispanic 42%, Black 12%, Asian 8%, Reg.: Dem 53.72, GOP 22.61
For most people that go to Las Vegas, this may be the only Senate district they set foot in. It has the strip casinos and the airport, which are not in the city limits of Las Vegas. It also has UNLV and runs east on Sahara and Flamingo. SAFE DEMOCRAT

District 11- Spring Valley- Michael Schneider (D), term expires 2012, term-limited, Obama 62, McCain 36, Dem 60, GOP 40, 24% Hispanic, 12% Black, 19% Asian, Reg.: Dem 47.15, GOP 28.83
This seat loses its northern and southern tentacles and is now a relatively compact district, which is a few points more Republican, but still strongly Democratic. This will be an open race in 2012. No race makes up the majority here. SAFE DEMOCRAT
District 12- Boulder City- Rural Clark- Joe Hardy (R), term expires 2014, McCain 53, Obama 45, GOP 57, Dem 43, 16% Hispanic, 6% Black, 6% Asian, Reg.: GOP 42.02, Dem 36.07
This seat shrank a lot in redistricting and it made it strongly Republican. This is the only seat in Clark County to vote for McCain. It includes a lot of the peripheral areas of the Las Vegas metro area, and part of Henderson, and all of Boulder City. SAFE REPUBLICAN

District 18- Northwest Clark- no incumbent, term expires 2012, Obama 50, McCain 48, GOP 51, Dem 49, 15% Hispanic, 11% Black, 8% Asian, Reg.: GOP 39.50, Dem 39.11
This is the seat with no incumbent. It sits in the Republican leaning northwest part of the Las Vegas metro area. This should have a small GOP edge for now, but may change as the decade proceeds. LEAN REPUBLICAN

District 20- Henderson-Seven Hills- Michael Roberson (R), term expires 2014, Obama 54, McCain 45, GOP 50+, Dem 50-, 15% Hispanic, 7% Black, 15% Asian, Reg.: Dem 39.01, GOP 38.48
This is the more Republican half of the old District 5. It sits to the south of the new District 5, starting near Henderson, following to the pricy Seven Hills area, until it runs along I-15. The incumbent here was the lone GOP pickup in the State Senate in 2010, knocking off Sen. Joyce Woodhouse. It has a large Mormon population and will continue to grow, making it more Democratic. It also is about as close to an even seat in the state. TOSSUP

District 21- Sunrise Manor-East Las Vegas- Mark Manendo (D), term expires 2014, Obama 62, McCain 36, Dem 60, GOP 40, 41% Hispanic, 12% Black, 10% Asian, Reg.: Dem 51.15, GOP 27.42
This is essentially a new seat, but it has an incumbent. This is made of pieces of about five other districts and reflects the growth of this area to the east of the strip and downtown. It has a rapidly growing Hispanic population and has a lot of open land to expand further. SAFE DEMOCRAT

Bottom Line
Safe Democrat (10): 1, 2, 3, 4, 6, 7, 10, 11, 13, 21
Likely Democrat (2): 5, 9
Lean Democrat (0)
Tossup (2): 15, 20
Lean Republican (1): 18
Likely Republican (1): 8
Safe Republican (5): 12, 14, 16, 17, 19