All of us—assuming that "us" refers to homo sapiens—can trace our roots back to a small group of people who lived in Africa less than 200,000 years ago. The DNA evidence is fairly clear that modern humans originated in Africa. The highest levels of genetic variation are found in Africa. From here our species spread out to occupy nearly all parts of the planet.
Prior to the emergence of Homo sapiens, there were a number of other human species—designated with Homo—which lived not only in Africa, but also in other parts of the world. The earliest humans first evolved in Africa about 2.4 million years ago.
The transition from an earlier hominid, most likely the species Australopithecus, involved four basic changes: (1) the use of stone tools, (2) a reduction of sexual dimorphism (difference in physical size as determined by gender) which was reflected in human social organization, (3) a reduction in the size of the teeth which correlates to a change in diet, and (4) an enlargement of the brain.
Homo habilis:
A little more than two million years ago, the first species that can be considered to be human—Homo habilis—emerged in Africa. The behavioral hallmark of this first human species was the use of stone tools. There are a number of implications of tool use.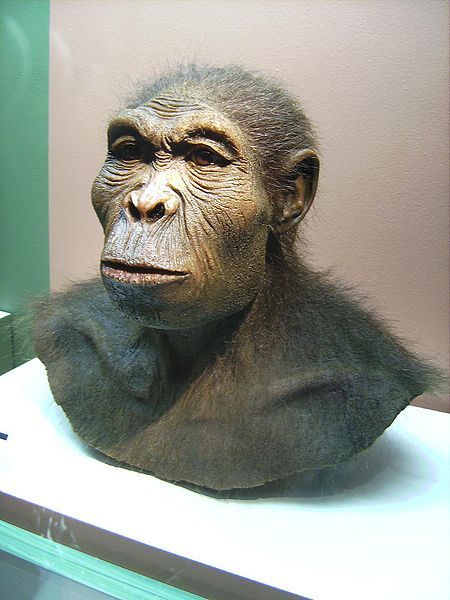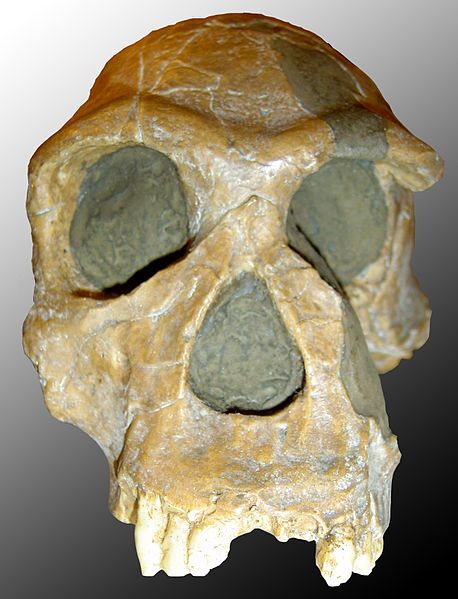 First, stone tools enabled Homo habilis to exploit new food resources, particularly meat from animal carcasses. This additional protein was particularly important for the larger brain, a body organ that consumes a lot of calories.
The use of stone tools by Homo habilis provides us with evidence of a new form of thinking. Many other animals, including chimpanzees, also make and use tools, but their tool use is opportunistic. That is, when they need a tool, they take local materials to make the tool and then discard it. With Homo habilis, stone is acquired at one location, carried to another location where it is made into a simple cutting tool, and then carried again to other locations where it can be used to butcher animals which have been killed by other predators. Homo habilis was a scavenger, not a hunter or predator.
The complex of stone tools used and made by Homo habilis was initially called Oldowan by archaeologists, and some archaeologists prefer to designate it as Mode One tools. It takes its name from Olduvai Gorge in Tanzania. The Oldowan tools include choppers, scrapers, and pounders. A chopper has an edge on one side. These stone tools would have been useful in processing dead animals into both food and leather, as well as for working with wood and cracking open bones and nuts.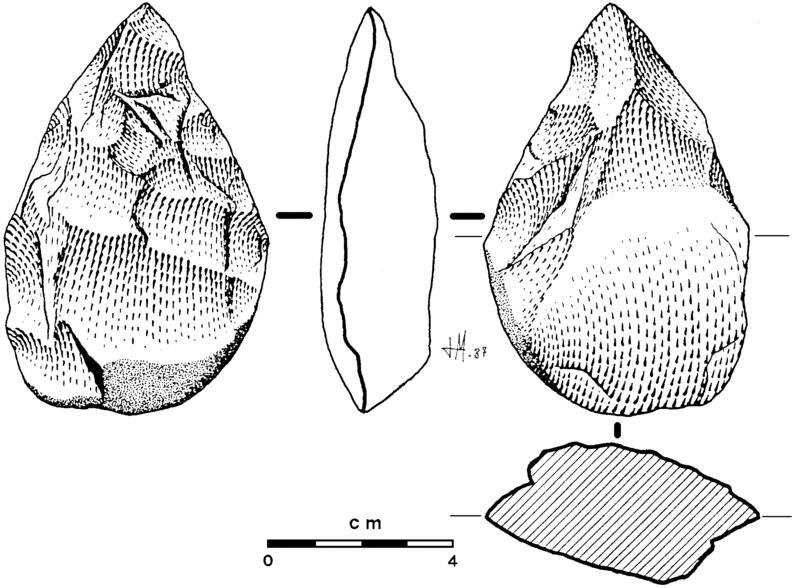 A drawing of Oldowan tools is shown above.
The Oldowan tools were made primarily from river cobbles of quartz, quartzite, basalt, or obsidian. The tools were made by striking the cobble with a hammerstone to produce a flake which could be used as a tool.
With regard to anatomy, Homo habilis was smaller than modern humans: males stood about five feet tall and weighed about 100 pounds, with females appearing to have been somewhat smaller. Their brains size was about half that of modern humans, but the overall brain shape appears to have been similar to that of modern humans.
Homo habilis was the first of our ancestors to live outside of a forested environment. Homo habilis appears to have inhabited a more open territory: savannahs with trees and low vegetation either well dispersed or clustered between large expanses of grassland. The evolutionary emergence of Homo habilis coincided with a dramatic climate change: for four million years the planet had been growing continually colder and drier. About 2.8 million years ago, large masses of ice began to accumulate around both poles. The rain forest area in Africa shrank and the savannah expanded. The resulting changes in vegetation were accompanied by the evolution of various lines of mammals who adapted biologically to the new environment. Homo habilis was among them.
In the open savannah environment, food resources—both plant and animal—were more dispersed and less predictable than in the rain forest. With their enlarged brains, Homo habilis had additional capacity to make mental maps of large expanses of territory and to interpret animal tracks and other natural signs. They may have been able to understand things like changing seasons which would have enabled them to anticipate predictable events and plan for them. The larger brains also allowed for a greater complexity of social relationships. Research has shown that there is a close relationship between the complexity of a primate's social group and the size of its neocortex.
One of the features that makes modern humans unique today is the presence of language. One of the questions, therefore, that paleoanthropologists ask about Homo habilis is whether or not this species had language. The brain of Homo habilis shows a small bump indicating that Broca's area was present. Broca's area is one of the parts of the brain that is associated with language. However, there is still insufficient data to suggest that Homo habilis had language.