SF Kossacks: Do you have more clothes than you know what to do with? Or some toys your kids never even play with? Or just a lot of compassion for fellow human beings in need? (Yeah, you're liberals, so I know you do.)
I'm heading up to the Bay Area in a few weeks around the time of a Food Justice conference I'm attending (Nov 4-8). On Nov 6, I'm going to skip out of the conference for a "Farmworker Reality Tour." (Want to come? I'm in the process of getting details on where/when/how much $.)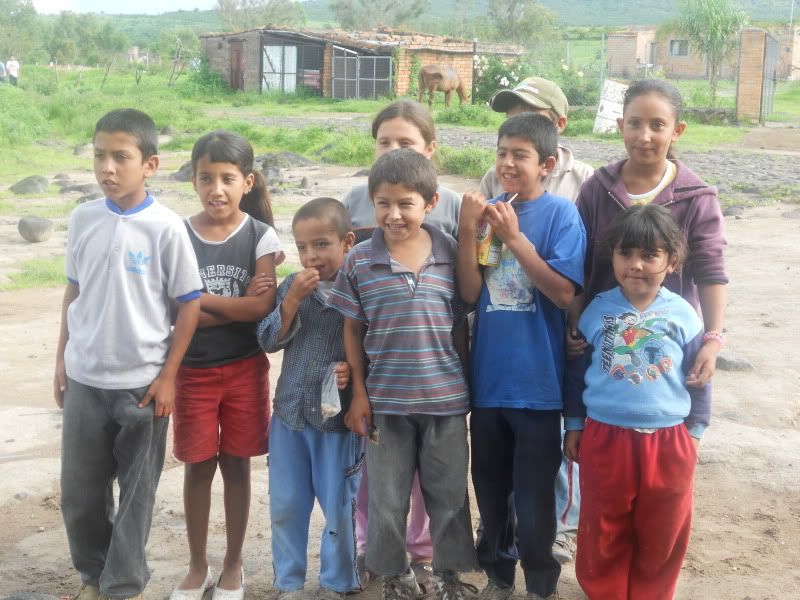 Together with Navajo, Meteor Blades, and Ann Lopez, the founder of the Center for Farmworker Families, we'll be meeting up with Mexican farmworkers and their families to learn about their lives. If you've got any donations for the farmworkers, we will be glad to bring them with us. Details on what is needed below.
Ann Lopez is the founder of the Center for Farmworker Families, which provides aid to farmworkers and their families on both sides of the Mexican border. Last summer, I had the privilege of traveling with her to Jalisco, Mexico (a few hours from Guadalajara) to meet with the farmworkers' families on that side of the border. The photo above is of a group of Mexican children in one of the villages we visited.
To these families, Ann is an absolute angel. I began calling her "Ana Claus" while we were in Mexico, because it really feels like traveling around with Santa Claus. Ann uses nearly every penny donated to her non-profit and an awful lot of her own money to buy these families needed clothing, shoes, toys, school supplies, tooth brushes, and other needed items. In one case, she arranged the donation of a van for a remote village so their children could attend school.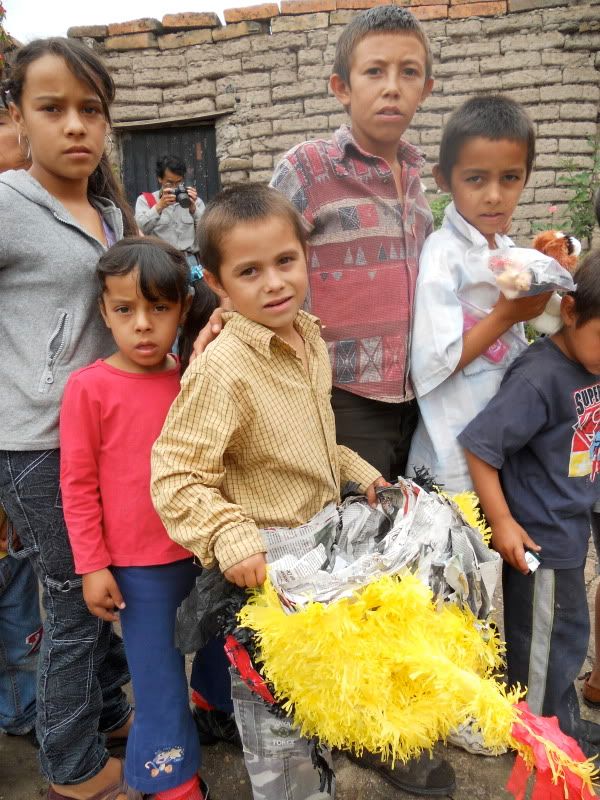 The kids, after they smashed open the pinata. One little guy has the entire pinata as a souvenir.
Ann's worked with these families for over a decade. She's so respected in this part of Mexico that the municipal president offers her free transportation, courtesy of the police, and the local doctor refuses to charge her for any care he provides. When Ann shows up, normal bureaucratic hiccups go away, and she is able to get composting toilets or other needed resources to families in need, just by asking. When I was with her, she also helped a young family take their daughter to the doctor for her asthma.

Outside a family's home in Mexico. This section of the home was the entire home for most of the time this couple raised their 11 kids. One son spent a year as a farmworker in the U.S. and used the money he made to expand the house.
What Is Needed:
Many of the farmworkers in California are men, as you'd expect, but several have their families with them, and you might be surprised by the number of women who work in the fields too. Thus, supplies are needed for all ages and both sexes. Ann also takes donations to families in Mexico at least twice a year, and there there is a majority of women and children in need. Clothes, toys, shoes, bathroom items (soap, shampoo, toothbrushes), toys for children, school supplies, and food will all be appreciated. New items are great, used is fine too. If you really want to make a kid go nuts, any soccer equipment (shoes, balls) will make their day.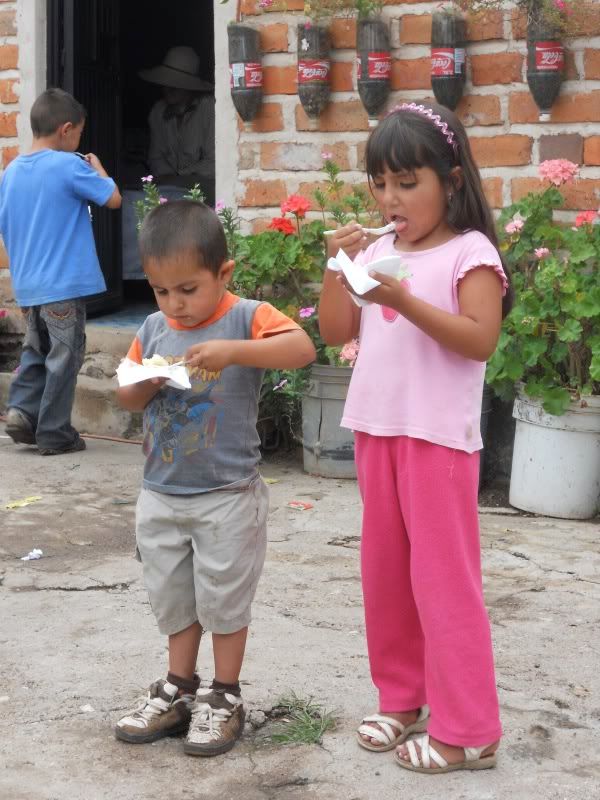 Kids in Mexico eating the cake we brought them. They usually eat tortillas and beans 3 times a day, so this is a rare and wonderful treat.
Logistics:
I'm not in San Francisco (yet) so we need to figure out how to get these donations together to give them to the farmworkers. If someone can collect them, I can pick them up when I get into town. I'll be staying with a friend in Oakland and won't have a car myself, so someone with a car who can get things to Oakland might make this easier. Alternatively, Navajo might be able to collect items since she's already in SF and she is coming with us to meet with the farmworkers. I'll update this diary with any changes to this issue - and please, reply in the comments if you're able to help.
We'll be doing a meetup when I'm in town (stay tuned - Navajo's in charge) so that will be a good time to collect last minute donations, although I'm not sure how much will fit in a restaurant, and if we all take the BART to get there, I don't know how practical it will be to get all the stuff home.
If You Want to Come Meet the Farmworkers:
Please say so in the comments below and/or email Navajo or me. Stay tuned for info on how to participate, if Ann says it's OK to bring a big crowd of people. The day we're going is November 6, and i assume we'll be going to Watsonville.