One question that always comes up in discussions of renewable energy is- how much does it cost? Is it more expensive than coal and gas? It's a simple question, but it's very hard to give a simple answer, and I think that's causing a major stumbling point for advocates of renewable energy. The debate is often framed as a choice between cheap coal and gas, or non-polluting solar and wind, and given the economy, cheap is winning that debate. You can also include the health and climate change cost of coal, but then you get into numbers which are more abstract and harder to calculate. I'm going to avoid that here, and just focus on the immediate dollars and cents of both technologies. I'm going to argue that, if you analyze the numbers closely, renewable energy is cheaper even without considering any of the costs from pollution. If we can prove that, then the case for renewable energy should be a slam dunk.

Even calculating those costs is not easy, though. First of all, renewable energy- and I'm going to focus on solar and wind, since those are the largest sources- is new technology. It's changing all the time, with research labs all over the world finding new advances. That means that the cost is naturally going to change, depending on the particular form of solar or wind energy being used. It also means that it's hard to find good samples to estimate its cost over a long period of time, since most of it just hasn't been used long enough. Coal plants, on the other hand, are still basically the same technology that they've always been. They've had some minor advances, of course, but it's very easy to calculate their cost.
Also, renewable technology changes its cost greatly depending on where it's being used. Solar plants can provide a lot of energy in the Southwest, and windmills can provide a lot of energy in the Midwest, but the opposite doesn't work well at all. Coal plants are again much easier, since they cost basically the same amount no matter where you build them. That means that, when you ask how much renewable energy costs, you have to study a particular technology in a particular area, and most of the time there just isn't enough data available to make an accurate estimate. It also means that there isn't a one-size-fits-all approach to renewable energy. We can't power the world entirely with just solar, or just wind- we need to use each technology in an area where it's appropriate.
With all this in mind, there is good data available on the average overall cost of the various technologies. The U.S. department of energy has a breakdown on how much they cost in the U.S. The critical number is the cost per megawatt hour- in other words, how much does it cost to generate one megawatt of power for one hour?
From the Energy Information Aministration:


The "Total System Levelized Cost" is what the Department of Energy uses to assess the cost of different energy sources. It represents the long term price adjusted for time value, since money now is worth more than money later. According to that metric, coal is still cheaper than solar and wind (although wind is very close).
However, the operating and maintenance (O&M) cost of wind and solar PV is actually much lower than coal- less than half! It's the start-up cost which drives up their price, but once they're built, they don't need to pay for any fuel. Most of the actual cost of wind and solar plants is actually just interest on the loans that they use to set up the plants. This means it's not really the plants themselves which are expensive- it's their financing. And since many of the companies that invest in renewable energy are brand new start-ups with no credit history, they're stuck paying high interest too.
This suggests an obvious policy solution- more government grants and loan guarantees for renewable energy. This would lower their interest, reducing the cost of servicing the bonds and therefore drop the adjusted price of renewable energy plants closer to their operating cost. At that point, we can have the best of both worlds- energy which is both cheaper and less polluting than coal or gas.
Of course, this would require a congress which isn't completely corrupted by the fossil fuel industry, but we can dream.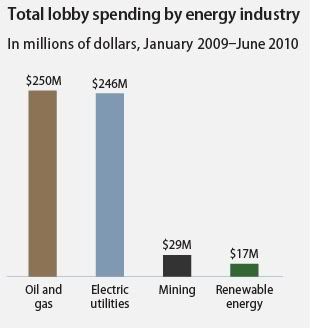 (image from Stephen Leahy)