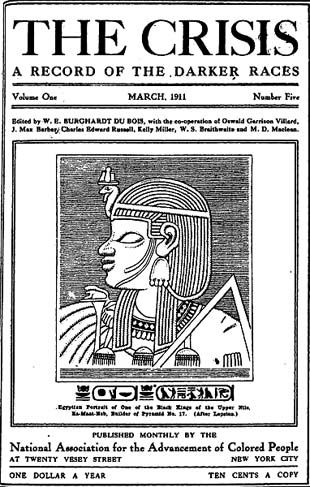 The Crisis
Commentary by Black Kos Editor Denise Oliver-Velez
On November 1, 1910 W. E. B. DuBois, published the first issue of the The Crisis, which would become the NAACP's monthly magazine.
The magazine is still going strong after all those years and is now online.
Thanks to Google Books we now have the luxury to browse through its rich archives.
Many of us tend to take the NAACP for granted these days. But we should never overlook the importance of its history and ongoing tasks.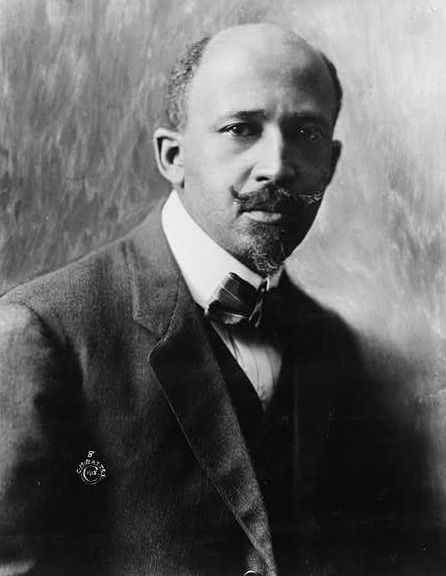 DuBois wrote in his first editorial that the magazine
would "be first and foremost a newspaper", and secondly, it would serve as a review of opinion and literature. Finally it would stand "for the rights of men, irrespective of color or race, for the highest ideals of American democracy, and for reasonable but earnest and persistent attempts to gain these rights and realize these ideals."

Early contributors to early issues included Oswald Garrison Villard, Jane Addams, Adela Hunt Logan, Mary Church Terrell, Ida Wells and Charles Edward Russell. The magazine soon built up a large readership amongst black people and white sympathizers. In January, 1911, it sold 3,000, February 4,000 and March 6,000. Circulation reached 50,000 by 1917 and peaked at 100,000 in 1919. This made it more popular than established journals such as the New Republic and The Nation.

In the journal William Du Bois campaigned against lynching, Jim Crow laws, sexual inequality. He told his readers in October, 1911, that "every argument for Negro suffrage is an argument for women's suffrage." In 1912 he supported Eugene Debs, the Socialist Party candidate for president. He particularly admired the way that Debs refused to address segregated audiences in the South.
The name was taken from a well-known poem by abolitionist poet James Russell Lowell,
The Present Crisis, which opened with
When a deed is done for Freedom, through the broad earth's aching breast
Runs a thrill of joy prophetic, trembling on from east to west,
And the slave, where'er he cowers, feels the soul within him climb
To the awful verge of manhood, as the energy sublime
Of a century bursts full-blossomed on the thorny stem of Time.
Let us not forget that we still have more deeds to do for freedom.
The NAACP as an organization has weathered many crises of its own, in recent years.
During the 1990's the organization was deeply in debt, and had several major changes in leadership. In 2004 their tax exempt status was challenged.
The Internal Revenue Service informed the NAACP in October 2004 that it was investigating its tax-exempt status based on Julian Bond's speech at its 2004 Convention in which he criticized President George W. Bush as well as other political figures. In general, the US Internal Revenue Code prohibits organizations granted tax-exempt status from "directly or indirectly participating in, or intervening in, any political campaign on behalf of (or in opposition to) any candidate for elective public office." The NAACP denounced the investigation as retaliation for its success in increasing the number of African Americans who vote. In August 2006, the IRS investigation concluded with the agency's finding "that the remarks did not violate the group's tax-exempt status
But they have survived and are attracting a new cadre of young people, who will be key players in the get out the vote efforts in 2012.
Last year, the NAACP celebrated 100 years of The Crisis.
The book, NAACP: Celebrating a Century 100 Years in Pictures, is well worth acquiring.
Check it out.
-------------------------------------------------------------------------------
News by dopper0189, Black Kos Managing Editor
--------------------------------------------------------------------------------



-------------------------------------------------------------------------------
A federal judge on Thursday approved a $1.25 billion settlement in a decades-old discrimination case by black farmers, clearing the way for them to seek compensation from the U.S. Department of Agriculture for being left out of farm aid programs. Reuters: U.S. judge approves settlement for black farmers
-------------------------------------------------------------------------------

The decision helps tens of thousands of farmers who had been denied part of an earlier 1999 settlement because they missed the filing deadline.
U.S. District Court Judge Paul Friedman wrote in an order approving the agreement that Congress by waiving the statute of limitations has further redressed "the historic discrimination against African-American farmers." He called the settlement "fair, reasonable, and adequate."
National Black Farmers Association president said it was "a very important step that should provide assurance to the black farmers that each of their cases will now move towards a resolution."
The black farmers reached this settlement with the government in February 2010 to compensate them for being left out of federal farm loan and assistance programs for years because of alleged racial discrimination.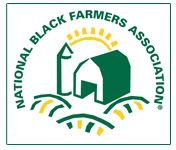 -----------------------------------------------------------------------------
Ellison said he didn't buy that Congress was actually cutting costs—-except in ways that further conservative ideological goals. "We can't afford home heating oil for seniors," he said, meanwhile pouring money into defense and surveillance is getting "ramped up." ColorLines: Rep. Keith Ellison Says Congress Can't Afford to Ignore Racial Profiling
----------------------------------------------------------------------------

Minnesota Democrat Keith Ellison takes issue with the assertion that Congress is in a cost-cutting mode. At a American Civil Liberties Union panel on racial profiling yesterday, Ellison was asked what kinds of conversations are happening in Congress around the costs of profiling.
Ellison said he didn't buy that Congress was actually cutting costs—-except in ways that further conservative ideological goals. "We can't afford home heating oil for seniors," he said, meanwhile pouring money into defense and surveillance is getting "ramped up."
"We should be extremely careful with the American public dollar," Ellison said.
Racial profiling is happening in the U.S. on three major levels, according the the ACLU. There's historic racism in policing, like stop and frisk policies; there's intelligence gathering and racial mapping being conducted by the FBI largely in Muslim communities; and there's immigration and border enforcement profiling.
On the last point, the ACLU says that under the Secure Communities program, 93 percent of people deported have been Latino—-yet Latinos only make of 75 percent of undocumented immigrants.
Members of the panel didn't hesitate to call profiling immigrants illegal. Joanne Lin, a legislative counsel for the ACLU said, "The words of our constitution apply to every person within the borders of this country, whether they're citizens or not.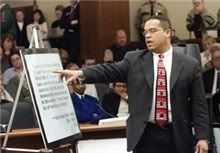 -------------------------------------------------------------------------------
A Look Inside America's Jail System. NewsOne: A Nation Of Prisoners
-------------------------------------------------------------------------------

We recently launched a series titled "Prisons and Projects" which takes a look at these two monoliths and the effects they've had on the African American community.
We recently created an infographic titled: "Prison Facts."
The figures here highlight America's entirely unique approach to crime and punishment, where race, class, long sentences and industry collide to make the world's largest and most expensive prison systems in the world.
Has America become a nation of prisoners?
Check out our Prisons and Projects series here.



--------------------------------------------------------------------------------



-------------------------------------------------------------------------------
Herman Cain's Wily Racial Politics. The Root: The Republican candidate validates what white conservatives believe about blacks.
-------------------------------------------------------------------------------

To start with, although Cain touts his reputation as a problem-solving businessman who turned around the Godfather's Pizza chain and claims to be a Washington outsider, the truth is anything but. In fact, he first attracted the attention of right-wing political activists during the late 1990s as a savvy lobbyist for the National Restaurant Association, where he fought against such restrictions on American freedom as smoking bans in restaurants, tougher drunk-driving laws and increases in the minimum wage. He was so connected that former Secretary of State Colin Powell once actually stopped his car, jumped out and gave Cain a hug right there on the street. You can't be more of an insider than that.
Then there's the contrast between Cain's carefully cultivated image as a humble but highly effective manager and the chaos and egomania that reportedly characterize his campaign. According to the New York Times, Cain's staff was taken aback by an email with this admonishment for when they travel in a car with Cain: "Do not speak to him unless you are spoken to." How's that for being aloof? If Cain can't even run his campaign, how could he hope to manage the nation?
Even so, Cain's brand seems to be catching on, at least with his target audience of Tea Party members and other extreme conservatives. I think he's succeeding because, wittingly or unwittingly, he has tapped into two of America's greatest traditions of political deception, one black, one white. It's a great marketing strategy.
On the black side, Cain employs the age-old habit of telling white folks what they want to hear -- especially about other blacks. Cain, like his token fellow black Tea Party favorites Rep. Allen West (R-Fla.) and Rep. Tim Scott (R-S.C.), recognized early on that white right-wing populists were eager to publicly embrace African-American candidates to prove that they weren't a pack of racists.
It works -- so long as the black politician involved does not challenge any of the right-wingers' basic assumptions about Negroes. So Cain goes around declaring that "I don't believe racism in this country today holds anybody back in a big way," and that blacks vote Democratic because they have been "brainwashed."
He's even willing to play the part of a dialect-spouting minstrel when necessary, as when he quotes his father, declaring, "I does not care." Not surprisingly, white folks applaud his shenanigans, while black folks cringe. Isn't that the essence of Tomming?
But Cain's real genius is his unprecedented mastery of one of the oldest and most effective political populist flimflams in the book: bamboozling white middle- and working-class people into voting against their own interests. Heretofore, reactionary white office seekers like George Wallace and several GOP presidential candidates used appeals to bigotry to prevent the formation of diverse coalitions that could press for progressive social change.
But Cain has stolen the white politicians' thunder by combining his Stepin Fetchit racial politics with a catchy tax idea, the 9-9-9 plan (pdf). Like the flat-tax proposal put forward the other day by Cain's rival for the GOP nomination Texas Gov. Rick Perry, it's a regressive levy that even conservative economists believe would fall most heavily on poor, working- and middle-class people while showering the rich with tax breaks. If it were ever enacted into law, Cain's plan would pick the pockets of the nincompoops who seem to find it most appealing.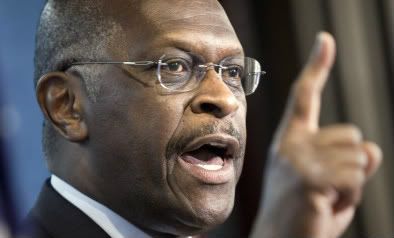 --------------------------------------------------------------------------------



-------------------------------------------------------------------------------
Minority Schoolkids Aware of Racial Stigmas. The Root: But younger black students are more motivated about school than their white classmates, says a new study.
-------------------------------------------------------------------------------

A recent study out of UCLA says that minority students as young as second grade are aware of stigmas against their ethnic groups and have increased academic anxiety as a result. But in a compelling twist, researchers also found that minority kids are more motivated about school than their white classmates.
Cari Gillen-O'Neel, a UCLA graduate student and one of the study's authors, said that the higher motivation levels among minority students is an encouraging "ray of hope."
"That really does suggest the idea of a kind of resilience in the face of adversity," she said. "Despite the fact that minority students might be aware that their group might not be as respected, they like school; they felt more interested in school."
Researchers conducted three 40-minute interviews with 451 second- and fourth-graders from New York City schools. The students were African American, Chinese, Dominican or Russian and ranged from 7 to 11 years old. European-American students were also interviewed but weren't counted as ethnic minorities. A female researcher from each child's ethnic group asked questions to determine their stigma awareness, academic anxiety, intrinsic motivation, sense of school belonging and ethnic identity.
To assess motivation, kids were asked to rate four factors, including their levels of interest in school and if they chose to do their homework because they like learning new things. Based on those responses, black students' average motivation level on a scale of one to five was 4.37, compared with 3.82 for white students.



--------------------------------------------------------------------------------



-------------------------------------------------------------------------------
It is a legal spectacle unlike anything Haiti has seen: the government trying 13 of its own police officers — including high-ranking prison officials and riot squad members — on charges of murder, attempted murder or other crimes stemming from a prison massacre here last year. New York Times: Raucous Trial Is a Test of Haiti's Legal System
------------------------------------------------------------------------------

Now in its third week, this intense drama is unfolding in a public theater at the center of town where hundreds of local residents wedge themselves into every corner and crevice as they watch in suffocating heat what the new government trumpets as the blossoming of Haiti's rule of law.
By American legal standards, the trial in this provincial seaside city is more than a little bizarre: small bottles of Roi des Coqs rum are sold inside the doorway; defense lawyers shout insults at the judge, claiming the trial is fixed; observers cheer as if they were at a soccer game, while some witnesses testify in semidarkness because the building has no lights.
Yet for all its quirks, the trial of these police officers — 21 more have been charged but are not yet in custody — is remarkable given Haiti's history of ruthless dictators, corrupt courts and unpunished crimes. Three inmates testified on Thursday against the same police force that was guarding them in the prison in Les Cayes, accusing the defendants of indiscriminate executions and beatings.

~~~~~~~~~~~~~~~~~~~~~~~~~~~~~~~~~~~~~~~~~~~~~~~~~~
Voices and Soul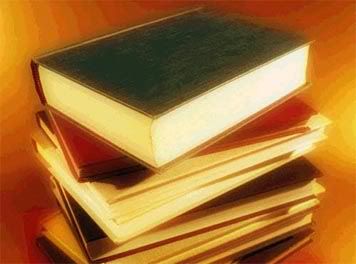 by Justice Putnam
Black Kos Poetry Editor
It's not enough to just win the game, the economic elites only feel satisfaction after the loser is also ground into the ground and hated for it.
Contrary to our true intent of just being treated fairly as decent human beings in America, the economic elites fear we will do to them what they have done to us; and that is the problem. We want equality.
They see no one and no thing as their equal. They want domination; and in like measure, they fear being dominated.
They will steal and commit fraud; they will game elections and blow up the world to not be so.
Even when their fear is misplaced. Especially when their fear is misplaced.
Securitization

In someone's distant algorithm
your mortgage was bundled to another's
—hedged—
and stamped a new "security."
While it was swapped
from investor to investor
accruing fees and interest at each turn,
your shadow
partner
defaulted
and she abandoned her home.

Someone uses your mortgage
to leverage
something
far inside the starbursts of a server.
Likewise marriage
has
no image—
What's a mortgage
and who's
it engage
on the other side of the firewall?

*

I witnessed a will
which—the language invested with law
godmothers the peacock's
fanned
screech—
would take care of the baby in the event of a
[blesses herself]

It lives at the Cathedral
and seems to be some kind of
mascot for
Baptisms

*

Securities:

The future art you'll make and its pleasure
is hedged against the
boys who died

you fancied

~~~~~~~~~~~~~~~~~~~~~~~~~~~~~~~~~~~~~~~~~~~~~~~~~~~

The Front Porch is now open.

Grab a seat, sit down and rap with us for a while.